Dentaltech unveils Ireland's first-ever 3D printed dental prosthetics for anyone who requires full dentures or a removable tooth solution.
Dentaltech, an Irish family business that manufactures dentures has embraced 3D printer technology that enables it to create printed dental prosthetics within days.
Pioneers in the global field of denture creation and operating for nearly 50 years, Dentaltech is an Irish-owned family business that operates specialist denture clinics in Dublin, Waterford and Wexford.
"Our focus is also on bringing our unique offering to the wider global market, starting with the UK and the US"
The company manufactures their dentures at its in-house clinical laboratory in Dublin, which is the world's largest certified digital printed dentures facility outside of the US and Canada.
Beaming at export potential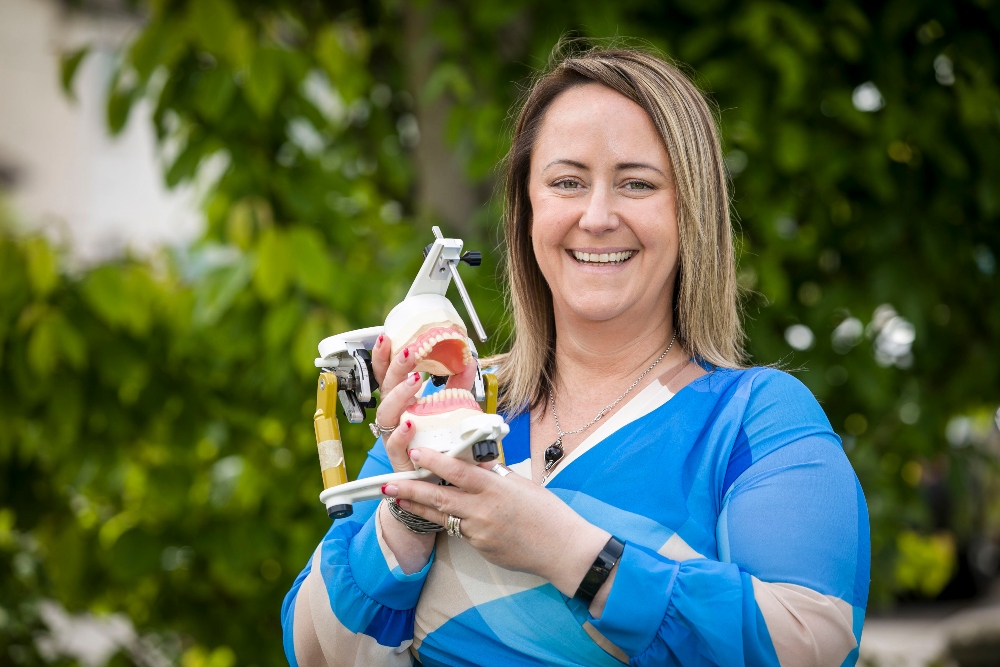 Dentaltech managing director and co-owner Bevan Mahon. Photo: Orla Murray, Coalesce
The new 'TRUEFIT by Dentaltech' offering is ideal for anyone who requires full dentures, or who has a gap in their smile and needs a removable tooth solution.
TRUEFIT utilises the most advanced digital oral scanning techniques alongside 3D design and printing technology to produce better fitting, more comfortable, and more natural-looking full and partial denture solutions that significantly improve a patient's ability to eat, chew, speak and socialise with dignity and confidence.
This new process eliminates the need for the uncomfortable traditional process of using 'impression trays' that have to set in the mouth and incur significant wait times. It now takes just one appointment and a matter of days for a patient to receive their new or replacement dentures or prosthetics – instead of up to four weeks.
In addition, the digital transformation significantly reduces the level of waste production in Dentaltech clinics.
Co-owner and managing director Bevin Mahon said the innovation is a clear step towards integrating more sustainable goals into the dental industry.
A natural entrepreneur and innovator, Bevin has played a vital role in paving the way for a new model in denture creation in Ireland and has been accredited five times as the 'Business All-Star Thought Leader' in Community Health for her contribution to changing the way dental and denture services are accessed.
She says that given the success of the business in Ireland, Dentaltech is currently preparing to expand its groundbreaking service offering to the UK and the US.
"As denture specialists, the decision to move to 3D dentures was a key priority for us as we want the most comfortable and natural-looking dentures for our patients. In addition, people are living longer meaning the demand for removable replacement dentures and teeth is growing.
"And, with 12% of 15–24-year-olds in Ireland missing teeth, 33% over 35 missing one or more teeth, 6% aged 24-75 missing all-natural teeth, and 42% aged 75+ missing all their teeth and wearing full dentures*, there is a growing market for partial denture solutions," said Mahon.
"That's why we see digital 3D printed prosthetics as the future of the dental industry and we've very proud to be the first in Ireland to have the training and the lab facilities to offer this full end-to-end service to all our patients in all our locations. Our focus is also on bringing our unique offering to the wider global market, starting with the UK and the US."
Enda McDonell, Manager for Enterprise Ireland added: "Enterprise Ireland is proud to back Bevin and the team at Dentaltech. It is an innovative, ambitious company that is leading the way in a very competitive market, both at home and abroad.
"The new TRUEFIT by Dentaltech product has the potential to deliver real patient benefits, while also assisting the business to operate in a more sustainable way. Dentaltech is just one example of great Irish-owned companies in the life sciences sector using innovation to compete and win internationally."