Can Co-Farm change the relationship between the farmer, the food retailer and the consumer? Tommy Heffernan thinks so, and says farmers are adopting to digital solutions to save time, and to make money.
Tommy Heffernan isn't what you'd call a typical Irish vet. As well as running a practice in Avondale, Co. Wicklow, he has co-launched Co-Farm, a networking website for farmers that he hopes will revolutionise the way they do business.
"Farmers are flocking towards social media and digital solutions," says Heffernan. "Smartphones have changed everything. Sites like DoneDeal have made it quick and easy to find what you're looking for. Previously, farmers would have to take a day away from the farm and visit various dealers. Now they just take out their phone and have instant access to a massive marketplace."
Does this mean the stereotype of the traditional farmer being reluctant to change with the times and adapt new technologies is becoming redundant?
"Farmers will adapt to change where there's an incentive, and in the case of going online, it comes down to two things; saving time and money"
A new frontier
Heffernan's business partner Geoff Dooley is a farmer from Limerick. As is the case with many ideas, the light bulb moment came to the pair over a pint.
"We discussed the overload of technical information farmers have to try and digest from multiple sources, and the confusion this leads to," explains Heffernan.
"We thought – wouldn't it be great if there was a site where different stakeholders in the industry could log on, connect and get information direct from each other? That's where the idea started."
From there the idea grew from a kind of a LinkedIn for farmers to a full online food platform, linking not just farmers and agri-service providers, but also bringing together farm producers and consumers.
"We want to do for farming what AirBnB did for property rentals – bringing buyers and sellers together in a way they haven't interacted before. This area is a whole new frontier for farming."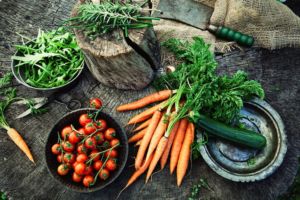 Getting closer to the till
Geoff and Tommy have described their frustration with how the global food market is controlled by a few influential players, leaving a dispersed, unconnected farming community vulnerable to shifts in the market.
They want Co-Farm to help get a fairer power balance in farming, by cutting out middlemen and bringing food producers directly to buyers.
"When you look at the journey from start to finish, the farmer is the furthest one from the till, and it shouldn't be that way," says Tommy.
High quality, locally sourced foods
Co-Farm seems set to take advantage of the growing number of consumers in the market willing to pay a premium for high quality, locally sourced foods and produce. Indeed, appealing to the 'foodie' market could prove to be a big part of the Co-Farm success.
"People are getting tired of going into supermarkets and finding low-quality, often out-of-date products on offer or short-dated products with confusing, and sometimes downright misleading, labels. They're told it's locally sourced, but that's often not the case. People are smartening up."
Co-Farm will allow consumers to log on, enter what it is they're looking for and get linked with an appropriate food producer and buy from them directly.
"Farmers want to sell, consumers want fresh, quality produce, and we want to facilitate that interaction," says Tommy.
A global platform
Tommy isn't shy about his ambitions for Co-Farm. "The aim is to be a global platform. Ireland just isn't big enough to reach the scale we want to get to."
With over 570 million farmers in the world, Geoff and Tommy's idea could be a game-changer for the industry. However, first, they need to move the project into the next phase of its development. "Over the next five to six weeks we're going to be preparing for phase two. This means looking at strategy, investment, getting a good team together and beginning to build our software brand."
Enterprise Ireland has taken notice of the idea's potential. Co-Farm has been invited to attend the Innovations Arena at this year's National Ploughing Championships in September.
Tommy thinks the Ploughing will be critical in taking Co-Farm to the next stage.
"We're looking at the Ploughing as an excellent opportunity to build connections, and not just with farmers. The ploughing is such a huge event, and we're hoping to meet everyone from service providers to software developers. It's a very exciting opportunity".
Interview by Peter Flanagan. Images from Shutterstock and Tommy Heffernan.