Not many people know this, but one of the best classical guitar makers in the world is based just outside Carlow town.
Father and son team, Michael and Alec O'Leary have combined their unique set of talents – as a luthier and accomplished classical guitarist – to make guitars, which are in demand by the world's top performing artists, including the internationally recognised Berta Rojas from Paraguay.
For almost 30 years, Michael O'Leary had operated as production manager at Lapple in Carlow, responsible for the supply of steel panels to the European motor industry. In 2002, he was offered a redundancy package, which he accepted with a mixture of some relief and uncertainty about what the future might hold. It's a compelling story about adapting to change; using the resources to hand, and developing a very successful niche business while acquiring world-famous artists as customers.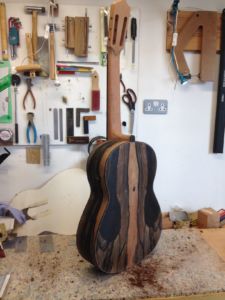 Why classical guitars?
I suppose there was a pattern to it. We all play music, and I learned to play, without any formal training. My father played guitar, and we had a traditional band in Graiguenamanagh, Co.Kilkenny back in the 60s.
In turn, I introduced my son Alec to the Spanish (or classical guitar). Alec then went on to study for a performance degree under virtuoso John Feely, who was in charge of the guitar faculty in DIT at the time. I suppose that's what sparked my interest. While Alec was attending DIT, we were buying guitars, and as he progressed, he was always seeking to play a better quality classical guitar instrument.
What motivated you to make your first classical guitar?
At the time, I was looking for something to do. Alec was also looking for a guitar, with sufficient sweetness and volume, but was unable to find one that suited his needs. I set about making a guitar, researched from a book, which turned out reasonably well. I carried it along with me when I went to guitar festivals in England, which gave us exposure to some of the big players over there. They were happy with the quality, and I suppose that's what started us on the road to making hand-crafted classical guitars.
With Alec, I had the very best quality control, and we also had no shortage of expertise. In 2000, I qualified in a Design and Innovation course from the Open University and that knowledge was fresh in my mind. It's funny how it all came together, as none of it was planned.
"Our guitars now retail for €12,000, and we have a two-year waiting list."
What problems do you solve?
Traditionally, Spanish guitars are not loud and are more of a parlour instrument, played to small audiences. When the famous classical guitarist, Andres Segovia arrived on the scene, the audiences got bigger, and the requirement for volume became more prevalent. The Australians tackled the problem and produced a very loud guitar, but unfortunately, they compromised on its sweetness.
So for us, this was a problem that needed to be solved, as you couldn't buy an acoustic, Spanish guitar that was both sweet, as well as being sufficiently loud. So I made all kinds of improvements and sometimes they worked and sometimes they didn't. But the final product at that time, just sort of blew us away because we produced a guitar that was sweet and loud, which was what everyone wanted. Alec's teacher, John Feely wanted one along with a number of his faculty students, and it mushroomed from there.
The Guitar Festival of Ireland
We were both playing and interested in guitars and regularly attended guitar festivals in England, Scotland and sometimes on the continent, which comprised of tuition and masterclass performances from the big world players. There was nothing similar in Ireland at the time, so in 2004 we decided to launch The Guitar Festival of Ireland. The festival gave us excellent access to tremendous players, like John Williams who attended for the first four years. He also brought me to England and showed my guitar around to everybody. This was very exciting because back in 2004, I was only starting at the time. It was a brand new business, and we were fortunate.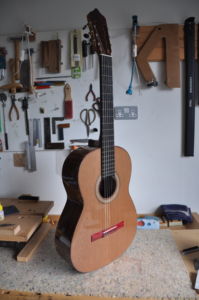 Important concerts
Berta Rojas from Paraguay is probably known as one of the world's most accomplished classical guitarists. She also teaches guitar in Washington DC at the university as head of its classical guitar faculty. She came to play a concert at the College of Surgeons with John Feely. At that stage, John was playing one of my guitars, and she could not be heard beside him. He was too loud. She decided there and then that she had to have one. So before she went home, she ordered three guitars from me, one for herself and two more for her students.
Shortly after that, the same thing happened again. Berta Rojas was playing a duet concert with a very famous guitarist called Sharon Isbin, a Grammy Award winner who also teaches in Juilliard in New York. We were in Lisbon at the time when Sharon rang me on my mobile. She said "How are you? This is Sharon Isbin". Initially, I didn't believe it was her. She said to me, "I played a duet concert with Berta Rojas, and I was very much taken with your instrument, and I want one. I will be in Rome in two weeks' time, please bring a few, and I will pick one."
"You have got to make a product that people want. That's the bottom line."
A worldwide business
Our guitars now retail for €12,000, and we have a two-year waiting list, with orders across every little corner of the globe, sometimes in the most unusual places like Costa Rica, Mauritius, and Guadeloupe.
The competition
The number of guitar makers out there is immense, and a lot of them are struggling financially. Each year you have large factories in Spain who push out guitars by the thousand, but with individual hand-made classical guitars makers, worldwide there are probably only half a dozen successful makers.
There is also a myriad of guitar makers who don't innovate at all. They're copying the past, rather than progressing. So the market was open for me in that respect, to innovate and make a mark of my own, within a very niche and specialised business.
Startup advice
You have got to make a product that people want. That's the bottom line. That is really what has made our success. We produce something that people want, as well as providing something unique.
Watch
The Toyota Prado commercial with Berta Rojas below features one of Michael's guitars.