Having just raised €5.8m to bring total funding this year to €8m, Buymie CEO Devan Hughes wants to build the largest shared infrastructure platform for online shopping in Europe. He talks to John Kennedy about his plans.
Devan Hughes laughs self-consciously when I tell him Buymie was one of the few moments of brightness in the gloom that was Covid-19 in Ireland. It's easy to say this unabashed because it is true. When things were at their bleakest here you had an Irish online shopping company led by a founder with the wisdom of four previous failures that was raising €2.2m and creating 200 jobs when things were at their darkest.
And just over the weekend news broke that Buymie had raised a further €5.8m from existing backers including Act Venture Capital, Sure Valley Ventures, Haatch Ventures, and HBAN and new investor Wheatsheaf Goup, the food and agriculture investment arm of the Grosvenor Estate, bringing the total raised by the company this year to €8m.
"I don't believe in the death of retail. That's an important distinction. I actually think retail will continue to evolve significantly. I think retail is on a trajectory to become experiential"
It's a perfect storm because never has online shopping been more pertinent in a world that will be changed forever by Covid-19.
I remind Hughes how we first spoke in 2016 when he founded Buymie as a mobile app for on-demand groceries.
Since then Buymie has created a platform using artificial intelligence (AI) technology, that enables consumers to access multiple large grocery retailers and receive short notice delivery to their chosen destination in as little as an hour. Currently, the Buymie service is available to more than 490,000 households across Dublin as well large towns in Kildare and Wicklow.
The business has forged a multi-year partnership with Lidl Ireland. Customers are also able to use the Buymie application to shop from Tesco in Ireland. Buymie has also teamed up with UK-based Co-op to offer same-day home grocery deliveries and full personal shopping services across Bristol as a first UK city deployment.
When the going gets tough
To understand Hughes, it's worth noting that he is part of a generation that graduated from college right into the financial crisis of 2009/2010. In a sense his generation basically has been caught between two recessions. It's a case of accept your lot or refuse to accept your lot. Hughes fits the latter.
He began his road into entrepreneurship alongside Parkpnp/ParkOffice/Krüst Bakery founder Garret Flower. "We met at a very interesting time. We were in the depths of recession and everyone we knew was either emigrating to warmer climates or more prosperous markets." Their first joint business was organising pre-nightclub parties which were the rage at the time. "It was our first time experiencing margin and we respect what we spend our money on and that's where our relationship developed. We were in our last year in college and we looked at each other and made a decision that we could always get a job somewhere or could do a Master's to ride out the recession a bit longer. But we were young, we had no commitments, no mortgages, no kids, and so we were in the best possible position to try something."
With no capital except enthusiasm, they began their first business in renewable energy which took them to the US under the tutelage of energy entrepreneur Diego Belmonte. It was a kind of internship and they supported themselves by working as waiters at night in the Hard Rock Café. "Nine-to-five was focused on our own business and sitting with the most successful people in the energy business and at night we'd make a living flipping burgers and chips. It was a real dichotomy."
As tough as it was, the value of the experience for Flower and Hughes was exposure to big thinking and can-do attitudes.
"That probably had a big impact on our developing minds at that age, 20/21. When we came back to Ireland we came back with the same level of energy."
On their return, a business they founded fell through and they decided to go different ways, while remaining close friends.
Flower started Krüst Bakery and then ParkPNP, both successful businesses.
The road to wisdom
Hughes' road was less smooth. "I tried a couple of businesses and ultimately failed three or four times in a row. On failure number four I said 'Jesus, I need to take a break here. There's something I'm not getting right.'"
"It's going to be a €56bn channel by 2023 and we believe that we can build an enormous business. And that's not just in Ireland and the UK alone, we absolutely have European ambitions"
Strategically minded, Hughes sought out various businesses where he could learn more about operations and finances. "Around 2014 I was starting to get the itch again. Garret was doing amazing things and he was constantly poking me saying 'when are you going to get out of the 9-to-5? I figured I had recovered mentally, emotionally and spiritually from all my previous endeavours and I thought it was a good time to start."
Inspiration came over a pint when someone said to him: "Do you know, Devan, that the online grocery market is worth £9bn across Ireland and the UK and it loses £300m a year."
This caught Hughes' attention and he started studying high-profile failures like Webvan from during the dot-com bubble. He decided that the failure was primarily because the technology wasn't there to support it on the ground and the unit economics didn't make senses.
Looking to existing retailers with an online offering, many of them were large public companies that could absorb losses.
"So you had this large market that was growing but was ultimately fast-losing money.
"The thing that ultimately got me was when I looked at the long-term demand curve for online grocery it was going to double to £22bn in just 10 years. And I got excited because only free-market economist will tell you that if you've a rapidly expanding market and heavily compounding losses, and a short window of time, that market is very likely going to experience a correction or a disruption of some kind. And I just thought that this would be one of the coolest industries to be in for the next decade."
The crucial thing to understand about the Buymie model is that it isn't just online shopping, it is personalised shopping. Buyers would liaise with customers to ensure they came back with precisely what the customer wanted.
Another crucial thing to understand is that during his foray into 9-to-5, Hughes strategically selected companies he wanted to work with to learn operations, including Salesforce.com for a year. "I said I had to achieve X, Y and Z milestones to be able to quit my job and start this business. And so, I went through this process and by February 2016, a year to the week, I quit and became our very first grocery delivery person. And in the first year-and-a-half of just me I did about 1,800 grocery deliveries."
His principle from the outset was no door shock. You already knew what was in the basket.
To make this happen, as well as doing deliveries himself, he had to ensure that the process and technology to support this ethos was in place. "It's a personalised 'arms around' and they [customers] get that personal representation."
Growth at first was slow but by 2019 revenues grew 2,000%. "This was the market shifting and it had nothing to do with Covid-19. Same-day grocery is the fastest-growing channel in grocery and FMCG. There are only three growth channels in the sector: online is number one, discount is number two and convenience is number three.
"We build the Buymie platform to sit above these three growth pillars to be more convenient than anything you know to bring it to your door. In 2019 we did out first enterprise retail partnership with Lidl, becoming the first independent e-commerce platform in Europe to bring the discount channel online."
The scaling challenge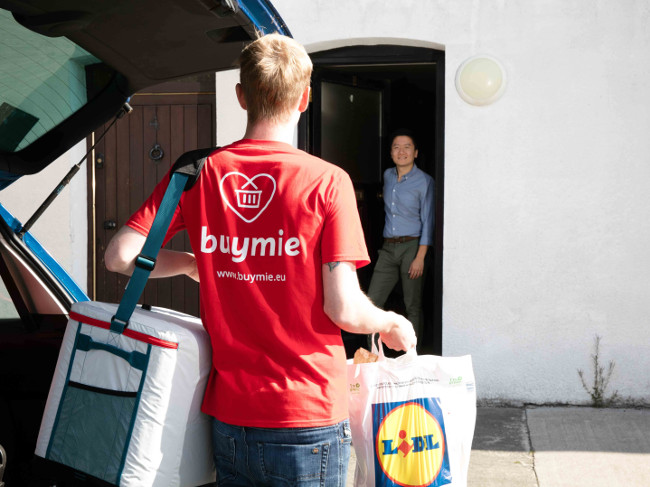 This brings me to the latest challenge for Buymie – managing growth and scaling the business. Funding rounds and job creation require a lot of work, how does Hughes feel about scaling?
"The customer experience will be the hard part, maintaining customer experience at scale and I think that's going to be the maker or breaker in this business – can you maintain a high degree of quality customer experience? The big thing for us is that we are an enterprise retail platform and we built our technology stack on our infrastructure to support enterprise retail. We don't work with small-to-medium-sized retailers primarily because they don't have the technology in place to support this level – we will one day – but 99pc of volume is with large enterprise retailers.
"We learnt very quickly that one of the main barriers to entry was catering to many different types of stakeholders – the butcher, tailor and candlestick maker – instead we focused on building scalability into the infrastructure and understanding where the bottlenecks in our own tech stack and systems could happen.
"Our growth lever is having more shoppers, more availability, more slots, more delivery, more customer satisfaction."
Buymie's tech development is led by co-founder and CTO Artavazd Sokhikyan who leads tech development in Armenia. "We're actually half an Armenian company," says Hughes.
According to Hughes, before Covid-19 happened, Buymie was growing at a rate of 18pc per month. "When it [the pandemic] happened it was just like throwing petrol on an already hot bonfire and we had to completely revisit what our commercial funding strategy would look like for the next year-to-two years."
Ultimately, Hughes sees people flocking to online shopping because they are increasingly time poor – he estimates the average consumer spends five-and-a-half days per year, 20pc of their annual leave, in supermarkets. He also believes in other trends such as vehicle ownership declining. "Venture capitalists and car dealers and OEMs like Mercedes, Daimler have invested $20bn in the last two years in ride-sharing platforms because private car ownership is diminishing."
Juxtapose those trends against the current reality that most grocery retail is positioned around people driving in a private car to an outlet and you can see Hughes' logic.
"That said, I don't believe in the death of retail. That's an important distinction. I actually think retail will continue to evolve significantly.
"I think retail is on a trajectory to become experiential. It is going to be far more about the craft butchers, wonderful coffee shops, beautiful cheesemongers. But that said now with Covid-19 leading to queues outside, what does that mean? There is going to be a complete rethink of how retail will manage and provide experiences to remain relevant. These trends will continue to impact the segmentation of the channel and online will continue to grow."
Hughes' ambition is for Buymie to become the largest shared infrastructure for grocery online in Europe as online shopping continues to become a firm fixture. "It's going to be a €56bn channel by 2023 and we believe that we can build an enormous business. And that's not just in Ireland and the UK alone, we absolutely have European ambitions."
Written by John Kennedy (john.kennedy3@boi.com)
Published: 15 June, 2020