Bank of Ireland is opening the doors of its NYC Hub to its Irish business customers.
For many Irish businesses targeting the United States, traditionally New York City (NYC) – aka the Big Apple – is often the first port of call.
In recognition of this and in time for the St Patrick's Day festivities, the New York office of Bank of Ireland is being launched as Bank of Ireland's NYC Hub ('NYC Hub'), a flexible workplace for its Irish Business Banking clients and a place to meet with their own customers at a prime Manhattan address beside Grand Central.
"Any Bank of Ireland Business Banking client that needs to come to the US or are visiting New York to do business, we would love to see them avail of this facility"
Bank of Ireland CEO Francesca McDonagh, is in New York this week to attend the annual St. Patricks day Bank of Ireland party in Gotham Hall, a mainstay now of the Irish American business scene. She will also take the opportunity to officially relaunch NYC Hub, alongside Minister for Children, Equality, Disability, Integration and Youth, Roderic O'Gorman, TD.
NYC Hub will be open to Bank of Ireland's Business Banking clients who are looking to expand in the US or for those who already have businesses there. It can also be used by customers who need the office space or meeting rooms to meet suppliers and customers.
NYC Hub has seven offices, three meeting rooms and a conference room that seats 12 as well as 20 hot desks that are available to use.
Customers will also be able to take advantage of the event space, either by hosting their own event or attending any one of the regular events that take place there. The event space can accommodate up to 80 people fully seated or a maximum of 120 standing. On average the event space hosts four events a month, primarily with Irish – American organisations.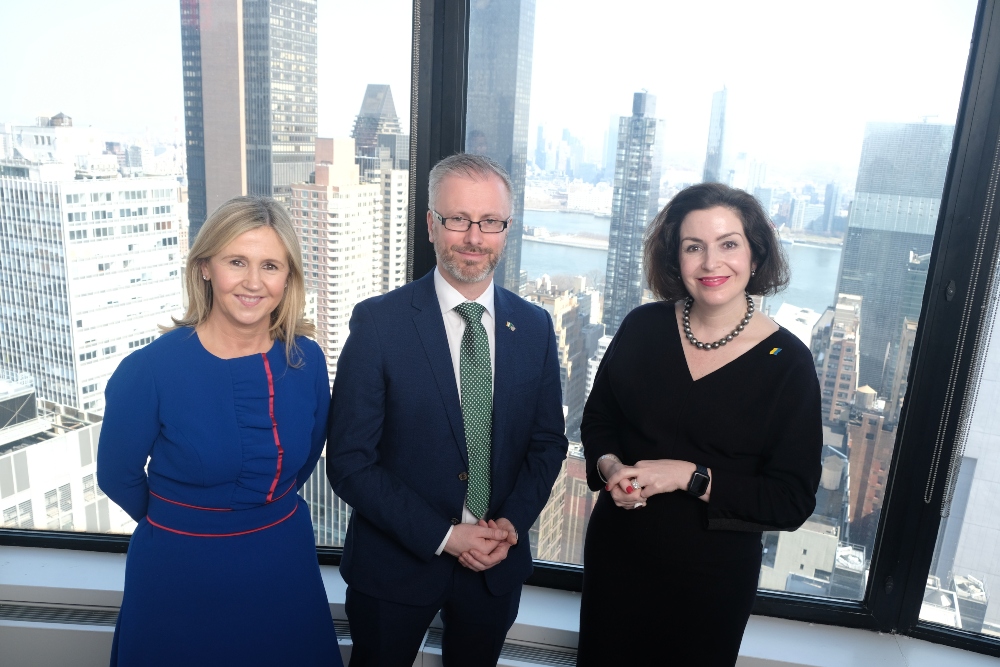 Pictured at the Bank of Ireland NYC Hub are (from left to right) Dee Ahearn, CEO Barretstown, Roderic O'Gorman, Minister for Children, Equality, Disability, Integration and Youth and Francesca McDonagh, Bank of Ireland Group CEO. Bank of Ireland customers looking to expand into the United States can use NYC Hub for meetings when in New York
"As we move beyond the last two years, we know that some businesses are again considering expansion plans including into the United State," McDonagh said. "The Bank of Ireland NYC Hub – right in the heart of Manhattan – will support our business banking clients in Ireland with a place to work, or meet customers, suppliers, and investors.
"NYC Hub speaks to where we see ourselves as a bank – strongly supporting our customers to achieve their ambitions, and maintaining our place at the heart of the Irish American business community."
In the heart of New York, New York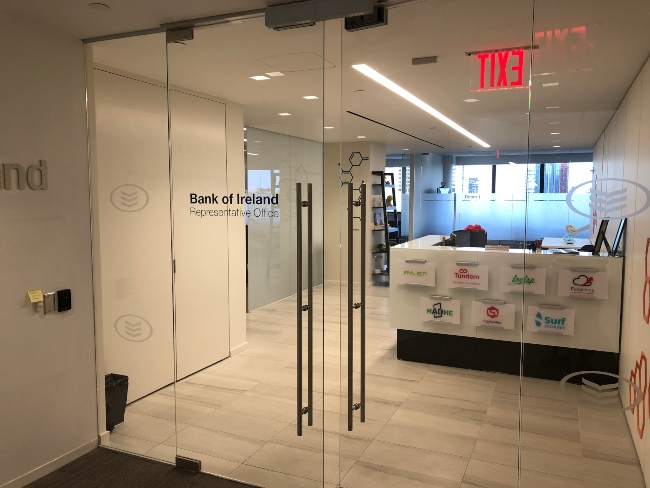 Speaking with ThinkBusiness, US country manager for Bank of Ireland Tony Dunne explained how Bank of Ireland established its first office in New York in 1977 and bar a few years between 1997 and 2000 the Bank has been there ever since.
"The United States represents a considerable focus for Bank of Ireland. The Bank operates through its branch in Stamford, Connecticut, and representative offices in New York, Chicago and Los Angeles. Our focus is on Corporate and Markets business, which incorporates the Group's corporate banking, wholesale financial markets, specialized acquisition finance and large transactions property lending business. In addition to that, Kevin Elliott, the Bank's Global Head of FDI, is based on the West Coast, and continues to strongly support companies considering using Ireland as their European base.
"The vast majority of the Bank's customers over here are US-based and from that point of view, it represents a great diversification opportunity for the Bank.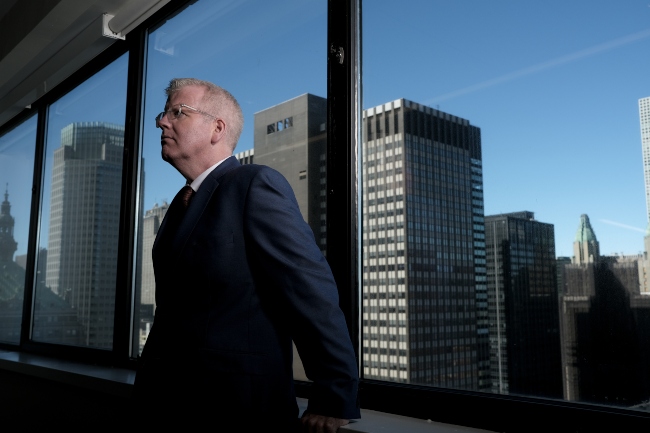 Tony Dunne, US country manager, Bank of Ireland
"We are coming up to almost 50 years in the United States now," says Dunne "and we are very proud of the way we continue to adapt to the needs of our clients. An example of this is the Innovation Lab that was launched on St Patrick's Day five years ago, aimed at start-ups coming into the US where we ran a competition that gave the successful company's use of the office for a year, where they would get access to Bank of Ireland expertise and connections."
A pillar of the Irish American community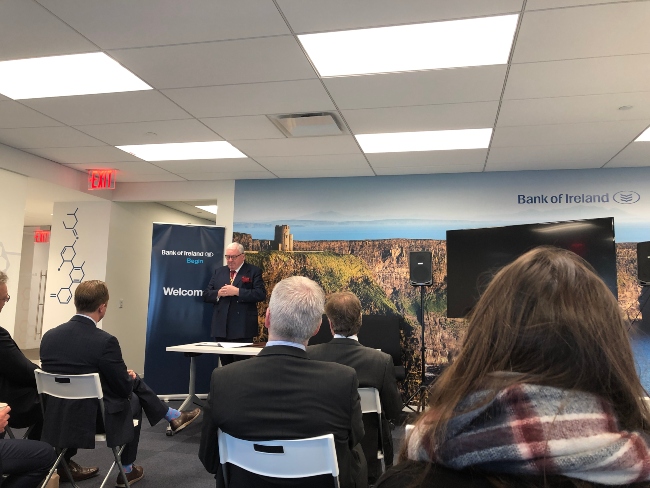 The event space at the New York office
Dunne said that the office in Manhattan has enabled Bank of Ireland to become a key pillar of the Irish American community in New York. "But it has also enabled us to work very closely with our government partners, a constellation that includes the Irish Consulate, the Irish mission to the UN, Enterprise Ireland and IDA Ireland."
And now the opportunity is there to help Irish businesses entering the US or looking to grow their presence there.
"We have this facility here and we're always willing to help where we can."
The Lexington Avenue Office, in the heart of New York City, was previously home to the NYC Innovation Lab where numerous successful Irish tech start-ups including Deposify, Axonista and CitySwift used the location to their advantage. In January 2022, news emerged that Deposify was acquired by a US private equity firm.
One of those firms that have used the facility to good effect so far is scaling secure payments player Trustap. Founder Conor Lyden had this to say: "Bank of Ireland's hub here in New York is such a good facility for companies like Trustap and Tony Dunne, Catherine Slattery and the team were so helpful in helping us get set up. It's brilliant to be able to base ourselves right in the centre of Manhattan and it gives a great impression from a client facing perspective too."
While we often think of US multinationals investing in Ireland to create jobs, what is not often celebrated is the impact of Irish companies in the United States also. Ireland is the ninth largest source of foreign direct investment to the United States.
According to the US Bureau of Economic Analysis, Ireland's FDI into the US stands at $235.7bn. Today, over 900 Irish companies operate across all 50 states, employing 110,000 in the US.
Dunne explained that this continued annually until the 2020 pandemic brought the world into lockdown, which gave the team an opportunity to reassess how the space was being utilised and the decision was made to make the office available to all of the Bank's business banking clients.
"Since that time we've also seen Brexit come into effect and that has meant that a lot of our Irish clients have needed to expand their horizons and look west. Many are now looking at this side of the Atlantic and seeing if there's more business that can be done over here. We believe this great office space right beside Grand Central in the middle of Manhattan could become for some their office away from home."
Dunne said that the space will still be open for start-up and scale-up companies. "But in addition to that there may be business banking clients of the Bank who might need to come to New York once or twice a year. There's a lot of costs to that and rather than them meeting their customers in hotel lobbies or in a Starbucks they are welcome to use these facilities to host these meetings or if they are between meetings have a place to work.
"We have a boardroom, meeting rooms, seven offices and 20 hot desks, so there's plenty of workspace here. All they need to do is tell us when they're coming."
"Any Bank of Ireland Business Banking client that needs to come to the US or are visiting New York to do business, we would love to see them avail of this facility."
Main image at top: Tony Dunne, US country manager, Bank of Ireland at the Manhattan office