Wilton Castle played host to one of the last duels fought in Ireland. Today it has been transformed back to its former glory and into a thriving business by farmer Sean Windsor.
Following a decade of conservation and restoration, dairy farmer Sean Windsor has opened up Wilton Castle as a hospitality venue, ideal for holidays, weddings and special occasions. Situated on his land at Bree, near Enniscorthy, Co. Wexford, the south wing of the castle has been lovingly restored and is now attracting an increasing number of overseas visitors.
What inspired you to restore Wilton Castle?
I grew up living and farming within a stone's throw of the castle, and I suppose at the back of my mind, I always had a desire to try and return the castle to its former glory. I grew up with stories such as the architectural link between Wilton Castle, Johnstown Castle and Powerscourt and also that one of the last duels in Ireland was fought here in 1807, with tragic outcomes for both combatants.
However, from 1923 until 2004 it was in complete ruin, and it was going to require an enormous effort to restore it. To succeed, I knew I would have to do a lot of the work myself while still managing the farm and milking the cows in our herd on a daily basis.
What's your family connection with the Castle?
The history of the castle can be traced back to the mid-13th century when a family by the name of De Dene was recorded living here in 1247. The Alcock family were the longest in residence from 1695 until the castle was burned down in 1923. My grandfather happened to be the estate steward or manager at this time. During the blaze and just before the roof collapsing, he helped rescue some of the furniture from the flames, with the assistance of his Butler.
Later we farmed the land in our own right. My father was more into beef, but I was more interested in dairy, and although we had the limitation of milk quotas, we kept working away and successfully increased the dairy herd over the years.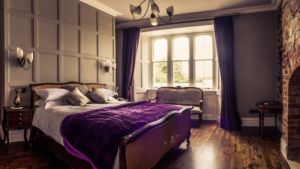 How did you juggle building and farming at the same time?
We started off in 2004 doing a lot of conservation work, cleaning the structure, removing ivy, trees and soil from top to bottom. It was only then that we could tackle the urgent work that was needed. The conservation work continued over the next five years, doing it bit by bit, year by year.
In 2007 we received planning permission to do a full restoration on the south section. We put on the roof, fitted the windows and rendered it during 2008 and 2009. But with the property crash the timing wasn't the greatest. To be honest, it was a bit of a disaster.
We then pulled back and eventually got funding from Wexford Local Development under the Rural Development Scheme (Heritage & Tourism). With the funding in place, we started back in January 2014. Our aim was to be ready for our first wedding in June 2015 – so we had 18 months to get it completed by that deadline.
What type of customers are you hoping to attract?
One of our most important customer segments is the overseas tourist market, and I think it has pretty much developed as expected. We opened the accommodation here in August 2015, and since then more than three-quarters of our guests hail come from abroad.
What nationalities arrive here?
Most visitors are from North America, but we've also had them from as far away as Hawaii and Dubai. We recently had a family from the Argentine Pampas. We knew the minute they arrived that they were farmers because they are just like Irish farmers, all they wanted to do was talk about farming. There was also an Irish connection as their family name happened to be Cavanagh.
How do you promote the castle?
It's mainly through word of mouth, repeat business, social media and online marketing. One of our American guests shot some drone footage. We put it up on our Facebook page, and it has received over 12,000 views to date.
We also appreciate the favourable reaction, support and comments from our neighbours and many supporters in the local community and in particular Bree Heritage Group along with local archaeologist, Colm Moriarty and Wexford Local Development.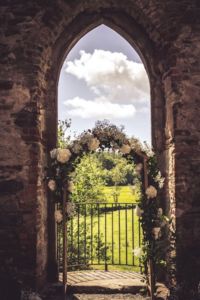 How is the accommodation laid out?
The castle is divided into a number of suites or apartments, so it's very flexible that way. Families can come and take one or two suites for a number of days. A lot of couples come and take the one-bedroom apartment for up to three nights. It's very much a romantic getaway. The castle can also be rented in its entirety, on an exclusive hire basis, which is quite popular with family gatherings and groups.
What makes Wilton Castle stand out?
It's in a great location with its retained woodland, environs and history. It wasn't just a lonely ruin standing in the middle of a field, as it's set in a unique landscape. You have Bree Hill and Carrig Hill in the background; you have the river and the slopes down to the river.
The most striking aspect for visitors is that part of the castle is still a ruin. They can easily visualise what it was like and compare the old with the restored. That's a huge attraction for a lot of our guests along with the fact that they want to be able to say that they have stayed in an Irish castle.
Article by Brendan Byrne.
Additional film footage and Wilton Castle history.