It's time to take a break from depressing news and read something uplifting, writes WomanUp co-founder Aileen O'Toole.
Not only are we in the midst of a pandemic but also an "infodemic", as the World Health Organisation (WHO) describes it. We are besieged by information on TV, radio, print media, our social media feeds and our messaging apps.
Everything we need to know about Covid-19 is at our fingertips, from the scientific data from original outbreak in China to important public health information to breaking news, analysis, interactive maps, memes and on and on it goes.
"I'm naturally drawn to stories about everyday heroes, our healthcare workers and many others who are at the frontline, and about individuals who are showing true leadership and courage at this difficult time"
Some of it is reliable and absolutely necessary for us to read, watch and share. We need to inform ourselves , understand what the experts are recommending and be able to put that into practice, in both our personal and our professional lives.
However, we also need to be mindful that a lot of what is shared on social media, particularly in encrypted platforms like WhatsApp is false, frightening and contributing to our collective angst.
Not only is Covid19 content distressing, it is also highly addictive. As a former media executive, and one who consumes a lot of content for both personal and professional purposes, I've had to rein in my media habits during this crisis. This is what is working for me:
I consume my Covid-19 content from authoritative sources – mainstream media (both traditional and digital and across all formats) and from government websites (such as the HSE.ie, Gov.ie and WHO.int)
I only watch one main TV news bulletin a day, most likely the 9.00pm news on RTÉ but I sometimes dip into UK television news bulletins
I continue to use social media channels, LinkedIn particularly, but mostly in a professional capacity and occasionally in a personal capacity to encourage, support people in my networks or charities which are doing amazing work
I limit engagement on other channels such as WhatsApp and have turned off notifications for some groups barraging me with nonsense or misinformation
I consume and share content about Covid-19 that is uplifting. I'm naturally drawn to stories about everyday heroes, our healthcare workers and many others who are at the frontline, and about individuals who are showing true leadership and courage at this difficult time. I actively share such content with family, friends and contacts.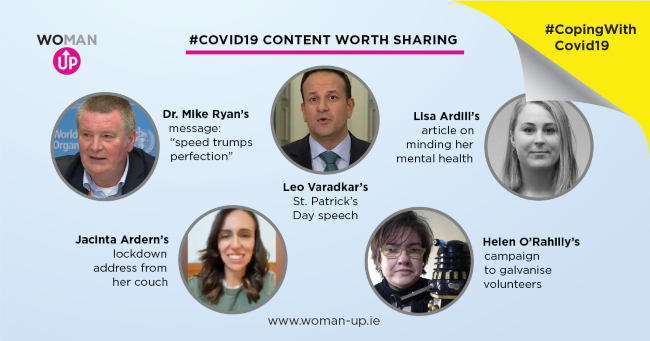 Here are examples of the content I've shared over the past month:
Dr Mike Ryan's message about "speed trumping perfection"
Mike Ryan is the Irish doctor who is the Director of the Healthcare Emergencies at the World Health Organisation (WHO). He flanks the Director General at the daily press briefings on Covid19. He has been on the front line of previous epidemics and is a straight talker. "It's very hard to bull***t me," he says.
His forceful message about speed became a viral hit : "Perfection is the enemy of the good when it comes to emergency management….speed trumps perfection….the problem in society we have at the moment is that everyone is afraid of making a mistake. Everyone is afraid of the consequence of error. But the greatest error is not to move. The greatest error is to be paralysed by the fear of failure."
Those words, in my view, are as applicable in the world of business as they are to healthcare emergencies.
Watch Dr Mike Ryan's video in full here
Leo Varadkar's St. Patrick's Day speech
Some 1.6m people watched Leo Varadkar's St. Patrick's Day broadcast live on RTÉ, putting the numbers for the Late Late Toy Show in the shade. Instinctively, I felt I had watched one of the great speeches of our time and I wasn't alone.
Barack Obama's speech writer tweeted that it was "reassuring, empathetic, directly addresses young people, the world, and fear itself. Brings everyone into the frontlines"' The headline in the US business website Fast Company described it as "genuine, authoritative, informative, and calming".
Watch the speech here
Lisa Ardill's article about how she's minding her mental health
Lisa is a talented young journalist working for the technology website Silicon Republic. Lisa wrote honestly about her depression and provided nine ways she has been taking the best care of herself during the Covid-19 lockdown.
She finds knitting has helped and gives her something to do with her hands apart from endless scrolling on her phone. She's taken breaks from Houseparty and Zoom to be on her own and regenerate herself. She takes her lunch breaks in her back garden.
Read Lisa's article here
Helen O'Rahilly's campaign to galvanise volunteers nationwide
Helen returned to Ireland last year following a hugely successful media career in London, where she held senior roles in the BBC. Among her many achievements was bringing Dr. Who back to the television screens.
As #Covid19 broke, Helen sent out a tweet about helping people who are isolated, vulnerable or in need to help. So LocalSupport.ie was born and within ten days more than 8,000 people had volunteered. The initiative filled an important gap before the Government along with the community and voluntary sector launched the Community Call to coordinate community activity.
Visit LocalSupport.ie here
Jacinta Ardern's delivering a national address in her tracksuit
New Zealand Prime Minister Jacinta Ardern came to international attention with her response to the Christchurch massacre. She is an exceptional female leader with a wonderfully casual and authentic communications style that is so different to those of many political leaders.
"Evening everyone. I thought I'd jump in online and check in with everyone," so began her video message to New Zealanders about Covid19 restrictions. She wore a track suit, explaining that "it's a messy business putting a toddler to bed". The video was shot on her couch and on a mobile phone. As she spoke, she was hosting a Facebook Live Q&A handling each question carefully and sensitively. Communications gold.
Watch the Covid-19 video here
Aileen O'Toole, a co-founder of the Sunday Business Post, is a Chartered Director and Digital Strategist. She is a member of the Governing Body of the Technological University Dublin. She is a co-founder of WomanUp, which aims to strengthen the female leadership pipeline through a programme which gives mid-career females the insights, skills and confidence to progress to leadership roles. More than 40 women in Bank of Ireland Group have participated in the programme to date. For more details on the programme, visit the WomanUp website