Stampify has developed a loyalty card that allows businesses to work with customers to fight world hunger.
Stampify's loyalty app for charity helps businesses to improve customer retention and provides meals to children
"The problem we are looking to fight is world hunger, which affects more than 800m people globally," said CEO and co-founder Conor Leen.
"For every stamp you collect the business will donate two meals to children in their place of education in the developing world"
"Our vision is a world where no one is unsure of where their next meal will come from, to help realise this vision we created a loyalty card that allows users to swap loyalty stamps for meal donations.
How Stampify works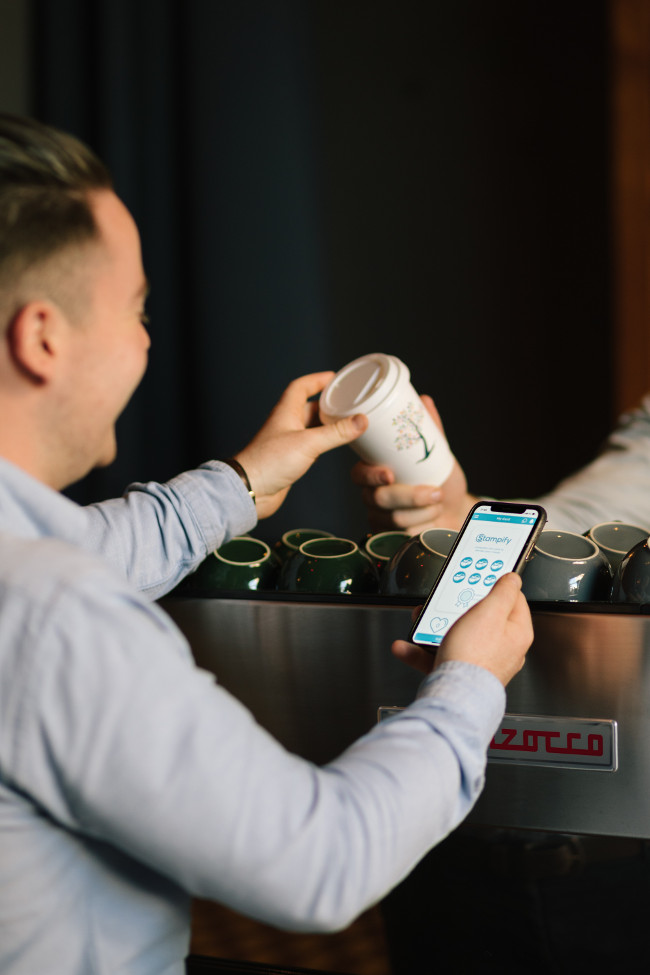 Stampify is a digital loyalty card for charity that can be downloaded and used for free on any iOS or Android device.
"It works quite similarly to a traditional loyalty card, with two main differences: it can be used across businesses, and when complete instead of receiving a free coffee/meal as you would usually with a loyalty card, the business will make a donation to charity.
"To use our app, you just need to open it and scan a QR code displayed in partner businesses to collect stamps. For every stamp you collect the business will donate two meals to children in their place of education in the developing world," said Leen.
Social enterprise defined
Stampify was founded by five graduates from Trinity College in 2018: Conor Leen, Conor Hughes, Mark Reihill, Conor O'Keeffe and Padraic O'Maille).
"Our team had previously worked on several societies in university relating to entrepreneurship and charity, and the mix of these two led us towards starting a social enterprise," said Leen.
Leen believes the Irish start-up scene is made unique by its collaborative spirit.
"Personally, I think the start-up ecosystem in Ireland is great. From my experience with it, everyone is willing to lend a hand and support one another, we definitely would not be where we are today without such support and I'm sure the same is true for many other early-stage start-ups.
"We have just received charitable status and are soon going to begin looking for corporate sponsors/impact investors to help us scale Stampify. If anyone is interested in learning more about how this might work, please don't hesitate to reach out."
The mindset of entrepreneurs
The best habits for entrepreneurs involve growing their perspective, he believes. "It may be recency bias, but I have gotten into reading again this year and have found it to be transformational in the way I think about Stampify. I think it is such a good habit to have, not only as it helps you relax before bed (where I mainly read) but it also provides you with different perspectives and ways of working that you can bring into your start-up. A few great books I have read recently include The Hard Thing About Hard Things, Building a Storybrand, and Shoe Dog.
Cloud is key to being agile. "The main one we use when meeting is Google Hangouts, which has been great in allowing us to continue to meet at the same frequency as we would normally while we are all located in different parts of the country."
Leen believes the key to succeeding as an entrepreneur is to know your strengths. "The main one for me would be to avoid doing things you are not good at. For me, this is design. I used to spend a lot of time writing briefs and working with designers to no avail, it would take a lot of time and the output would never be great, simply as I don't have the skillset for this.
"More recently, I have come to terms with the fact that I'm not going to be good at everything, and rather than put my head down and trying to persevere, I've realised it's best to bring on people who are talented in areas I am not, and work with them to achieve our goals."
Main image at top: The Stampify team (from left) Conor Leen, Mark Reihill, Conor O'Keeffe, Clara Mądroszkiewiczówna, Stephen Flynn
Written by John Kennedy (john.kennedy3@boi.com)
Published: 28 September, 2020