Dun Laoghaire-based Snapfix has built what it claims is the simplest toolkit in the world, for managing buildings, facilities, infrastructure and equipment.
Initially focused on hotels but now supporting a whole range of applications, Snapfix is an application that covers a significant number of processes such as maintenance, housekeeping, fire safety checks, security checks, food safety checks and more via smartphones using photography and Near Field Communication as the conduits.
"Every building, every piece of infrastructure and every piece of equipment in the world requires maintenance," explained Snapfix CEO and co-founder Paul McCarthy.
"Snapfix is unique in its simplicity and flexibility and can manage every type of task and team size"
"The mission for Snapfix is to be "the Maintenance Solution for the World'. Many of the solutions to date have been too complex, too inflexible, too time-consuming, and too expensive. It's a market that has been poorly served. Snapfix is addressing this global market with a unique mobile SaaS (Software-as-a-Service) solution.
"We at Snapfix are obsessed with simplicity. We use photos, tags and messaging (just like WhatsApp) with a simple Red/Amber/Green traffic light system to manage everything; we believe that traffic lights are the universal symbol of teamwork. It's super simple, everyone gets it, and it works extremely well with multi-lingual teams (a photo speaks a thousand words, and a photo speaks every language).
According to McCarthhy Snapfix was a global solution from day one. "Our initial niche was hotels, and they were a great sector to prove all the principles of Snapfix (that people will uses photos and traffic lights to communicate and collaborate efficiently). Earlier this year, we expanded to office and apartment buildings, factories and field service, engineering and construction, in Ireland, the UK and the US.
The entrepreneurial bug
McCarthy was raised on a farm in Co Cork and grew up with the entrepreneurial bug.
"On the farm, we were always creating innovative solutions to problems, and trying to keep them as simple, as flexible and as cost effective as possible. It was a brilliant training ground."
Snapfix has three experienced co-founders McCarthy (CEO), Cathal Greaney (CTO) and Fergus McLoughlin (CFO).
"I originally developed Snapfix to solve my own problem. Some years ago I was managing a number of office and apartment buildings, and I could not find a simple enough solution to manage everything effectively (maintenance, cleaning, fire safety checks, health and safety, security, renovations/fitouts, codes and Passwords, etc). I did try to use WhatsApp, and found it a great solution for 'Chat', but it was not designed or suitable for 'Task Management'. That was the 'light bulb moment'. I discussed the solution with many companies, who are now customers, and confirmed that there was a demand for task management solution as simple as WhatsApp.
"So, keeping all the best features of WhatsApp in mind, I developed the initial prototype with the assistance of Cathal, who subsequently became the Snapfix CTO. Fergus came on board as CFO, with a priority to manage our fundraising journey to take Snapfix global. Having an experienced and dedicated team has been essential to our success."
How Snapfix works
Snapfix is a comprehensive cloud platform, with both Apple and Android apps for users.
Everyone on a team (in a building, in a business) can have the Snapfix app on their mobile phone. This allows them to communicate and collaborate very efficiently using Photos, Tags, Messaging and Traffic Lights, in order to instantly capture tasks and issues, share them with their team, progress them to resolution.
"The aim is to 'get stuff done'", said McCarthy.
"Snapfix is unique in its simplicity and flexibility and can manage every type of task and team size. We have a 90-second video on our website that demonstrates some of the uses and the benefits. We have a series of new videos in progress.
"We also have additional modules to allow connectivity to the Internet of Things (IoT) and to existing business systems. For many of our customers, Snapfix is a great first step to smart buildings."
The keys to success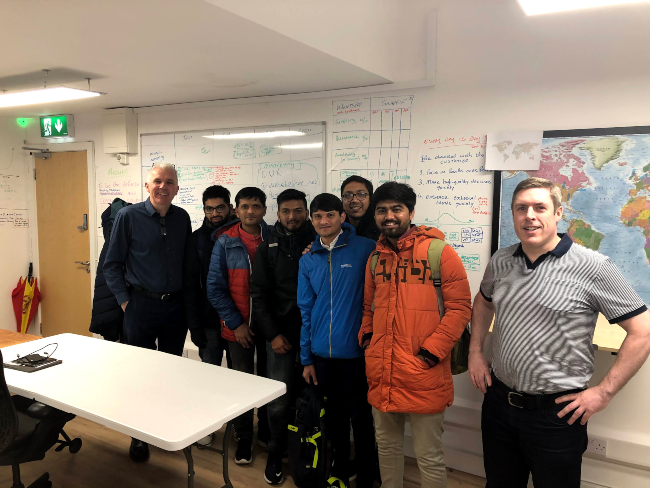 Snapfix has had a very positive reaction by angel investors, and our seed round was thankfully oversubscribed.
"Key to that success was the experience of the team, the depth of our industry knowledge, and having paying customers prior to the investment round.
"Enterprise Ireland (EI) have also invested as part of their High Performance Start Up (HPSU) programme, and the EI team have all been fantastic with their advice and recommendations. I was fortunate to win an Enterprise Ireland Entrepreneur Award in January 2020, and that has really helped our progress as well."
McCarthy said that Snapfix is actively raising funding and is finalising its investment deck for the next round. "This will position Snapfix to go global, and prepare us for a subsequent larger investment round, possibly in the US."
Early validation is crucial
McCarthy's advice to fellow founders is move fast.
"The best lesson I have learned is to get an early working-prototype in front of customers as soon as possible, in order to validate the solution and value proposition. I now believe I could have done it a little sooner. Continual customer feedback is invaluable, and this process now contributes to the Snapfix solution roadmap.
"My advice to founders is to meet as many customers and possible investors as early as possible. Early customers are absolutely essential to validate your solution and value proposition.
I would also advise founders to meet as many investors as possible. They taught me that they are seeking 3 things, in a winning pitch by a winning team :
a massive market
an unsolved problem
and a differentiated solution
McCarthy explained that Snapfix uses several advanced technologies including AWS (Amazon Web Services), as well as a host of leading edge software development tools.
"When I lived in New York city for 10 years, I learned the term 'eat your own dog food", which is the practice of an organisation using its own product. We actually use Snapfix as part of our agile software development process (we are eating our own dog food).
"As Snapfix is photo-based, and task-based, you can easily specify individual features very quickly and accurately, very often using annotated screen shots, and videos.
"For example, using our simple traffic light process, the product design team specify a new feature in 'Red'. The software development team work on it in 'Yellow', and when it goes live it moves to 'Green'.
"We find that this is a very simple and efficient way to manage all the minute tasks.
"The power of photos and videos is amazing for efficient communication and collaboration. Thinking to the future, it is actually another great use-case for the Snapfix platform, and one we will be promoting in time."
Picture at top: The Snapfix team celebrate winning an Enterprise Ireland Entrepreneur Award earlier this year
Written by John Kennedy (john.kennedy3@boi.com)
Published: 19 June, 2020