Sligo yoga studio Salt & Soul overcame closures imposed by lockdowns to become a 100pc digital enterprise.
Rachel Mulrooney's Salt & Soul yoga studio in Strandhill, Sligo, ran the gauntlet of challenges posed by Covid-19 that every business across Ireland can relate to.
Survival meant pivoting in the direction of online and with the help of her Local Enterprise Office in Sligo and by obtaining a Trading Online Voucher Scheme website grant, her company managed to go from 70pc of business online in October 2019 to 100pc of business online by October 2020.
"The Trading Online Voucher has offloaded some of the financial stress due to the pandemic and I am very grateful for that"
"After traveling to and from Australia for five years and studying various business and marketing courses in Sydney, I returned home to Strandhill and discovered a niche in the market for a yoga studio," she recalls.
"My market research included chatting with local teachers who were teaching in various sports halls/churches and community halls and it was clear that there was a need for a purpose designed studio in Sligo. I found the perfect unit close to the seafront with ample parking space and a perfect canvas for renovating our new yoga studio. I spent the next few months creating Salt & Soul and writing a clear business plan to keep me on track for the years to come. The rest is history!"
Exercising entrepreneurship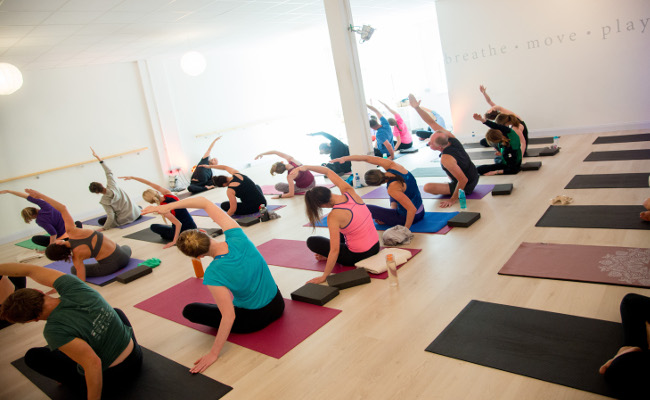 Salt & Soul is a purpose designed Yoga Studio situated along Ireland's Wild Atlantic Way in Strandhill.
"Our studio is light filled and thrives on positive energy. We have an incredible team of teachers who offer various classes on a weekly basis including beginners' yoga, yin yoga, strong vinyasa and meditation. Throughout the year we invite yoga teachers both nationally and internationally to offer workshops, courses and retreats.
"We collaborate with many different local businesses such as Shells Cafe and Sligo Kayak Tours and offer Yoga and Brunch clubs and Yoga and Kayak Tours through the Spring and Summer months. We have our own branded app which clients can download to their iphone, ipad, android mobile or tablet, this makes bookings and membership really straight forward to our customers and is an easy way to stay connected. Since opening our doors in 2016, we have over 2000 clients with a thriving community that is continuously growing.
"We took part in the IBYE competition in 2016 and 2017 and we were lucky to win runners up in Sligo in two years. We have, in the last six months, created and designed our own organic yoga clothing collection which represents our brand in slogan sweaters and beanies. We hope to grow this collection over time," said Mulrooney.
Countering Covid
Like a lot of businesses on the island, Salt & Soul had to close its doors between March and August.
"We opened our doors to the public on 1 August for eight short weeks and our studio was busier than ever. We installed all the necessary health and safety procedures in place and capped our studio capacity by 60pc to adhere to the 2m social distance in place and Thankfully this worked for us and our classes were booking up for weeks in advance.
"During this time, we prepared for another lockdown and planned for the months that lay ahead. We upgraded our booking system to include a platform where we could record and broadcast live yoga classes straight from our website so that our clients could tune in and stay connected during these times.
"We purchased all the necessary equipment to record live classes and had many practice runs before we launched our virtual studio in October. Our platform offers our customers Live Classes at our usual studio times and the option to view our library of recorded classes anytime using our website or app. To date, we have over 45 pre-recorded classes in our virtual library. We will continue to offer this until the time comes that we can open again. We need to wait until Level 2 to do this so we hope it won't be too long."
A meditation on mentoring
Mentoring through the Local Enterprise Office (LEO) as well as the Trading Online Voucher (TOV) played a key role in Salt & Soul pivoting to digital.
"Since 2016, LEO has always been a massive help to me, from setting up my business to transitioning my online platforms due to Covid-19 crisis. I have availed of mentoring through LEO on numerous occasions and this has helped me learn various skills to update my website, search engine optimisation (SEO) and other marketing tools that I have used throughout the years. I also received the TOV this year which has helped me towards the cost of going online during this Covid-19 crisis.
"The Trading Online Voucher has offloaded some of the financial stress due to the pandemic and I am very grateful for that," said Mulrooney.
Looking to the future, she said her digital journey can only gain pace.
"I live in hope that 2021 will allow us to re-open our doors and offer our services in person again. Although the online platform has been helpful in keeping us connected during this time, I really look forward to offering in person classes again and for our yoga community to be reunited again. We plan to expand our current offerings in Studio and offer Teacher Training from Various teachers over the next four years. We will be expanding our Clothing Collection and hope to reach an international customer base for this too."
Her advice to the public is to buy local where possible. "We should all look for 'local' because without your help and support, we won't exist."
Video: How to get your business selling online
With Christmas 2020 now past, the year ahead 2021 still presents retailers with a challenge to go online to not only deal with closed premises if they are deemed non-essential but to address the expectations of an increasingly digitalised consumer.
To get the message out to SMEs, Bank of Ireland collaborated with online shopping platform Shopify as well as Pointy, the Irish platform recently acquired by Google that helps shoppers find via the internet the products they need in your physical store, and the E-commerce Association of Ireland (eCAI), to highlight the opportunities that exist online.
By John Kennedy (john.kennedy3@boi.com)
Published: 19 January 2021