Because of the pandemic clothing manufacturers and suppliers will need to rebuild their supply chains to serve a radically different landscape, writes Colleen Connolly.
There's no doubt that the fashion industry has been fundamentally altered by the impact of Covid-19. Retail outlets across Ireland have now largely re-opened but shopping trips look very different to what we're used to – with now-mandatory face masks, sanitation stations at entrances and exits, limited numbers of shoppers at any one time and closed fitting rooms all impacting what traditionally tends to be a fun permitted, tactile and spontaneous activity.
In addition, home working has meant that footfall in large towns and cities has significantly declined, while many of us choose to shop locally or online instead.
"Make sustainability systemic by placing it at the centre of business strategy"
At the production level, the pandemic has put huge pressure on the sector due to abrupt order cancellations, halted payments, enforced factory and store closures and even worse, poor factory working conditions.
Restarting fashion
This is against a background of falling customer spending and a sharp decline in demand for clothing and footwear.  As the dust settles, clothing manufacturers and suppliers will need to rebuild their clothing supply chains to serve a radically different set of circumstances.
This 'restart' gives brands and retailers an opportunity to fundamentally reassess their ways of working, and crucially, transform the industry for the better by promoting sustainable and ethical practices at all stages of production.  
More than 150bn garments are manufactured worldwide each year, often ending up far across the globe from where they were created. Now, consider the scale of the problem if you consider the annual global spend on fashion equates to the GDP of the world's 126 poorest countries. The carbon footprint of any garment's journey and the environmental impact of its creation have created a perfect storm of unsustainability—and all this from an industry that consumes more energy than aviation and shipping combined.
When you combine the environmental impact with the working and financial conditions of the clothing factories themselves, we can see the complex layers open to unsustainable and unfair practices.  This is one of the great challenges in the manufacturing world: how to bring transparency and traceability to incredibly complicated systems, and how to use it to drive sustainable and ethical practices. But the potential benefits are huge, and given the scale of the process, there is a diverse range of opportunities.
Threads that bind
At The Dock, Accenture's flagship R&D and innovation centre in Dublin, we recently conducted research into this challenge. In Threads that Bind: Transforming the Supply Chain, we have identified a number of key considerations for clothing retailer and suppliers.
"The industry is facing a significant challenge but there has never been more international momentum behind sustainable initiatives"
When we were conducting this research earlier this year, there was a perspective that a blocker to injecting transparency into the supply chain was that the system was unchangeable because the system was unstoppable. However, the pandemic has shown that this is not the case. As the industry attempts to restart, the frenetic pace of production is being put under the microscope with people and businesses reassessing what they really need.  
Make sustainability systemic by placing it at the centre of business strategy. This is crucial –companies need to put sustainability goals on a par with shareholder value, and respect all their stakeholders, including customers, employees, suppliers, communities and shareholders.
Several established brands are ahead of the curve. Patagonia has been heralded as a Certified B Corporation for taking responsibility for its entire supply chain and working to protect the environment.
Marks & Spencer is aiming to become a zero-waste business and has committed to ensuring that, by 2025, its 50 key raw materials (80pc of its volume) will come from a sustainable source.  
Create meaningful change
The fashion industry is heavily interdependent, as illustrated by recent challenges. However, this can be turned to its advantage.
Creating meaningful change will require a huge amount of collaboration across strategy, transparency, trust and guidance—but unlike other sectors, clothing manufacturers and retailers are already well accustomed to working with each other and our research indicates a shared willingness to improve the industry.
Agree industry wide common ground for sustainability standards and working practices.  If codes of conduct, process steps, and guidelines were standardised, it would make a huge difference. Working together with industry bodies and integrating technology is essential here.
Another industry wide challenge that suffers from industry inconsistency is audits. If brands collaborate to standardise audit requirements and their frequency, they could radically improve the efficiency and visibility of one of the most challenging parts of the clothing supply chain.
The apparel industry produces masses of data, but it is often in impractical, outdated formats that are hard to mine for insights. By upgrading out of date systems, brands and suppliers can gain the most value from their data and insights. Leading fashion players must also leverage technologies like artificial intelligence to help reduce excess stock and predict demand.
Being smart with data and technology isn't a nice to do, it's a need to do. Technology will not solve all these issues, but it can be used to improve conditions and transparency and enable the collaboration to make change happen.
The industry is facing a significant challenge but there has never been more international momentum behind sustainable initiatives, and their economic value is now more clearly understood. Now it's up to companies to cut from a different cloth.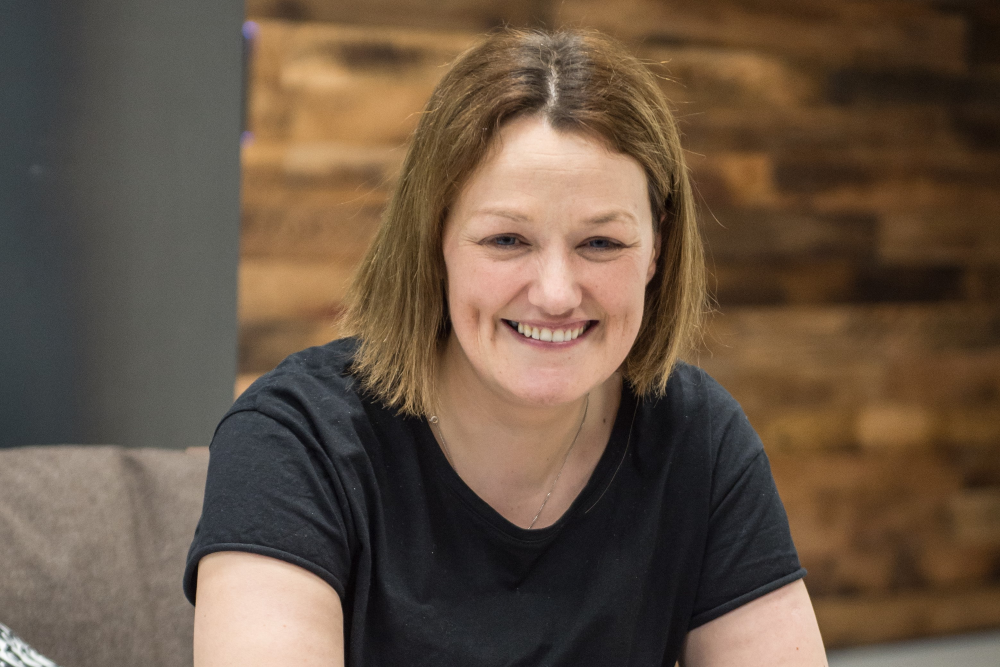 Colleen Connolly is a Senior Innovation Lead at The Dock, Accenture's flagship R&D and innovation centre in Dublin
Published: 25 September, 2020