Starting with Swords, Property company NoCo is planning for the post-pandemic future of work across commuter towns surrounding Dublin.
NoCo, a new innovative property company, has announced its plans to provide secure and private office suites to large corporate companies via a multi-location property network across commuter towns surrounding Dublin city.
NoCo raised initial funding of €200,000 from a consortium of private investors with backgrounds in property investment, development, corporate finance and venture capital. The company is currently in the process of raising further capital to grow their workspace network across the UK and Europe.
"We've already seen significant demand from firms with larger numbers of employees who recognise the benefits of having more workspace options"
KMD Architects were engaged to design a space that offers client's a fully fitted private office suite complete with workstations, chairs, power, data points, phone booths and meeting rooms. The fitout is being managed and carried out by Roccul and Sensori FM, a Sisk company, while high speed connectivity and IT security is provided by Welltel.
The return to the office will be very different
NoCo's first location is a fully serviced 40,000 sq. ft. building in Swords Business Campus, North County Dublin, and four further locations will open in the next 12 months in Clonee, Adamstown, Naas and Bray.
Each NoCo building is divided into private own door workspaces – in a size required by the client – and once a client is part of the NoCo network, their employees can roam between any of the NoCo locations. The NoCo service is managed through a simple mobile platform that facilitates booking options and the overall management of the client's private office suites.
NoCo was co-founded by entrepreneurs Brian Moran and Frankie McSwiney, who both previously commuted for long hours and wanted to create a solution that would reduce commuting time, facilitate a better work/life balance and also address the issue of lost productivity for employers.
Commuter arteries covered
NoCo sites are strategically situated to cover all of the major artery roads that feed into Dublin city and are in areas well serviced by parking public transport links, childcare facilities and recreational facilities.
The properties are architecturally designed and built, with an abundance of natural light, landscaped grounds and comfortable communal areas. The best available furnishing materials and technology are utilised throughout and 24-hour security is also offered.
"Our mission is to create a flexible remote working solution for businesses and employees – helping them to reduce commuting times and facilitate a better work / life balance. The NoCo network of dedicated workspace facilities means team members can work from an existing HQ location, their own home, or one of our dedicated own-door office spaces. Our service also allows our clients to better manage their workforce strategy by integrating all workspaces available to them," Moran said.
An alternative to the commute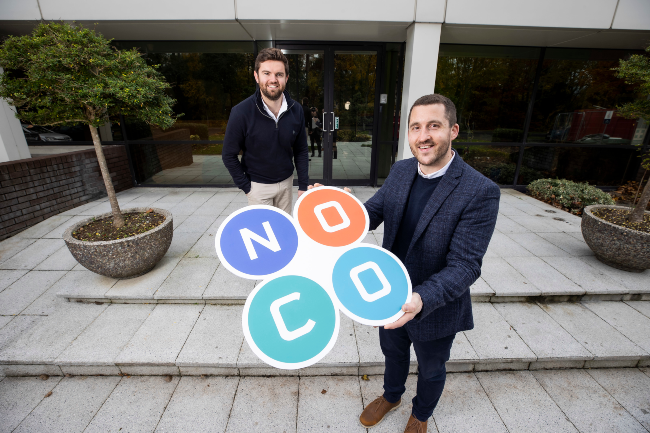 NoCo founders Brian Moran and Frankie McSwiney
While the idea for NoCo was conceived pre-Covid with a mission to offer an alternative to the daily commute, demand has accelerated substantially in recent months with large employers seeking alternative workplace options to facilitate remote working.
As a result, NoCo has seen significant demand from some of Ireland's largest high-profile professional services firms, including a number of legal, accounting, and consulting companies, who will be utilising the network before the end of this year.
According to McSwiney, the Covid-19 pandemic has meant more people than ever are working away from their primary office, but, for many, working from home can be unsuitable or unsatisfactory.
The NoCo service will enable large companies to better manage their workforce strategy and facilitate a hybrid remote working model by integrating all workspaces available to them such as their headquarters, private suites in NoCo locations close to where employees live, and also employees' own homes.
"Both working from home and commuting to an office have their drawbacks – and our dedicated workspaces close to employees' homes provide a valuable alternative for employers and their staff alike. We've already seen significant demand from firms with larger numbers of employees who recognise the benefits of having more workspace options, and the impact this will have in reducing commuting times and increasing employees' quality of life."
By John Kennedy (john.kennedy3@boi.com)
Published: 2 December, 2020