Head of Motor Sector at Bank of Ireland Stephen Healy provides an overview of Ireland's Motor Sector.
The motor sector employs c. 47,000 people across 400 towns in Ireland and is a significant contributor to the exchequer as Revenue collects c. €1.6bn annually from vehicle sales alone.
At Bank of Ireland, we are partnered with 21 motor franchises accounting for c. 45pc of the market and provide wholesale and retail funding to support our customers to thrive.
We also have a specialist sectoral team in place to support our local business Relationship Managers nationwide.
Market drivers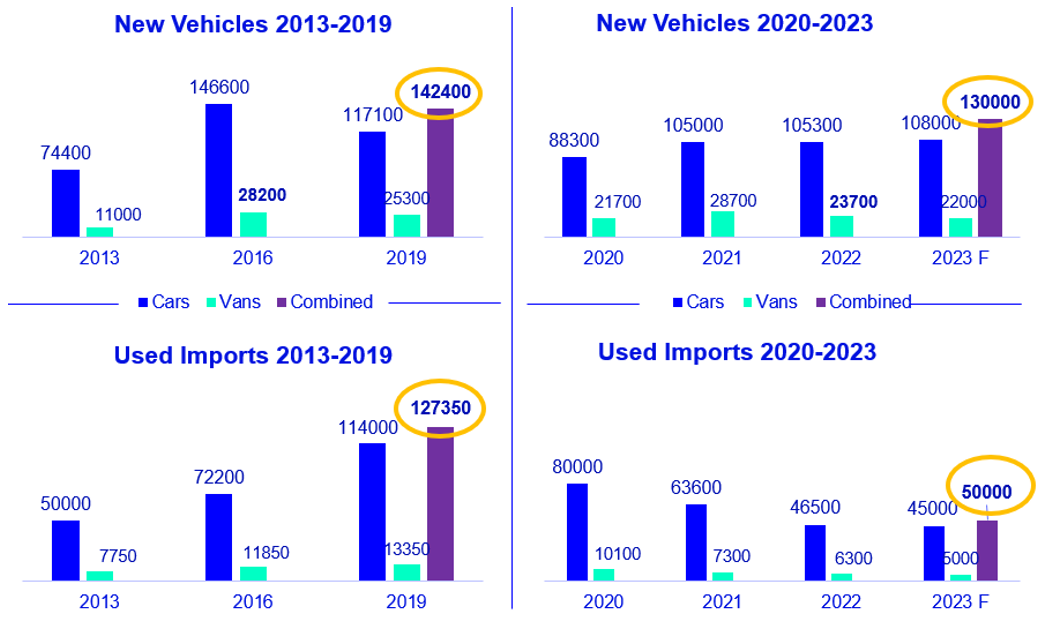 Demand
Vehicle demand can be cyclical and linked to macro factors along with consumer confidence. Following the global financial crisis, new vehicle sales were depressed from 2009-2012 before materially improving from 2013 – 2016
In 2016, the Brexit referendum was the catalyst for a substantial increase in used import volumes coming to the Republic of Ireland from the UK due to a fall in the value of sterling. This impacted new car demand due to a decline in residual values and an increase in the cost to change for consumers
Motor dealers are "not just about new car sales", and dealers adapted to the new environment by focusing on used car and workshop sales channels. Aftersales incomes generates c. 40% of overall income and used car margins are generally stronger than new car margins.
The motor sector was particularly resilient in the face of the health crisis. Motor dealers reported reduced turnover in 2020, due to various restrictions, but also higher margins and lower costs leading to improved profitability. This trend of improved financial performance carried over into 2021 financials with pent up demand evident in the market.
Sales of battery electric vehicles (BEV's) represented 15% of the market in 2022 with an acceleration in demand expected over the coming years. BEV share could increase to 35% of new car sales by the middle of the decade.
In the near term, the Society of the Irish Motor Industry (SIMI) predict new car sales in 2023 will more or less on a par with 2022. Looking forward, noting continuing supply challenges, we expect that new vehicle sales will trend back to pre-pandemic levels by 2024.
Supply
New car supply continues to be impacted in 2023 due to international supply chain restrictions. It is expected that new vehicle supply will improve toward the latter half of 2023.
Used cars are also in short supply due to the impacts of Brexit (less used imports), increased new vehicle taxes (suppressing demand) along with lower new car sales from 2020 to 2022 (less used trade ins).
Quarter 1 accounts for c. 60% of annualised new sales (July c. 20%). 2023 seasonality may be impacted, as was experienced in 2022, thus flattening the curve this year.
Sources: Society of the Irish Motor Industry (SIMI)