Showcase is one of the industry's largest international trade fairs where designers and craft makers provide a choice of contemporary and heritage collections, offering innovation, quality, sustainability and a distinctive point of difference to retail buyers from across the globe.
Showcase Ireland is an initiative of the Design & Crafts Council Ireland and is supported by Enterprise Ireland and the Local Enterprise Offices. View the Digital Catalogue here
"We had to refocus the business from retailer based to online. Sales for the Christmas season were overall higher than in previous years"
Chair of Showcase Ireland, Eddie Shanahan said: "Ireland boasts a wealth of talent and creativity and while the pandemic prevents the physical event from taking place, we are delighted to continue to provide a platform for Ireland's creators and makers to showcase their products to Irish and international buyers. Though this year's event will look different, we are confident that we will demonstrate the vitality of the Irish craft and design sector to both new and returning buyers.
"We will also relaunch our Showcase website as a Source Guide, with over 200 designers and makers offering B2B facilities, for Irish and international buyers".
Berry Be Beauty
Berry Be Beauty was founded by multi award winning entrepreneur Lorna Venton, whose experience as a holistic therapist and reflexologist has led to the creation of this extraordinary Irish Beauty Brand that uses a holistic approach to skincare, health and wellbeing. Located in North Dublin, Berry Be Beauty makes Natural Beauty Products and Essential Oil Soy Wax Candles and Diffusers.
How has Covid-19 been for you / your business?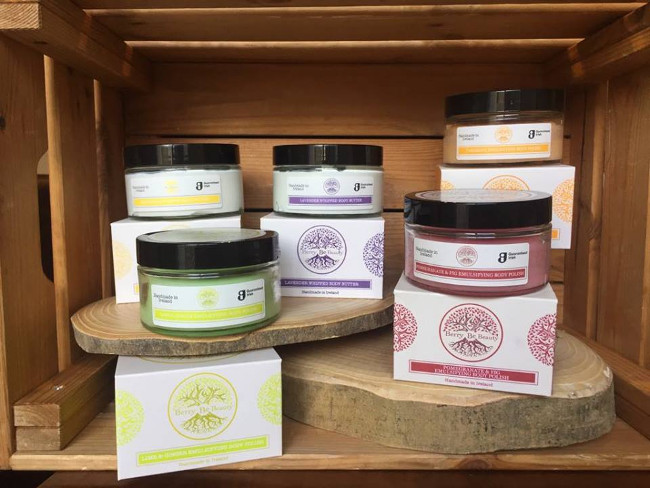 Unfortunately like most other businesses, Berry Be Beauty has been drastically affected by Covid-19. After a great start to the year following Showcase Ireland back in January, we were forced to close from mid-March and only partially re-opened for the remainder of the summer. Things picked up around October for the start of the Christmas season. We had to refocus the business from retailer based to online. Sales for the Christmas season were overall higher than in previous years.
How have the Local Enterprise Offices supported your business?
The Local Enterprise Offices have been unbelievable. I honestly think that the support we received this year, especially in the run up to Christmas, kept our business going. We updated our current website with the help of the Trading Online Voucher which was fantastic for increasing online sales. We availed of several free online workshops which were extremely helpful and relevant to the current climate. We were supported with local advertising, newspaper ads and we were lucky enough to be chosen to be included in a radio ad in the run up to Christmas as part of the 'Look for Local' campaign.
What new innovations are you showing at Showcase 2021?
We are looking to launch a new product 'liquid hand wash' in spring time to complement our hand cream range. We are hoping to attract the attention of buyers in Ireland and abroad at Showcase 2021 which is a fantastic opportunity for us as a small business.
Published: 21 January 2021