Group owner Kilian McGreal talks about McGreals Pharmacy Group's culture of innovation, rewarding and empowering employees, and its move into beating Covid-19 using Irish-made technology.
McGreals Pharmacy Group owes a legacy of innovation and a focus on employee financial wellbeing to its success and endurance as a third-generation family business.
It is not surprising therefore that the company keeps evolving and is now at the technological edge when it comes to beating Covid-19. It emerged recently that McGreal's was one of the first businesses in the country to deploy plasma-killing technology made by Irish company Novaerus that can quickly disinfect the air in shops, offices, waiting rooms, factories and any building where people share an indoor space.
"My gut instinct is that the healthcare community is ripe to adapt to the changing needs of patients through the latest digital technologies"
Having initially installed the units for staff and customer protection, McGreal's CEO Kilian McGreal recognised the potential of Novaerus for the wider business community and agreed a deal to become official supplier of the products.
The move is characteristic of a business owner hungry to grow and evolve his company.
McGreal's Pharmacy Group, which operates 11 pharmacies in the Leinster area as well as a primary care centre in Blessington employs 120 people. It was founded in Wicklow in 1961 by McGreal's grandfather.
Kilian McGreal joined the family business after leaving college in the early 2000s. "I spent the first couple of years working on the fundamentals while a lot of other businesses in our area were leveraging and over-leveraging."
Detail is at the heart of retail
He explained that by doubling down on everything from staffing to training programmes, tax planning and detailed market studies, the fundamentals of McGreal's were robust when the recession hit more than a decade ago.
"We were in a better position than most to deal with the crisis and from that point opportunities began to arise. The first was to explore the possibility of developing a primary care centre, which we felt strongly would dovetail perfectly with our community-focused integrated healthcare model. By developing a primary care centre you are giving the whole community access to a much greater range of services which we believe will lead to better health outcomes for patients."
The innovations kept coming as the company evolved into areas from online ordering to beauty, optician services, nutrition, hearing/audiology, skin treatment and even opening Ireland's first ethnic pharmacy Polonia in Smithfield.
The future of caring
The move into primary care for communities as well as pivoting into new areas from beauty to nutrition is just indicative of the vision and ambition McGreal has for the business. He explained it is all about positioning the company for the future.
"Pharmacists are the most frequently accessed healthcare professional, in Ireland; evidence suggests that 2m people visit a community pharmacy each month and that 20m prescriptions are filled in pharmacies annually"
"Traditionally these areas have been quite fragmented, and people had to go to different locations for their optician or nutritionist or audiologist. But if you can go to one location you are more likely to avail of the different services and you have all of these different healthcare professionals engaging each other on your behalf. The hope is that this will lead to better health outcomes."
Ultimately, he believes that it is far more cost-effective for patients to be looked after in their community but also that such an approach lends itself to the digital future of pharmacies and primary care.
"Being GDPR-compliant, we can merge different data sources and perhaps tie in live data the patients are producing themselves to provide massive benefits to the patients in community settings and on a much more cost-effective basis than in an acute hospital setting. My gut instinct is that the healthcare community is ripe to adapt to the changing needs of patients through the latest digital technologies."
McGreal's instincts about community healthcare are spot on, says Hilary Coates, head of Health Sector at Bank of Ireland.
"Pharmacists are the most frequently accessed healthcare professional, in Ireland; evidence suggests that 2m people visit a community pharmacy each month and that 20m prescriptions are filled in pharmacies annually.
"This means that pharmacists and pharmacy staff know and understand their communities. Consequently, they very quickly pivoted to respond to Covid-19 and introduce innovative changes that focused on patient and community needs."
Coates added: "From early in the pandemic, our teams have proactively engaged with customers to offer support, we have provided additional finance to support the purchase of additional stock and moratoriums to protect pharmacy groups' cash flows. Bank of Ireland understands the challenges faced by the community pharmacy sector. We are a strong supporter of the sector and will continue to work closely with our customers and communities to enable them to thrive in the coming year as they adapt to the 'Next Normal'."
Positive culture and values
New technologies and innovative services sound great but ever the realist, McGreal doesn't believe anything is possible unless you focus on creating a positive culture within the organisation.
"We treat every staff member as an individual and we try to ensure that staff members are properly rewarded and appreciated. We ensure that every staff member is benefiting from and sharing in the growth of the business. We also put in place shares, pensions and life insurance policies for permanent staff members.
"In early March, once we realised what was happening with Covid-19 around the world we focused on mitigating the risk and immediately put in place protective screens and sanitisers, ensured patients paid by card, introduced single-use computers and a queuing system. We also moved to launch free home deliveries to any patient that needs it in any location, and we ensured staff were well trained to understand what they needed to do and how to engage the patients and practice appropriate social distancing. A huge effort went into managing staffing and scheduling and our front-line staff worked miracles to ensure patients got the medicines they needed in a safe, timely and contactless manner."
Beating Covid-19 in the air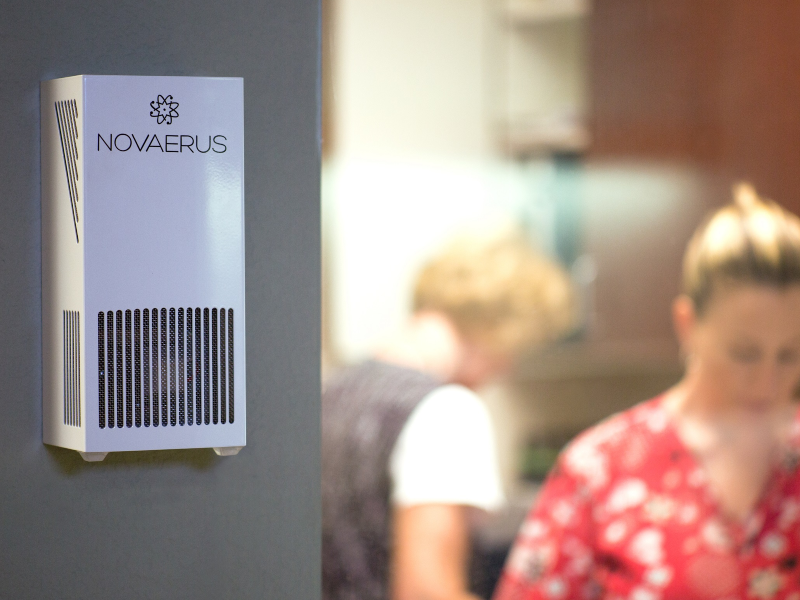 It was while evaluating measures to take to protect customers and staff, McGreal was extremely conscious of the threat of airborne transmission of the coronavirus despite all the other precautions from screens to surfaces and hand sanitisers. "It was clear to me that no matter what we did there was always the danger that someone could walk in with the virus and spread it through the air.
"When I was introduced to Novaerus I was very impressed with the science it was based on. The plasma destroys the pathogen and effectively deactivates the DNA."
The Novaerus technology has been independently proven to kill 99.99pc of MS2 Bacteriophage, a surrogate for SARS-CoV-2, the virus causing Covid-19. The product range includes the NV200, NV800 and Defend 1050 models, all of which can be simply plugged in and moved from room to room. The devices use a plasma-based technology to decontaminate the air, with the smaller models using less energy than a 40-watt light bulb.
As the Novaerus devices are based on a kill technology, not a trap technology, they have no filters. The Novaerus technology continuously pulls contaminated indoor air across internal short-exposure plasma coils, deactivating airborne microorganisms and viruses at the DNA level. Due to the small size of viruses, many clean air solutions, including standalone filtration units, which are based on a trap technology, are unable to trap viral particles. The Novaerus devices have been proven to kill airborne viruses (tested in over 30 laboratories around the world). The testing was against a range of viruses including MS2 Bacteriophage, a commonly used surrogate for Sars-CoV (Coronavirus), and were shown to reduce the virus by 99.99pc.
McGreal liked the technology so much that he agreed to become official supplier. "Installing Novaerus units in all our shops to help prevent the spread of Covid-19 was a no-brainer," he said at the time.
"However, I firmly believe the benefits go well beyond that. Post Covid-19, our team and our patients will have a much higher expectation of the hygiene measures at their local pharmacy. With the amount of people coming into our pharmacies with colds, flu and chest infections, having a Novaerus unit to eliminate airborne viruses, bacteria and fungi makes perfect sense."
He explained to ThinkBusiness that the market for this technology would include everything from offices, retail outlets such as pharmacies or butchers, or in fact anywhere that hygienic air is paramount.
"We see this as being a key element of getting people safely back to work. And the great thing is that it is a cool technology developed here in Ireland."
Fostering innovation as a value
Asked about his approach to innovation, McGreal says it starts with curiosity but ultimately it is about spotting the correct opportunities to support the patients but also employees. "I think community-based healthcare is ready for significant disruption. I think if that disruption is tackled right it will ultimately benefit the patient.
"At our core we have always focused on the value of the patient over the value of the transaction. And if we were all to look at healthcare in that manner it would be far easier to make strategically important long-term decisions that will benefit the patient.
"Another guiding principle is the team and how they benefit and develop from being innovative. This allows for individual team members to help grow the business as they want to and feel empowered. You reward people appropriately, you appreciate them, but for people to be truly happy long-term, they have to feel empowered and that they are reaching their own goals and ambitions.
"And that's why we have put in place shares, pensions and life insurance for our staff too; if they feel they are invested well in the business and providing the service they want to provide, everyone can benefit."
Pictured at top: group owner Kilian McGreal, McGreal's Pharmacy Group
Written by John Kennedy (john.kennedy3@boi.com)
Published: 14 July, 2020