From Industry 4.0 to digital and 3D printing, Bank of Ireland's head of Manufacturing looks at the tech trends shaping the sector.
In the spirit of agility and continuous improvement, the acceleration of tech and digital transformation of manufacturing is the next big disruptor and continues to be a game changer for the sector.
From the 1990s on, lean practices have been widely adopted with great productivity benefits. The next big change is adoption of digital smart technologies as businesses seek greater productivity gains and look to provide their stakeholders (suppliers and end users) with an enhanced customer centric experience.
"Ultimately Irish manufacturing needs to rethink its products offerings as full-service offerings which are customer centric providing the end user with an experience better than the next best alternative"
The internet of things gathers pace as more and more products become smart and connected. Everything from cars, industrial equipment, smart utility meters to training shoes, toothbrushes and even barbecues are all becoming connected to create an enhanced customer centric experience and give industries sharper insights into customer trends and needs.
Data is the new oil
Industry 4.0, the fourth industrial revolution is upon us, coming after that of steam, followed by oil and electricity and thirdly computers. The big difference with 4IR (4th Industry Revolution) compared to earlier disruptor events, is its speed, scale and impact on our lives.
As computers and artificial intelligence (AI) dominate more and more of our physical environments, the opportunities are boundless. In concrete numbers, smart devices which connect objects to each other and within the internet will more than double globally from 22bn units in 2018 to 50 billion units in 20234.
Covid-19 has been a remarkable catalyst for change with estimates that in 2020, more than 70pc of companies have accelerated their digital roadmaps having pivoted many aspects of their business in an online and digital direction.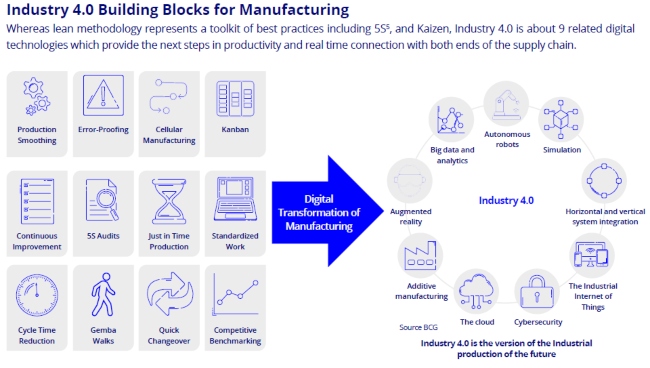 As manufacturing companies adopt these different technologies in ways appropriate to their business and customer needs their ways of working will transform including:
Data driven solutions using cloud technology, solving problems quicker and in ways that enhance customer experience.
Digitised supply chains which provide real time information and a seamless end to end raw material to end product conversion. There will also be a greater migration from linear to circular supply chains.
Additive manufacturing, 3D printing, rapid prototyping, shortening product development cycles.
Shop floor automation, with AI and ML (Machine Learning) driving repeatable outputs. Move from production lines to production eco systems.
Autonomous/Green material transport solutions including freight for finished products.
Ultimately Irish manufacturing needs to rethink its products offerings as full-service offerings which are customer centric providing the end user with an experience better than the next best alternative.
Ireland and the manufacturing digital revolution
Ireland with its high tech, high value and highly productive manufacturing base is well placed to proactively embrace
digital technologies. With Irish manufacturing contributing a third of the country's GDP, its importance is well recognised. A digital transformation roadmap "Ireland's Industry 4.0 Strategy 2020-2025 – Future Jobs" has been published with concrete actions to support manufacturing and SMEs.
Linked to this is the opening of an Advanced Manufacturing Centre (AMC) in Q1 2022. This centre of excellence will provide latest manufacturing best practices to a wider industry audience. There is also a great ecosystem of state bodies and supports and Research Technology Organisations (RTOs) all providing networks, grant assistance, and exemplars for manufacturers to proactively take their operations to the new digital era.
To stay competitive and retain our strong manufacturing base, investment in digital and associated new skillsets is crucial.
Ireland has a recognised strong track record in innovation, and will no doubt embrace the opportunities presented with Industry 4.0 transformation.
These insights were published as part of a Bank of Ireland Sectors report on the Acceleration of Technology. Full report:
Bank of Ireland Sectors report on the Acceleration of Technology
View
Print