Simply Fit Food is one of Ireland's newest health food brands and will be available in 153 Lidl stores across Ireland from September.
Simply Fit Food meals will be available in Lidl stores across Ireland from September after being accepted onto the Lidl Kickstart programme.
The company, which started out as an online meal delivery company, has enjoyed enormous success since launching into retail stores last January.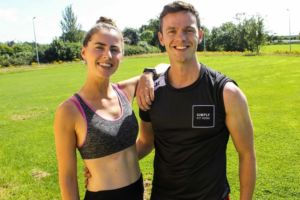 The Louth-based business, that previously featured on ThinkBusiness, has sold over 100,000 units to date, building an ever-growing community across their social media channels to almost 25,000 followers to date.
"We are forever being inundated with messages on our social media from customers asking us to stock our range around the country. Launching our range for a limited time with Lidl will allow us to access every part of the country and finally give our customers the chance to try our nutritious meals after a much-anticipated wait," said Evelyn Garland, co-founder of the company.
Simply Fit Food was set up by sports-mad couple Evelyn Garland and Luke Judge after Luke was diagnosed with a heart condition in January 2016.
The idea behind Simply Fit Food came from personal experience when both realised the difficulties of maintaining a healthy diet while training, whether it be with their respective GAA clubs, or following sessions at the gym.
"It was important to us that Luke got to enjoy the best nutrition possible while recovering. But because we were so busy training and working, we found it almost impossible to find a nutritious meal on-the-go, that was actually healthy for you. This was where the concept for our meals was created," says Evelyn.
The Lidl Kickstart programme, which was originally launched in 2017 is a supplier development programme in conjunction with Bord Bia that allows rapidly growing Irish businesses like Simply Fit Food a nationwide platform to showcase their products.
Simply Fit Food's range consists of Thai curry, Asian stir-fry, chicken arrabbiata and cajun chicken sweet potato mash dishes. Each of these meals can be found on shelves in all 153 Lidl stores across Ireland from Monday, 2 September 2019 as part of Lidl's limited edition Best of Ireland promotion.
"We have sold out of our Asian stir-fry, which is one of our top-performing lines more than once this year, we just can't keep our meals on the shelf fast enough," added Evelyn.
You can also find their range in selected Applegreen garages, Dunnes Stores, Joyce's Supermarkets, SuperValu and Centra stores in both the Republic of Ireland and Northern Ireland.
Written by Stephen Larkin
Published: 26 August, 2019