A refillable coffee tin in a wooden crate from speciality coffee roasters JJ Darboven has seen the Dun Laoghaire foodservices supplier scoop a top sustainability award.
The Best Sustainable Packaging Product of 2020 in the hospitality sector (Irish Foodservice Suppliers Award) is a super-cool new refillable coffee tin and wooden crate, containing JJ Darboven's Eighty9 brand of small-batch Irish roasted coffee.
Styled to look like an old-fashioned milk churn, and carried in a slick wooden crate with a sliding lid and handles, each reusable 6kg coffee order saves roughly 40 individual coffee bags and a cardboard box.
"Our tins keep the coffee fresh, and pouring the beans from the lipped churn into a coffee grinder is easier too"
For every metric ton of coffee sold by JJ Darboven, 4,000 plastic bags and 333 boxes are saved, with the potential to eliminate more than 650,000 bags and 23,000 boxes annually, if the business sells all its coffee in the new packaging.
The zero-waste initiative is already a massive hit with the company's hundreds of customers in top hotels, cafés and restaurants across Ireland.
Practical packaging
Graham Mongey, managing director of JJ Darboven Ireland, says the new eco-friendly Eighty9 packaging is an attractive and practical solution that supports customers' sustainability commitments.
"The feedback we're getting is that the tins and crates look slick and they add aesthetic appeal and authenticity to the coffee offering. Our tins keep the coffee fresh, and pouring the beans from the lipped churn into a coffee grinder is easier too."
A 6kg Eighty9 coffee order, the same as a traditional box of coffee, comes in two 3kg churns in a single crate, all of which is collected for refilling and reuse when empty. Tamper-proof seals ensure fresh supply and the crate is custom-made to securely fit two tins.
A family tradition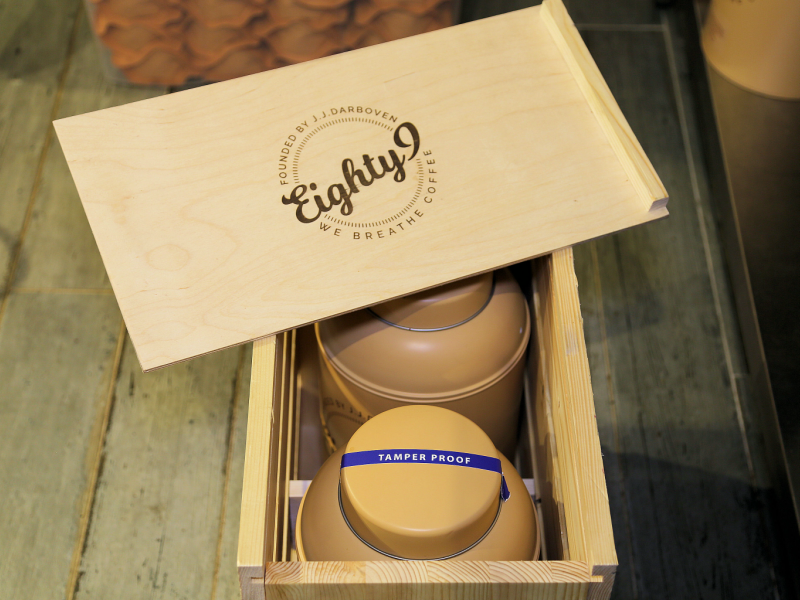 Mongey is a chartered accountant who worked in corporate finance roles, and eight years ago joined the family coffee business that had been part of his life since his late father Eamonn founded it over 30 years ago.
The business is JJ Darboven Ireland, which is part of a German-owned global coffee operation, and market leaders in most countries in which they operate.
Its main brand is Eighty9 coffee, a nod to the year in which Eamonn Mongey founded the business.
They roast amazing small-batch coffee, serve some of the biggest hospitality operators in the country, have well over 500 clients, provide barista training, and are real innovators on sustainability and customer service.
Reducing the carbon footprint in hospitality
Reducing carbon footprint is a significant challenge in the hospitality sector these days, Mark Scott-Lennon, director and general manager at Fitzpatrick Castle Hotel in Killiney, Dublin, says of this latest green packaging development.
"We constantly look to how we can improve our green credentials, and provide a premium offering. Eighty9 coffee cuts out all unnecessary waste; no more bags and no more cardboard. It is always welcome when a local supplier gives us clever solutions that add value".
The Connacht Hotel and the Forster Court Hotel and Hyde Bar in Galway are also among the enthusiastic clients 'churning out' the fresh new coffee option. Cork's Idaho Café and The Duck Café in Drumcondra, Dublin, are also fans of the eco initiative.
The business designed the refillable coffee churns and crates and the crates are manufactured in Ireland. As well as innovative packaging, JJ Darboven has reusable keep-cups for the brand and champions sustainable sourcing as part of its environmental ethos.
The prestigious IFSA award to J.J. Darboven comes from the national foodservices trade group that organises the flagship catering event, CATEX.
JJ Darboven has been brewing coffee in Ireland since 1989, using beans from the best growing regions on the planet. Once in Dublin, they are expertly roasted in small batches, delicately and slowly, to an exclusive recipe.
The business supplies commercial coffee machines and high-quality wholesale coffee throughout Ireland, as well as operating a barista training academy and hosting roastery tours at its Dun Laoghaire base.
Brewing up a storm: The Irish Coffee Market
A vibrant Irish coffee culture started to emerge in the early noughties, with a new generation of gourmet coffee houses and Irish micro-roasters established.
Specialist coffee and tea shops grew to 328 in 2018, while there are around 1,645 cafés in which to get a coffee fix, and thousands more bars and restaurants with fresh coffee offerings.
One in three Irish people buys a coffee at least once a day – an increase of 10 per cent on the previous year, according to a 2017 survey for UCC Coffee Ireland.
Almost six in 10 (56pc) of Irish adults are drinking coffee at least once a day, up from 52pc in 2016, with just over a third (34pc) of adults drinking several cups per day.
The 2017 UCC research also predicted the overall market for coffee in Ireland would grow seven per cent over the next five years.
A significant shift from instant coffee towards premium options is recognisable, the report noted, also highlighting an industry-wide move to sustainable trading, including packaging recycling, reusable cups and the elimination of single-use plastic.
Written by John Kennedy (john.kennedy3@boi.com)
Published: 9 March, 2020