Having endured Brexit and Covid, the main challenge facing farm businesses is reducing their environmental footprint, says head of Agriculture at Bank of Ireland Eoin Lowry.
On the face of it, Irish farmers are managing well through the various upheavals being thrown their way, are proving resilient and are planning for their long-term future.
The first half of 2021 saw farmers buoyed by favourable weather and growing conditions for all crops including grass.
"The biggest challenge facing the sector is reducing its climate/environmental footprint. Farmers have always adapted and lot of research ongoing in order to meet the challenge"
In his Agriculture Sector H1 Insight & Outlook 2021 report, Lowry notes that agricultural commodity prices and hence farm gate prices have risen significantly over the past 12 months and are reaching near decade highs, lifted by the global economic rebound and improved growth prospects.
Strong performance
Lowry predicts the price trend is likely to continue through the rest of the year, however some uncertainty remains as various risks lie underneath the expectations of continued higher demand, from China to weather disturbances.
"All sectors within farming going very well- boosted by stronger commodity prices globally and good weather delivering good growth and yields. Agricultural commodity prices are reaching near decade highs," said Lowry.
"Dairy continues to perform – this has been the consistent story for the past number of years- helped by strong demand globally and our low-cost production system based on grazed grass driving profitability.
"However more interesting is the increased prices for beef – especially given Brexit – We are at near record high prices and this is long overdue for farmers who have had a number of years of weak prices and poor returns – helped by strong demand globally for meat products- driven by China.
"The surprise for many is the increase in prices for sheep. Sheep farmers are really having a bumper year – strong lamb prices, helped by strong demand across the EU and in the home market.
"Tillage has also been having a good year – near decade high prices for grain, strong straw prices, good growing conditions and relatively low cost of key inputs such as fertiliser look set to ensure that grain farmers will have a solid/strong year this year," Lowry said.
Environmental challenge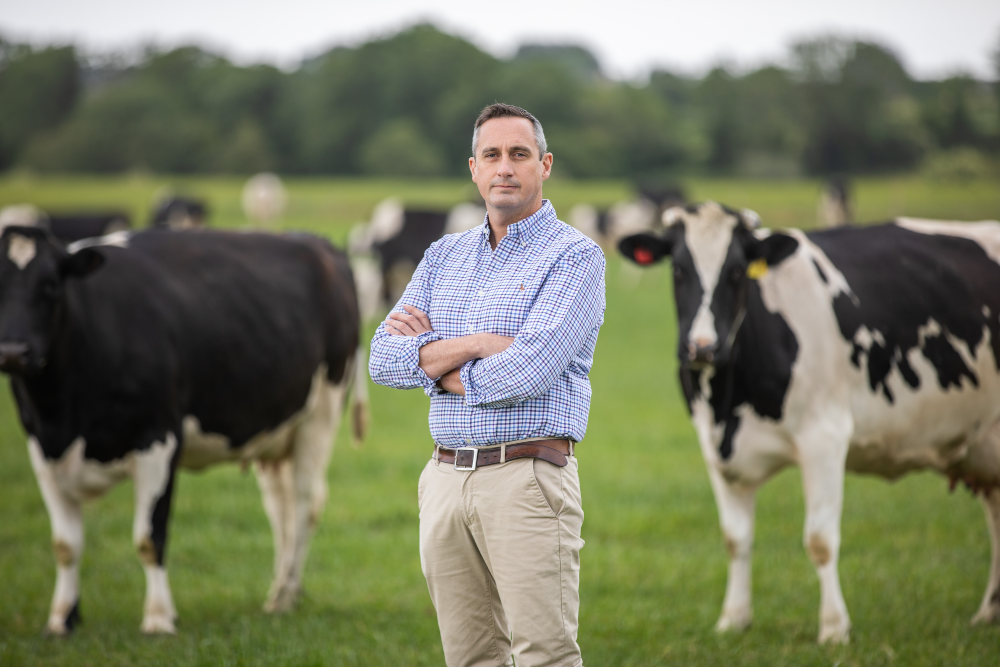 Eoin Lowry, head of Agriculture, Bank of Ireland
In his report, Lowry noted that the pressing issue of the day is climate change and the introduction of the new Climate Bill means the sector is obliged to reduce its environmental footprint over the next decade.
He also said that more than ever, the role farmers play in the global supply chain can never be underestimated.
"I think what the pandemic has thought us is how fragile the global food supply chain actually is. I think this will shift focus over the longer term to build more resilient and sustainable food systems across countries globally. It may be likely that we will see a shift away from national government's cheap food policies towards policies that build more sustainable and secure food chains.
"I like to think that the pandemic has brought the world together to enable more collaboration which may translate into more co-operation and international exporting opportunities for Irish agrifood. Brexit will challenge the beef sector over time if the UK enters into trade agreements with lower cost producers of food such as the beef producing countries in south America. It will mean that Irish beef will need to differentiate itself in terms of quality, sustainability if it is to achieve a premium in the marketplace.
"The biggest challenge facing the sector is reducing its climate/environmental footprint. Farmers have always adapted and lot of research ongoing in order to meet the challenge."
Lowry concluded that the focus in the agri should be on long-term planning.
"So while all looks strong now, farmers are more than aware that markets are finely balanced and it only takes a limited oversupply in any commodity to switch markets in the opposite direction. We understand this and we focus on 3-5-year average prices and take a long term view when supporting farmers. This is prudent for both the farmer and the bank over the longer term."
Full report:
Agriculture Sector H1 Insight & Outlook 2021
View
Print
By John Kennedy (john.kennedy3@boi.com)
Published: 19 August 2021