Family business Hartecast has put in place the necessary actions to continue to service the important UK market post-Brexit.
A Wexford company which supplies public seating, litter bins and other street furniture to local councils across the country and to UK locations such as the famous O2 in London is ready to meet the challenges of Brexit as it celebrates 30 years in business.
Hartecast Street Furniture has a client list which includes Dublin City Council and Luas, Limerick University and Irish Rail Stations but also important UK clients such as Liverpool University and the O2 in London.
"We have followed the Enterprise Ireland guidelines on how to prepare for Brexit and have our EORI Number in place"
Managing director Harry Harte said the company has put in place the necessary actions to continue to service the important UK market post-Brexit.
"We have followed the Enterprise Ireland guidelines on how to prepare for Brexit and have our EORI Number in place; we have checked the tariffs that would apply to our business and we have spoken to our hauliers and freight forwarders."
Family foundry
Harry Harte worked as an electronic engineer in Nixdorf Computers in Bray, Co Wicklow, but when it closed in 1990, he sold his house in Bray and moved back to the family foundry in Clonroche, Co Wexford.
The foundry had originally been set up by his brother Oliver and where two other brothers, Tony and late Willie, established Hartecast in the early 1980s on a part-time basis. "I have to acknowledge the support of all my brothers over the years", added Harry.
But Harry turned Hartecast into a full-time business, first working on making cast iron fireplaces and then designing park benches. Out of this Hartecast Street Furniture was born
"We have products in all cities, towns and most villages throughout the country, It is only when we view footage of deserted streets like Dublin's Grafton Street or some of the countries busiest railway stations these days on the news with COVID-19 restrictions, that the Hartecast furnishings stand out and are an essential component of our modern outdoor environment that we all enjoy", Harte explained.
Amongst some of the major projects Hartecast have been involved in are: People's Park, Dun Laoghaire; Connswater Greenway, Belfast; Grangegorman Campus, Dublin; Min Ryan Park, Wexford; University of Limerick; Mardyke Park, Cork; People's Park, Portadown; Northwest Transport Hub, Derry; Connswater Greenway Belfast; Wolverhampton City Centre Metro; Burnley Public Realm; The O2 London; and East and West Croydon Interchange, London.
Dedicated to design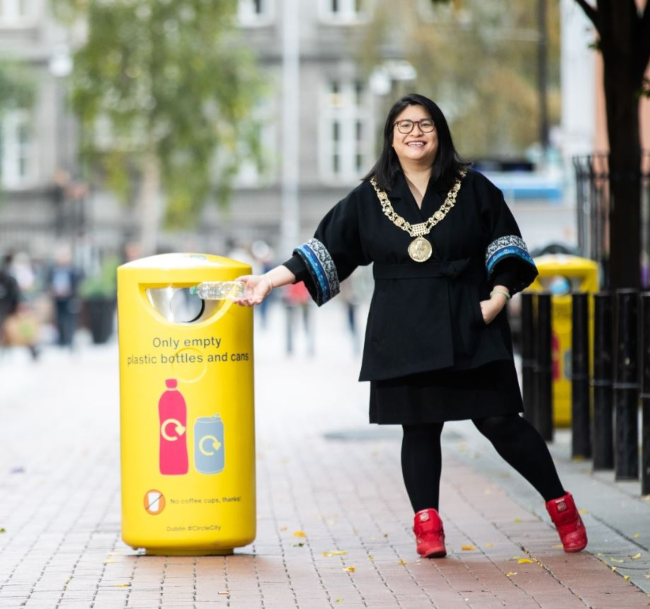 Dublin's Lord Mayor Hazel Chu with one of the Hartecast bins in Dublin
Harry, along with his wife Anita, forged a partnership at an early stage with Kilkenny Design Consultancy resulting in a highly distinctive range of street furniture. The company has the support of 16 dedicated staff.
Their hallmark is durable, high performance products in contemporary designs that meet the demands of street furniture products in today's modern urban space. The product range includes litter bins, benches, bollards, retention sockets, planters and cycle stands.
The robust street furniture uses the highest standards of manufacturing techniques with most of the products manufactured from recycled metal and at the end of their life – which can be over 50 years with maintenance – are 100pc recyclable again. Hartecast have also developed a recycled composite timber range with Dura Composite UK and are now the sole distributer of this solid composite range in Ireland and the UK.
A recently completed Hartecast project was the installation of 25 distinctive Hub Bub yellow recycling bins in Dublin city centre – including Grafton Street, South King Street and Henry Street – for Dublin City Council.
Urban and public realm furniture is an essential component of the modern outdoor environment that we all enjoy and Hartecast is a leading player in this transformation extending across the island of Ireland and in prestigious niche sectors in the UK.
Hartecast products are renowned for their quality and longevity and are an integral part of city and town streetscapes.
"We pride ourselves on the quality of the work we produce, its contemporary design and durability", said Harry Harte, adding: "We collaborate closely with our customers and consultant architects, landscape architect, contractors etc to produce the perfect product for their needs."
Hartecast benefited throughout from Enterprise Ireland and Inter Trade Ireland for product development support, skills building and business advice.
Harry and Anita recall the last recession and fall in demand for street furniture and say they had just about recovered its pre-recession momentum when the Covid-19 shutdown hit.
However, they are optimistic that governments here and in the UK are adopting more progressive and supportive economic policies which have seen increased infrastructure spending.
"I believe that the new post-Covid or living with Covid era, together with greater investments to deal with climate change, will create new opportunities with evermore street space and public realm given over to pedestrians and cyclists and an increased demand for our products", said director Anita Harte.
While the company is extremely busy at the moment, Hartecast is acutely conscious that its challenge is to be sufficiently flexible and innovative to deal with whatever the new environment – including Brexit – will bring so that it can sustain this family company into the future.
"We want to develop our range even further and now that we have proven products that work for the Irish and UK market, we will explore new markets," Harry said adding that there was also a need to increase its management team to help the business to grow further.
Main image at top: Harry and Anite Harte in Wexford.
Published: 18 December 2020