Coole Swan, led by Mary Sadlier, has been award-winning from its inception with a new award in 2020 ranking it as the number one cream liqueur in the world.
In this new series we talk to women entrepreneurs who have taken part in the Going for Growth programme. Going for Growth is a six-month part-time programme, supported by Enterprise Ireland and KPMG, which assists ambitious female entrepreneurs to achieve their growth aspirations.
Sadlier, who with her husband Philip Brady, manages the Coole Swan business, hails from Navan in County Meath.
They have assiduously remained faithful to the original Coole Swan recipe, maintaining it exactly as its original creator Adrian Walker made it back in 2007. This dedication to quality in a changing world has been a hallmark of Coole Swan's progression.
"To be among so many brilliant women made me grow in confidence and allowed me to 'lean-in'"
Coole Swan — which is a unique blend of single malt Irish whiskey, Belgian white chocolate and fresh dairy cream —scored the highest score possible in the 2020 Wine Enthusiast Rating – one of only three spirit brands worldwide to receive this rating in the last three years.
Coole Swan's excellence lies in its ingredients: pure, natural Irish cream, single malt Irish whiskey and Belgian chocolate. Unlike other creams, it proudly parades these ingredients on the bottle.
Made only in Ireland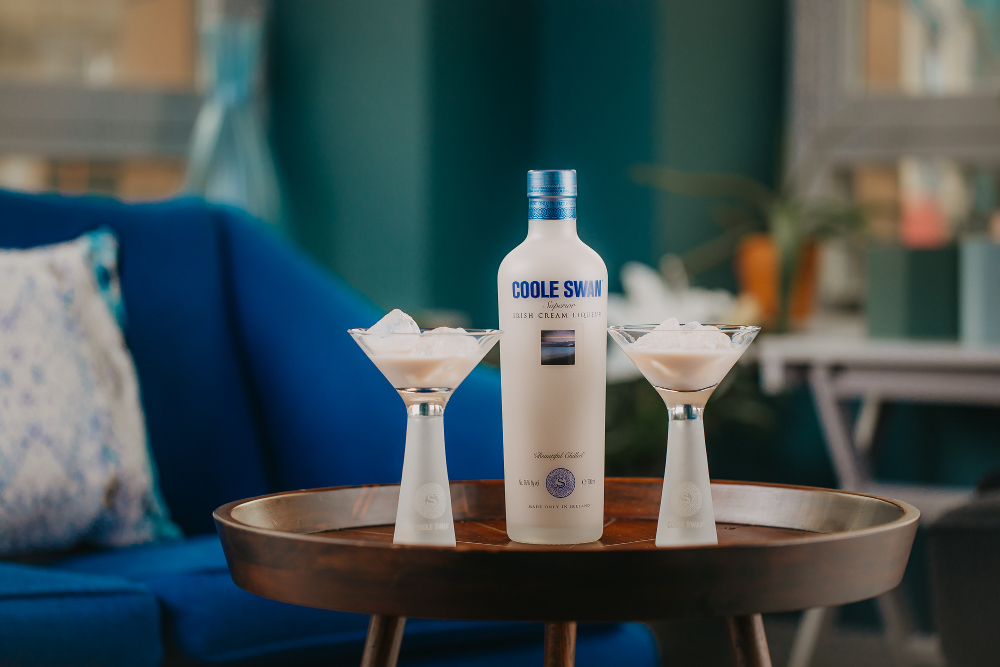 In November 2020, 'Made only in Ireland' Coole Swan achieved a major international accolade. It was endorsed in the influential Wine Enthusiast's taste panel in New York, where it was voted the best cream liqueur in the US. It was thus described: "A milky appearance and bold white chocolate aroma mark this luxe sipper. The light, frothy palate layers vanilla buttercream, cocoa butter and white chocolate, exiting with a pleasing minty exhale and a warming alcohol kick. Made with Belgian white chocolate and single malt Irish whiskey."
"The cream has invaluable natural properties and all we do is add a single malt and high-quality chocolate," explains Sadlier. "We add no preservatives or other ingredients to bulk it out. This is the reason that it has a distinctive and pure taste.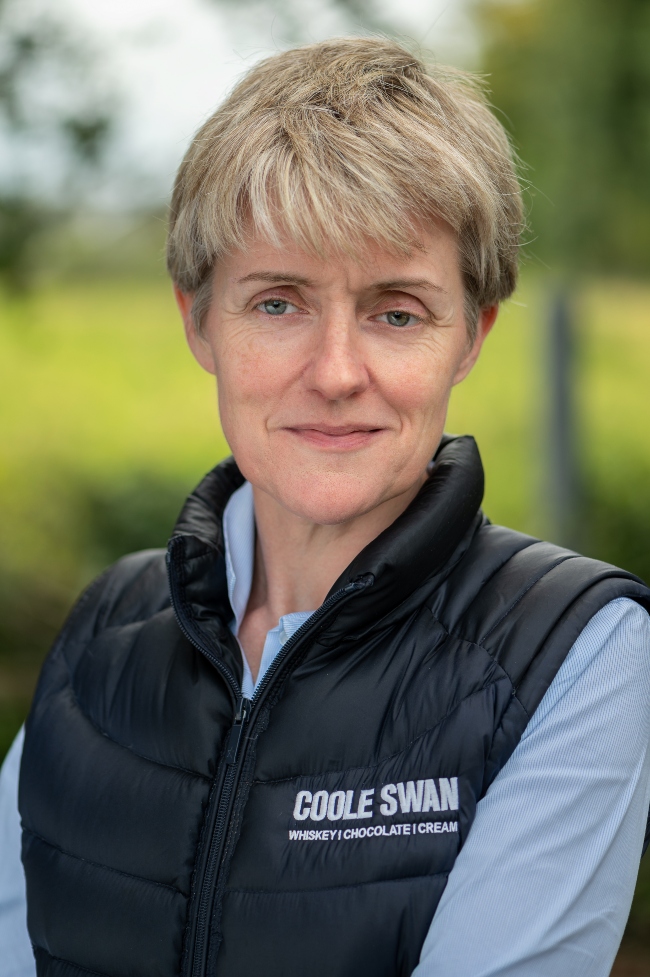 Mary Sadlier, Coole Swan
Philip farms the family's fourth generation farm and Mary has a background in finance; both come from a background of entrepreneurship.
Coole Swan first started selling in John Lewis and is still its top seller in its category. It has since launched in a range of stores including O'Briens, all good independent off-licences, SuperValu, Dunnes Stores and, in 2020, in Tesco. There are 22 full and part-time staff in the company, and it has plans to double its staff in the next three to four years.
As with every business, Covid has had an impact but it is also facing challenges from Brexit so being a participant on Going for Growth during 2020 was of particular value to Mary.
Mary was on the 12th cycle of Going for Growth with Oonagh O'Hagan as her Lead Entrepreneur.
"The Going for Growth programme was of tremendous benefit to me. To be among so many brilliant women made me grow in confidence and allowed me to 'lean-in'. The fellow participants are like really good neighbours – they are there with you when need them but not when you don't," says Mary.
One new market Mary has her eye on is Air Force One.
"When Barack Obama was on a stopover in Shannon, he got a taste for Coole Swan and it was stocked on Air Force One during his time as US President. As Joe and Jill Biden also bought Coole Swan when they came to Shannon, we hope it might be back on Air Force One again."
The call is open for applications from female entrepreneurs who would welcome peer support to take their businesses to the next level by taking part in the Going for Growth programme. This is the 13th year of Going for Growth and more than 750 female entrepreneurs have so far taken part in the programme. Sixty places will be available for the 13th cycle of Going for Growth, which will run from January to June 2021 and the deadline for applications is Friday 18 December There is no charge for those selected.
Anyone interested is encouraged to register on the website goingforgrowth.com and a link to the application form will be sent to them.
Published: 11 December 2020