Young Irish company Fulltime Analytics is focused on ensuring the digital transformation of the global sports business.
"Fulltime Analytics was launched to drive digital transformation through data for the sports industry," explained CEO and co-founder Greg Slattery. "We have built technology solutions that streamline sports organisations and rights holders data into one central location enabling them to understand their fanbase better. This data led approach is designed to fuel commercial growth for organisations across ticketing, merchandise, fan engagement and sponsorship."
Slattery said the sports industry has been a market leader in using data to improve player performance on the pitch, but the sector has been somewhat slower to adopt that same data driven approach to their sales and marketing strategies.
"By getting a single view of your customer, clients can see how their fans interact with their brand across the likes of e-commerce, ticketing, social, and more, to make informed marketing decision as a result"
"Our aim is to complete that circle by using analytics to increase audience and revenue growth off the field.
"The UK and Ireland sports market is valued in the region of €45bn which is a colossal number driven by broadcasting rights and sponsorship fees. At Fulltime Analytics, we are focused on data management, advanced marketing segmentation, and fan engagement which we estimate to be worth €100m in these two markets."
Slattery said that the software products that Fulltime Analytics have developed will allow the company to scale internationally once the time is right.
"We have just launched into the Irish market with a great reaction from prospective clients, the UK will be our next focus which will be towards the end of this year. The largest sports market in the world is North America, we have already started paving the way there with some market research, but the region will not be a priority until we are happy with our traction on this side of the Atlantic first."
A sporting life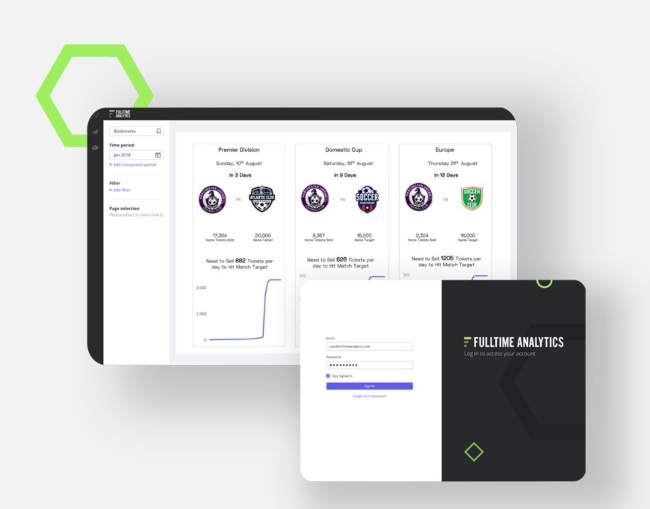 Fulltime Analytics' business operates on a software as a service (SaaS) model. "The core of our product is underpinned by an advanced data analytics Platform which connects all of a sports organisations data into one easily digestible location, something that has traditionally caused problems for clients with fragmented data sitting in spreadsheets or with third-party suppliers.
"By getting a single view of your customer, clients can see how their fans interact with their brand across the likes of e-commerce, ticketing, social, and more, to make informed marketing decision as a result."
As well as its core data platform, the company has two sport specific products, Insights Dashboards which is its performance tracking solution and Fan Engage which is its sports target marketing module.
"Our business framework takes a three-step approach to organise, analyse, and monetise data for sports organisations:
Organise: Integrate all data sources on our Data Analytics Platform for a Single Customer View.
Analyse: Insights Dashboards is a performance tracker product for ticketing, merchandise, fan engagement and sponsorship.
Monetise: Fan Engage is a sports marketing solution designed to grow revenue and audience engagement.
Spotting a gap in the market
The founders of the company are Greg Slattery and Joe Spurling. The two saw a unique gap in the market to merge the passion that fans have for sport with the certainty of data.
"Sport as a product is unrivalled as fans are passionate about their teams' brand, match this with advanced demographic and behavioural analytics, and you have a powerful platform which sponsors want to associate themselves with," said Slattery.
Slattery has worked in sports marketing for more than five years with The Hospitality Partnership and comes from an entrepreneurial family background. He worked for several international brands in sales and marketing roles across the US, UK, and domestic market, but always felt he wanted to start his own business at some point.
Spurling brings the analytical expertise to the business and has a history of starting successful companies. He is a co-founder of Showtime Analytics, the entertainment analytics business with a diverse global client base; and more recently he co-founded Platformo, another software business which brings data solutions to new and exciting industry verticals.
A thriving ecosystem
"There is no doubt that the start-up ecosystem in Ireland is thriving," says Slattery, reflecting on the Irish entrepreneurial environment.
"If you look at the amount of industry support that is available, I think it really helps those starting out on their business journey. The likes of your Local Enterprise Office, Enterprise Ireland, and the NDRC are valuable assets that founders should be utilising to maximise their learning and networking opportunities.
"There have been some hugely successful international sports technology companies coming out of Ireland in recent times such as Kitman Labs, Stat Sports and Orreco. While these companies focus on athlete's performance, Fulltime Analytics uses data to develop the commercial side for sports organisations.
"As a result, Ireland now has a global reputation as an innovative market leader in sports start-ups, we feel that a rising tide lifts all boats as the talent that is being developed in these companies is creating a skilled labour force in the sports technology space in our country."
Slattery says the company's eyes are firmly on the future. "We have bootstrapped our business so far and do not have immediate plans for fundraising. In saying that, we are considering raising funds to assist with our UK expansion in 2022 and beyond."
An important discipline for a young tech company is to ensure time is spent building solutions customers actually need and want.
"As a technology solution, you can spend a lot of your time building and iterating new functions that seem really impressive, but a customer may not even need. For that reason, we have adopted an approach of 'fail fast and fail often', meaning that we will try a beta function with a client and if they do not see it as integral to their business then forget about it, but if they do, we can then allocate the required resources into building it as a new product function. This keeps us innovating all of the time and also weeds out huge development time spent on non-core products."
Slattery's advice to fellow founders is to keep perspective. "Just to get going, the most daunting part of any task is starting. If someone is still at ideation stage, I would recommend they continue to work in their current job and do as much as they can on weekends or in the evenings to get their start-up to a point where they need to commit all of their time to it.
"I also heard the advice a long time ago that 'perfect is the enemy of progress', this really rings true for start-ups as unless you have unlimited budgets it is very hard to get everything perfectly right, but this shouldn't stop you making progress on your business every week."
Main image at top: Fulltime Analytics co-founders Greg Slattery and Joe Spurling
By John Kennedy (john.kennedy3@boi.com)
Published: 12 July 2021