FoodMarble has developed a personal digestive tracker that helps people work out what foods are most compatible with their unique digestive system.
Dublin-based FoodMarble has developed a small but powerful breath test device that together with a smartphone app helps you figure out what food is best for you.
According to FoodMarble CEO and co-founder Aonghus Shortt, one in eight people experience frequent digestive disruption and food is the most obvious factor. Since everyone's digestive system is unique FoodMarble has the answer.
"If our device detects that you're not digesting certain foods, we'll highlight those to you to help you adjust your diet"
"Food-related digestive problems are not frequently discussed but are widespread and can have a profound impact on quality-of-life," Shortt explained.
"Everyone has varying levels of abilities to digest different types of food. These abilities changes over our lifetime and are influenced by our gut microbiome, our genetics and our lifestyle.
"The numbers of people affected by these problems is unknown but even more specific conditions like irritable bowel syndrome (IBS) affect as many as 15pc of people worldwide. It's a huge market. Even just taking the US, which is our focus, there's approx. 40m people with IBS, with over $8B in direct medical costs."
Connected health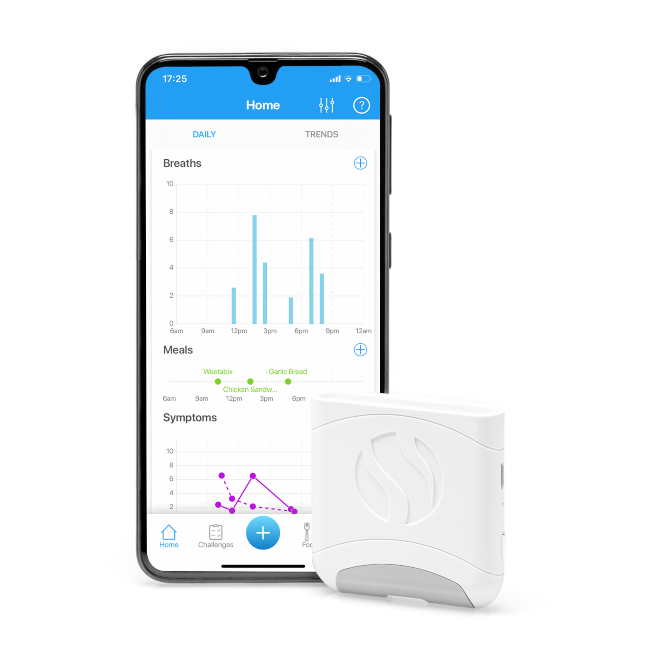 The technology being developed by FoodMarble is designed to help understand how each individual digests food and how, as a consequence, they should adapt what they eat.
"As part of this we have a connected breath analysis device, with an app acting as your personal digestive assistant. You log what you eat in the app and take breath tests during the day. If our device detects that you're not digesting certain foods, we'll highlight those to you to help you adjust your diet."
Getting started
Shortt started FoodMarble along with co-founders Lisa Ruttledge and Peter Harte.
"I was coming from an engineering background and had been working in energy, building software and machine learning models. The whole venture came out of a personal experience I had. My girlfriend, now fiancée, was really struggling with IBS and I just wanted to see what I could do to help. I found out about breath analysis and how that could be used to help identify problems foods and it all went from there."
Based in Dublin, Shortt believes the start-up ecosystem has still some distance to go.
"There are some success stories, but too many who had to leave to really succeed. Access to capital at all stages is a very serious roadblock."
Appetite for disruption
FoodMarble is currently in the middle of raising a funding round.
"We have a lead investor in place and are seeking further investment. We'd love to hear from venture capital firms or angels who see the scale of the opportunity for personalised healthcare from the home. We've over 15,000 customers and want to find partners to scale to 15m."
One of the biggest lessons Shortt has learned from starting his own business has been avoiding the temptation to do too much and to recognise the importance of teamwork.
"It is critical to limit yourself. Another one is balancing an openness to feedback with trusting your judgement. It's funny how you may know exactly what to do but may not always be doing it.
"The most important ingredient is the founding team. You need to get that right. If you don't, you're toast, or you will be eventually. From the Irish perspective, think globally from the start. Ireland is too small."
Written by John Kennedy (john.kennedy3@boi.com)
Published: 29 May, 2020