Divorshe is a legal tech company, which aims to help women who are frustrated by the lengthy, costly and confusing process of obtaining a divorce.
Divorshe is building an easy to use and straightforward online platform to complete the process from start to finish, decreasing error rates in the paperwork and reducing the time it takes for solicitors to review and process the required documentation.
The company was one of 10 start-ups that took part in the LaunchBox accelerator. LaunchBox, in partnership with Bank of Ireland, and managed by experts in Tangent, Trinity's Ideas Workspace at Trinity College Dublin, provides mentorship, funding, access to alumni and investors, and the ideal collaborative environment to launch new start-up ventures. This is the eighth year of LaunchBox, but the first year that the programme is running online.
"We aim to be a 'one stop shop' to provide customers with powerful tools and the knowledge to complete their divorce by themselves, without the need to hire an expensive family lawyer"
"Each year 13m people around the world get divorced, 8,000 of those are here in Ireland," said Fernanda Lopes, co-founder of Divorshe. "For many, this can be an emotionally burdensome and stressful process.
"The stress and emotions are compounded by three primary problems that were highlighted by the many people we spoke with – the process of getting divorced is lengthy, it's expensive and it's confusing. This is true even for the most straightforward or amicable of cases. Divorshe is making the process of getting divorced quicker, less costly and easier to understand."
Keeping it amicable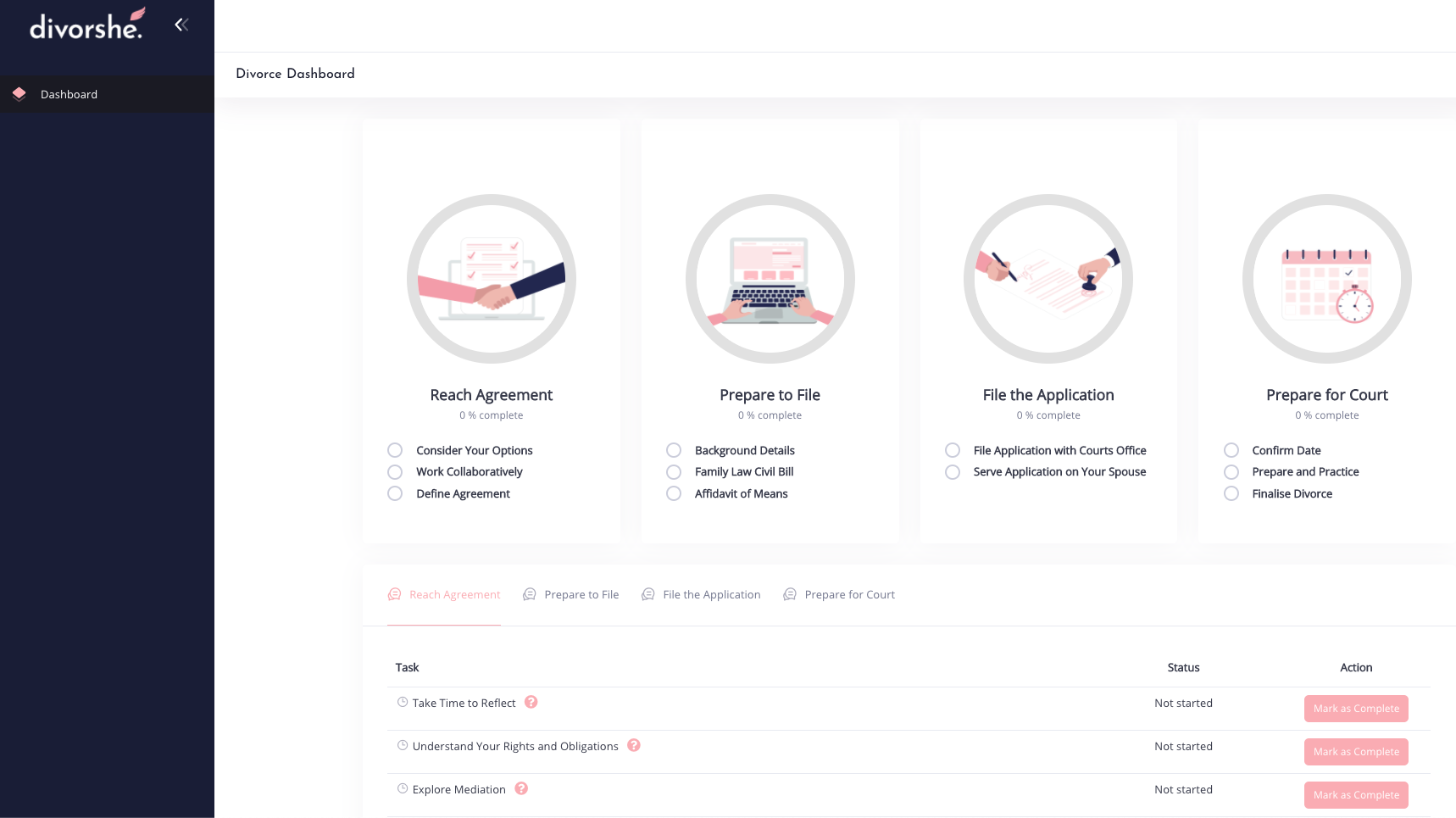 Lopes explained that for people going through an amicable divorce, Divorshe is building an online platform at that will make the process quicker, less costly and easier to understand.
"We aim to be a 'one stop shop' to provide customers with powerful tools and the knowledge to complete their divorce by themselves, without the need to hire an expensive family lawyer," Lopes said.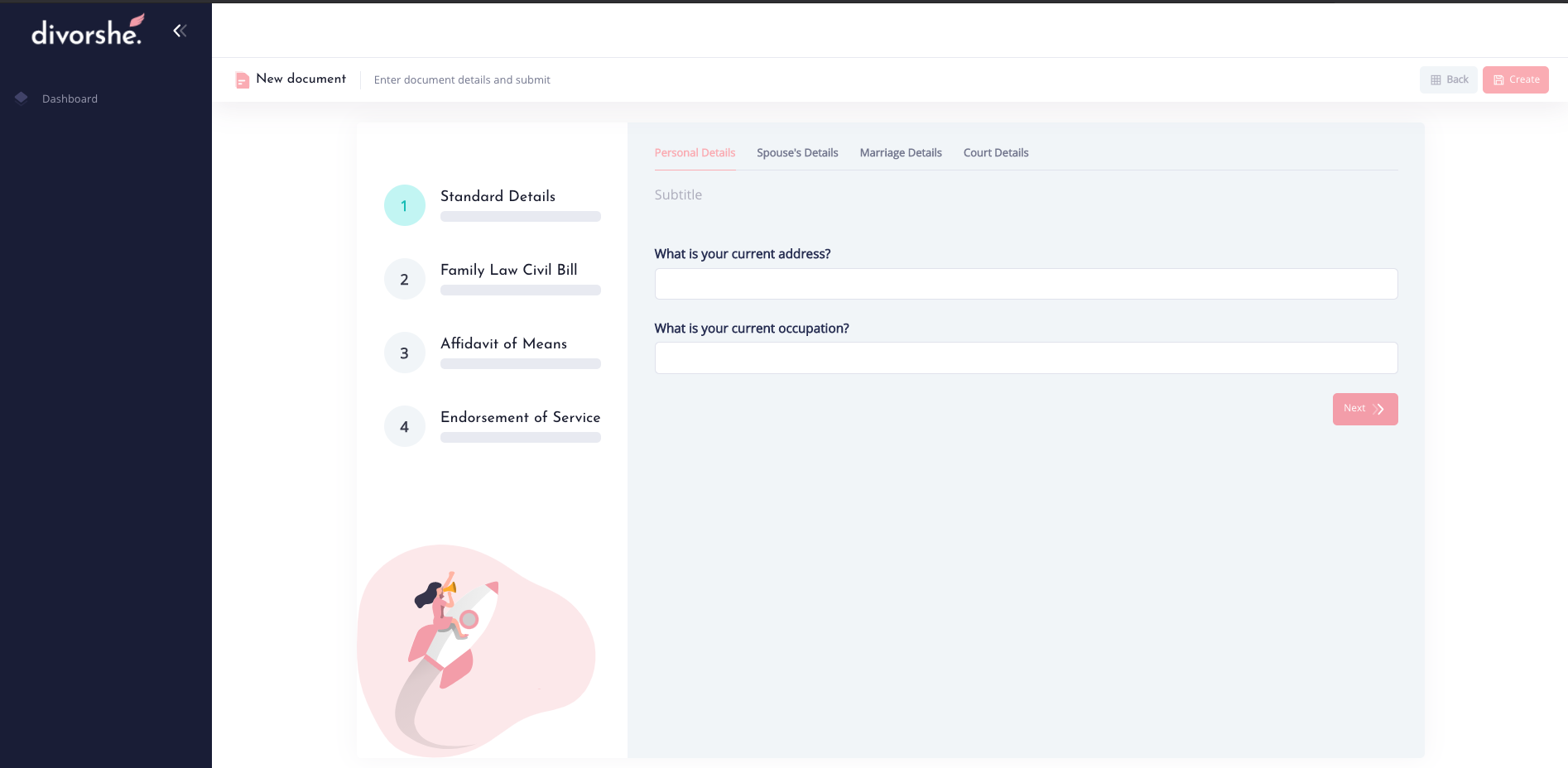 "We offer customers access to a divorce dashboard which maps out all the tasks in the process and explains what is involved at each step. This gives the customers the power to manage and track their divorce and brings transparency to the process. Our document automation technology helps customers prepare their divorce papers in a matter of hours from the comfort and convenience of their own home. "
Entrepreneurial thinking
Divorshe was founded by Fernanda Lopes and Neil Halstead. Fernanda and Neil met in Trinity Business School's Masters in Entrepreneurship programme.
"This Master' s programme has taught us the tools to think critically and strategically about how to develop an idea into a business model, as well as being immersed in an environment that encourages and fosters entrepreneurial thinking."
This is not the first entrepreneurial venture the team has embarked on. Fernanda has launched a number of own her own businesses previously, including growing a small fashion manufacturing operation with two employees into a business with 15 employees and three retail stores in just three years.
Neil comes from a background in product development, working on global online, B2C platforms.
Starting in Dublin
"There certainly seems to be a vibrant and supportive ecosystem in Dublin," said Lopes.
"Throughout the LaunchBox problem, we've been afforded the opportunity to speak 1-to-1 with many Dublin based entrepreneurs, who were happy to share their experiences and willingly give us advice. It's inspiring to read and hear about so many successful start-ups that have grown out of Ireland and this success breeds success – it gives us the drive and determination to succeed. With the assistances offered by Trinity, Enterprise Ireland or the Local Enterprise Office for example, Ireland has great supports to help you take the leap into entrepreneurship.
"At present, we are not actively fundraising. We are bootstrapping and applying for some grants that will give us some runway for a few months as we try to acquire our first customers and achieve product/market fit."
Value good advice
One of the key lessons on entrepreneurship has been the importance of listening. "We've learned to question everything. During customer development sessions, we're constantly asking 'Why? Why? Why?'
"This really helps get deeper into the problems being described. If someone offers us advice, we've learned to take a step back and question the value of that advice instead of diving in head first in and taking it at face value. Advice is always welcome (and needed) but it's important to qualify it."
Her advice to fellow founders: "Don't be blinded by your idea – gather as much data as you can to validate your assumptions and use this data to guide you."
In terms of tech tools to stay on track Lopes said: "We love Trello to keep track our strategic priorities. Visualising everything one place makes it possible to easily re-prioritise and make sure that we are focusing on the most important tasks. If we need to change tack, we can easily see how and where we need to shift our focus.
"We are trying to let data guide us also. Since we launched our landing page at www.divorshe.com, we've been relying heavily on Google Analytics to learn about how users are interacting with the site, where they have come from etc. This data has allowed us to continually optimise our site and social media strategies."
Pictured at top: Divorshe founders Neil Halstead and Fernanda Lopes
Written by John Kennedy (john.kennedy3@boi.com)
Published: 14 September, 2020