Kilkenny barber-turned-entrepreneur Patrick Cox survived kidney transplant and the realities of dialysis to create his own clothing brand Dialize Clothing to help fellow dialysis patients.
There are many people in various walks of life whose lives have been turned upside down by the Covid-19 crisis and subsequent lockdowns.
For former barber Patrick Cox it meant unemployment on top of his existing situation as a kidney transplant survivor with 4pc kidney function who has to travel to do gruelling dialysis three days a week.
"We currently have patent applications in for our arterial range and that will be a game-changer for us"
Cox never let his condition get in the way of work and prior to lockdown in March was happily working away as a barber.
The lockdown and a subsequent bureaucratic nightmare to secure disability payments never got in the way of his real dream to create his own business Dialize Clothing, creators of stylish but discreet and accessible medical clothing for dialysis patients as well as patients undergoing chemotherapy or who require IV or PICC line treatments.
In recent weeks on the Late Late Show on RTE Cox was presented with a special bursary of €15,000 from Bank of Ireland to support his growing business.
Branch manager Cormac O'Driscoll described Dialize as a great local business that was created in the face of diversity but has proven to be a real success story.
"Patrick has shown great ambition in pivoting so quickly from working as a barber to setting up Dialize Clothing, and the success of his brand is a testament to his hard work and dedication."
Keep going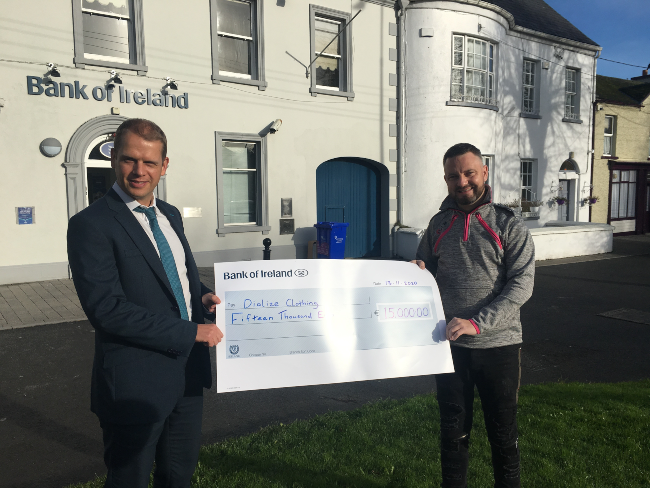 Cormac O'Driscoll, Bank Manager Castlecomer/Bagenalstown/Borris presenting Patrick with his bursary of €15,000
"We hope that by creating these products and getting them into the hands of patients, it's a way of saying 'no, you're not alone"
Speaking with ThinkBusiness, Cox described the bursary as a real boost in the face of adversity.
While many people dream of starting a business, Cox has the additional challenge of kidney disease. "I am at stage four which means I am solely reliant on the machine. I had 4pc kidney function up until about four months ago." This means Cox has to combat constant fatigue and nausea as his body struggles to cope with his condition.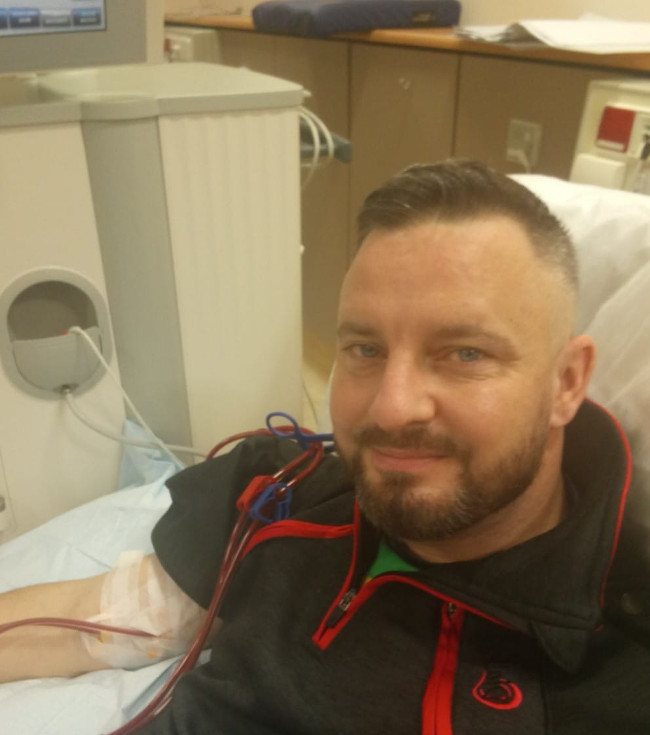 Patrick Cox, founder, Dialize Clothing
He explained that the idea for Dialize Clothing came 13 years after his kidney transplant. "I decided that if I have to go to dialysis I am going to get proper clothing and having everything ready so I am not cold or uncomfortable. I looked around and said 'there has to be something out there for us'. They have clothing for dogs these days so I assumed there had to be something out there for dialysis patients but there wasn't."
In true entrepreneurial fashion Cox got to work investigating various materials that would be breathable, zips that would enable easier access for lines and he approached a family member in the sports clothing manufacturing business to help him with his designs.
"It took nearly a year of actually perfecting it as we went back and forth between the drawing board with a lot of trial and error. When lockdown happened that gave me the time to actually do it."
In previous years Cox fostered dreams of opening his own barber shop but the reality of his condition got in the way. In conversation he is both infectiously enthusiastic and positive; the fuel that drives many entrepreneurs.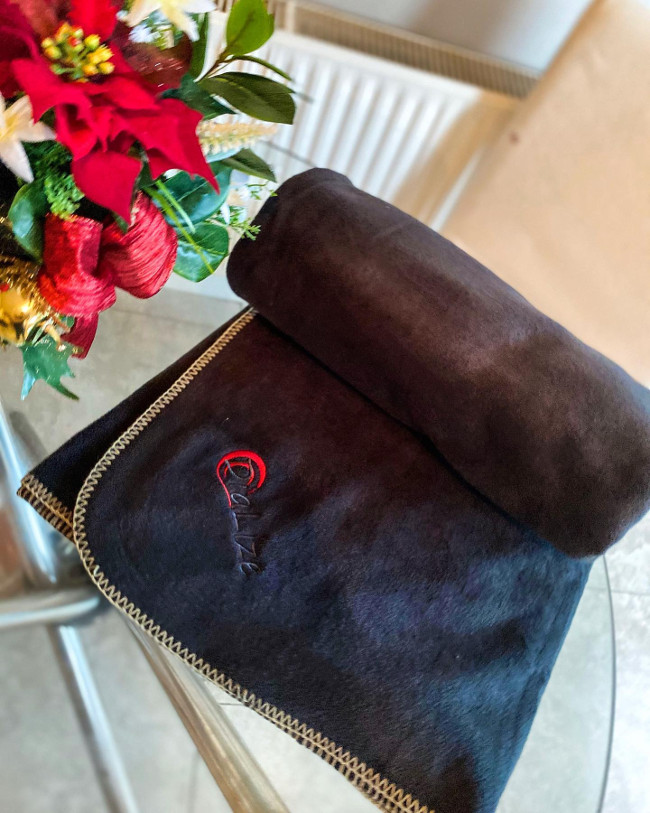 A Dialize Clothing blanket
"I love life and I get that from my dad, nothing ever brings us down."
Cox says he is keen to see Dialize Clothing play a role in helping new and future dialysis and chemotherapy patients adapt to the challenges they face and is in discussions with the Irish Kidney Association to see the company's clothing potentially included in welcome packs, for example.
"We currently have patent applications in for our arterial range and that will be a game-changer for us."
Potentially Cox stands on the cusp of a global market opportunity, with few or no competitors specialising in comfortable clothing for dialysis and chemotherapy patients.
"Most people go through life fit and healthy and don't see how one day they could find themselves in dialysis. It's bewildering and stressful. No one talks about the anxiety and depression that accompanies this kind of treatment," explains Cox who is also writing a book about his journey.
"We hope that by creating these products and getting them into the hands of patients, it's a way of saying 'no, you're not alone."
By John Kennedy (john.kennedy3@boi.com)
Published: 4 December 2020