Ireland is at the start of a major gear shift in transport. BMW Ireland MD Kevin Davidson tells Mark Gallivan that without sufficient electric vehicle charging infrastructure we'll be driving in electric dreams.
Ask any business leader taking up the helm of an organisaton and they typically advise the same thing. Like, getting to know the business and people. Assess the market and, where you can, start making steady, incremental adjustments. Kevin Davidson, the managing director of BMW Group Ireland never enjoyed the same inchmeal assimilation.
He took up the position of managing director on 1 January, 2020. On 29 February the first Covid-19 case was identified in Ireland. On 12 March the first raft of Governmental restrictive measures were imposed.
"So far this year, 38pc of our new car registrations are for electrified vehicles, compared to 25pc in 2020"
How did a premium car brand like BMW fare with its business put into an economic washing machine spin cycle? The answer was more ebullient than I anticipated.
Bucking the trend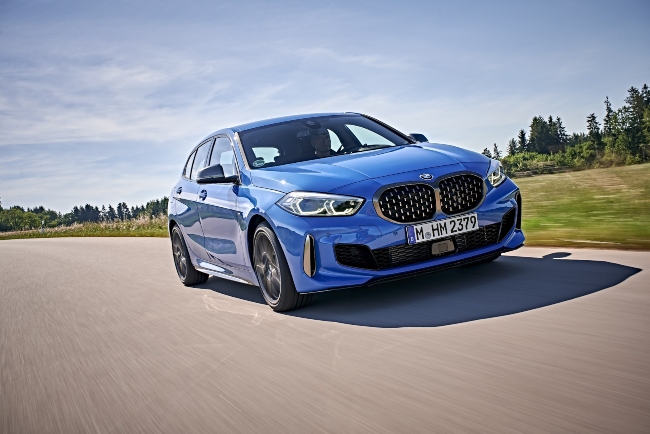 2021 BMW 1-series
"We started the year with a plan to achieve over 4,000 BMW and 500 MINI registrations," says Davidson. "The Covid-19 pandemic then hit, we had two lockdowns, our showrooms closed and we had numerous restrictions on our aftersales business. Yet we managed to achieve 3,128 BMW and 432 MINI registrations. We also managed to achieve 100pc our full year parts target of 24.5m. I'm not aware of another market that achieved this in the BMW Group."
Outside of Ireland, how did BMW Group shore up its business? "Globally, the BMW Group achieved 2.32m sales in 2020. Down only 8pc year-on-year which is remarkable given the pandemic. A strong Q4 (up 4.3pc year on year) was a driving factor in this achievement."
Most managing directors of car companies focus less on market share as car rentals and other factors skew the numbers. Yet I was curious if BMW Ireland believed it could maintain its Irish market share. Davidson is confident. "I see BMW Group Ireland increasing market share in 2021. We have an outstanding network and it's very early days but so far this year, 38pc of our new car registrations are for electrified vehicles, compared to 25pc in 2020 – figures which stand comparison with any of our competitors."
Davidson is keen to stress the importance of the retail network. "We are proud of the work our retailers do – all of our partners within BMW and MINI Ireland are local Irish businesses who employ local people. Coming out of a pandemic it's vital that every one of our Retailers prosper. I also believe that there will be a switch in the market from used car imports to consumers buying new cars. Brexit will play a factor in this, along with hardening values of used cars in the UK as well as availability."
Accelerating change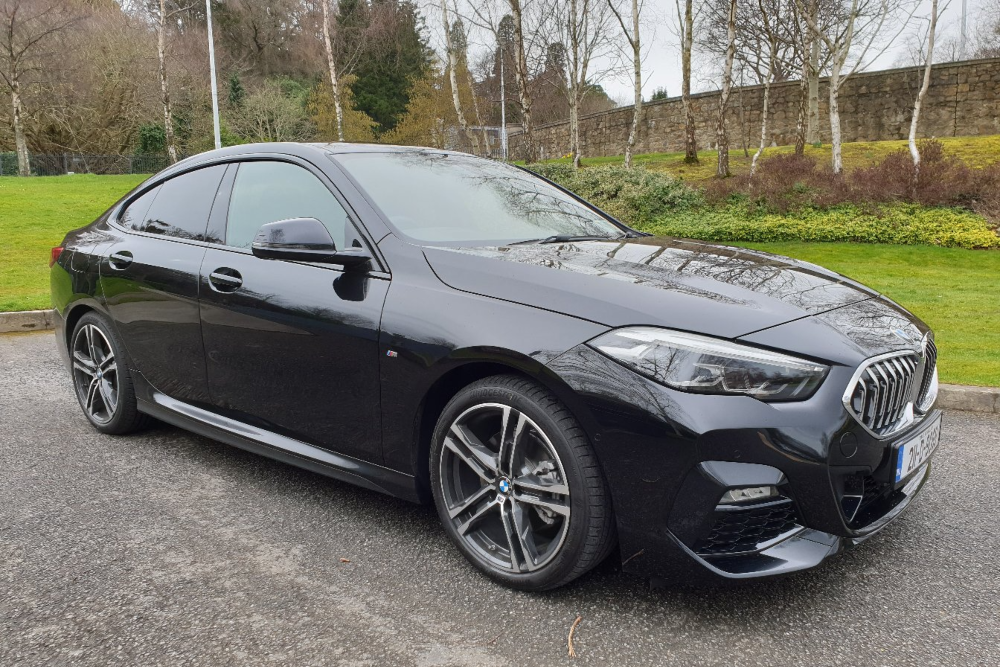 BMW 2 Series Gran Coupe
"If the plan is to get to 840,000 EVs in the Irish market by 2030, as a country we still have a lot of work to do"
BMW has recently launched the 4 Series Convertible. No less than three M-powered cars have been unveiled – the M4 Competition Saloon, M4 Competition Coupe and the €173,000 BMW M5 CS with 625hp and a 0-100km/h time of 3.3 seconds. MINI has seen a new hatch and convertible models. For the third quarter of this year BMW's new electrification models iX3 Premier Edition and the iX will arrive. The new iX platform will also spawn an all-electric Gran Coupe.
How has BMW fared in meeting the strict EU Fleet Emissions Targets? "In 2020, we overachieved our EU fleet CO2 target – we were required to achieve 104g/km and we actually achieved 99g/km. In Europe we sold 135,000 electric cars. The BMW Group has now increased the number of electrified vehicles (pure electric and plug-in hybrid) in its line-up to 13 models, which are available in 74 markets around the globe."
By 2023, BMW is set to double its electric cars to 25 new vehicles. Davidson predicts an increase to 38pc year-to-date of PHEVs. The fully electric MINI Cooper SE was introduced in 2020 and sold 17,580 units worldwide, we took over 150 orders in Ireland."
BMW's goal is to see 40pc models as BEV/ PHEV vehicles in 2021, with this growing to 50pc in 2022.
For business owners, which new 2021 BMW models /existing models offers the most economical driving?
"The new 5 Series was launched in July 2020. With the introduction of 48-volt mild hybrid technology in additional models, the BMW 5 Series will now offer enhanced performance combined with lower fuel consumption and improved driving comfort in all four- and six-cylinder variants of the new BMW 5 Series. Our BMW 1 Series sees a reduction in CO2 emissions and fuel consumption figures by up to 9pc when compared to the previous generation model. Both the BMW 1 Series and the new BMW 2 Series Gran Coupe saw a reduction in the amount of VRT payable on a number of variants following the introduction of WLTP and changes to VRT bands at the start of 2021, due to their efficient engines."
Which finance initiatives is BMW offering to business buyers to win new business during 2021? "BMW divides its [finance] into three distinct products, Hire Purchase (HP), PCP and Contract Hire. HP and PCP is available to limited Companies on our full range of vehicles, commencing at 1.9pc up to 5.9pc.
"BMW offers Limited Companies PCP which can be availed of with or without deposits or a Personal Guarantee, subject to credit checks. The BPP programme also covers employees who may opt for the car allowance on HP or PCP instead of the company vehicle. Within the BPP we also offer Contract Hire to business customers who may have vehicles doing higher mileage and are looking for a fixed monthly cost which can also cover service inclusive. This gives the business customer a fixed monthly cost for the funding of their vehicle and return it to the supplying BMW Centre at the end of the agreement."
Electric shock therapy
How big a hurdle does BMW Ireland see the patchy nationwide EV charging for BEV adoption?
"Charging infrastructure is pivotal to our success in BEV adoption. For some consumers, their circumstances mean that switching to an EV isn't yet a viable option, as the charging infrastructure is not yet well enough established in all areas of the country. BMW Group Ireland do offer simple and comfortable charging at home with various different Wallbox types, however EV ownership requires that drivers have access to both public and home charging infrastructure so that they can feel confident in transitioning to EV ownership.
"We still require a full Irish EV charging network to support this. I am aware that AFID's recommendation is one charger per 10 vehicles, however if the plan is to get to 840,000 EVs in the Irish market by 2030, as a country we still have a lot of work to do. Access to fast charge points as well as geographical spread of charging facilities must be rolled out. I'm aware developers now have guidelines for EV to be installed in apartment blocks, but we also have many current apartment blocks that are ill-equipped.
"Current Government incentive offer grants aimed at stimulating demand for EVs, favourable road tax and private charging fee which improves long-term ownership costs must remain. Any reduction in this will just elongate the shift process."
The last question relates to the SUV bubble. Does Davidson see it growing over the next five years? "I see the trend continuing as consumers like the high seat position, the ease of entering and departing the vehicle. [SUVs] are perceived by consumers as increasing their safety. Manufacturers must begin to develop their SUV offerings in varying drive systems, as consumers seek a sustainable transition to EVs."
Interview by Mark Gallivan
Published: 29 March 2021