As Covid-19 brings it's own set of challenges, Ekaterina Voznesenskaia looks at the importance of befriending ourselves, especially when times are tough.
In these unprecedented times, most of us are doing our best to keep strong, resilient, and motivated. Motivated to take the next step up and keep going despite challenges. Motivated to wake up every morning and welcome a new day, not knowing exactly what it is going to bring.
Despite a fear of uncertainty and global changes, we are courageously embracing these changes, accepting the reality and getting up. Getting up every morning, looking out the window and thinking that there is something to say thank you for, there is someone who fulfils our life with good energy and good emotions. There are some small moments during the day that make us smile, and a message from the family or a dear friend becomes something incredibly precious and valuable. In this very unique time today, we are constantly learning to befriend our life and befriend ourselves.
"Befriending life is less a matter of knowledge than a question of wisdom. It is not about mastering life, controlling or exerting our will over it, no matter how well intentioned our will may be. Befriending life is more about harmlessness than it is about control" – Rachel Naomi Remen
What does it mean to befriend our life and befriend ourselves?
Befriending our life is less about empowering, but about enriching. Enriching our thoughts, feelings and sensations, enriching our experiences and life moments. Enriching every single day with meaningful, fulfilling and interesting conversations with the people closest to you. Enriching our life with something big, important, memorable and precious, and this can be found in very small but significant things that we come across every day and every moment.
Unexpectedly finding the right solution that everybody has been looking for, coming up with a brilliant, smart idea, proposing a new business plan for a company, seeing the first promising result from a marketing strategy – all these and similar moments happen to us every day and they add the value and brings a sense of purpose, a sense of development and growth.
Success in small things can be even more meaningful than the final result, as all these small drops of our efforts are making the ocean of success. We are enriching our life not in the outcome but in the process. And this is the process of befriending our life, celebrating every small success we have.
"Pause for a moment and realise how much progress you have made. Be proud of yourself; celebrate yourself" – Roxana Jones
Are we good friends to ourselves? Friendship is considered one of the greatest treasures that a person can have. It is an enlightening radiation that fulfils us with healing energy and strength. It brings a heartful power that helps us keep going despite challenges. It is a rescue ship in the ocean, a star in the sky, our silver lining.
Our true friend is the one who shares our happy moments and our success and who fully accepts us with all our imperfections, showing empathy and giving care and support when we are in pain, when we are going through hard times. True friendship is built upon a harmonious relationship, when compassion replaces judgement and criticism, when the heart gets softer from kind words, and we feel as if somebody is sending us warm hugs, and it gets warmer inside.
"One of the most beautiful qualities of true friendship is to understand and to be understood" – Lucius Annaeus Seneca
There are moments in life when we are going through tough times, when our heart is in pain, beating fast, and feelings of disappointment are flooding, filling in our body and mind. There are moments when we might feel lonely and can see no way out. There are always ups and downs in life, and how we respond is crucial. In the moments of pain, let us be our own true friends, giving benevolence and empathy and sending love and care, instead of reflecting upon what we have done wrong and continue blaming ourselves for the past mistakes.
Let us pause for some time and let the emotions calm down. Let us talk to ourselves as if we are talking to someone we love saying such calming encouraging words. And when the emotions fade, let us think about where we will go from here, what we can learn, how we can grow. Shifting our focus from the reflections on the past to the future actions, we can see the situation more clearly and sooner find the way out.
"Lighten up on yourself. No one is perfect. Gently accept your humanness" – Deborah Day
For quite a long period of my life, I was striving for self-perfection, trying to be excellent and to do everything perfect by focusing a lot on my strengths, and avoiding the fact that I have weaknesses. Such rigid attitude and demand to myself brought a chain of challenges and obstacles into my life, making it harsh and disappointing at some periods.
Challenges had become an inseparable part of my life, and I thought it was absolutely fine to be in constant fight with life difficulties, as it was making me stronger. However, I started stumbling upon my own limitations, experiencing failures in some life situations. At those very moments my first feelings were disappointment, blame and judgement. In the moment of my despair, my mom once told me gently: "My dear, you have done as much as you could. Now let us think what you can do next and if you can change it." I looked at her at that moment and felt as if the second breath was opened. I realised that even if we cannot change the past, what is happening now and what will happen in the future is what really matters. We cannot rewrite the past actions, but we can create a new future.
"Every weakness contains within itself a strength" – Shusaku Endo
One more important thing I have learned is that our weaknesses can become our strengths, they let us realise what limits we can reach for now and how far we can go, they let us see the boundaries of our potential. Our weaknesses send us inner signals where and when we need to stop and take a pause. This pause gives us time to weigh all the pros and cons and consider what will be the best solution in this situation.
It is absolutely fine to say; "I don't know", or "I cannot answer this question now and I would need to think it over."
The weakness of not knowing becomes the biggest strength, giving us time to look at the situation from different angles and make the right decision. We are getting more mindful and in tune with our inner voice that helps us respond to the situation wisely.
"We all have limitations. They are worth befriending. They teach us a lot. They can show us what we most need to pay attention to and honour. They become our cutting edge for learning and growing and gentling ourselves into the present moment as it is." – John Kabat Zinn
Let us befriend ourselves with love, care and acceptance of all our imperfections, limits and vulnerabilities. Let us embrace everything within ourselves – all parts of our body, all our thoughts and feelings, the fears and concerns we might have for now, everything that we might have neglected or avoided before.
By becoming our own true friends, we are reshaping our presence and future, building a new, harmonious relationship. We are learning and growing by getting to know ourselves in all spectrums, welcoming our strengths and weaknesses, seeing our limits and being able to take a pause when necessary. Being a good friend for yourself is a precious gift that nobody can take back from us. When we are befriending ourselves, we are befriending the whole world.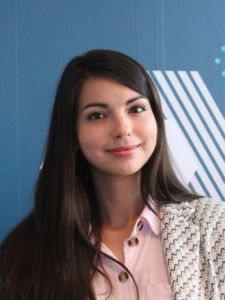 Written by Ekaterina Voznesenskaia
Published: 10 November, 2020