Almost half (48pc) of Irish law firms continued to avail of Government supports during 2021.
The Covid-19 pandemic continues to have an impact on the law business in Ireland with turnover and profits remaining below pre-pandemic levels for two out of three law firms.
These results form part of a new report from professional services and wealth management firm Smith & Williamson, in its 10th Annual Survey of Law Firms in Ireland carried out by market research consultancy Amárach. The survey was completed by senior leaders in law firms across Ireland and the report delivers key insights into the outlook and attitudes, performance and opportunities, talent and challenges.
"We are seeing a great shift in control from company to employee, as employees re-examine their work life balance and their working arrangements"
This year has seen a significant reduction in firms expressing concerns about the economy, down from 94pc last year to 35pc of firms this year.
Improved outlook forecast for 2022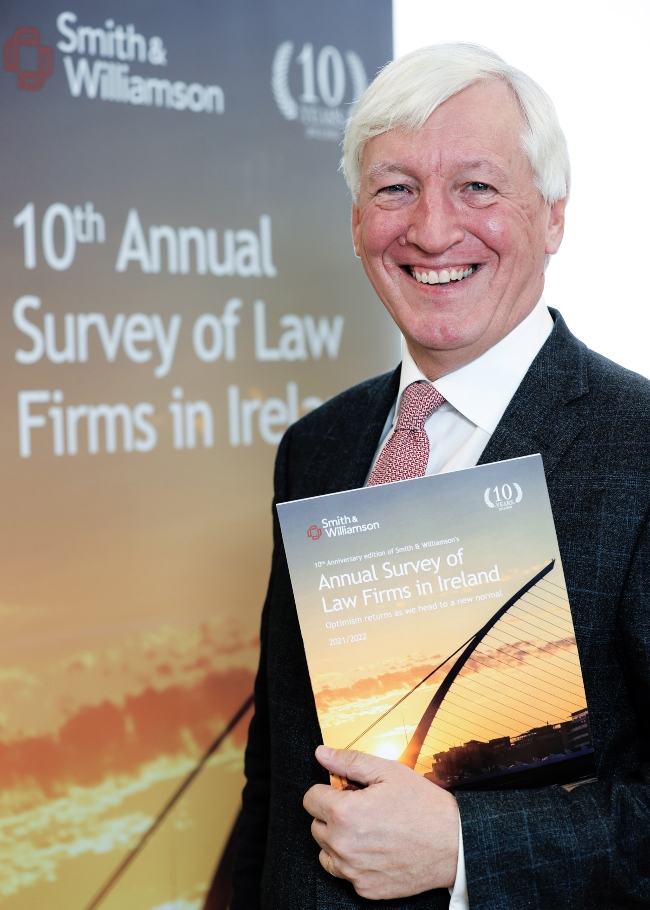 Paul Wyse, managing director, Smith & Williamson
The report also indicates that some confidence has returned to the sector with two in three firms (63pc) anticipating an improved outlook for the sector in the next twelve months. As we emerge from a challenging financial period, 39pc of firms reported seeing revenues recovering and increasing over the last year, with this figure rising to 53pc among the Top 20 firms. However, just under half (49pc) of smaller Dublin firms also experienced a downward impact on fees due to competitive pressures.
Maintaining profitability has been a huge concern for all firms, big and small. More than half of all firms that reported increases in revenues showed growth in excess of 10pc. But, over half of firms (58pc) reported that profits are still below pre-Covid levels and over one quarter (29pc) experienced a significant reduction in revenue.
A significant number of law firms continued to avail of Government supports during 2021, as half of all firms (48pc) reported their continued use of the Government's wage subsidy schemes, down from 70pc in 2020. For the Top 20 firms, there has been a similar reduction with 47pc using Government support this year, down from 60pc in 2020. More than one in three regional firms (36pc) have stated that staff continued to use the Pandemic Unemployment Payment in the last year, down from 50pc in 2020. In terms of tax, 29pc of firms used tax warehousing and deferral of tax payments this year, down from 43pc in 2020.
Talent wars hit Irish law business
As we emerge from the complete shutdown caused by the Covid-19 pandemic, recruitment and retention of staff has now become the key concern for all Top 20 firms in Ireland, and 70pc of all firms in Dublin. The Law Survey has highlighted that one in three (35pc) firms increased staff numbers over the last twelve months, increasing from 22pc reported in 2020, whereas 23pc of firms had reduced staff numbers.
There also now appears to be a disconnect between how employees and employers see the workplace in the future, with employees reprioritising their own work/life balance in favour of a greater focus on life outside of work. The "new normal" working arrangements are a key issue with most firms becoming more flexible.
Most of the Top 20 firms reported that they are facilitating remote working going forward, but approximately one in three regional firms and one in five smaller Dublin firms state that they are unlikely to do so. However, it has been identified in the report that the decisions by employers on remote and hybrid rules are key issues for employees and may result in a potential movement of talent.
In terms of employee satisfaction, there has been an increased interest in the well-being of staff as 50pc of all firms and 80pc of the Top 20 firms see the need to invest more in the well-being of their teams. While this year has seen a return to pay increases with most (80pc) of the Top 20 firms reporting increases in pay awards, the level of pay increases amounted to more than 6pc in more than half of all firms surveyed who paid an increase.
There has been an increased investment in technology, as the majority of firms (73pc), and 93pc of Top 20 firms, responded positively and proactively to agile working and provided laptops or PCs to their teams. Screens and computer accessories were provided by more than half of firms, while the Top 20 firms reported supplying more resources to their staff.
M&A activity remains low
There has been a continued low level of mergers and acquisitions, with only one in five firms stating that they initiated an approach to other firms with a view to a merger or acquisition in the last twelve months. One in three Top 20 firms see M&A as a potential strategy for future growth.
With many firms reassessing their priorities post-Covid, it was reported that over a quarter (34pc) of firms received an approach for either a merger or acquisition this year. While most of these approaches were from local firms, there is clearly still an appetite among international ones looking for a foothold in Ireland.
Tech and cyber risks
Cyber risk is now seen as one of the biggest challenges facing firms over the next three years, as reported by 27pc of all firms- a significant increase from last year when it was just 7pc. Most of the Top 20 firms (60pc) reported experiencing cyber-attacks on their systems in 2021. However, it is worth noting that 62pc of smaller firms in Dublin and 74pc of regional firms are not reporting any such activity. As firms moved to remote working, there is a clear increase in cybersecurity investment.
"The 10th Annual Law Survey highlights the key experiences and trends in the law sector this year. In terms of talent management, we are seeing a great shift in control from company to employee, as employees re-examine their work life balance and their working arrangements," explained Paul Wyse, managing director of Smith & Williamson.
"This transition to remote work has also seen an impact on cybersecurity and management of risk.
"Although much uncertainty remains, and of course there has been a significant variance across different sectors of the economy, to date Ireland has weathered the Covid-19 related economic impact remarkably well. While the Covid-19 pandemic and Brexit have caused turbulence in profits throughout the last year, from the survey we are seeing a legal sector with a much more positive outlook for 2022," Wyse added.
Law Firms in Ireland Survey
View
Print