Cork business Kwayga has identified an opportunity to bring better security to the global food supply chain by matching food buyers and suppliers in a trustworthy way.
Covid-19 has focused businesses more and more on their supply chains, said fast-emerging Cork business Kwayga's CEO Martin Fitzgerald.
"Right now, businesses are seeking new solutions to help buyers diversify their suppliers, and suppliers to diversify their markets."
"If a business is great at what it does, it should be easy for it to establish trust and securely trade with other businesses anywhere, in any language, at any time. Empowering buyers and suppliers to do this is our mission"
Kwayga is a B2B matching platform for buyers and suppliers in the food sector designed around trust and security.
Using the platform buyers and suppliers discover, verify, match, connect, communicate in any language and trade.
Food for thought
"Kwayga focuses on democratising international trade for mid-sized businesses by putting the right buyers with the right suppliers at the right time. Trust is the key component. We use AI to verify company profiles, we protect buyers from unsolicited approaches by giving them strong privacy controls, and we make a promise to suppliers that the deals posted on our platform are from real verified buyers."
Fitzgerald points out that finding new, good quality international suppliers or buyers, and being able to establish trust is a huge challenge that takes too much time and costs too much money and resources.
"Especially for mid-sized businesses. 63pc of EU SMEs say they lack the resources to validate potential new buyers or suppliers. 58pc don't know where to find information on foreign markets; with 55pc unaware of foreign trade opportunities. On top of all of that, when they do find and trust each other, 55pc say language barriers are too much of an issue to progress to trade.
"Our addressable market is a large one. We are starting in the EU and UK Food Sector; a market with significant supply chain disruption due to Brexit and Covid that we can be part of the solution to. This market has an annual turnover of €1.2trn from 12m businesses. It is in the top five sectors in the EU for cross border trade. Our addressable market within this is valued at €6bn in the EU and UK, and approximately €24bn globally.
"At Kwayga, we imagine a world where if a business is great at what it does, it should be easy for it to establish trust and securely trade with other businesses anywhere, in any language, at any time. Empowering buyers and suppliers to do this is our mission."
Getting business done
Fitzgerald explained that Kwayga has taken the pain points for buyers and suppliers and automated the solutions on a matching platform, creating a place where business gets done.
"In terms of verified profiles, we have automated the Know Your Business process, so you know verified profiles on Kwayga mean the business is who they say they are. Business needs trust.
"Buyers hate getting spammed with too many approaches from poorly matched suppliers constantly messaging them. We give buyers strong privacy controls. They post a requirement in the Kwayga Deal Centre setting the product/ service and supplier type; matched suppliers can then see the deal but not the buyer. The supplier expresses interest, and the buyer can preview the supplier profile before connecting.
"From the supplier's side – they get a deal pipeline where they know the buyer is verified, is looking for their particular product/ service right now; and their company size, location etc. matches what the buyer has requested. We are also continuously proposing supplier matches to Kwayga buyers aside from the deal centre based on the buyer's other likely needs.
"Once connected, buyers and suppliers can communicate in any language in our messaging system with instantly translated text, and live interpreters available on our video chat if needed."
Identifying a gap in the market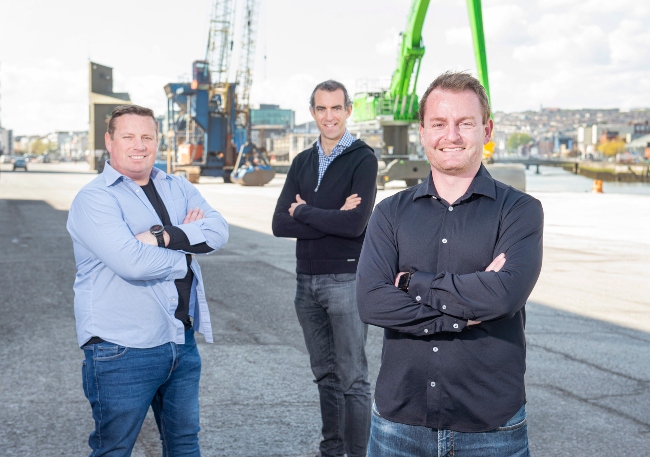 Martin Fitzgerald, Mike McGrath and Chris Kennedy of Kwayga
Kwayga was co-founded by Fitzgerald and Mike McGrath and were joined recently by accomplished Cork technology entrepreneur Chris Kennedy as CTO.
Mike McGrath, co-founder and COO of Kwayga, is a procurement and supply chain and Brexit expert, with 15 years' experience in many sourcing and procurement roles. He is also the founder and CEO of Arvo Procurement consultants, whose clients include Lidl, GE, Fexco, Carbery, and Dairygold.
Fitzgerald's background is in business banking, having previously worked at AIB and KBC. "I have a strong focus on business credit validation and I'm really excited about the transaction finance opportunities in Kwayga's future. As well as cross sector business development and analysis. I also ran my own business consultancy and advised on scale up investing. I grew up on a farm, so I think the idea of being part of the running of our own business is in my DNA. Something I always had to do during my life. Myself and Mike had been planning this for a while, and Covid was the ultimate 'If not now, when?' moment."
"The idea arose as we were both searching for solutions for businesses that needed to find new suppliers. I was helping some angel investors source investments and I was looking for businesses that would provide solutions to the supply chain disruption coming from Brexit. I couldn't find what I was looking for and was introduced to Mike.
"Mike was running his procurement consultancy business, Arvo, and sourcing suppliers on behalf of large Irish businesses. What Mike already knew and what I had suspected was that sourcing new suppliers internationally was a long, frustrating costly process. It is a big problem globally, not just related to Brexit or Covid times, and there was no adequate solution out there. We decided to do something about that."
Chris Kennedy joined the team pre-launch as CTO with a strong vision for the future of Kwayga. Kennedy developed and co-founded Trustev, a leader in e-commerce fraud prevention, in 2012; which he built, scaled and successfully sold to TransUnion in 2015 for $44m.
"Mike, Chris and I are all from Cork; and the team holds strong experience and expertise in supply chain, on-line trust and identity and transactions.
Cork's compelling digital cluster
Fitzgerald believes the entrepreneurial landscape in Ireland is strong but there's much more to do. "Our experiences with the government bodies such as LEOs and Enterprise Ireland have been very positive to date. They have criteria and checks and balances that they must meet, but they are supportive and very much willing you to succeed.
"There is no doubt it is probably more challenging to raise early stage funds in Ireland than say in London or the West Coast in the US, but that is simply a fact of scale and investor numbers affecting risk appetites. In terms of the 'improving' piece here, it is great to see the NDRC accelerator launching and the quality of successful entrepreneurs backing it.
"In Cork there is a strong sense of progression in the start-up scene. It's amazing to see what companies like Workvivo, Keelvar, Poppulo, Work Compass, Scraping Hub, Teamwork and others are doing."
Kwayga has been identified by Enterprise Ireland as a High Potential Start-up and is currently in the process of closing out a significant pre-seed round.
"The biggest lessons have been to make decisions and move quickly. Get more decisions right than wrong and it will be a positive outcome. Also, stay close to and listen to your customers."
To stay agile and keep the business competitive, efficient and dynamic, Fitzgerald said Kwayga makes use of disruptive technologies with AI and machine learning at their core.
"Our team communication and sharing of information is cloud based, accessible from anywhere, our data gives real time visibility. Chris, our CTO, has a passion for security and future proofing our business. We built with Ruby on Heroku. For communication and project planning we currently use external technologies such as Avion, Slack, and Google Workspace. We stay close to our customers using Intercom, Sendgrid and Onepage. We use other technologies for market data compilation and direct marketing campaigns management, platform analytics analysis and tracking, other team setting and tracking of annual, quarterly and weekly goals."
Drawing on his prior experience in banking, Fitzgerald urges fellow founders to focus on the fundamentals. "I'd advise new founders to know their figures, if you are not comfortable with cashflows, profit and loss accounts, understanding how dilution works during fundraising etc, then get to know how all this works. It is the core of all business."
Main image at top: Martin Fitzgerald, Mike McGrath and Chris Kennedy of Kwayga
By John Kennedy (john.kennedy3@boi.com)
Published: 20 May 2021