With the deadline for the Irish Government's Back for Business programme fast approaching, here are 16 returned Irish emigrants whose businesses are thriving in Ireland.
In recent weeks we reported that the deadline for applications for returned emigrant entrepreneurs wishing to avail of the Irish Government's Back for Business programme was extended to 22 January to allow people who might have heard about the programme while home for Christmas to prepare their applications.
The 2020 programme will run from February to July 2020. There is no charge for those selected to participate, and those interested in learning more can register their interest at http://www.backforbusiness.com/
The initiative aims to bridge the knowledge and network gap for potential entrepreneurs returning to Ireland from abroad.
And so, here are 16 returned emigrants sparking up businesses in Ireland:
Colin Brett, founding director, Suir Analysis
"We analyse every League of Ireland Premier Division game and collect performance data on each player in each game. This data is then targeted at the Talent ID operations of clubs inside and outside of Ireland, at football agencies and an opportunity to approach media companies"
Returned from: UK
Now based: Waterford
Colin Brett and his partner moved to London, after traveling to a few places around the world. But the couple, who married in 2016 always knew they would return home and did just that in the summer of 2017.
It was in London that Colin became a football analyst for Football Radar and this set him on route to set up his business, Suir Analysis, in 2018, based in Waterford.
Colin had previous experience of the mechanics of setting up a company, so found his biggest issue was getting advice on how to progress the business —especially as it was in a very specific and unique area. Colin said Back for Business introduced him to wider networks, and his round-table group made him feel as though he wasn't working alone anymore.
Colin has just completed Phase 1 of New Frontiers at the WIT Campus and is currently in the application stage for Phase 2. He was also awarded an Innovation Voucher by Enterprise Ireland, which he will be using with RIKON (based at WIT).
"Back for Business has been a lifesaver. I was desperately looking for advice, assistance and support but was unable to find any," he said. "I am now aware of many supports available to me (through various State bodies), what is expected with regards to taxation and received very helpful legal advice on key elements of my business."
Ciara McGuane, CEO, Rahoo
"We provide face-to-face and online training for primary and post-primary teachers in areas such as effective lesson planning and assessment"
Returned from: UK
Now based: Clare
Ciara McGuane spent nine years in the UK where she trained and worked as a teacher before branching out into professional development for teachers. This involved training groups of teachers, working one-to-one with teachers by observing lessons, and assessing and supporting trainee teachers.
Ciara returned to Ireland in 2016 and, the following year, set up her business, Rahoo, in Co Clare. Rahoo's courses are designed to highlight best practice rationale, allowing teachers to reflect and question their current practice. Ciara aims for the company to become Ireland's most trusted and reputable independent training provider for teachers.
Ciara has been impressed by the range of supports for entrepreneurs that are available in Ireland with programmes like Back for Business, New Frontiers and the assistance of Local Enterprise Offices across the country, but she says that navigating the entrepreneurship eco system can be challenging for a returning emigrant.
Ciara says: "When you move home to Ireland, you think that you have your community here waiting for you – but having been away for so long, your network has decreased, and things have changed. You are starting from scratch; although it can be hard to accept that sometimes."
Kevin Finn,founder, Ippon Labs
"We provide results-driven injury prevention and performance solutions for athletes, coaches and sports medicine professionals"
Returned from: UK
Now based: Sligo
After spending eight years working internationally from a UK base, Kevin Finn returned to his native Sligo where he set up Ippon Labs, in 2019. Before returning home, Kevin worked in medical teams at the Olympic Games, European Games, Commonwealth Games, and the IAAF Worlds as well as with the Norwich City FC first team in the Premier League. Ippon Labs carries out a detailed analysis of an athlete and focuses on the performance and injury-related areas that really matter to them, leading to an improvement in position-specific performance and a decrease in injury risks.
Kevin took park in Back for Business three months after returning to Ireland and found the network of like-minded entrepreneurs great for peer support and shared learning. He has also found the local Sligo LEO helpful, has completed the IBYE bootcamp and is on phase two of Enterprise Ireland's New Frontiers programme.
Kevin says: "The plan was always to come home and last year was the perfect time. Sport and technology are thriving in the West Coast of Ireland at the moment with an abundance of talent in both sectors. I don't think there's ever been a better time to start a company than right now."
Aileen Markey, founder, Unglu-d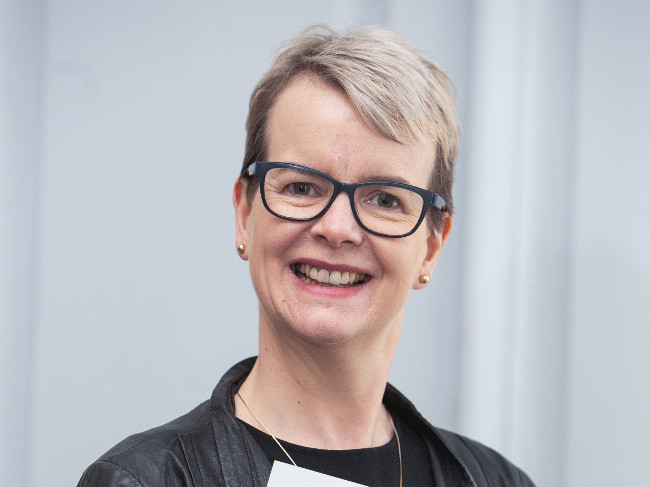 "We are a dedicated online Gluten-free business, providing services and support to people with Coeliac Disease or who are Gluten intolerant"
Returned from: New York City
Now based: Louth
It was while living in New York City that Aileen Markey made the decision to return to Ireland after being abroad for almost three decades. She decided to quit corporate life and set up her own business and thought home would be a good place to do it.
Originally from Dundalk, Aileen left Ireland in 1989 to study Hotel & Catering Management in the UK and lived abroad for 27 years. She lived in London for around 20 years, had a short stint back in Ireland before moving to Australia, followed by Singapore and finally New York City, before returning home in 2016.
In May 2017, she set up Unglu-d in Dublin, which started as a pop-up shop but is now an online Gluten Free business, providing services and support to people with Coeliac Disease or gluten intolerances.
Aileen found Back for Business helped her re-engage and forced her to take a step back and take an objective look at her business.
Aileen says: "I treated the move in the same way I had moved to other countries — as if I was going somewhere completely new that I didn't know. I spent time travelling around and falling in love with Ireland all over again."
Kevin Gallivan, founder, Co-Digi
"We help innovative SaaS (software as a service) companies recruit revenue-generating talent"
Returned from: New York
Now based: Rathmines, Dublin
It was always Kevin Gallivan's intention to move to New York and he made this dream come true shortly after completing his Master's in International Business at DIT in 2012. He spent six years living in Bushwich, Brooklyn but always knew he would eventually move home and be closer to his mother and four siblings. It was during his time in New York that he gained the experience within the recruitment industry — specifically focused on key sales and account management hires in SaaS companies — to allow him to set up his business, Co-Digi. Set up in January 2019 in Dublin, Co-Digi started trading in April 2019 and works with innovative tech companies to help them hire key sales and account management personnel. Co-Digi's clients cover areas such as Martech, Fintech, Video, Ecommerce, AEC, Mobile and Data Analytics.
Kevin says that the network created by being part of Back for Business is hugely beneficial as setting up the business was nerve-racking initially. Business is going really well for Co-Digi, which is based in Rathmines, Dublin, and Kevin is hoping to make his first new hires in 2020.
Kevin says: "I love being back in Ireland and having the support of family and friends. It's nice to be able to attend the Rugby and GAA matches; that was something I missed a lot."
"We make the only traditional, hand-made, all-natural stock available in Ireland"
Returned from: Canada
Now based: Derry
Carol Banahan left her job as a stock trader in Canada to make hand-made stock back home in Ireland.
She lived in Canada for 29 years, spending more than 25 years working in the financial industry. Before she retired in 2014, her last position was Head of Equity Trading at RBC PH&N Investment Management.
She decided to retire in order to move back home to Ireland and pursue some other passions in life – including starting a food business. The Dubliner ended up living in Donegal and setting up a new business – Carol's Stock Market – in Derry. Carol's business is the only traditional, hand-made, all-natural stock available in Ireland. She manufactures a range of cooking stocks, bone broth and gravy. All products are manufactured in-house at their purpose-built facility in Derry.
Carol says the biggest challenge for her starting out was a lack of contacts as she was missing that network that you might have built over years when living in a country. The Back for Business programme, she said, was crucial for her in order to start building networks and to access advice on building a business.
Carol says: "I wanted to follow a passion for food and start a food business. I had no idea if I had what it took to be an entrepreneur, but I am absolutely loving it."
"We help companies of all sizes find flexible office space across the Irish market, with no charge to the client"
Returned from: London
Now based: Dame Street, Dublin
Shane Bourke used his experience in the London property scene to set up a unique business in Ireland helping companies find flexible office space. Originally from Dublin, Shane left Ireland in June 2008 with the intention of staying a couple of years to gain experience. However, when the financial crisis hit and jobs were scarce back home, he made a go of things in London and ended up staying 10 years.
He moved home in 2018 as he has a two-year old daughter and wanted his family to be closer to the wider family. He set up Irish Office Space in July 2018.The commercial office agency has access to hundreds of properties across the country and assists clients in finding everything from co-working spaces to company HQs.
Shane feels that Back for Business was a help for him both personally and professionally and says he learnt a lot from his Lead Entrepreneur and the workshops and made great contacts.
Shane currently employs two people and is applying for an expansion grant with his local LEO. He plans to double his head count year-on-year and is focused on growing the brand.
Shane says: "The work life balance in London is challenging. I have a better quality of life since moving home. Although I still work hard and put in long hours, I find it more rewarding."
"We are an online bridal accessory business and blog – the ultimate one-stop shop for all bridal needs"
Returned from: Sydney, Australia
Now based: Dublin
Sinead Starrs was living in Sydney, Australia and trying to plan her two weddings – yes, two weddings! — in Spain and Ireland when the idea for her business came to her.
Sinead married in secret in Ireland before travelling to Spain with family and friends for their second trip down the aisle a month later. As it started to rain in Spain, she remember the white umbrella the wedding photographer had at their Irish wedding.
Inspired by her weather woes, Sinead decided to set up a one-stop accessory shop for brides planning their big day. She started with the white umbrella and The Lovely Little Label was in business. Today, the site sells every accessory a bride could need.
The business' foundation coincided with Sinead's decision to move home after five years down under. Originally from Newry, Sinead and her husband moved to Dublin in 2016.
She worked on her business part time while working as a financial analyst at a pharmaceutical company and in spring 2018 she went full time.
Support from her LEO and Back For Business helped Sinead overcome the isolation of running her own business as Back for Business gave her a structure and held her accountable.
Sinead says: "I always wanted to set up my own business. My parents had a business. But I didn't want to start one in Sydney and felt everything was in place to move home."
Darragh Lynch, managing director, Uccello Designs
"We restore independence for people with disabilities and an aging population by manufacturing stylish, quality household products"
Returned from: Australia
Now based: Athlone
While working in the resource industry, Darragh spent long periods in exotic locations all over the world. And when Australia came up as his next location, he took the opportunity to bring his family with him.
While working on some of the biggest oil, gas and mining projects on the planet, Darragh began an MBA at the University of Western Australia and set up a business consultancy. This led to him working with start-ups, including Uccello Marketing, which evolved into Uccello Designs.
Headquartered in Athlone, the company designs, manufactures and sells functional and stylish products for people with disabilities and those entering elderhood. The first product, the Uccello Kettle, launched in 13 countries.
As Darragh had worked overseas for eight years before his five years in Australia, a lot of his business network was outside of Ireland. He found Back for Business helped him plug into the entrepreneurial ecosystem and develop his professional network.
It also helped him navigate the supports from agencies, says Darragh who has just started Phase 2 of Enterprise Ireland's New Frontiers programme
Darragh says: "There's a sense of safeness and familiarity when the plane touches down at Dublin airport, no matter how long you've been away or how beautiful or exotic the location you are returning from."
"We design quality jewellery from high-grade affordable diamond stimulants"
Returned from: Saudi Arabia
Now based: Louth
Lisa and her husband Mark had only moved into a new home in Clogherhead in her home county of Louth with their six-year-old daughter and three-year-old son when, in 2007, she gave her husband the trip so he could visit a close friend who was living in Saudi Arabia.
While he was there, he was offered a job and the following year, Lisa left her job at a local pharmacy and the whole family moved out. While she was in Saudi Arabia, Lisa discovered diamond simulants and bought some as presents for friends and family. The simulants are created in a lab and are a conflict-free and more affordable way of wearing diamonds. Lisa's sister, Leanne Campbell, was based in Louth and they decided to go into partnership, distributing jewellery on behalf of a company in Saudi Arabia.
When Lisa returned home in August 2016, she and Leanne began their research and in July 2017, Cabochon & Co was born.
Lisa says: "Back for Business was a huge part of our success. The contacts I made and the mentoring I received were invaluable. When I moved back home, it was so difficult to even think of starting a business. I didn't know where to start but being part of Back for Business gave me the information I needed – and the courage to go forward."
"We are an external provider of physical education for primary schools around the greater Dublin area"
Returned from: Australia
Now based: Dublin
Mark Holland returned to Ireland from Australia to follow his passion for nurturing children's health and well-being. Mark spent two-and-a-half-years in Australia working for a sport and education company before enjoying six months travelling back to Ireland through South and Central America.
In Australia, the company he worked for was an external provider of sports education that was hired by schools to teach PE, gymnastics, athletics, social skills, fundamental movement skills and all ball sports. On his return, he based his own company on that model.
Mark found the process of setting up Sport in Schools relatively easy but the most challenging aspect of the business for him has been contacting the schools and getting to speak with their principals, who can prove hard to reach.
Mark says: "Being a part of the Back for Business programme gave me a great support network and a confidential place to soundboard ideas."
"We are producing Limerick's first whiskey in 100 years and our goal is to bring heritage pot still whiskey back to Limerick"
Returned from: London
Now based: Limerick
Nicholas Ryan initially left Ireland eight years ago to grow his clothing business in the bigger
UK market. But he has now moved home to combine his love for Irish culture and fine spirits into creating Limerick's first whiskey in 100 years.
While in London, Nicholas worked in the fintech and finance industries developing strategic partnerships with C-Suite level teams across a variety of both small and large businesses.
However, Nicholas, originally from Ballyclough, Co. Limerick, started to feel the pull home – for both personal and professional reasons. He saw the potential to develop a business but also wanted to spend time in his home country. Nicholas found the process of starting a business in Ireland hard as he came back knowing very few people, but the Irish community have been very supportive and welcoming.
Nicholas says that the Back for Business initiative provided him with good introductions and networking opportunities to get his business going.
Nicholas says: "I was able to go through my business strategy with my Lead Entrepreneur and gain support from my peers who I now consider friends."
"We are a luxury accessory brand creating silk and cashmere scarves inspired by art"
Returned from: Italy
Now based: Dublin
Just like her designs, Clare O'Connor's career has been a vibrant one so far. With a background in Graphic Design and two Bachelor's degrees from IADT, Clare also has experience in the creative hub of Berlin as well as the calm canals of Venice, where she lived and worked as an artist assistant and in the Venice Biennale.
Clare's current venture as owner and designer of her own luxury accessory brand is perhaps her most creative yet – turning her playful and energetic paintings into wearable art.
Clare credits Back For Business with keeping her energised and helping her realise how far she has come in a short amount of time.
She was recently shortlisted for Irish Accessory Designer of the Year having already been named as a finalist at the Irish Fashion Innovation Awards this winter.
Her designs can be found at The Designer Exchange on Exchequer St., House of Ireland on Grafton St., and Marion Cuddy Irish Designer's Emporium in the Powerscourt Town Centre, Dublin.
Clare says: "I didn't find it daunting setting up the business because it's what I've always wanted to do. I'm working to establish myself now and I hope to be in stores abroad later this year."
Tracy Armstrong, founder, KO Kombucha
"We are kombucha brewers making small batch, organic kombucha by hand in Co Offaly"
Returned from: London
Now based: Offaly
While living in London, Tracy Armstrong and her partner in life and business (Ronan
Coughlan) discovered kombucha, a raw fermented tea. Ronan fell in love with the health drink but felt it was lacking in terms of taste, so experimented with different flavours.
After much trial and error, Ronan developed their original flavour which they began selling to friends and colleagues in London. With the drink proving popular, the couple who have a two-year-old son (Rian) decided this was the perfect time to move back to Ireland and set up a rural business.
Tracy uses her experience in marketing and publishing from HELLO! magazine to look after the sales side of the business, while Ronan is the brewer. They moved to Moate in July 2017 and, in December, started brewing in their spare bedroom. Just six months later, KO Kombucha moved to its own commercial space in Ferbane Food Hub. The Back for Business programme provided an invaluable support network to Tracy as she didn't have a network or contacts. She said it helped build the business, offered the structure needed and gave her access to mentorship and a peer group of people with a shared experience.
Tracy says: "We both have a passion for healthy delicious food and how it can make you feel. We wanted to start our own business and put something good out into the world."
"We provide a unique style of innovative High Intensity Interval (HIIT) and Circuit group training with the added benefit of some slick technology"
Returned from: Australia
Now based: Dublin
Patrick Barry and his wife Ciara were happy living in Australia but then they got that all-familiar itch to come home. They had spent six years down under – four in Perth and two in Melbourne – when the lure of being close to family became too strong and the couple packed their bags for home.
Patrick, an engineer, took a job with John SISK & Son working on the €370 million Luas Cross City project – a challenging role but one which simply didn't fulfil his career goals.
The Cork native had always dreamed of setting up his own business and, with a strong interest in health and fitness already, he saw an opportunity to bring his passion and knowledge to the market.
In January 2018, some 17 months after his return home, F45 Dublin IFSC Gym was open to the public.
Patrick says the problem-solving skills he developed as an engineer help him as a business owner, but Back For Business was invaluable for him in being able to get it off the ground.
Patrick says: "It's a very daunting experience, but what I got from Back For Business is knowing everyone is in the same position. Hearing other people talk about their problems and being able to bounce ideas o‑ each other means a lot."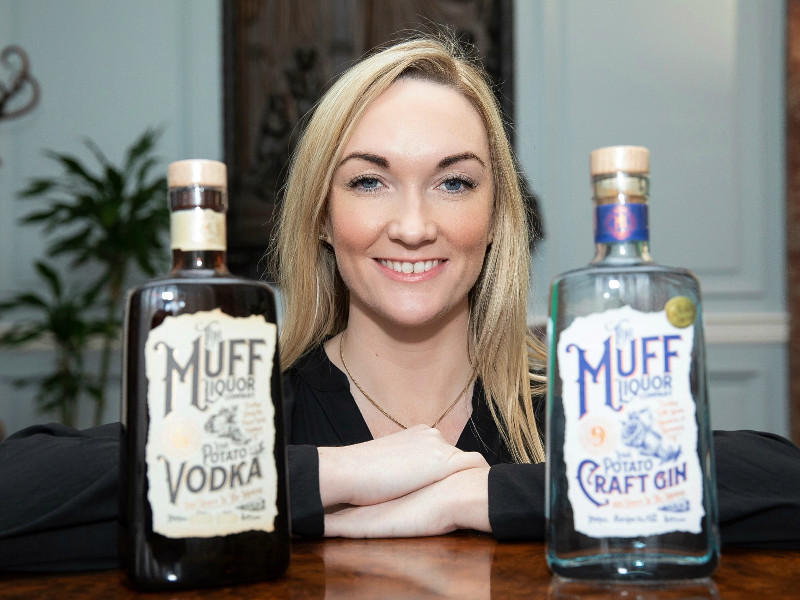 "We produce premium potato-based Irish spirits which we sell internationally"
Returned from: UK
Now based: Donegal
After spending six years in London working in the property sector, Laura Bonner returned to her native Donegal to set up her business — The Muff Liquor Company.
Laura and her business partner Tom Russell established the company, which produces premium potato-based distilled spirits, in 2017. The Muff Liquor Company was inspired by Laura's grandfather, Philip McClenaghan, who made poitín in his barn. Their flagship product, Muff Irish Potato Craft Gin was launched in February 2018 and it was quickly followed by Muff Irish Potato Vodka in November that year. Muff Liquor Company products are now selling in multiple countries worldwide and a Muff Whiskey will be the next product to hit the shelves.
In its short time in business, The Muff Liquor Company's products have been recognised as Best in Ireland 2019 in the UK Gin Guide awards, won gold at the Wine & Spirits Wholesalers of America 75th annual convention in 2018 and also won gold at the Gin World Masters – Asia in 2018
Laura says: "I knew since I was a teenager that I would be doing what I am doing now. Once I made a bit of money, I knew it was time to return home and follow my dream."
Edited by John Kennedy
Published: 17 January 2020