More than 100 Irish women entrepreneurs shaping business across Ireland to watch in 2023.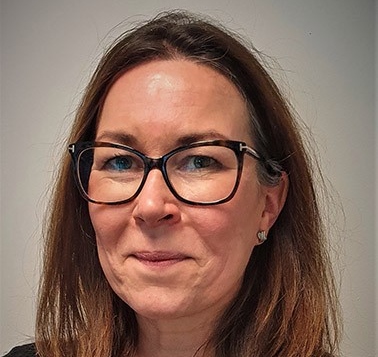 Tara Beattie is a result and innovation-driven entrepreneur, with over twenty years' experience in setting up and running successful hospitality operations, from a fine dining restaurant in 1998 to a new SAAS company, Prepsheets.com in 2021.
In 1998, Tara and her husband Brian first set up Mange Tout Limited as a fine dining restaurant of the same name. Tara was no stranger to start-up businesses, as she was also working full-time in an Enterprise Resource Planning (ERP) software start-up company, whilst helping in the new restaurant. As Mange Tout became an award-winning restaurant, Tara says that "something had to give" and she went full-time into the family business.
Soon after opening the restaurant, the couple identified a gap in the event catering market for a high-end operator in Ireland. And so in 2002, they pivoted from a fine dining restaurant to a fine dining caterer, called The Caterers, still trading under the original Mange Tout company. "As our business grew so too did our team, menus and ambitions" says Tara. In 2007 The Caterwaiter was established to supply professional staff to the hospitality sector. "To do this we needed to put in a Managing Director to be the face of the company and run it with us. We are delighted that this company has gone from strength to strength and underwent a management buyout in 2020."
In 2011, Tara and Brian opened the first of their five Simply Irish Cafés (sicafe.ie), all of which are in beautiful and historic sites around Leinster. The SI Café group sets itself apart from the competitors as its cakes, treats, dressings, and soups are freshly made in the company's central production and training centre in Dublin 12. "We continuously offer fresh and well-balanced options to our customers and continue to partner with our clients to ensure that our offering is tasty, wholesome and relevant."
2021 brought another exciting pivot when Tara and Brian set up their new SAAS company, Prepsheets.com, which is the culmination of all the experience the couple gained whilst running their hospitality group. Prep sheets are a key kitchen operational tool, which was originally developed as an internal tool to ensure that, through their growth and entering new markets, they remained profitable.
It's early days for the company but they are already working with 7 active customers who are using this simple tool, which ensures that in-house recipes have accurate costs, allergens, and calories for each portion of each dish. Currently developing a roadmap for future growth, Tara says that they want "Prepsheets to be the byword for good kitchen management".
Tara has been part of the Going for Growth community since 2013. She participated in Going for Growth with Margot Slattery as her Lead Entrepreneur, as well as in Continuing the Momentum with Adrienne Gormley as her Lead. "Getting access to such experienced businesswomen, who are at the top of their game, was fantastic," says Tara. "Having that support and help to ensure you follow through on your commitments makes the Going for Growth network invaluable."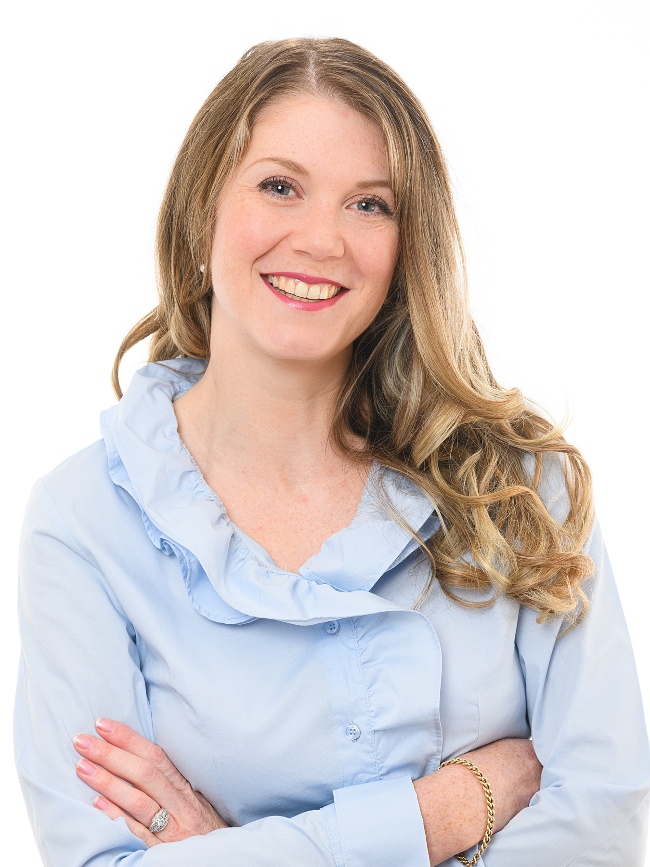 The waiting list for children seeking speech and language services had been extensive before the outbreak of the Covid-19 pandemic. Now, it has stretched to more than 30,000 children. And with 700 posts in children's disability services currently vacant, the wait for many of those children who need vital care is likely to go on for some time.
Kate Beckett, the founder of Optima Speech Therapy, is a speech and language professional working to empower parents to deliver an easy-to-use service for speech therapy at home. This bridges the gap between identifying an issue and receiving face-to-face speech therapy. Kate is also bringing a full range of custom-made resources to the speech therapy market including the first child speech sound avatar DARA (Digitised Automated Realistic Articulator) on her YouTube channel.
When parents make contact, Kate sends them an assessment document containing fun activities to carry out and video their child doing at home. The parents return the videos to Kate who compiles a report in which she advises on the appropriate speech and language programme.
Launched in June 2021, the company's success is underpinned by the Wicklow based speech therapist's YouTube channel, on which Kate posts instructional videos for parents and children on how to work on language activities and how to produce specific speech sounds. Alongside Kate, the star of these videos, DARA, teaches children how to use their tongue and lips to make a targeted sound.
She is also working on a book. This follows the setting up of her website, through which she sells resources to other speech and language therapists, teachers and assistants.
Kate has found great support from her ACORNS group. Having launched only just prior to starting ACORNS, she has found it particularly helpful to have a group of strong women to bounce ideas off of and learn the balance of business and family.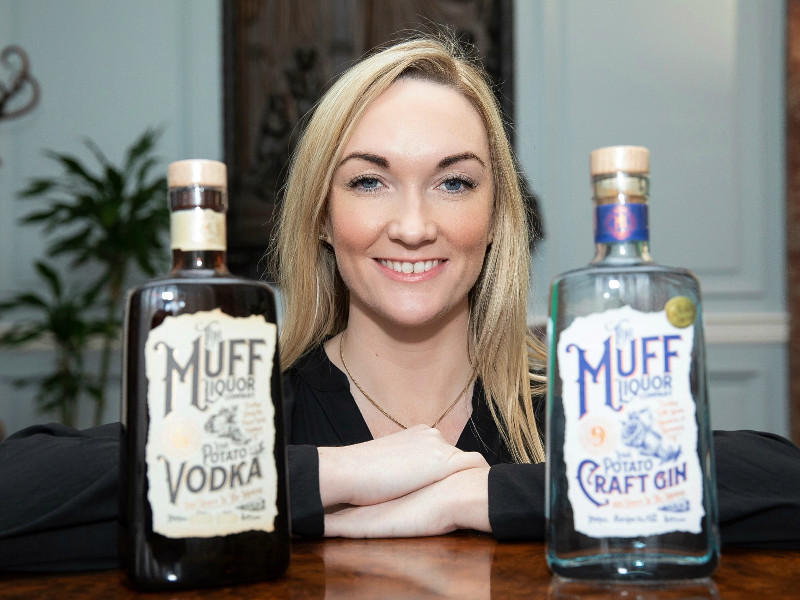 Laura Bonner returned from London to found her business The Muff Liquor Company in Co Donegal.
"I was away for six years in London where I worked in property. I started off in lettings and climbed the corporate ladder to become director of the UK for an Australian company selling to the Chinese.
"I love Ireland – if the recession didn't hit us back in 2008, I don't think I would ever have left. I knew since I was a teenager that I would do what I am doing now. I always knew I would own The Muff Liquor Company and produce Irish spirits, which is part of my family heritage. Once I made a bit of money, I knew it was time to return home and follow my dream.
"The Muff Liquor Company produces premium potato-based Irish spirits. It was inspired by my grandfather, Philip McClenaghan, who used to make poitin. We launched the business in February 2018 with Muff gin and followed that with Muff vodka. We are now selling in multiple countries worldwide."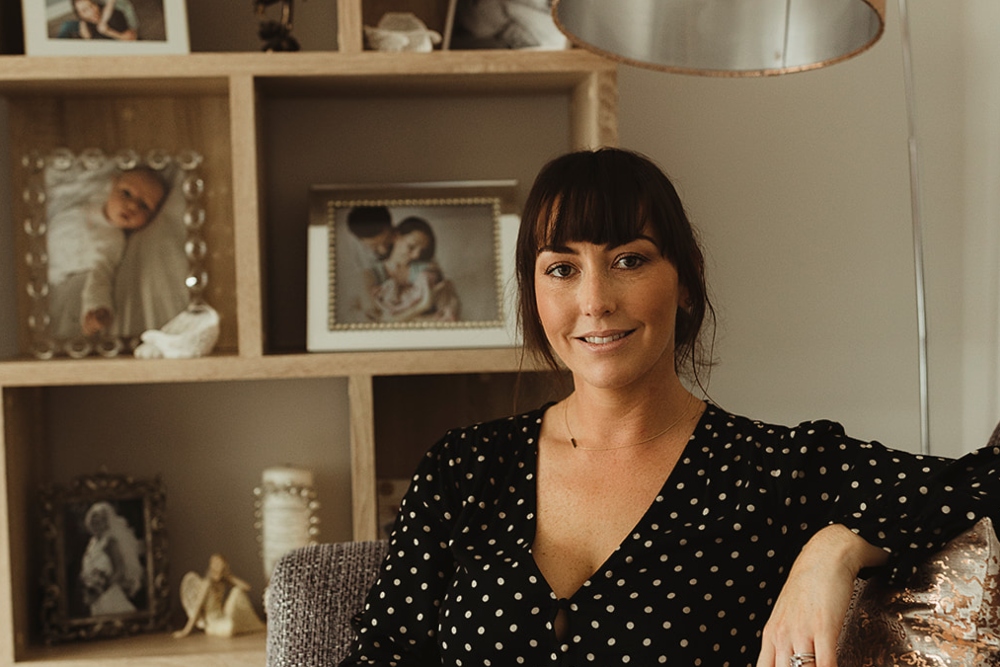 Katie Brandon Byrne, from Bray, Co Wicklow, stepped away from her career as a global buyer for Primark to launch Lil & Izzy, a sustainable, organic clothing brand for children and babies, in August 2019.
Katie was inspired to become an entrepreneur after the birth of her second daughter, Isabelle, who suffers from eczema. She found it difficult to get baby clothes that didn't irritate Isabelle's skin. More suitable clothing, sent by her brother in Australia, was too light for the Irish climate.
So, the Wicklow native decided to design the clothes herself and started Lil & Izzy, named after her daughters, Lily and Isabelle.
From the outset, Katie wanted to ensure that her clothing range would be ethically made and aesthetically pleasing. As well as using organic cotton, Lil & Izzy only uses water-based and eco-friendly dyes and prints.
All of the illustrations on the clothing are inspired by her children's imaginations and their daily lives. For example, a recently launched collection, featuring mermaids and swans, was inspired by living beside Bray harbour and feeding the swans there each day during Covid-19 lockdown.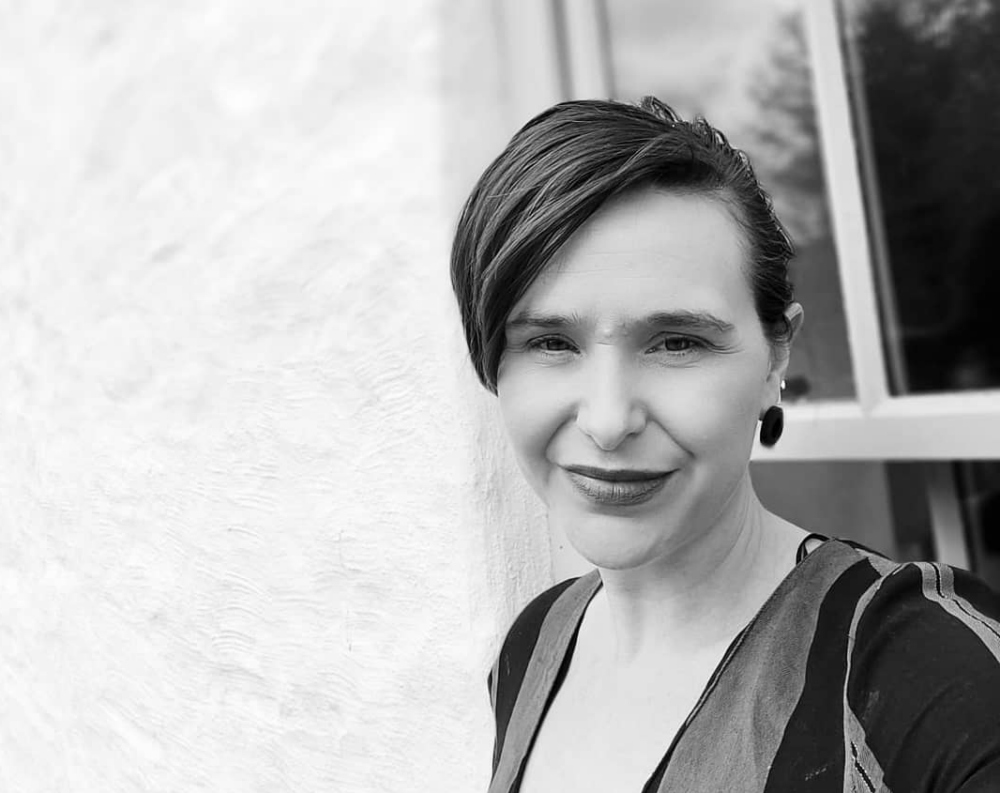 When Linda-Gene Byrne learned that Irish consumers were spending €5bn a year with online retailers, of which €3bn was leaving the country to non-indigenous companies, she felt compelled to try reverse the trend.
The former sales director with Green Isle Foods set up her company The Holding Pond, an outlet for Irish-made crafts, pottery, homewares, jewellery and more, on Valentine's Day 2020, shortly after moving her family to her husband's homeplace on the Hook peninsula in Co. Wexford.
"I've always loved buying Irish-made goods and I saw there was a gap in the market for a one-stop shop for indigenous products. Irish shoppers are spending billions online every year and a large proportion of that is leaving the country. I thought, 'Let's bring these sales home'," she says.
While the initial offering was strictly online, Linda-Gene has since set up a number of pop-up shops in the South East. This summer, she set up a pop-up shop in a corrugated tin shed near the family home on the Hook where she will be selling her Irish-made products until the end of August.
Linda-Gene meticulously researches each of the product makers, ensuring that those featured by the Holding Pond come from all across the island of Ireland.
"We work with around 40 Irish makers, which is something we're really proud of. And we want to go further in the future by establishing a greater online presence. We have great corporate customers, and we'll need more of them if we're to scale up," she says.
Linda-Gene is thankful to ACORNS for helping her forge relationships with other female entrepreneurs from an eclectic mix of industries.
"Whether they were involved in education, medical or the clothing industry, it was great to have people there as a sounding board and build connections," she says.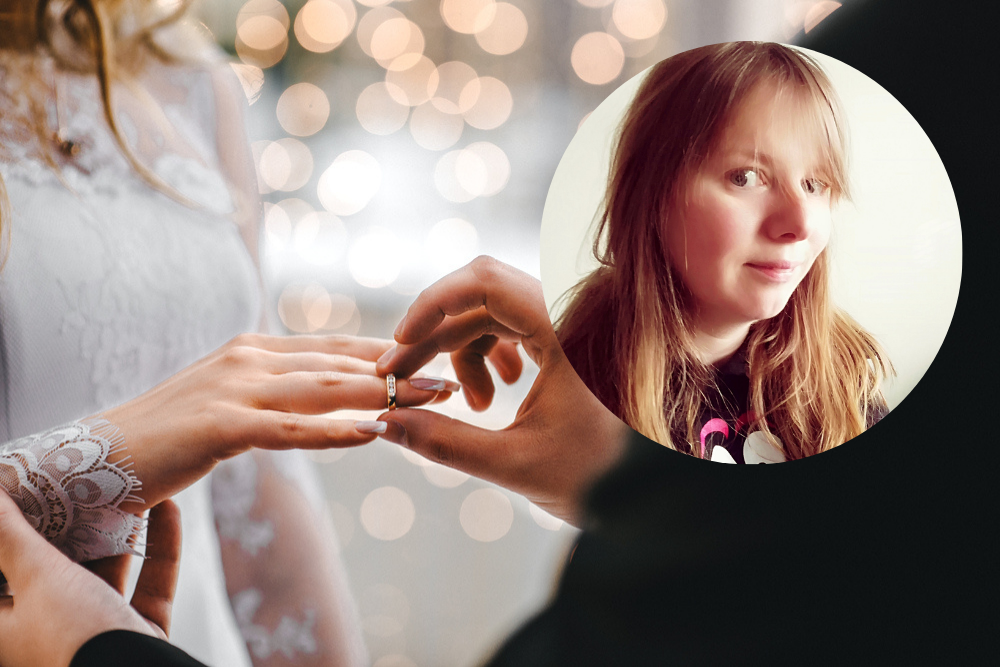 Laura Cavanagh
Laura Cavanagh was studying for her psychology degree in UCD when she became interested in computer programming.
And what started out as a hobby ended up becoming her future career. She worked full-time as a computer programmer in Dublin before moving to work in Australia for five years.
Laura always had a desire to set up her own business and, in fact, had established one when she was in her 20s before her career took off. On returning home to Buncrana, Co Donegal, Laura decided to go it alone again and set up an app development company called Glitterbug, with her partner Colin Vaughan.While working on Glitterbug, Laura and Colin developed their own eco-friendly wedding app, called Be Our Guest, which they decided to work on full-time.
Be Our Guest is a one-stop shop for weddings. It is a mobile platform where couples, suppliers and guests can communicate with each other.
It allows couples to design digital invitations and build a community through a microblog, while guests can RSVP through the app – and even choose their meals.
The app was launched in a beta format in 2019 and the couple have spent 2020 – when it was quiet with weddings as a result of the Covid-19 lockdown — building the product and focusing on strategy.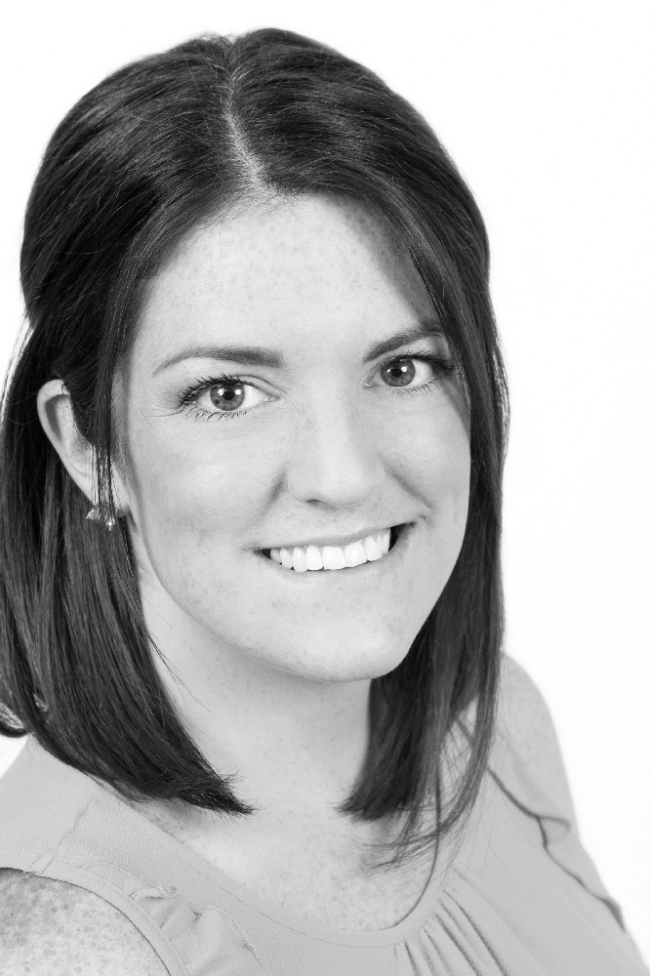 Lyndsay Considine runs LC Digital, a digital marketing and social media consultancy, management and training company, from her home in Drumlish, Co. Longford.
She moved back to her native county in October 2020 after working in the West of Ireland for nearly a decade, first with Galway Bay FM as a senior broadcast journalist and later the Galway Local Enterprise Office (LEO) as a digital marketing and social media manager.
She had long toyed with the idea of setting up her own agency but the transition to the Faithful County provided the grounding needed to finally kick-start the enterprise.
"I do digital marketing and social media management for SMEs and the public sector, in particular LEOs from the likes of Galway, Kildare and Westmeath. The advantage of having worked in an LEO previously, and doing this type of work, is that I understand the different demands, schemes and offerings," she says.
Lyndsay, who also works with the tourism agency Visit Westmeath, credits the ACORNS programme with helping her to restructure her business and to be more selective about the contracts she takes on.
"ACORNS helped me evolve the business to go after more public sector clients. This decision also sets me apart from other marketing agencies in my region who tend to work predominantly with private sector clients. It also made me revamp how I structure my week. Now I'm closer to achieving a better work-life balance, something that doesn't come easy to an entrepreneur with a two-year-old!" she says.
"My revenues are beyond anything I could have imagined when I first started and I'm grateful to ACORNS for making me see the sky really is the limit. The programme has given me the confidence to get to work on registering as a limited company and recruiting freelancers for project work beginning this summer."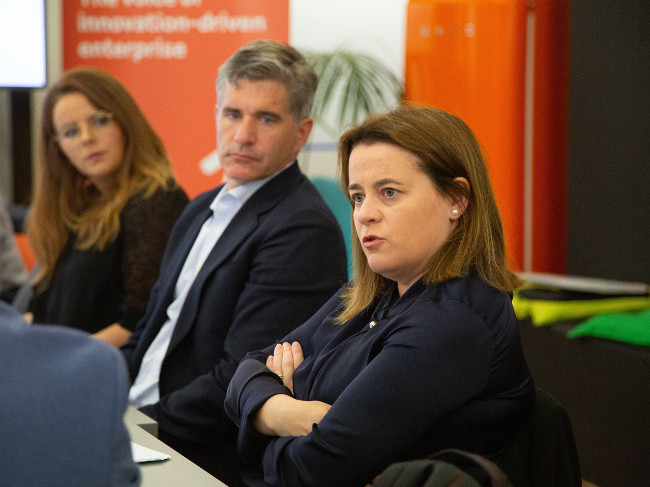 Elaine Coughlan, Atlantic Bridge Capital
Elaine is a co-founder and general partner of Atlantic Bridge Capital, a global growth equity technology fund with over $450 million of assets under management, and over $300m of co-investment from Limited Partners. She is also a co-founder of Summit Bridge Capital, which is a China Ireland focused fund aimed at helping Irish companies scale in China. The team and fund are backed by China Investment Corp which is the world's 5th largest Sovereign investor with more than $585bn of capital under management and Ireland's Sovereign Wealth Fund NTMA. Summit Bridge is jointly managed by Atlantic Bridge and West Summit Capital and brings extensive networks in China to Irish companies.
She has over 20 year's operational experience as CFO/COO in scaling technology companies with extensive operational and mergers and acquisitions experience. Previously, Elaine was a co-founder and non-executive director of GloNav Inc, a GPS software and hardware business successfully sold to NXP for $110m in 2008. Prior to Atlantic Bridge, Elaine was CFO at Parthus Technologies and took three high-growth technology companies public on both NASDAQ and LSE.
Elaine is a fellow of the Institute of Chartered Accountants and a qualified Chartered Director. She was named as one of Europe's Top 100 Women in Technology and appointed by the Irish Government to the Board of Enterprise Ireland in 2014.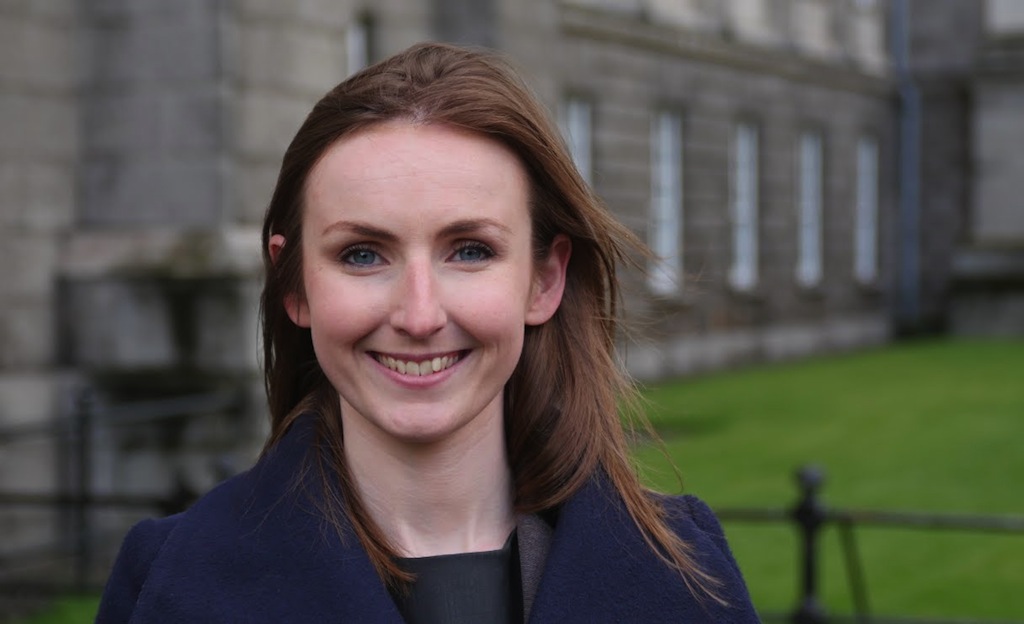 Dr Ciara Clancy is a chartered physiotherapist and researcher who attained her PhD in Neurosurgery Outcomes from Trinity College Dublin. Passionate about advancing therapies and improving outcomes through digital innovation, she is the CEO of Beats Medical, an Irish company pushing the boundaries of medtech.
Clancy emerged as the winner in the Women Innovators category in the most recent EU Prize for Women Innovators.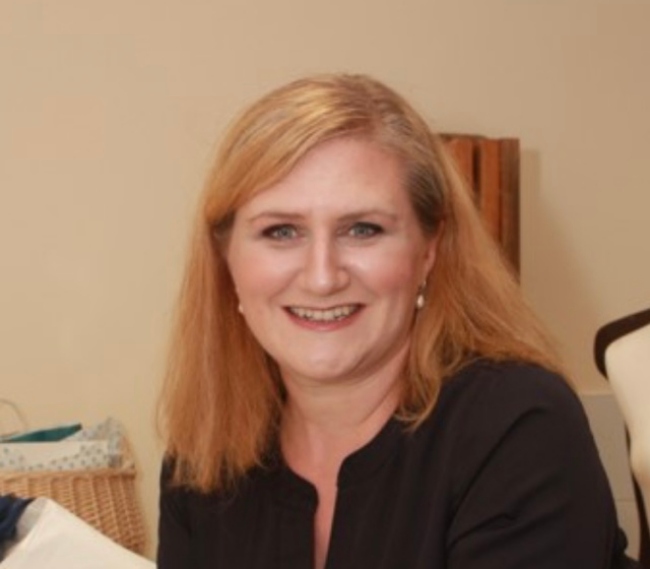 A growing weariness around the commute to her job with a leading designer in Dublin compelled Margaret Coyne to make Dowra, Co. Cavan, a permanent home – not just for herself and her husband, but also her budding dress-making business.
"I launched in August 2021 and I've never been busier. There's real public appetite for this kind of service, particularly in the North West," says the founder of Margaret Coyne Couture, who uses her skills as a Grafton Academy graduate, and experience of her 20-year career in the fashion industry, to produce once-off, luxurious bridal, evening and occasion wear.
Recently reclassified as a creative space by Cavan County Council, the Old Courthouse building in the heart of Dowra provides the setting in which Margaret creates her designs and hosts fittings.
"Our bridal collection is a big part of our business but a real growth area for us is the mother-of-the-bride outfits. We also do millinery so mums can get their dresses and hats at the same time. Both brides and mums can have their fittings together also, which is a lovely experience for them."
Margaret, who hopes to launch a ready-to-wear mother-of-the-bride collection in the next 12 months, was recently shortlisted for Newcomer of the Year at the Weddings Online Awards and believes ACORNS was essential to helping her focus on business and finance, rather than just the creative side of her operations.
"ACORNS helped me change my attitude in terms of how I operate. I know all there to know about making dresses but my issue has been around actually thinking like a businesswoman. It was fantastic to be surrounded by women with similar goals. I was inspired by all the fantastic people and their stories," she adds.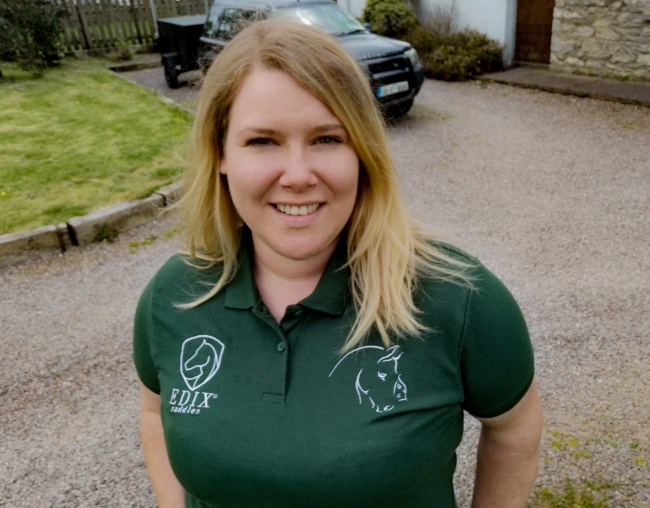 Phillippa Christie
Phillippa Christie's new equestrian business was driven by a need to connect when physical, face-to-face connection was effectively prohibited due to Covid-19 restrictions.
Christie, an equine psychologist and evidence-based trainer from Yorkshire in England, had been offering coaching and equine products through her existing business, Equine Partnership, in Killorglin, Co Kerry, when the pandemic prompted a new collaborative business that would allow her and her peers to continue to provide their services.
Recognising that her colleagues in the industry were as restricted from doing normal business as she was, Phillippa created the Equine Academy, which offers a range of online courses for equestrians who want to develop equestrian partnership.
Phillippa had previously worked as a web developer and in education, so she knew some of her colleagues would not be able to create their own platform and would not necessarily be used to creating online courses.
Her goal was to create a community of equestrian coaches, who would be able to provide their services, without having to pay to do so. The Equine Academy helps with course creation, provides marketing services, and hosts the course on its platform in exchange for a revenue split on bookings.
Tigers Childcare was founded by Karen Clince in 2003. Today the business operates 13 childcare facilities in Dublin and one in London. It employs over 200 people and provides childcare services to more than 2,000 children. It is the third largest childcare provider in Ireland by the number of sites. The business recently raised €10.5m in equity funding from growth capital investor BGF.
Before starting Tigers Childcare, Clince worked as a special needs teacher in north Dublin and then in software. But she always wanted to start her own childcare business.
"There was always a plan to grow in the UK and continue to grow in Ireland."
Stoical about the challenges of the past year, Clince said the lockdowns gave her and her team a chance to refocus on their UK plans.
"It made us focus on getting it right. We focused very much on our staff training. How can we upskill? And how can we get ourselves ready for growth? If growth wasn't going to come this year there are certainly things we could look at and get in the pipeline. But while we have this time that we probably will never get again, how could we perfect the business? How can we make it better? And how could we make sure we were ready to grow when things hopefully would return to normal?
"So that was where we put our focus and it was it was no harm for someone to push a bit of a brick on my head and slow me down. The things we have in the pipeline are still there, just they are happening slightly slower than we would have anticipated."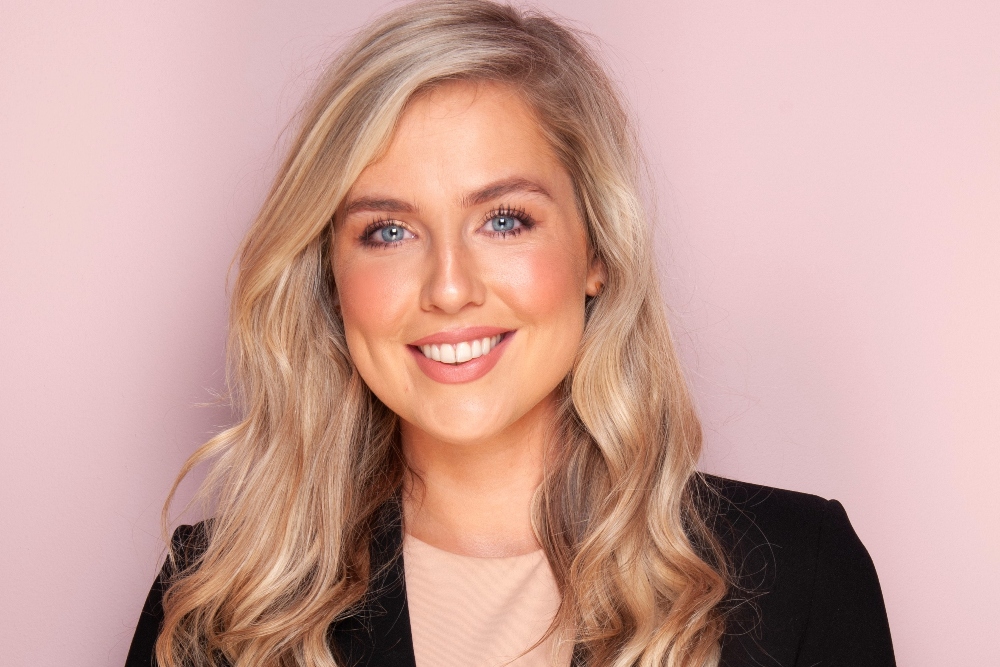 Aimee Connolly began her working life at the age of 16 during her transition year when she became a makeup artist and her passion for cosmetics grew from there.
With a degree in Commerce and French as well as her experience in the beauty industry, she spotted a market opportunity for a makeup product specifically designed to suit all ages and skin types that simplified the makeup process.
So, with six years of experience in makeup and four years of business, she thought "let's merge these two together and let's work for myself", which is just what she did, with the philosophy of "not over-thinking it and just going with my gut."
Aimee's successful Sculpted by Aimee cosmetic brand has gone from strength to strength since she started her own business over five years ago. From her first product launch, which was a 3-in-1 Sculpted Highlighter and Shader palette, packed at her own kitchen table, she now has over 160 products available and has sold 2m units to date. Her team now comprises 25 people and the business sells a wide range of makeup brushes, lipsticks, palettes, eyelashes, foundations, and instant tans.
The company has an omni-channel approach with products stocked in 350 stores across Ireland, as well as its own website sculptedbyaimee.com. While the pandemic escalated the online channel, Aimee and her team managed to maintain a split of 60% in-store distribution and 40% online. "Educating people on the brand is very important," says Aimee, "and this approach allows the company to be really dynamic, offering tutorials and point-of-sale opportunities to our customers."
Sculpted by Aimee not only has experienced massive growth in sales, particularly in the last 2-3 years, but is scaling for internationalisation, with launches in the UK and the Middle East planned in Q4 2022, and plans for the US and Asia markets in the longer term.
As to future growth in Ireland, Aimee has opened a new Sculpted by Aimee store, which sports an all-pink facade in Dublin's Grafton Street in September 2022. "It's great being a brand online but being a makeup artist, I want people to have that space that they can come to learn about makeup, get their makeup done and redeem them with our products," says Aimee.
Aimee participated in Starting Strong, Going for Growth and Continuing the Momentum which she says "has been a super asset to me personally and professionally since 2018. When you go through the stages of business and meet challenges, obstacles and equally successes, it is so lovely to have a roundtable of like-minded businesswomen to discuss these with, gain advice from, and of course learn from your Lead Entrepreneur. Susan Spence, Louise Phelan and Breege O'Donoghue were my three amazing leads and I just can't rate them and the programmes highly enough."
For Aimee, the pace has been "non-stop but I am so excited about what lies ahead and also at the same time, I've really enjoyed the journey to date". Sculpted by Aimee is an award-winning brand and Aimee herself won the 2021 EOY Emerging Entrepreneur of the Year Award.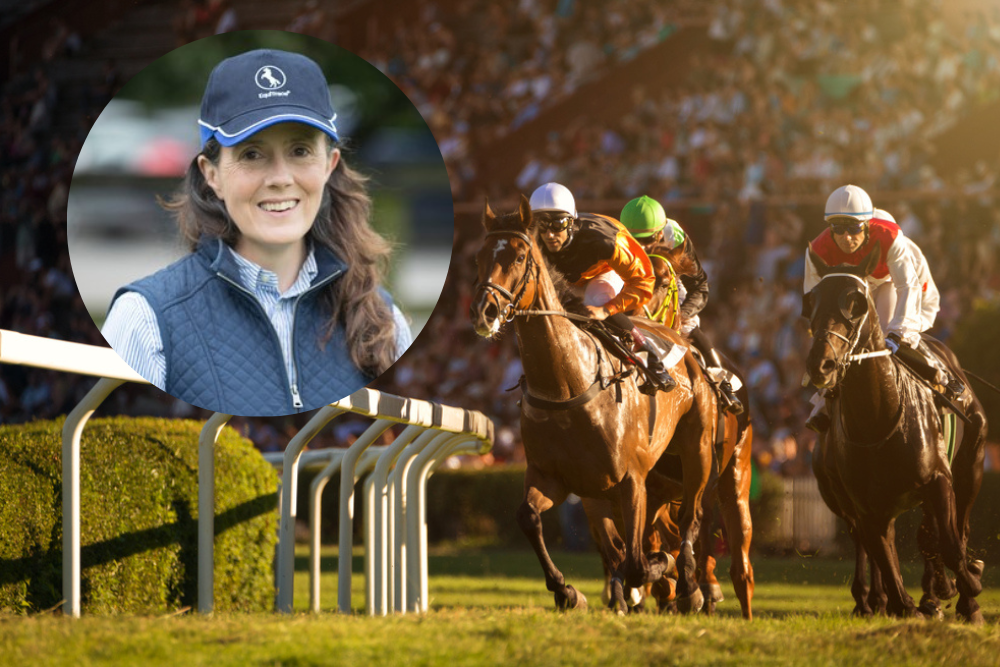 Jennifer Corley graduated in Veterinary Medicine from Glasgow University and went on to specialise in Equine Surgery, including time spent in the prestigious University of Pennsylvania as a Thouron Scholar.
Jennifer spent several years in private practice both in the UK and in Ireland – it was a personal life-changing event that led her to becoming an entrepreneur when she started her own business with her husband, Kevin, who specialises in equine medicine and critical care.
In 2017, Jennifer and Kevin established their company, Veterinary Advances, a medication-related database for equine vets which is used as a standard tool by professional veterinary bodies in the UK and Australia. This company remains the leading producer of smartphone Apps for the veterinary market and is used by, amongst many others, all members of the British Equine and Veterinary Association (BEVA) members today. "Apps offer a unique advantage to horse people as no one has a laptop in the barn, but everyone has a smartphone in their pocket," says Jennifer.
Jennifer has participated in both Going for Growth and Continuing the Momentum and says that "Going for Growth was really instrumental to the development of my business. Fidelma McGuirk was my Lead Entrepreneur, and her inspiration and encouragement really opened my eyes to the potential of starting a Software as a Service (SAAS) company." And so EquiTrace was born in 2019.
EquiTrace is an animal health company designed to bring horse healthcare into the digital age. Equitrace works with any scanner, any chip and any phone and is the answer to fundamental problems around traceability, identify, welfare and medication for the equine industry.
Jennifer credits her participation in Continuing the Momentum, where she met Aine Denn, with her successful fund raise of €1m from the angel investment network HBAN and €0.25 m from Enterprise Ireland in 2021. She found Going for Growth sponsor, KPMG, especially helpful also.
A key development in the growth of Equitrace is its commercial partnership with Merck Animal Health in the USA. Biosecurity is key and this strong partnership between Merck and Equitrace where Merck's Bio-Thermo microchip combines with EquiTrace's GPS technology to provide data at the horse's side that is critical to those involved in the equine industry. Clients include Goffs, Fasig-Tipton in the US, the US Jockey Club and the US Trotting Association.
Looking to the future, EquiTrace is currently segmenting its product for different target customer groups. For example, E-professional for studs and trainers; E-vet for vets and E-events for sales and auction houses.
The US will continue to be a key growth market for the company and it's a case of "being at the right place at the right time" says Jennifer as there is a change in US Federal Law happening soon where any medication given to a racehorse must be reported to a central body within 24 hours. "Only a digital solution will ensure this and Equitrace is so well placed for this as it's designed to be fast, accurate and easy to use."
As for Jennifer, she is also well placed to continue her success as an entrepreneur having won "Best VetTech as well as Best Overall Start Up at Enterprise Ireland's Innovation Arena Awards in 2021. She was also a Finalist at KPMG's 2022 Global Tech Innovator Awards.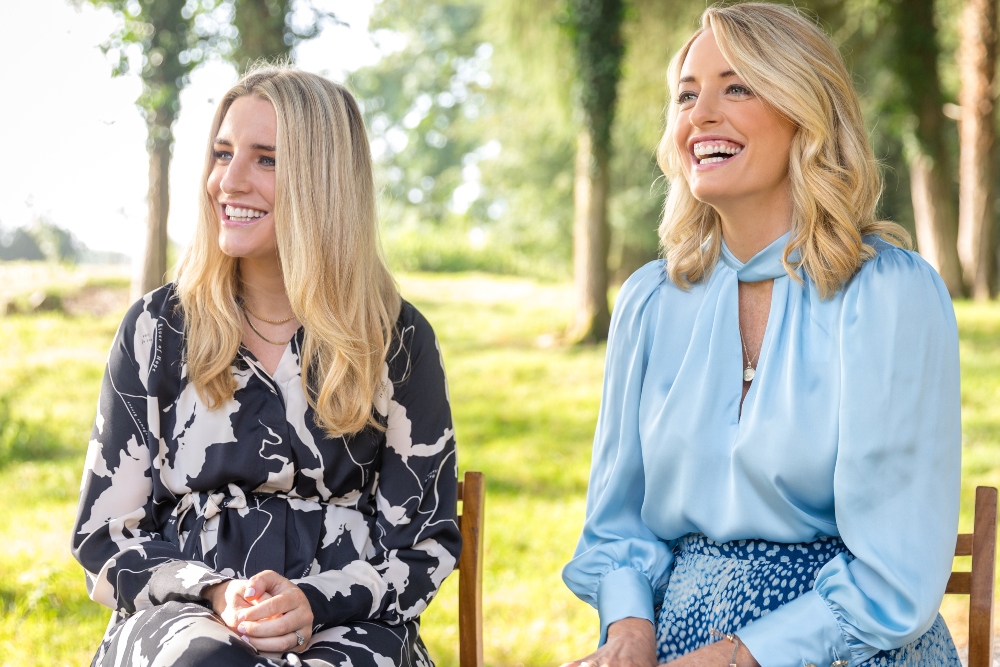 Vanessa and Lisa Creaven from Spotlight Oral Care
Set up just five years ago by Dr Lisa and Dr Vanessa Creaven, two sisters who are both dentists along with Dr Barry Buckley, Spotlight has developed safe and effective oral care products that are clinically proven to target your dental needs.
Since 2016, the oral care brand has revolutionised the industry, with their toothpaste tubes being the first 100pc recyclable tube in the world. Spotlight Oral Care develops, markets, and sells a comprehensive range of products for specific consumer oral care needs both online and through blue-chip retailers in Europe, the UK, and the United States.
The company currently has 17 products in its range, all of which are clinically formulated and tailored to target specific oral health needs using clean, active ingredients. Spotlight Oral Care has experienced significant demand and growth over the past 18 months, with turnover trebling to €19m in the last financial year. In July the company raised €12m in a funding round led by Development Capital that will enable the company to drive its international expansion into Europe and the US.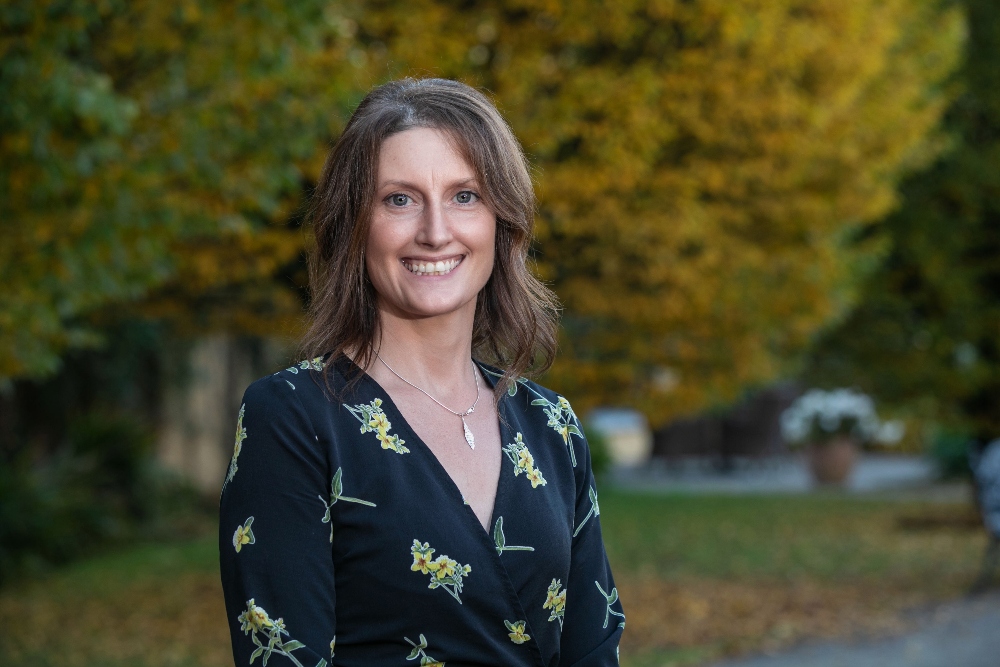 Caroline Cullen and her husband Steve always had a yearning to set up a business conducive to family life and to their shared love of nature.
That yearning was fulfilled in January 2020, when Caroline, who is originally from Cork but based in her husband's home town of Leixlip, Co Kildare, set up The Roots of Ireland, which produces contemporary handcrafted sterling silver jewellery.
The couple, who have two small children, wanted to create jewellery that would be a tangible reminder of our connection to nature.
"Our jewellery is based on elements of nature taken from across Ireland. To create our designs, we take twigs or leaves and other organic matter, and cover them with up to 13 layers of silver paste before placing them in a kiln, which burns away the original organic matter – leaving a silver representation of the original piece."
The Irish Native Woodland Trust, which is dedicated to the preservation and restoration of Ireland's ancient woodlands, receives donations for jewellery sold from The Roots of Ireland's 'Woodlands Collection'.
Their collection is now available through Blarney Woollen Mills, Bunratty Woollen Mills and other Irish retailers as well as through their own online shop. They export to customers around the world and have recently formed relationships with retailers in the United States.
"I found that being an ACORNS participant helped to make me accountable for business developments, and having support and feedback from fellow entrepreneurs, and Lead Entrepreneur Eimer Hannon, was invaluable.
"Our plans for the future include growing exports to those abroad with a connection to and love of Ireland and developing their collections of Irish nature-inspired jewellery beginning with a men's range and a contemporary wedding collection."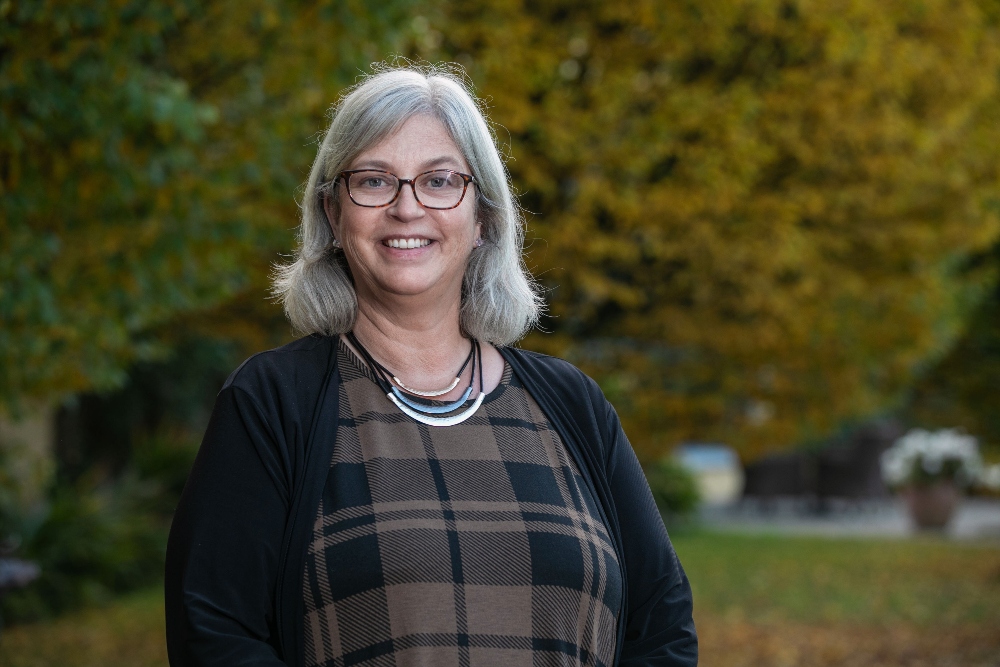 After 35 years away, Nikki Curran returned to her native Sligo, having taken 20 years out to raise her family. She had previously worked in the hospitality, corporate, and training sectors in the areas of management, recruitment and training.
Having settled in Sligo town, Nikki, who is originally from Rosses Point, set about returning to the workforce, initially by completing a 'back-to-work' course with Rural Skillnet.
Nikki realised there was little or no job search coaching available in the North West, so she set up Nikki Curran Career Clinic in September 2020.
As a job search coach, Nikki brings clarity to the world of job search, helps people to see their true potential and enables them to get the job that they want to get.
Nikki says her role in the process is to give people confidence to believe in themselves, so when they are preparing and reviewing their CV or preparing for interview, they don't sell themselves short. She works one-to-one with clients and has been very busy since launching her business.
Acting as an advocate for her clients and holding them responsible for doing the work that is required to prepare for the process, Nikki aims to empower them to show their true and authentic selves to their potential employers.
Modern technology and remote working have removed the barriers of location and Nikki currently works with clients locally, nationally, in Europe and Australia. Nikki will also meet clients face-to-face, if preferred.
Nikki says that there was something powerful about the connection between the participants on ACORNS and that they learned a lot from each other. She says they have continued to support each other since completing the cycle.
Nikki's plan for the future is to simply keep doing what she loves for as long as she can.
Dr Anne Cusack is the co-founder and managing director of Critical Healthcare Limited. The company strives to be the first choice for Emergency Medical Professionals. It is an Irish company offering a comprehensive range of emergency medical products and SaaS to the pre-hospital market and ambulance service providers in Ireland, and more recently, the UK and Europe.
The success of their SaaS offering first led to Critical Healthcare winning a contract with the National Ambulance Service in 2013 to implement Medlogistix across all 102 ambulance stations in Ireland. That was followed by contracts with Dublin Fire Brigade and the Irish Coastguard, but that was just the beginning.
Critical Healthcare employs 22 people throughout Ireland, the UK and Europe, supplying product to over 3,000 ambulances through Medlogistix, the company's online procurement platform. Anne and her team have won numerous awards including the SFA Innovation Award 2013 and the IMSTA (Irish Medical and Surgical Trade Association) Best Services Company Award 2014. Most recently, Critical Healthcare has been asked to participate in the Enterprise Ireland Competitiveness Campaign. The business is continuing to grow at over 20 per cent annually and the focus for 2018-2020 is Mainland Europe.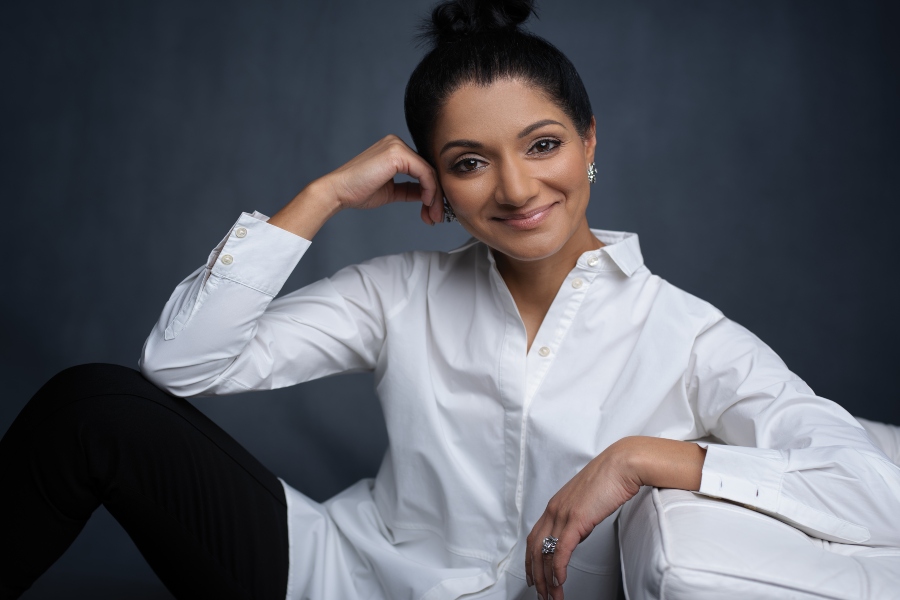 Naas-based beauty start-up Pestle & Mortar is a skincare brand that offers simple solutions for beautiful skin. Pestle & Mortar founder Sonia Deasy explained to ThinkBusiness last year that the company believes everyone is beautiful and that the mission is to protect that natural beauty by harnessing the power of science and nature to develop effective, simple formulations.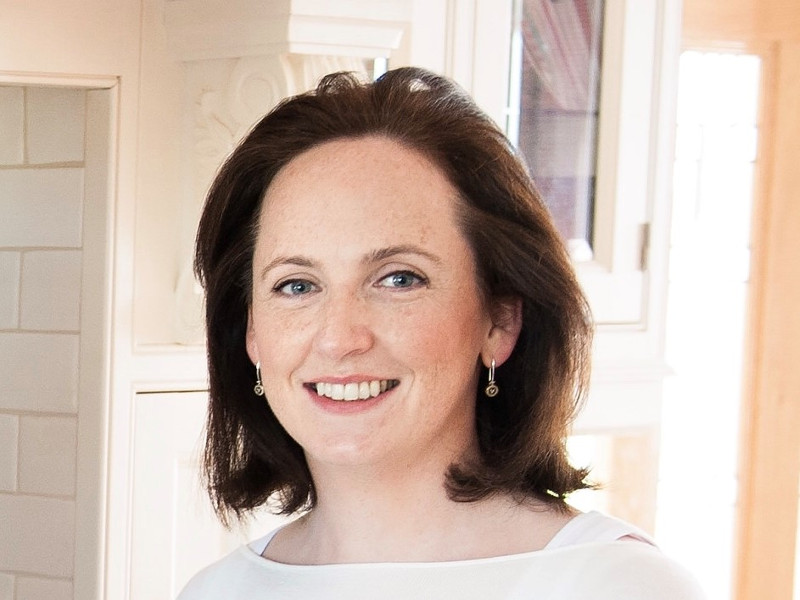 Norma Dineen and her husband Tom produce a range of award-winning cheeses on the family farm Bó Rua Farm in County Cork using milk from their herd of Montbeliarde and Friesian cows. Named in honour of the rust-coloured Montbeliardes (Bó Rua is Irish for 'Red Cow'), the cheese is made from March to October when the cows are out on pasture.
"From pasture to plate, our family takes time and great care to ensure we produce the finest of farmhouse cheese. Using traditional techniques Bó Rua Farm cheddar is carefully hand crafted and matured on the farm. It is gently aged until it has a firm yet delicately creamy texture and a full, approachable flavour. In the short time since launch in May 2019 we have received numerous awards including Gold at the Blas na hEireann Irish Food Awards for Best Irish Hard Cheese.
"Since the Covid-19 pandemic hit we have pivoted from supplying Bó Rua Farm cheese to foodservice and switched focus to supplying speciality food stores and the multiples nationwide. We also now retail directly online through our web shop.
Dineen found ACORNS particularly beneficial: "Over six months, established female entrepreneurs in different locations around the country lead monthly, day-long, round-table sessions with groups of women who have been running a business for less than two years, or are about to start one. You learn from other women's experiences and, of course, the lead entrepreneur is a successful person in her own right. Focusing on different topics each month, such as marketing, sales, finance and employment, discussions cover all the pieces of the jigsaw you are going to need to successfully set up a business. I found it extremely helpful in setting goals, with "positive peer pressure" being a motivation to complete goals in time to report on it at the next meeting. In the day-to-day running of the household and the business, you can get consumed by the small details. ACORNS provides the chance to take a step away, talk to other women and tap into their experiences."
Delighted to be able to share my (very winding) career journey so far and excited to see what the furture holds! @UCDCompSci @DCUEngineering @Akara_Robotics @tcddublin @AdaptCentre @TheDigitalHub @IrishTimes @Etsy @KrisolisHQ https://t.co/pocmsAzPUI

— Niamh Donnelly (@engineeve) November 5, 2021
Niamh Donnelly is co-founder of Akara Robotics, a Dublin tech firm that is creating social robots that can assist care home staff.
Donnelly emerged as the winner in the Rising Innovators category in the most recent EU Prize for Women Innovators.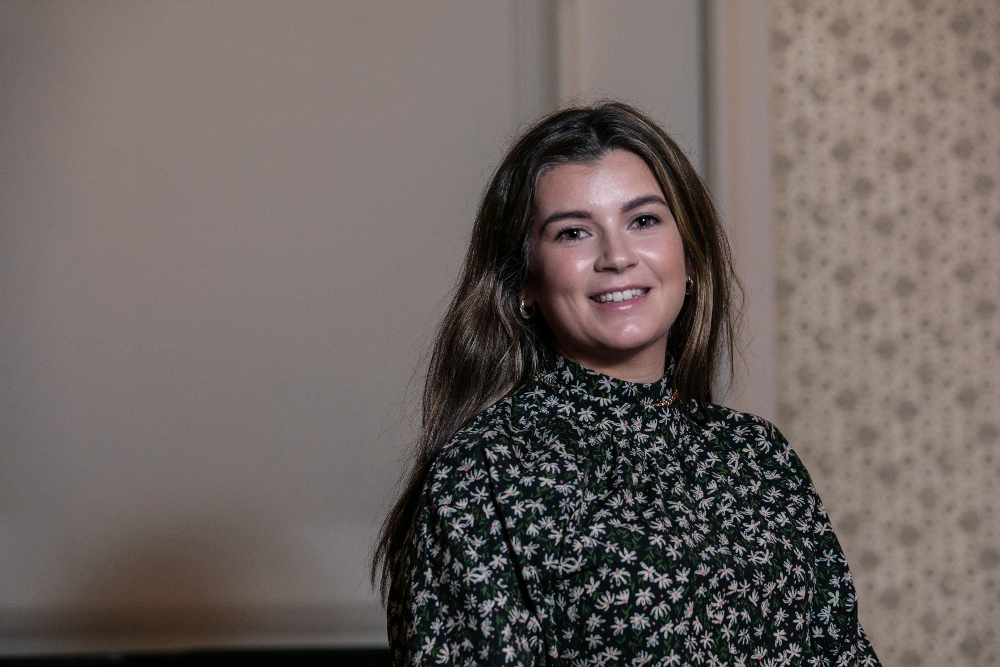 A pandemic lockdown project across two continents led Niamh Dooley, from Athlone, Co Westmeath, and her brother Ruairi, to create BiaSol, a business that upcycles spent grain from breweries into healthy food products.
Niamh and Ruairi, who was then based in Melbourne, founded the company in October 2020, after investigating the possibilities of a sustainable, nutritious food product as a way of keeping in touch over Zoom, when they were both experiencing the limitations of lockdowns.
Niamh, who had graduated with a degree in Food Science from University of Limerick in 2016, had been working on Food Dudes, Bord Bia's healthy eating programme for primary schools, but was let go due to the pandemic.
After securing a time-share in a test kitchen, BiaSol succeeded in getting €50,000 from EI's Competitive Start Fund, which enabled them to set up their own premises in Tullamore, Co Offaly.
BiaSol provides wholesale products to the food service industry and a retail health food product, Super Milled Grains, which is available in 75 health food stores across Ireland. The products are attractive to consumers and food industry professionals because they boost flavour and are very high in fibre.
The company currently employs Niamh and Ruairi, another full-time employee and two interns. Niamh expects to add a part-time production employee in the immediate future, as well as sales and marketing roles.
Niamh says key highlights for the business so far have been launching their retail product and winning the Irish Times Innovation Award for Manufacturing and Design in 2021.
She found that taking part in ACORNS gave her confidence as a woman in business, and the programme was a great opportunity to learn from other business owners.
Niamh expects to launch more retail products in the near future and to begin exporting into the UK.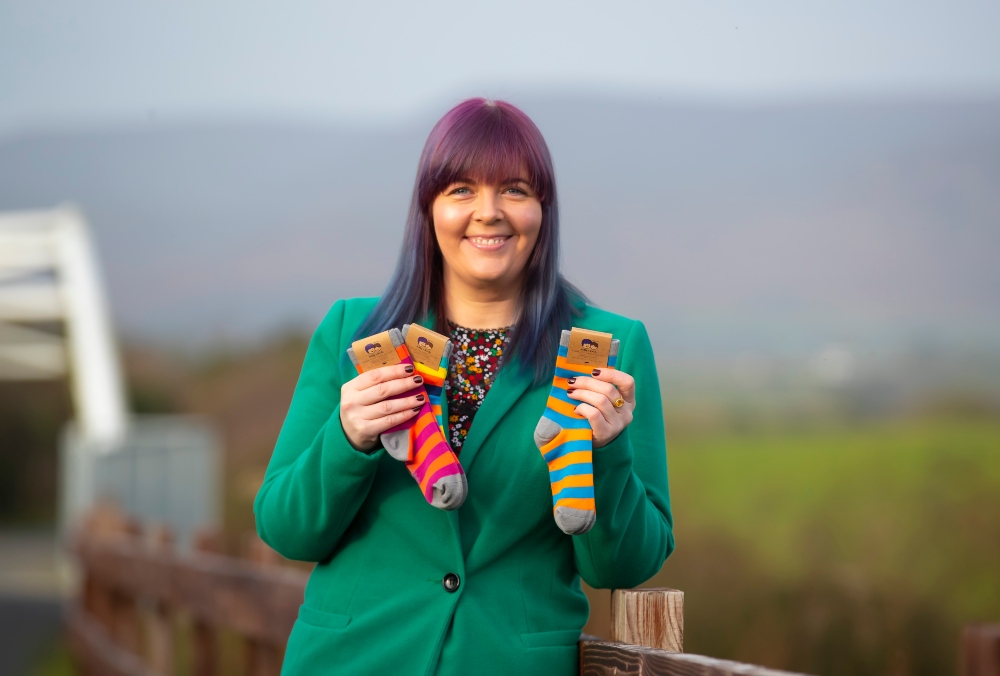 Polly & Andy makes seam-free and super soft bamboo socks for children and adults. A simple comment from Polly Doyle's four-year-old son broke her heart – and led her to set up her clothing company. Andy is autistic and wasn't then able to communicate fully but, after pulling on new soft trousers, said: "these don't hurt."
As he happily ran off to play, Polly was devastated that Andy's clothes had been hurting. Polly, who was Andy's full-time carer, investigated clothing made from bamboo, which she felt was perfect for the layer of clothes next to your skin.
She could not find anyone in Ireland making such products so, in July 2019, Polly launched Polly & Andy from her home in Cheekpoint, Co Waterford. The company makes seam-free and super soft bamboo socks for children and adults.
Polly & Andy is now stocked in 25 stores including Foxford Woollen Mills. Polly is working on a new range including soft top socks, with no cuffs. She is also planning to introduce new lines such as vests and underwear.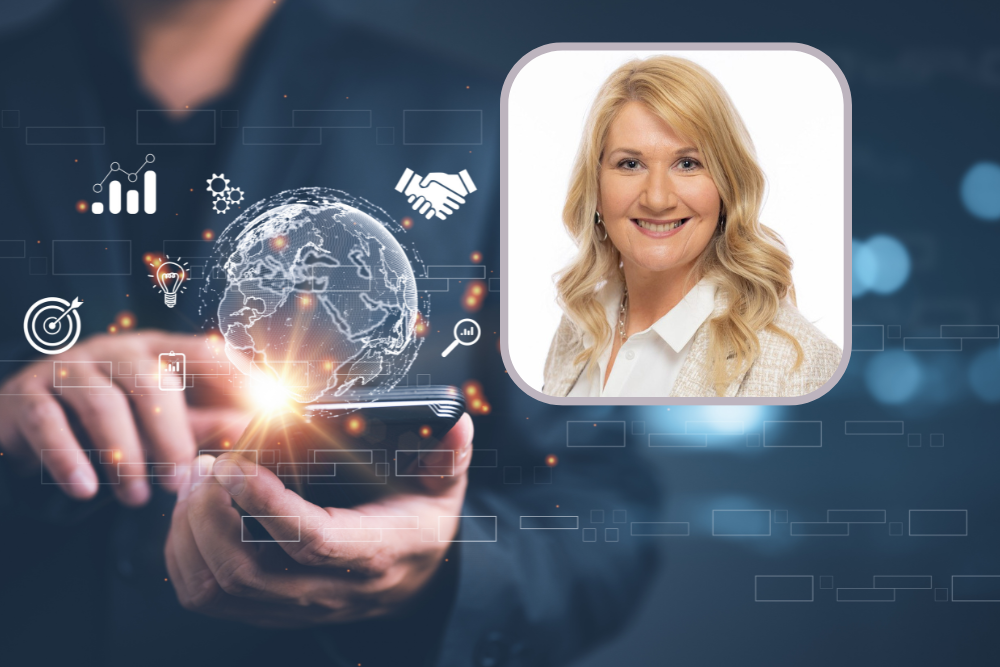 Caroline Dunlea has had a singular focus on clients and a robust drive for results throughout her career. Delivering for her clients was always most important to Caroline and that holds true today.
While Caroline would not have described herself as a "typical entrepreneur", she and her co-founder, David Brett had worked together since 2009 in a technology company, and in 2015 "decided to go for it" and set up their own Digital Marketing business, Core Optimisation.
Core Optimisation is a mid-west-based award-winning digital marketing agency which Caroline says, "was born from my love of the region, the industry, and delivering tangible results for clients".
Core Optimisation works with its clients to deliver digital growth through a combination of digital marketing and conversion optimisation strategies. "Getting and staying close to our clients is key to our company's success. They trust us to help drive profitable and sustainable growth for them, effectively working as an extension of their team".
The company's Irish clients include Failte Ireland, Riverdance, Expert Electrical, Louis Copeland, Meaghers Pharmacy, Press Up Group and Kilkenny Shop in addition to several five-star hotels. In the UK their portfolio includes The Currency Club.
Core Optimisation has continued to grow its revenues, achieving a 400% revenue growth in 2021. It has also grown its Shannon-based team to 43 people of which over 50% are female – such is the importance of gender balance to Caroline; it remains a key internal metric within the company. Core is also moving to larger premises in Shannon, further stamping its mark in the mid-west region.
The company is also targeting further expansion in the UK and recently launched Core Consults in London. Core Consults' business development team helps clients with digital transformation and with digital marketing strategy development and implementation.
Core Optimisation has strong growth targets in place for Ireland, the UK and for Europe too. The company has recently developed its own comprehensive digital maturity model to help clients understand where they currently are on their digital transformation journey and help them to move forward from there.
Caroline was on the 11th cycle of Going for Growth and Monica Flood was her Lead Entrepreneur. "Monica was a fantastic lead – from the very first meeting, we focused on vision, what success looks like for each of us and what our key milestones were for the future. The programme really gave me the opportunity to look ahead, spend valuable time out of the business, and work on the business. With Monica and the other round table colleagues, we all benefited from having open and safe conversations on common problems and challenges as well as learning from each other's perspectives."
Core is a Google Partner Agency and Meta Partner Agency and has been recognised at numerous industry awards including the Spider Awards in 2018. Caroline herself was honoured at Dublin Tech Summit Women in Tech with Entrepreneur of the year 2019 following on from being named as well as Network Ireland's Digital Woman of the Year in 2018. She is also a current finalist in EY Ireland's Entrepreneur of the Year 2022 Emerging Category.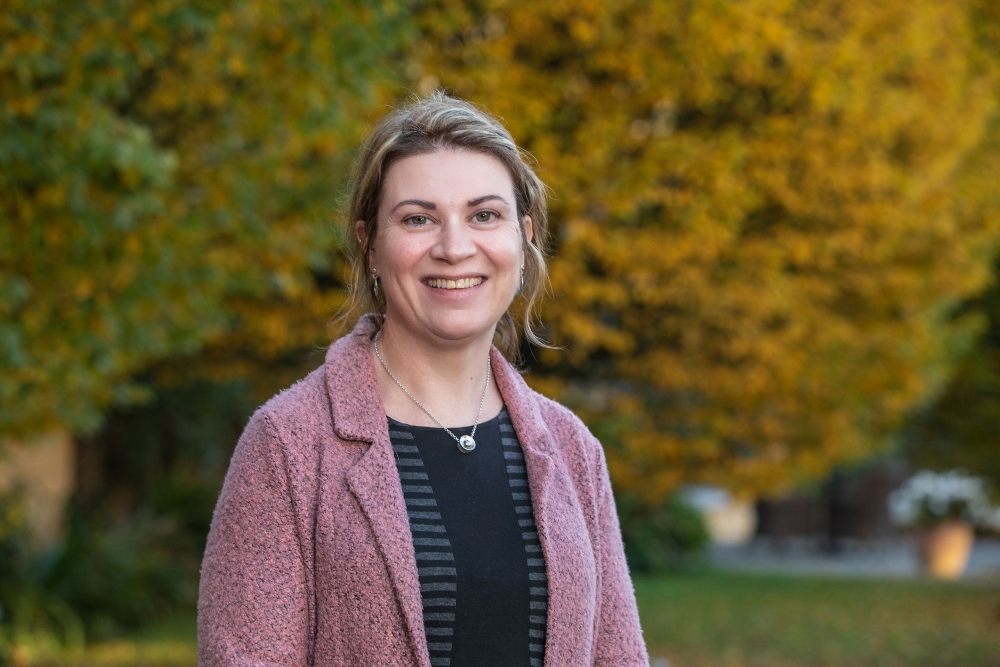 Helena Golden had been working in management roles in the food industry and in community and rural development before she decided to branch out on her own with her basket making business.
That came about gradually as Helena, a native of Manorhamilton, Co Leitrim, whose business is based in Leitrim Village, was keen to pursue her interest in a more sustainable lifestyle and achieve a greater work life/family life balance.
By reducing her work responsibilities, Helena had the opportunity to do the first of many basket making courses, which ultimately led to her weaving a range of baskets and commencing trading at a craft market in Sligo, where she found that many customers were keen to be taught basket making.
So, she took a career break and founded her company, Helena Golden Willow Woman, in February 2020.
Helena now travels around the country delivering classes on the ancient and traditional craft of basket making with a modern twist. She also has a range of basketry items available for sale, including make-at-home willow craft kits, and she delivers classes to community groups, day care centres, schools and women's groups as well as doing live online training.
Helena says that the Covid-19 pandemic and subsequent lockdown was paramount to the success of the business because within a few weeks of the initial lockdown, she was delivering live basket making classes over Zoom. The publicity and feedback generated by that led to the business going from strength to strength.
She says the really supportive nature of ACORNS and the opportunity to take time out from the business and share ideas and network with likeminded people was very helpful.
Helena currently employs an administrative assistant, and she is planning to employ basket makers to help expand the business while also expanding her product range.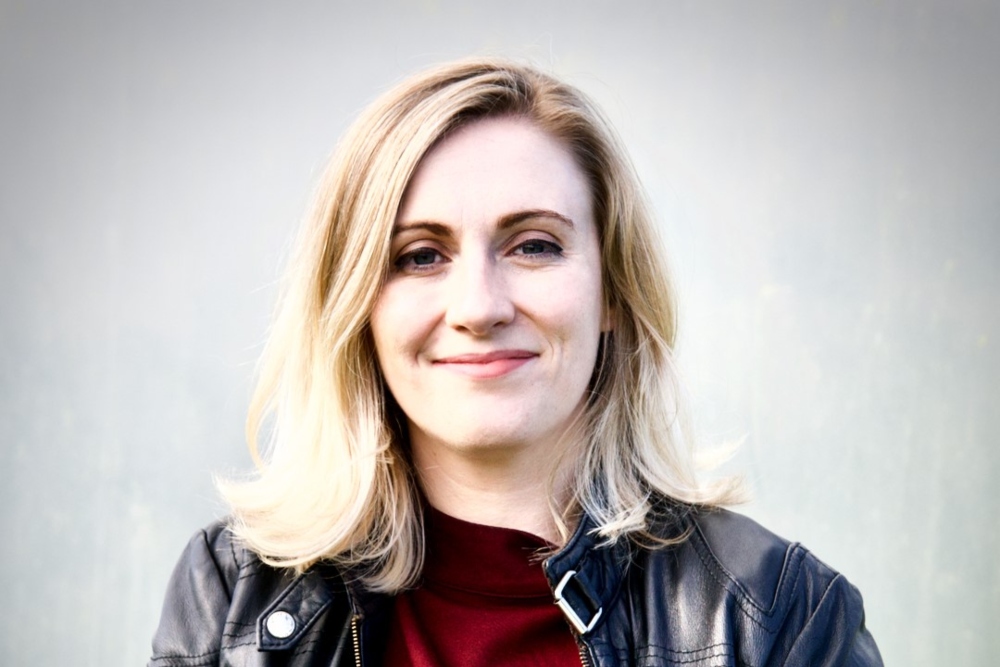 Fiona Edwards Murphy
Agtech business ApisProtect is working on revolutionising beekeeping by working with beekeepers around the world to develop innovative technology to remotely monitor honey bees. Dr Fiona Edwards Murphy, CEO and co-founder of ApisProtect is among the most widely published authors on Internet of Things and honeybees. ApisProtect provides real-time hive monitoring powered by intelligent sensor technology. The platform gives beekeepers actionable insights and alerts to help prevent losses and increase colony productivity.
Louise Egan set up her business I-SPY, based in Co. Clare, with her mother Paulette, when she was in Transition Year in school
"Our primary focus when we started out was to design and create stylish and comfortable fitness leggings that are completely non see-through. In the four years since, we have definitely accomplished this, and the quality of our leggings is well known in Ireland. We have also brought this same philosophy into other products in our range and we are highly confident that our range not only makes our customers look good, but it makes them feel comfortable and confident while working out.
"Personally, as I first started my business in Transition Year in school, I would say that my parents both being self-employed had a huge impact on my desire to own and run my own business. Seeing their passion for entrepreneurship led me to take part in a 'Start Your Own Business' course during Transition Year and from there the idea for I-SPY blossomed. I had also played sport at a high level for years so I could see that there was a clear gap in the market for stylish and comfortable female fitness clothing.
"I have to say that I feel the start-up environment is such a welcoming place for women in Ireland. There's definitely a great sense of community between female entrepreneurs and programmes like ACORNS are so beneficial in cementing this community and using the resources and knowledge of these amazing female founders in an organised way. I also think that many of the events that the Local Enterprise Offices (LEOs) run greatly benefit female entrepreneurs and help to promote a culture of empowerment for female-led start-ups."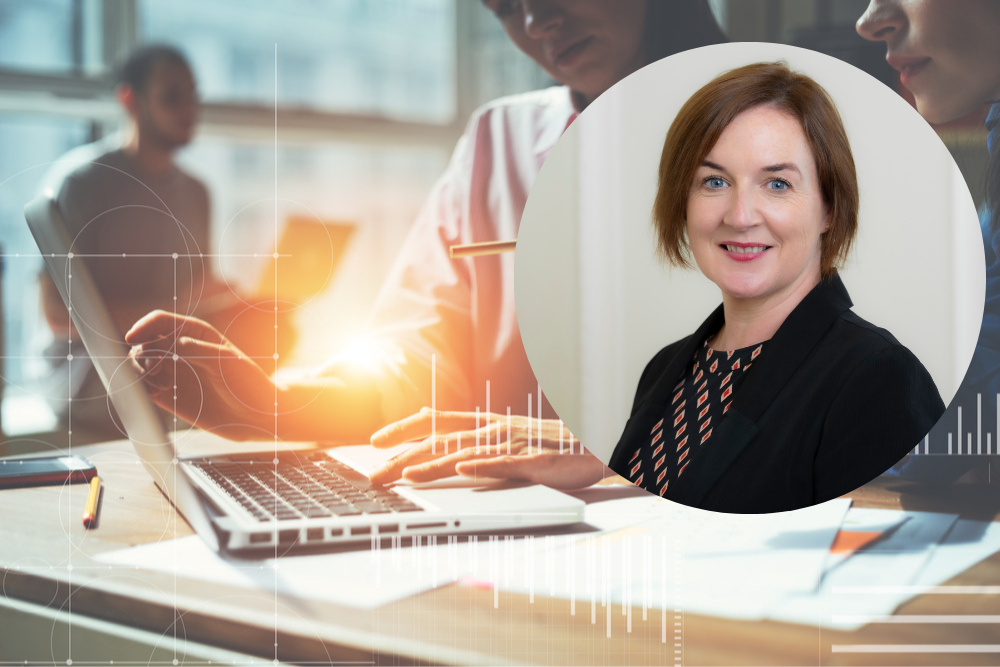 Larissa began her career as a qualified chartered accountant spending a number of years as a sole practitioner, providing accountancy services to a wide range of business clients in her local area. She then went on to set up the award-winning online accountancy firm Accountant Online, based in Letterkenny, Co Donegal. In 2017, she joined forces with Rose Kervick, an accomplished digital entrepreneur and together they opened a second office in Dublin, in order to be closer to the capital's startup technology community.
The company provides a complete range of financial and governance services, from company setup stage through to secretarial, tax, payroll and company filings, ensuring the client's accounts and compliance needs are met. Accountant Online has grown rapidly and the company now employs 45 staff. Their success has been widely recognised, seeing them selected as winners in the Irish Accountancy Awards 2017 and 2018 and Shortlisted for 2019 Medium Practice of the Year, Best Use of Technology and Accountant of the Year.
In October it emerged that Accountant Online is to triple its workforce with 100 new jobs over the next four years.
"Accountancy services are traditionally offered via high street bricks and mortar offices, but this does not serve online and tech businesses well," Feeney said. "They need accessibility to professional expertise online."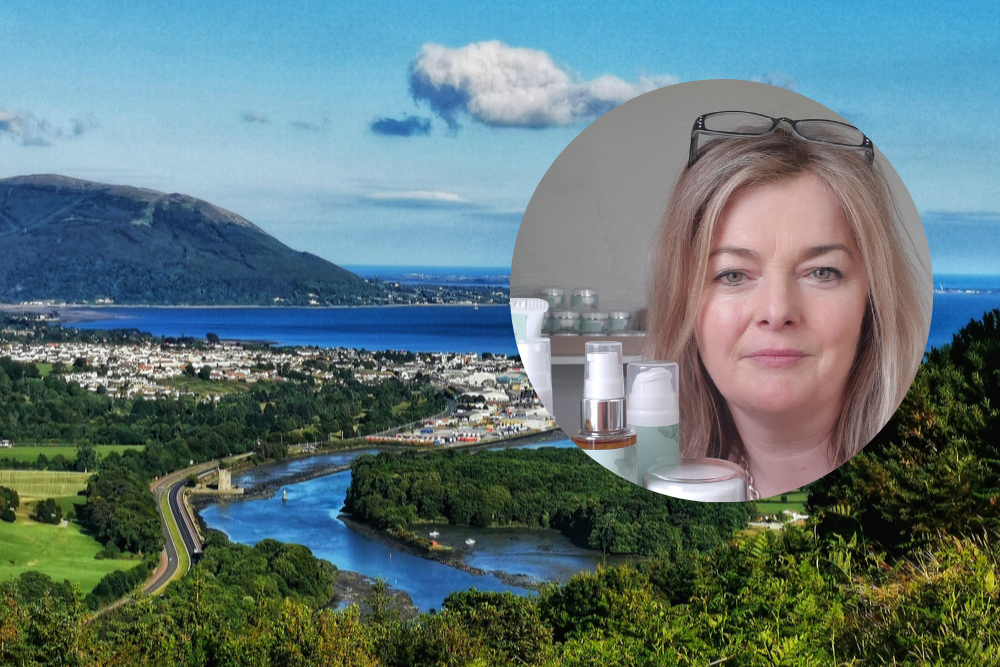 Finola Fegan has suffered from rosacea – a chronic skin condition for which there is no cure – since her early 20s.
After trying every cream on the market, she discovered the cosmetics contained chemicals and additives that caused irritation instead of helping her condition.
Finola was running her own engineering company with another female engineer – a school friend from her home town of Mayobridge, outside Newry.
But after 20 years in the business, she had achieved all she wanted and decided to establish a cosmetics company to help other people with rosacea.
While lecturing in Dundalk Institute of Technology, she heard about the Enterprise Ireland New Frontiers programme. On this programme, she realised her business could be global.
Finola was already making sales but set up Finca Skin Organics as a limited company at the end of 2018, making a range of five products from a small manufacturing unit in Carlingford, Co. Louth.
Finola availed of many supports. Louth LEO helped her with a priming grant and she attended DCU's Ryan Academy, before receiving Competitive Start Funding from EI.
Scale Ireland, the independent not-for-profit organisation which represents and advocates on behalf of tech start-up and scale-up companies last year appointed Martina Fitzgerald as its new CEO. Fitzgerald has two decades senior communications experience working as a national journalist including as political correspondent with RTÉ, is a best-selling author and was more recently a visiting fellow at Columbia University in New York. She is a member of the board of Dochas and the National Screening Advisory Committee.
Across Ireland there are 2,000 indigenous tech start-up and scale-up companies that between them employ 47,000 people and more can be achieved, Fitzgerald believes.
Speaking with ThinkBusiness, Fitzgerald outlined how she believes the importance of supporting scaling tech companies should be abundantly obvious to policymakers.
"The best advertisement for this sector – the start-ups, the founders – are those with the vision to take the risks, who are growing their companies and are solving problems in areas like logistics, enterprise, medtech, cleantech, agritech. You don't have to travel very far to see why you should support the sector. All you have to do is hear from the founders themselves."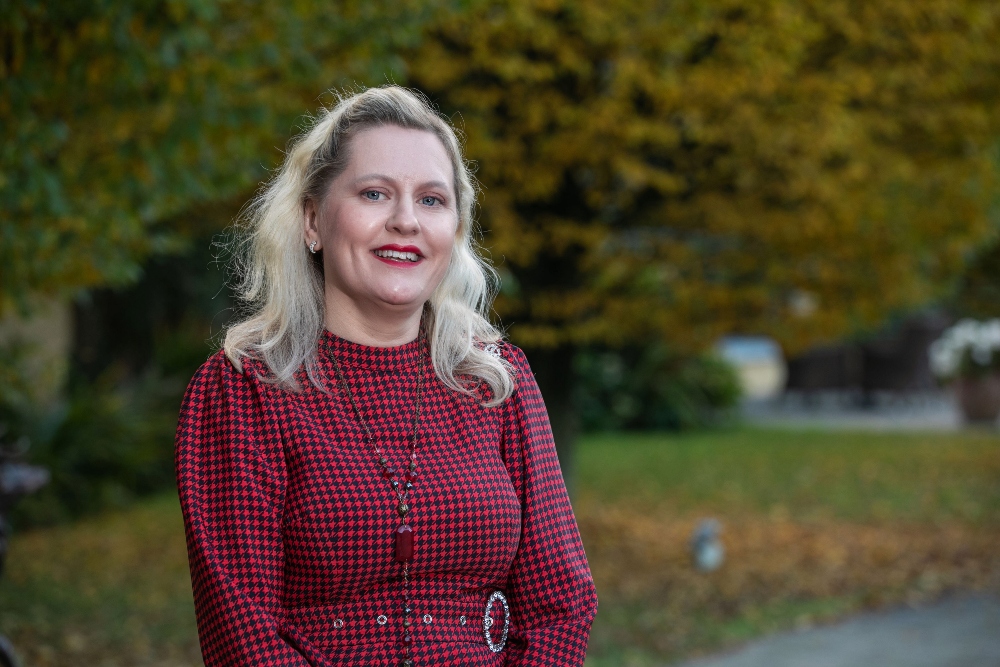 Cathy Fitzgibbon was concerned that the rising rates of obesity in Ireland are starting to mirror those in the United States and elsewhere.
Indeed, her fears about the growing health emergency and the malign influence of advertising on people's food choices go back to May 2018 when she began writing under the pseudonym The Culinary Celt while studying for an MBS in Marketing at Munster Technological University.
An experienced media professional with a background in marketing, Cathy has turned her passion for food education into a career.
Now, The Culinary Celt amplifies the voice of Irish food producers and actively promotes the areas of wellbeing and sustainability through her food writing and published academic research work.
"Educating people is critically important. I have knowledge I want to impart to people based on years of experience in the marketing space. My unique selling point is that I help cut through the multitude of conflicting advice in this area, enabling people to make their own decisions to enhance their overall wellbeing," she says.
A native of North Cork, Cathy's recently released book, Eat with the Seasons, highlights the environmental and physical benefits of eating foods during the seasons they are grown. She also has plans in place to host wellness retreats for people interested in exploring the concept of mindful eating.
Recently crowned the Network Cork Solo Businesswoman of the Year, Cathy is grateful to the ACORNS Programme for connecting her with a network of likeminded business professionals.
"We could exchange ideas and speak freely about the challenges and opportunities we encountered during the regular course of running our own businesses."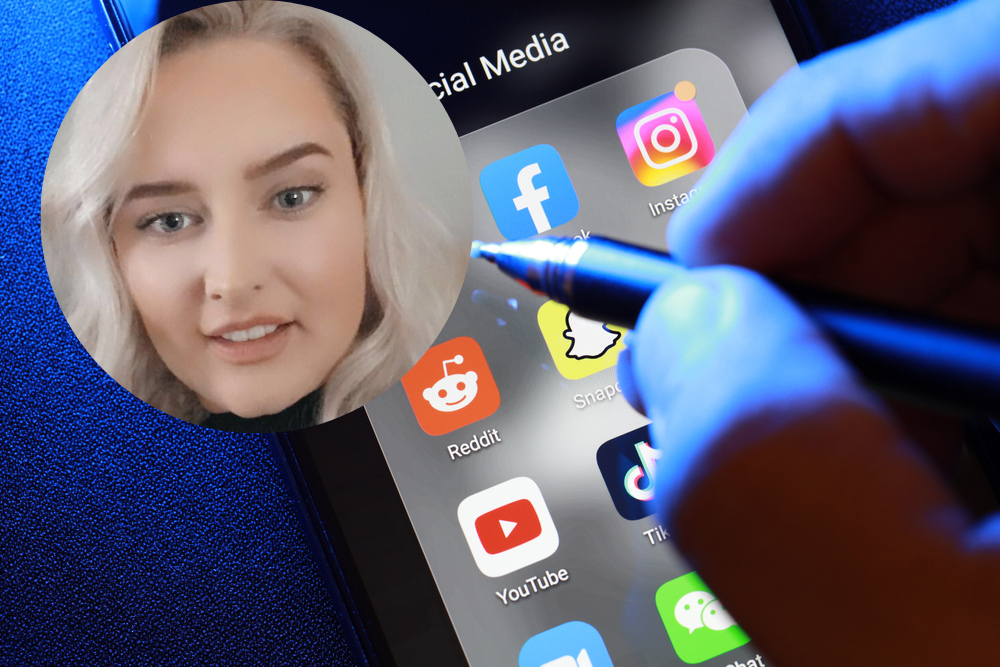 Sarah Fitzpatrick, from Kilbeggan, Co Westmeath, was working remotely as a social media manager for a UK company when she and her business partner, Anita Loughlin, who worked for the same UK company, decided to branch out on their own with Lakeland Digital & Print in June 2021.
Lakeland Digital & Print is a boutique digital marketing partnership that helps business owners grow in the online space through the power of social media, branding, imagery, blogging and copywriting.
"We spotted a gap in the market when we realised that a lot of Irish companies were too busy to address their digital marketing and social media needs, whereas UK companies were already outsourcing them to agencies."
The partners wanted greater flexibility and control over their own time as both have young families.
"We also wanted to go down a completely tailored route with their business, where we would get to know our clients' companies inside out and create bespoke marketing plans for their needs and budgets.
"After trading for a few months and acquiring clients from a number of sectors, the company was in a position to add print services to the business, and now offers design and printing of personalised business merchandise, including business cards, posters and other printed promotional material to support and strengthen the digital side of marketing."
Sarah has found since participating in ACORNS that she has gained more confidence in herself. She also found that her group were incredibly supportive, always helping each other to progress their businesses.
Sarah and Anita's next priority is to secure a premises to set up and expand their print shop. They also aim to hire an inhouse team as their client list grows.
Monica Flood, Lead Entrepreneur (formally Olas IT), Nessa Cronin, Going For Growth participant and owner of Vanity Fair boutique in Kildare, Julie Sinnamon, former CEO Enterprise Ireland, Olivia Lynch, Partner KPMG. Image: Shane O'Neill
Monica Flood established an IT training and consultancy business in 1981. Olas has developed as one of the premier IT training companies in Ireland and is the sole appointed education partner for SAP. Monica completed the sale of Olas to a French public company, Assima plc. and has retired from the position of CEO to pursue other business and investment interests.
Monica's experience of building a service business and a loyal customer base in a very competitive market provides an important perspective for growth and success. A great supporter of the arts in Ireland, Monica is a Patron of The Model in Sligo, home of the Niland Collection and one of Ireland's leading contemporary arts centres. Monica has recently been appointed as a non-executive Director to the Projects Arts Centre which began in 1966 as a small artist led collective and is now evolving into Ireland's national centre for the contemporary arts.
When Kel Galavan stepped back from her 16-year career in pharmaceuticals to spend more time with her children, she could never have imagined the path it would take her on.
Kel, with an MSc in Pharmaceutical Regulatory Affairs, found her career meant long days and gruelling commutes. She felt her children's childhood was passing her by
Cutting the household income in half would be a big move. So Kel decided to make the money that was coming in work as hard as possible.
She embarked on a No Spend Year in 2019, giving up alcohol and takeaways, new clothes, makeup, and dying her hair, among other things. The family cut spending by €27,500.
Galavan's Instagram account gained a massive following, and she teamed up with Orpen Press to write a book. Mindful Money: More Money, More Freedom, More Happiness launched in January 2021. The first print run sold out in under three weeks.
During this time, Galavan was getting lots of enquiries asking for advice and her career as a money mentor began.
Set up just outside Kildare town in February 2020, Mrs Smart Money is a mindful money mentoring business, which helps people take control of their money and use it to build a life that works for them and not the other way around.
Mairead Guinan from Neighbourfood is passionate about the effects good, local food has on your body – and the environment.
Mairead Guinan grew up on a farm, studied microbiology and worked in quality improvement for healthcare, so knows the effects good, local food has on your body – and the environment.
She started Neighbourfood Tullamore as she believes in people eating 'real' food from local growers to improve their health, the environment and support the local economy.
As a concept, Neighbourfood, which started in Cork in 2018, is simple. You shop online for local products and pick them up on a specific day at a local venue.
The producer gets 80pc of sales, while Neighbourfood and Mairead receive 10pc each, so it raises all boats. It also gives producers access to a wider customer base, without having to invest in an online platform.
Eimer Hannon
Eimer Hannon got the 'travel bug' early in her working life, when she joined the staff of the national student travel agency USIT, at University College Dublin. Eimer always had the ambition to be in business for herself. She started Hannon Travel in 1999, offering a highly personalised service in the corporate travel sector. Her commitment to her clients was to provide them with a complete travel service that would support them at all points of their trip. The company has grown to employ close to 30 people, has offices in Navan and Belfast, and is expanding in the UK. Eimer says "Going for Growth gave me the push, confidence and support to follow my dream and grow the business to the next level."
The company continues to strengthen its presence on a global basis, having recently signed a global partnership agreement with Reed and Mackay, enabling them to deliver complete corporate travel management for professionals with exacting needs in over 40 countries worldwide. In 2019 Eimer received the Matheson WMB Female Entrepreneur Award 2019 and Hannon Travel was shortlisted for the award for customer service in the Aviation Industry Awards.
"We have gone from being a small local corporate travel provider to now being international, and we are continuing to grow. Going for Growth helped make this happen," Hannon said.
Originally from Yorkshire in the north of England, Lucianne Hare was working as an adventure consultant for a travel company in Sligo when she was made redundant because of the Covid-19 pandemic.
Treating this setback as an opportunity, Lucianne founded her own adventure travel company, Nourished in Nature Ireland, in her adopted home of Strandhill, Co Sligo, in June 2021.
Nourished in Nature Ireland offers one-to-five-day wellness and adventure retreats which combine wellness activities such as yoga and meditation with adventurous pursuits such as hiking and surfing. Separate to the retreats, it also offers full-day hikes and farm and foraging tours at its base on Knocknarea Farm.
The company is focused on domestic tourism for Irish people and visitors from the UK. Its mission is to enable those who may be unfamiliar with nature to feel more comfortable in the wilderness.
Lucianne says that getting the business started was primarily a question of going for it and that each trip that sells out is a business milestone.
She says that setting up a business on your own can be a very lonely experience, and she found people in a similar situation among the participants on the ACORNS programme. Lucianne says people were very open and everyone shared their highs and lows together. She also says the programme itself was invaluable in helping with all aspects of running a business.
Lucianne hires people with relevant expertise to help her with the activities for each event. As the business evolves, she hopes to take on more employees and a business partner. She also hopes to develop her own retreat centre in the longer term and to offer the opportunity of adventure to children from deprived backgrounds.
The arrival of budget supermarket Aldi to a nearby town in 2017 spelled the end of Neil and Paula Hawes' retail butcher shop in Lisdoonvarna, Co. Clare.
Despite being founder members of the Burren Food Trail and winner of Ireland's Best Rural Butcher in 2016, awarded by the Associated Craft Butchers of Ireland, the couple shuttered their shop and retreated to rethink their approach.
Firm in their commitment to the trade, and backed by local customers hungry for more upmarket fare, the Hawes pivoted and returned to the market in June 2020 with The Burren Butcher, a new brand identity with a limited range of award-winning beef products traceable to farmers in the Burren hinterland.
Paula and Neil tested their products at local farmer's markets, before fully reconstructing the garage of their home to fit a state-of-the-art production unit. The facility passed the HSE's certification tests and was soon fulfilling online orders for quality cuts of meat delivered to your door.
The pair grow onions and herbs in a polytunnel on the grounds of their home, where they have also hosted a pop-up market featuring other local producers and growers.
Supported by Neil's 30 years' experience in the meat industry, and Paula's 20-year career in marketing, the business has grown since then and now has eight retail and hospitality accounts around Clare. Last year their Artisan 6oz Burren Burger won gold at the Blas na hÉireann awards.
With three children under the age of four, Paula credits ACORNS with helping her focus on the task of getting her business up and running. "I needed the support structure of women who understood what it was like to start a business, especially in the food industry," she says.
It wasn't until Edel Hayes saw the struggles of the entrepreneurs among her circle of friends that the certified chartered accountant realised where a business of her own could add value.
"I had worked as a financial controller in various companies and in that time a lot of my friends became entrepreneurs. I could see they were having difficulty with their accounts and from that I knew I was going to move into this space," she says.
The result is Accelerate Accounting Solutions, a virtual accountancy service for SMEs operating out of Edel's home in Kildare town.
She explains that most businesses require support with their accounts, tax and finances, but are too small to engage an accountant on an ongoing basis. "This often leads to financial mismanagement and, sadly, business failure.
"Accelerate Accounting helps avert disaster and bridge the knowledge gap for entrepreneurs who pay to retain the company's services for a set number of hours in a given period."
The company has achieved remarkable success in its first three years, recording a 30% increase in revenue since the beginning of the Covid-19 pandemic. Edel attributes the growth figure to businesses being forced to embrace virtual services due to the closure of in-person offices during the public health emergency.
Edel is a full-time employee of Accelerate Accounting and is supported by three part-time staff who work across accounts and administration. She hopes to grow the staff to between five and ten people in the near future.
The firm's founder hails the influence of ACORNS on her success. "The Lead Entrepreneurs were so knowledgeable and really set the standard for our group sessions which had a variety of voices offering high-level feedback."
As a young child, Sharon Huggard watched her mother transform into a Hollywood star when she got dressed up for dinner dances. The power of this instantaneous transformation through style stuck with her and is at the heart of her business mantra 'Style…it's a feeling!
Sharon spent 13 years in financial services before taking a career break to raise her three young children. During this time, and with no fashion experience but a passion for empowering women through style, she entered Ireland's Next Top Stylist competition – and won.
She trained as a stylist and set up Style for You from her home in Innishannon in Co Cork but her career as an entrepreneur was interrupted when she was headhunted by Dressed boutique in Cork.
She worked as a stylist and fashion buyer for six years, before being made redundant in July 2019. Sharon decided this was her moment to do what she always wanted and established The Style Coach in September 2019.
The Style Coach merges personal style with personal development and Sharon has a range of qualifications in both styling and being a Life Coach.
The business quickly gained momentum, with collaborations with stores such as Brown Thomas, and workshops being held nationwide. Then Covid-19 hit and she had to reinvent herself.
She took her business online, developed group programmes and established a membership model.
Having carried a passion for technology and all things digital from an early age to university and throughout her career, Niamh Hogan is now leading her own business providing complete digital marketing services.
Hogan has over 20 years' experience in the IT industry and holds a number of qualifications, including a degree in electronic engineering from the University of Limerick. As a web designer and SEO expert, she is passionate about creating aligned digital strategies.
She worked with several top technology companies before setting up as Web Clare in 2016. While running Web Clare, Niamh provided web design and SEO services and worked with a wide variety of clients across Ireland.
Hogan wanted to create an agency with a full suite of digital marketing services and in August 2020, Agile Digital Strategy was incorporated.
Based in Shannon, Co Clare, Agile Digital Strategy offers clients a suite of services in digital strategy, social media marketing, web design and search engine optimisation (SEO).
"Through its aligned digital strategies, Agile Digital Strategy helps companies meet and exceed their goals and sales targets," Hogan said.
Since launching last year, the company has built up a strong clientele, working with businesses nationwide and internationally.
Izzy and Ailbhe Keane
Recently shortlisted for the prestigious EU Prize for Women Innovators, sisters Ailbhe and Izzy Keane are ranked among the most talented women entrepreneurs in Europe.
Izzy Wheels was founded in 2016. The company was inspired by Izzy, who was born with spina bifida and is paralysed from the waist down. Her sister Ailbhe designed a range of wheel covers as part of her final-year project at the National College of Art and Design that year.
The company recently collaborated with Disney to create a range of bright and colourful spokeguards for wheelchair users that includes characters from among other films, Frozen, Lion King and Toy Story.
Claire Keane, founder of Second Street Bakeshop in Carrigaline in Cork, first started cooking and selling her homemade caramel squares to fellow students in secondary school, as a means of raising funds for summer trips to visit the United States.
With a Master's degree in Environmental Science, Claire emigrated to the US in 1999, with the intention of pursuing a career in the environmental area. After growing disillusioned, however, by the poor response with which wider society was meeting the climate emergency, she found herself craving the creativity that comes from being in the kitchen.
Following a couple of years of fine-tuning her culinary skills, Claire set up an artisanal shortbread, caramel and chocolate company called Clairesquares in San Francisco in 2006. The success of the firm surprised even Claire, with Haagen-Dazs choosing to turn one of her cookies into a flavour of its world-famous ice cream in 2015.
Claire sold the company in 2019 before moving back to her native Cork.
"The outbreak of the Covid-19 pandemic restricted me to the kitchen, where I once again set about experimenting with toffee and shortbread."
Encouraged by the feedback from friends, and noticing an opening in the Irish market for American-style sweet treats, Claire set up Second Street Bakeshop in September 2021.
From her base at Cork Incubator Kitchens in Carrigaline, Claire produces Second Street's toffee-heavy brittle, which she sells both online and at Neighbourfood markets.
"I hope to break into the retail market and grow my workforce beyond the support I receive from my sister in the kitchen and my father who helps with deliveries."
Claire is grateful to ACORNS for providing a support network for women. "It's a valuable organisation that helps women elevate their businesses," she adds.
Martha Kearns moved from Dublin to Sligo with her young family and set up StoryLab with her husband in 2014.
"Myself and my husband, Ciaran Byrne, are former national newspaper news editors (in Ireland and the UK) and were enjoying successful careers based in Dublin but, after each having worked in the industry for 20 years, we were looking for a fresh challenge on a professional level while also seeking a better work/life balance that would benefit our young family. Being on the front line, receiving hundreds of press releases daily, we could see where a lot of PR companies were going wrong in their approaches to the media. We could also see how businesses were struggling to tell their stories in an engaging way. With a background running newspaper departments in areas including news, business, education, lifestyle and features, we could see how we could help businesses develop their stories and raise their profiles.
"StoryLab is a content and PR company. We're still in the storytelling business! Some of our products include producing written content, such as supplements for national newspapers and strategic internal and external communications in multiple formats for large corporations. Our other core services include graphic design, branding, social media, videos and podcasts.
"Being a female entrepreneur has not been an impediment but rather you might see some positive bias (especially when event organisers are trying to balance gender among speakers!). Being part of ACORNS showed me the comradery among female entrepreneurs in Ireland and how much we all want to help each other succeed."
Caroline Keeling is the CEO of Keelings. Keelings is a 100pc Irish-owned family business which started producing fruits and salads on their farm in the 1930s supplying produce to local Dublin markets. Keelings is focused on growing and sourcing the best fresh produce from around the world. The Company has expanded to its current size with five divisions – Keelings Retail, Keelings Farm Fresh, Keelings Market, Keelings International and Keelings Solutions. Keelings is headquartered in FoodCentral, Co. Dublin, Ireland but has operations in the UK, Europe and Asia. Keelings employs over 2,000 people.
As well as fresh produce, Keelings has developed produce-specific ERP software solutions, consultancy and management services. Caroline has a BSc (Chem) & MSc in Food Science which she obtained from University College Dublin (UCD). Caroline started her career with Green Isle foods in 1992, before joining Keelings as technical manager in 1994. Caroline is an ambassador for The Women's Fund for Ireland, a Bord Bia Board Member, Chair of the Horticulture Board of Bord Bia, Chair of Dublin Action Plan for Jobs Implementation Committee, board member of the Ifrah Foundation and a member of the Export Trade Council.
Aisling Kelly returned from Dublin to her home town of Sligo to establish WB's Coffee House in 2014. In 2018, she launched the Sligo Oyster Experience.
"The Sligo Oyster Experience tells the story of Sligo and its earliest inhabitants through oysters. Over 6,000 years ago the reason people settled in Sligo is because of the abundance of shellfish hence the name Sligeach meaning 'abounding in shells'. We invite visitors to learn about oysters and see a commercial working oyster farm completing its daily tasks.
"Our core product is food tourism and it works by inviting visitors to learn all about how oysters are farmed in Sligo. My husband Glenn is an oyster farmer and he introduced me to oysters, their history and harvesting in Sligo Bay. I take visitors on a short walking tour of Sligo town and then back for some freshly-shucked oysters at a purpose-built oyster bar at the café.
My background is in business and tourism and I saw a niche in the market for a unique experience showcasing this wonderful tradition. The tour really gives people an opportunity to appreciate Sligo. This year, I launched Sligo Oyster Farm tours, which brings people directly to the oyster farms and this has been a huge success. This adds an exciting 'hands-on' element. People really get to see how the oysters are grown, the impact the weather has on the farm and the hard work involved from the beginning of the process to the final product."
Hawthorn Handmade Skincare, developed by Mayo native Elaine Kennedy, has created a range of natural skincare products – using only 100pc natural and sustainable ingredients, in eco-friendly and fully recyclable packaging.
Elaine's family have a long tradition of crafting and farming based on the shores of Lough Carra at the foot of the Partry Mountains and her parents instilled a sense of duty to preserve the precious landscape surrounding them from a young age.
This connection to nature is what inspired Elaine to return home to Ireland and establish the business.
Journalism and technology have always been an integral part of Áine Kerr's career so her second start-up– Kinzen – is a natural progression of that journey.
A former journalist, Áine first went into the start-up world as managing editor of Storyful, Ireland's first social media news agency. In September 2017, she joined up with Storyful founder Mark Little to create a digital technology company, Kinzen.
It emerged recently that global audio streaming giant Spotify was acquiring Dublin-headquartered Kinzen for an undisclosed sum.
In between the two start-up ventures, Áine spent almost two years in New York as Global Head of Journalism Partners at Facebook. "Myself and Mark always said that we might start something new – if we had the right idea. While I was at Facebook and Mark was at Twitter, we started talking about how to play our part in rebuilding trust in quality news and information and mitigating against misinformation and disinformation, how we might play our part in this information crisis," says Áine.
Kinzen has since developed a unique technology, particularly optimized for podcasting/voice-dominated social platforms, that helps companies analyse large volumes of audio and video content. The company combines human expertise and machine learning to analyse misinformation and hate speech in multiple languages and countries.
Headquartered in Dublin, it has 22 full-time employees and works with experts all around the world. "The higher purpose in Kinzen is to protect the world's public conversations from information risks. We use a blend of human skill and scalable technology which enables trust and safety professionals and policymakers – inside some of the world's biggest platforms – to get ahead of emerging threats, detect policy violations faster and take the proportionate and appropriate action."
Kinzen, Áine says, came to realise automated moderation can't cope with the human nuance of harmful conversation but human moderators can't tackle the scale of harmful content without the help of machines. "This is the problem Kinzen is working to solve," she says.
Áine is a member of the Going for Growth community, having participated in the Starting Strong programme in 2018 with Susan Spence as her Lead Entrepreneur. "When I joined the programme, I was starting a new business and that can be a lonely place. There are so many different layers to the support I received from the programme – both functional and emotional takeaways. The first thing was finding my tribe; being surrounded by people that have a sense of purpose and who want to do something important and are willing to take risks to do that. They were my accountability buddies. Knowing that you were going to be meeting regularly with like-minded people who were going to question you and help you find answers was invaluable".
"Running a business sees you spend a lot of time in the trenches, concentrating on the day-to-day. The beauty of the programme was allowing you that opportunity to step out of the trenches, draw a breath and give yourself an opportunity to look at the business six years or six months down the line rather than six weeks – or six days".
"The programme gets you back to the fundamentals of your 'why' – reconnecting with the sense of purpose and ambition that drives you, constantly honing and reimagining the problem you've fallen in love with, giving you a much-needed energy transfusion to dig deep and keep going!"
Just months after setting up The Brill Building, Roisin Keown's creative advertising agency became one of the most awarded new creative agencies in Ireland.
Originally from Antrim, Roisin has 20 years' advertising experience, having grown through the ranks with DDFH&B Group.
Roisin and her husband moved their family from Dublin to east Clare in 2018. After winning several brand strategy contracts in Munster including Kilkenny Design, she launched her own creative agency in 2019.
The Brill Building, which works with clients all over Ireland, is pioneering a new model for agencies which is designed to work better for both the client and creatives. With four core staff, The Brill Building works with a trusted and highly-experienced network, including digital strategists and production experts.
The Brill Building created the Champion Green brand and campaign for Kilkenny Design and Visa, encouraging a new generation to support local when shopping.
The agency's campaign for Breakthrough Cancer Research, The Shop That Nearly Wasn't created the world's first shop 100pc stocked and staffed by cancer survivors. The campaign has won many national and European awards.
Olive Keyes found that wellness retreats both in Ireland and abroad often placed too much focus on Pilates and yoga, and too little on the light entertainment of exploring local history and culture.
"Pilates should be central to the whole experience, but I want other things too," she says.
A visit to a retreat in Co. Clare proved an inspiration for Olive and after building her own facility on the grounds of her home in Lecarrow, Co. Roscommon, the Athlone native set about offering her own retreats, which included food, cycling and walking tours of conservation areas to connect visitors to the history and heritage of the local area.
"My business, Ireland's Heartlands Retreats, is an extension of my primary company, which offers Pilates classes in studio and online. We held our first retreat in Lecarrow in October 2021. Since then we've been approached by business owners from abroad who want to work with us for their annual away days," she says.
"I've formed relationships with local businesses who can facilitate accommodation and food. This has enriched the experience for my clients, but my aim is to convert outbuildings for guest accommodation and kitchen facilities."
Olive sees a growing market for wellness in Ireland and hopes to increase her number of retreats over the next 12 months.
She is delighted with the insights gleaned from her participation in the ACORNS programme, particularly in the areas of financial and social media management, as well as the help in sourcing additional supports through the LEADER scheme, which aids rural communities looking to drive development in their area.
"ACORNS is a brilliant programme that connects you with a network of businesswomen with similar issues and concerns, I can't recommend it enough" she adds.
Nora Khaldi's biotech firm Nuritas plans to scale globally in a drive to deliver plant-based peptides after raising $45m (€39m) Series B funding round. Nuritas has established the world's largest peptide knowledge base. Peptides are smaller versions of proteins with the same nutritional power, but with added highly specific benefits. The new funding will accelerate Nuritas' global expansion and support its mission to unlock the power of nature to make many of the products we consume daily healthier, safer and more sustainable. "It has been a landmark year, resulting in the expansion of our peptide portfolio, growing the commercial team and developing key global partnerships," said Dr Nora Khaldi, founder and CEO of Nuritas. "Our new investors bring a wealth of invaluable expertise, and this latest round will help to build our US headquarters, continue to expand our team, scale our platform to discover more life-changing ingredients and accelerate our route to market."
Roisin set up Kingston Lafferty Design in 2010 and quickly built up the company to become one of the most respected interior architecture and design agencies in Europe. She now has a team of thirteen people working in KLD, based off Baggot Street in Dublin 4, with Roisin taking on the role of creative and managing director. Her main objective is to create spaces that enhance people's lives in a way that is both functional and beautiful.
In 2015, she was awarded the Fit Out Young Designer of the Year as well as picking up the award for Residential Project of the Year in both 2015 and 2016. 2018 saw KLD winning best café at the Restaurant and Bar Design Awards for her design of Pot Bellied Pig. KLD also won Best Fit Out Retail at the Fit Out Awards 2018 for The Vaults Parlour. Róisín was also named Interior Designer of the Year at the Image Interiors and Living Awards 2018. In 2019 Róisín was named the youngest ever President of the Institute of Designers in Ireland (IDI). KLD plans to expand further into the UK and the rest of Europe over the next five years.
"All of our jobs are bespoke and unique and we also design individual pieces of furniture which fit the spaces we are designing," Lafferty said.
Lisa Larkin changed career and moved from Dublin to Kilbeggan in Co Westmeath to set up Durrow Mills.
"Durrow Mills came about as I was looking for a flour that was gentle on the system, healthy and nutritious and organic. When you start looking at what you eat, you realise that flour is in so many products. So why settle for a lower quality when we eat so much of it? With a huge rise in people experiencing digestive issues related to foods, in particular wheat, I realised that an alternative was needed.
"Our core products have been to produce a range of Organic Sprouted Flours for retail and also for trade such as bakeries and food service. Sprouted flours take a few days to manufacture as the grains need to be soaked, allowed to germinate or sprout, then dried very gently over a long period of time and finally we stone mill them fresh to order. Our most popular flours are our range of sprouted wheat of which we have 3 products – fine milled, coarse milled and a blended bakers mix, while also making sprouted rye, buckwheat and spelt. We sell direct to both retail and trade customers and are also selling through two distributors since the start of the year, and are currently in the process of launching a new e-commerce website to maximise our online demand which has particularly grown since the Covid- 19 pandemic this year."
Foods of Athenry owners Siobhan and Paul Lawless make baked products from scratch in-house for the premium, gluten free/free-from market.
Building the business back after a fire and pivoting it to meet the challenges of our time has kept their family business relevant, says Siobhan.
"I set up as a sole trader back in 1999, due to a mixture of opportunity and necessity, as well as a love of food. I didn't have a foodie background but rather an IT one. I was married to a dairy farmer and for the first 16 years we were married, I helped on the farm and looked after our five children. By 1999, I was thinking about what to do next and decided to do something to supplement the farm income. I was always good at baking. My grandmother had one of the biggest bakeries in the country during World War 2. She was like the Irish Pride of her time; baking was it in my blood. I decided to make soda breads in a small, converted shed on the farm. By 2004, with sales and demand strong, we decided to sell the cows and convert the milking parlour into a full-time bakery. It was a time when people were becoming more interested in their health and what ingredients went into products and didn't mind spending a bit more for something better. We were in the right place at the right time.
"What sets us apart firstly is our depth of range. Over the years, we've added many different types of products. For the first six years as The Foods of Athenry, we sold a lot of short shelf-life products such as breads, pies and scones. By 2010, we decided to build on a dedicated gluten-free space, repurposing some more farm sheds for the new space, while developing a whole new range of free-from products," Siobhan said.
In 1991 Layden Group bought part of South City Markets, including the George's Street Arcade which at the time was run down and had only a few clients. Gwen Layden had just finished university and shared her father's vision to restore and preserve the architectural integrity of the arcade and fill it with businesses.
There are now more than 40 businesses operating shops and stalls at the arcade and some of the original tenants are still there including The Piercer and Stokes' Antiquarian Books, as well as a diverse array of younger businesses including Pepperpot Café, Umi Flafal, Benedicts Egg Shop and Loose Canon.
Before the 2009 recession took hold Layden Group reduced all arcade rents by a third and as a result tenants went into the recession with a buffer and all survived. Similarly, when the Irish Government introduced the first lockdown in March 2020, the Layden Group decided not to charge rents to tenants who were forced to shut due to the Covid restrictions.
The Layden family decided that to charge rent to tenants during the lockdown would have been immoral.
Crucially, according to Gwen, the ultimate goal and purpose is to leave a legacy of thriving in the city centre.
"We love to see small businesses thrive. 30 years ago when I walked through the arcade with my father there were very few tenants, few paying rent, and it was very run-down.
"We decided to restore the architectural integrity of the arcade because it's a very beautiful building. There are 40 businesses there now and that's 40 families who have a livelihood and some of their children and grandchildren will come into those businesses.
"When I evaluate a tenant, I don't ask for references, I just meet people and I evaluate their passion for what they want to do."
Growing up in the Kildare countryside meant that Emma-Jane Leeson and her siblings spent most of their childhood exploring the outdoors and natural environment around them.
Emma-Jane left her full-time job to pursue Johnny Magory as a business and the book series is now becoming a brand for all things children, outdoors and exploring Irish heritage and culture. The website includes a Christmas shop for books and toys, including an Explorer Box and a range of book bundles, art, toys and puzzles.
Aró Digital Strategy was set up by Triona Mac Giolla Rí and Alan Rowe in 1996. The business began working with golf clubs and within a year won The Irish Times Business Website of the Year for golfclubireland.com. By 2000, Aró had secured contracts with Jurys Doyle Hotel Group and Bórd Fáilte, establishing themselves as a leading digital agency in the Irish tourism sector.
Today, Aró Digital Strategy works with over 200 luxury hotels in the UK, Ireland and across the world. Aró provides a comprehensive range of digital services to the hospitality sector. They provide luxury hotel website design, a conversion-focused technology platform, expert data analysis and reporting along with digital marketing programs. The predominant reasons that clients choose to work with Aró include the stunning bespoke websites they build, along with an exceptional level of service, but mostly its knowing that they will probably perform better than their competitor set.
"I was privileged to join a group (Going for Growth) of positive, creative and committed women. The format was very professional in a safe space where each participant could discuss their challenges and developments and gain insights from the peers' experiences," MacGiolla Ri said.
Taking the decision-making out of wedding menus, Orla McAndrew Catering works with quality Irish food producers to create bespoke meals based on surplus ingredients that would otherwise go to waste.
"I started a family and was a stay-at-home mum for about five years, without a career of any description. I was feeling lost and undervalued," McAndrew recalls.
"But then I had an epiphany; nobody was undervaluing me – my destiny was in my own hands. The next day, I met a girl in a park who said she was getting married in six weeks and couldn't find a caterer. It was as if the heavens opened and provided me with this golden opportunity that I snapped up with both hands when I told her "I think I could do that!"
"The word passion is often overused but I believe my enthusiasm for what I'm doing pours out of every pore and is infectious for those around me.
"My team is 100% behind every effort, and I am very fortunate to have built a team of people whose energies are aligned with my own.
"We offer a zero-waste wedding package, where I create a bespoke feast for the couple and their guests based on what my suppliers have in surplus the week of the wedding."
Feena McBride, from the village of Kilmacrennan in Co Donegal, found inspiration from the Covid-19 pandemic to start her business The Arty Fox in November 2020.
A primary school teacher and mother of four children, Feena creates craft boxes for children of primary school age that encourage them to use their own imagination and create art of which they can be proud.
Feena says that her experience as a teacher and mother came together with her love of art when she saw an opportunity to create a way for parents to entertain their children during lockdowns.
Now on a career break from teaching, Feena started The Arty Fox with a Facebook page and a website that she built herself. She launched it with two products – a Christmas Card Box and a Get Crafty Box.
Feena has since created a number of seasonal and holiday-related craft products. She has also added workshops to the brand after seeing a demand for them.
As well as Feena, The Arty Fox has two part-time employees. Her biggest business milestone to date was getting the opportunity for The Arty Fox to be featured on the Late Late Toy Show in 2021.
"This gave validation to the brand and opened up a whole new set of customers.
"The supportive atmosphere in ACORNS created by Lead Entrepreneur, Larissa Feeney of Accountant Online, helped the participants to navigate the highs and lows of running a business," she explained.
"I plan to be exporting to the UK and Europe within 18 months," she added.
Feena also wants to increase the number of retail outlets in Ireland that stock her products, to work on the sustainability of the range, and to form a collaboration with a charity or children's hospital.
Avril McCarthy had just finished her third-level studies in business when she took a summer job at the family business – Derrycourt Cleaning Specialists. The company had been established eight years previously in 1992 by her parents, Ann and Martin O'Hanlon. "When I was in school, I was always used as the spare cleaner if someone was sick so I had no intention of joining the family business. Initially, I was just supposed to be there for a few months, but my business skills proved to be of great use, and I am still here 20 years later," says Avril, who is now general manager and a shareholder in the company.
Avril — who is also chair of the Irish Contract Cleaning Association and Board Member of the EFCI (European Cleaning Services Industry) — oversees the day-to-day running of the business, which is headquartered in Dublin with a base in Cork. It employs 1,900 people across the county, including 100 support staff; the remainder are cleaning staff based across the country.
The company specialises in a range of sectors from hospital and healthcare facilities and pharma cleanrooms to crime scenes and food processing and manufacturing plants. Some of its clients include An Garda Síochána, the HSE, FBD Insurance and the country's two children's hospitals in Temple Street and Crumlin.
The company is a multi-award winner, both nationally and internationally, having received recognition from the Irish Contract Cleaning Association, the Golden Service Awards (UK & Ireland) and the European Cleaning Journal Awards.
Derrycourt is all about quality, standards, and training. With a staff of 1,900, there is a full-time training academy, with four full-time staff to ensure that the teams are knowledgeable and kept fully briefed on changes in methods and routines. In addition to the training function, the company also has an Environmental, Quality, Health & Safety Department. This team undertakes unannounced audits at client sites, visits are scheduled in accordance with the risk rating of the environment.
In addition, this team are very active in promoting improved sustainable working and business practices. Derrycourt is currently undergoing accreditation for the EU Ecolabel, which is the standard that certifies products with a guaranteed, independently verified low environmental impact. To be awarded the EU Ecolabel, goods and services should meet high environmental standards throughout their entire life cycle: from raw material extraction through production and distribution to disposal. The label also encourages companies to develop innovative products that are durable, easy to repair and recyclable.
Derrycourt continues to be in a period of growth, working within a competitive marketplace, where the competition is mostly for people. As is the case with most industries, people resources are difficult to obtain at present. "Our people are our greatest asset, and we are very lucky to have over 1,900 staff."
Avril was on the 12th cycle of Going for Growth and Monica Flood was her Lead Entrepreneur.
"It was a very surreal experience through Covid-19, but it was fantastic to have excellent support from such a great mentor and group. It was amazing to be able to pick up the phone to all these business women who were going through similar situations; their resilience was inspiring. We all had good and bad days and we were able to pick each other up."
Mayo business Payslip is scaling globally due to skyrocketing of demand for payroll services by multinationals that have postponed the return to the office.
Payslip was founded in Westport, Mayo, in 2015 by Fidelma McGuirk. Payslip's software-as-a-service platform empowers payroll professionals to streamline their global payroll processes.
One of Ireland's hottest start-ups Payslip is expanding its presence to more than 60 countries having seen a surge in demand for hybrid workforces as a result of the pandemic.
Major tech corporations like Apple Ireland, Facebook, Amazon Data Services, and Google have all postponed their return to the workplace until January 2022.
As a result, demand for payroll services in areas with complicated tax and labour rules has skyrocketed.
Prior to Payslip, Fidelma has over 18 years' experience in international business. Having worked in Irish telco Eir in HR, she later led Taxback.com as director of international operations and as CEO. Fidelma studied her Bachelors in Business and German and Masters in Business in Trinity College, Dublin, Ireland and University of Regensburg, Germany. Fidelma trained as a certified Data Protection Officer.
Deirdre McGlone is one of the outstanding hoteliers and businesswomen in Ireland. Following her graduation from University of Limerick with a degree in European Studies, Deirdre played a pivotal role in the development of the multi-award-winning Harvey's Point Hotel, Lough Eske, Donegal.
Deirdre is a proud member of the 'Going for Growth' women in business community and a lead entrepreneur with ACORNS. She is also a member of the Tourism Leaders Group, set up to help shape government policy to 2025 and a board member of Donegal Tourism. A former 'Donegal Person of the Year', Deirdre is also President of the Donegal Women in Business Network.
Axonista is building the video-first future of shopping, and powers interactive video commerce for global brands including QVC, HSN, WaterBear, and Oxfam.
Co-founder and CEO Claire McHugh has a career spanning TV and digital media and is a member of the Board of Directors of Scale Ireland, and of the Irish Film Institute. She has participated as an expert evaluator in the European Innovation Council and Creative Europe Media funding programmes.
Claire is an active participant in the Irish startup community, and an ardent supporter of female entrepreneurship. Claire is an advisor to Tech Ireland, and Grow Remote, and has been a lead entrepreneur for Going for Growth. In 2017 Claire was awarded Image Magazine's Businesswoman of the Year for Digital, Science and Technology.
Prior to co-founding Axonista, Claire was part of the team that established and managed the Setanta Sports channels in Ireland and UK, and worked in a number of digital agencies, where she developed her passion for technology, storytelling, and innovation.
Suzanne Moloney's HidraMed Solutions has developed a wound dressing system that supports people with Hidradenitis Suppurativa (HS), a debilitating disease of the skin that affects one in 100 people. It causes lesions and wounds to form on delicate areas of the body such as the armpit and groin, but can occur almost anywhere. Traditional dressings require adhesives to stay on, which causes irritation and further skin damage.
HidraMed has developed a technology called HidraWear, which enables quick and easy dressing changes and secure dressing retention.
For her innovation and the promise of her business Moloney was last year chosen as The Irish Times Business Person of the Month, an award run in association with Bank of Ireland.
Louella Morton's background is in the education technology sector, where she has deep knowledge and experience, allowing her to observe trends in the sector, particularly the growing need for education assessment tools and simple, easy-to-use online tests for certification. She saw the gap in the market to provide a full end-to-end online exam management system and knew she had enough experience to set up a business to meet this need.
As she said herself: "I couldn't not do it!". And so TestReach was born in 2014 by Louella and co-founder Sheena Bailey. The background context was the ever-growing demand worldwide for education and professional qualifications, which was. Increasingly being met by new technologies to deliver courses online. However, there was an acute gap in developing corresponding technologies to assess these courses, without recourse to traditional test centres, exam papers, face-to-face interviews, etc.
These traditional assessment methods were not feasible on the level required to meet the significant increase in demand worldwide. TestReach bridges this gap, providing a complete online assessment solution incorporating test authoring, test assembly, test delivery, marking, moderation, results issuing and business analytics.
A unique feature of TestReach is that you can easily use remote invigilation for any test. With this option TestReach-trained supervisors monitor exams in real-time online, via video, audio and remote screen share. The exam hall environment is effectively re-created online, so candidates can take assessments at any time and at any location, while examiners can be assured of the validity, authenticity and security of the test delivery mechanism. The company's main markets are professional bodies, educational/training organisations and corporations, particularly those in highly regulated sectors like financial services, pharma and aviation.
TestReach is recognised for its commitment to meeting individual customer needs, and its innovation in developing business-specific solutions.
According to Louella, the priority is on "writing software and delivering systems for our customers that are fit for purpose, easy to use, and which make a positive difference". It's an approach that clearly resonates with their customers and resulted in business growing year on year.
Today, they employ 120+ people directly with over 200 exam invigilators on their books. Louella is clear that taking part in Going for Growth played a very big role in getting the business to where it is today. "
"Getting different perspectives on issues and effectively using the group as an informal advisory board was critical in helping us develop strategically and steer a clear path for growth at TestReach", she says.
And the impact was also personal – "I have benefited greatly from Going for Growth and from continuing as part of the Going for Growth community. It gave me a great opportunity to network and establish solid business relationships that I know will support me as we continue to grow the business."
Continued growth is very much the strategy for TestReach. More than 80% of their business is currently from export markets, mainly the UK. Future priorities will be to expand further in the corporate sector and also into the US, where the company has already established a presence.
When ACORNS alumni Katie Mugan was working as a paediatric nurse in Ireland, her exposure to breastfeeding babies was limited.
But a move to Melbourne, Australia, in 2006 opened her eyes to the supports available to new mothers with breastfeeding.
This sparked a new passion in Katie and the seed of inspiration to launch her own business helping mothers and newborns to have a more positive breastfeeding experience.
When she returned to Ireland in 2013, Katie retrained as a public health nurse to support new parents. During her time as a public health nurse, Katie saw how many mothers struggled with breastfeeding and were left feeling confused and overwhelmed by conflicting information given by different health care professionals.
Katie saw a demand for better antenatal education and quickly realised she wanted to specialise in lactation. In 2018, she decided to take the International Board Certified Lactation Consultant (IBCLC) exam.
When she became fully certified, she launched Nursing Mama in August 2019. Based in Naas, Co Kildare, Nursing Mama offers online Breastfeeding Preparation classes, Newborn Care classes and a Weaning from Breastfeeding workshop.
"I still see so many mothers struggling with breastfeeding. Many are still receiving conflicting advice and feeling completely overwhelmed and lost," says Katie.
"Mothers not recognising the warning signs when breastfeeding is not going well and babies with large weight losses are still a frequent occurrence. The need for better education antenatally so Mothers can be better equipped with practical knowledge when their baby arrives is essential."
The business has gone from strength to strength since launching and Katie has acquired 10,000 followers on Instagram. Delivering classes online has allowed her to expand her clientele internationally, with clients in Australia and the UK, as well as all over Ireland.
Sonia Neary is the CEO and co-founder of Wellola. Wellola is an innovative Irish digital health software company, whose founders believe only the sickest of the sick should be hospitalised and that the future of healthcare is preventative, community-based and supported by digital tools.
With over 17 year's previous experience working as a physiotherapist in the Irish healthcare setting, Sonia is a big believer in leveraging digital technology to support hospital-at-home and self-management care models.
She champions Wellola's mission to offer care-enabling technology, which arms clinicians to keep well people well (and treat those that are unwell) in the community where possible, maximising clinical and economic outcomes and optimising patients' healthcare experiences. Now, more than ever, Wellola's secure telehealth and patient portal platforms are also protecting healthcare providers on our frontlines.
Wellola currently serves a variety of public and private healthcare organisations in Ireland and the UK. Customers include Leeds Teaching Hospital NHS Trust, Birmingham Community NHS Foundation Trust, Nutricia Danone (making our solution available to 170 Nursing Homes in Ireland).
Her business also collaborated with the Irish Health Service Executive' Digital Transformation Team during the onset of Covid-19, to offer our platform to all Irish GPs. Additionally, Wellola supports both Allied Health and Mental Healthcare professionals, being the provider of choice for the British Association of Counsellors and Psychotherapists, and charities such as Dublin Simon, and Accord Dublin among others.
In 2019, Sonia was honoured to represent Ireland as a finalist in the global Women in Tech Awards in Paris and to accept the 'Integrated Care' award from the Irish Medical & Surgical Trade Association on behalf of Wellola.
An advocate for greater gender diversity in entrepreneurship, and enhancing support networks amongst female founders, Sonia was delighted to participate in Starting Strong in 2020. Sonia participated in Starting Strong when the Covid restrictions were first introduced and caught everyone off-guard.
Commenting on her experience of Starting Strong, Sonia said: "Participating in Starting Strong has hugely benefitted me both personally and professionally as a female entrepreneur. Even in light of Covid-19, the Going for Growth team really rose to the challenge and continued to deliver a superb programme.
"Meeting like-minded and talented businesswomen, broadening my network and enhancing my skill sets were just some of the benefits gained. I found it particularly helpful to have this new support network in such a difficult time for Irish businesses; the forums we held really contributed to my wellbeing and the wellbeing and growth of my company."
Nature-loving scientist Olivia Norman always made her own facial oils to treat her skin conditions. But it was when she started making deodorant as a result of her underactive thyroid that a business idea was formed.
A Galway girl, Olivia moved to Cork in 1998 to finish her Biomedical Science degree in UCC, met her husband and never left. Her career started in IBTS blood bank, before 17 years in the labs in Mercy University Hospital Cork.
When burnout set in, Olivia – a trained Kundalini yoga teacher and life coach — took a career break to look at ways to create a better work/life balance. It was her 9-year-old daughter who suggested making a business from her luxurious prebiotic natural deodorant balm.
Norman completed Enterprise Ireland's New Frontiers at the Rubicon Centre MTU, followed by the Exxcel Female Entrepreneur STEM programme in 2019.
Naivilo launched in March 2020. When Covid hit, the hospital asked her to help out with the pandemic. Olivia worked a few nights a month at the hospital, while spent her days testing products and working on branding.
She finished up in the hospital in December 2020 to concentrate on the business and, by January 2021, she launched two new products and her new website.
Bríd O'Brien
Bríd O'Brien always wanted to run her own business and after working as a leader in HR for over 25 years, she made the leap and set up Albatel in November 2019. Less than two years on, Bríd is leading a team of seven, providing outsourced Human Resources Management for companies all over Ireland.
Based in Celbridge, Co Kildare, Albatel offers services under five key areas which are HR, recruitment, payroll, coaching, and training.
The firm's goal is to help other companies build profitable teams, reduce risk and facilitate business growth. Albatel do this by working closely with their clients as a cohesive expert team providing a "one-stop shop" service.
When the global pandemic forced everyone to move from office to home, many organisations didn't set up new ways of working for their employees. Bríd had extensive experience in managing organisational transformation and partnering with business leaders to optimise performance, making her perfectly placed to address these new challenges in the pandemic.
Albatel works closely with businesses to help their employees adapt to new technology, and navigate communication challenges, leading to an increase in productivity.
EATTO's Jeannanne O'Brien saw a gap in the market for nutritious, high-quality pre-prepared home meals and is cooking up a storm.
EATTO.IE is a new Irish business venture run by O'Brien which brings you delicious premium homemade meals, prepared with locally sourced and seasonal Irish ingredients.
O'Brien brings a wealth of experience and expertise to her latest venture having created and run Artizan Food Company since 2005. As one of Ireland's leading full-service boutique corporate catering company, they are renowned for making and serving premium restaurant quality food to many of the world's leading tech companies in Dublin.
In 2019 Jeananne saw the need for high quality and nutritious pre-prepared frozen home meals and decided to use her state-of-the-art development kitchen and team of chefs to create EATTO.
They decided it was the perfect time to expand their expertise into the area of home delivery in 2020 with their new home-cooked food brand EATTO.
All meals are made fresh and delivered frozen directly to your door in a fully insulated box to ensure highest quality upon arrival. Store in your freezer until you are ready to heat, and enjoy a homemade nutritious meal without the need to cook from scratch.
"Every meal is made from scratch with locally sourced, seasonal Irish produce where possible, and all of our meat and poultry is 100pc Irish and fully traceable," says O'Brien. "Our mission is simple – to help make homemade food a daily ritual, making things just that little bit easier at mealtimes."
Leonora O'Brien qualified as a pharmacist and worked in pharmacy practice, regulation and policy development in Ireland and across the EU. She founded the company Pharmapod in 2012 which is a global software platform to reduce medication errors and deliver safe effective clinical services for patients worldwide. It was the first international database for pharmacy incidents which helps pharmacies to collect, analyse and share key information about medication errors with their peers and demonstrate safety improvements. With Leonora as CEO, Pharmapod was widely adopted across over 10,000 pharmacies and Long Term Care facilities by corporate clients such as Pillpack by Amazon in the US, CareRx in Canada as well as independent pharmacies and Pharmacy regulators. Pharmapod launched in multiple international markets including US, Australia, UK and Ireland, and secured over 65% of the Canadian market. In 2021 Pharmapod was sold to Think Research in Canada. Leonora is now pursuing other business interests and plays an active role supporting female founders as a lead Entrepreneur on the Going for Growth programme founded by Paula Fitzsimons and she is the European Jury President for the Cartier Women's Initiative Awards for female founders of impact businesses.
Emily O'Callaghan, who is originally from Dublin but is now living on Achill Island in Co Mayo, moved west in September 2021, after she decided to combine her love of films, Achill and event organising by starting the Achill Island Film Festival.
Emily had worked in the film industry in various roles for many years, as well as organising events, such as comedy nights, gigs, mini festivals and stages at Electric Picnic.
Her decision to move to her family's ancestral homeplace of Achill, where she had often holidayed as a child, was prompted by the opportunity she had to think about what she wanted from life during the pandemic, and by a sense that Dublin was becoming more of a rat race.
A keen fan of film festivals, Emily saw a gap in the market as there was no existing film festival in Achill.
"Indeed, the island does not even have a cinema. But I believed it would be a beautiful place for film industry professionals from all over the world to visit, meet and network with each other."
After a hectic year of planning, the inaugural Achill Island Film Festival was held in May 2022. 370 people attended the event, which screened 115 films across five venues. Plans are already underway for next year's event, and Emily, who works from home, is hoping to get office space and hire a production assistant for next year.
"The festival simply would not have been the success it was without the support and structure provided by ACORNS, which helped me to prepare, focus and share my worries."
Fiona O' Carroll is a senior international executive with a 25-year track record of achievement in a variety of leadership roles including; COO, Chief Digital Officer, VP Marketing and GM in tech, retail, consumer goods, education, media and computer gaming sectors. She is a recognised international expert in delivering accelerated revenue growth and transformational change agendas primarily through empowering customers and enhancing brand's relationships with its customers via digital technologies and platforms.
Fiona is a system thinker and strategic doer, with a consistent track record of scaling international businesses and achieving challenging financial and operational performance metrics. She has wide-ranging functional and general management experience, including P&L responsibility, with blue-chip multi-nationals (Houghton Mifflin Harcourt, Vivendi Universal, Adobe), domestic market-leaders (INM) and high growth SME's (Gifts Direct, The Irish Store). Fiona has a passion for building and leading high-performance teams through growth stage and transformational change, clearly aligned with company culture and mission.
She has extensive expertise in strategic execution, digital transformation, revenue, generation, marketing, e-commerce, and branding digital platforms, brand development and customer experience.
She has an MBA in Leadership for Growth from Stanford University; and an MSc in Management and BSc Marketing from TCD.
Gillian O'Dowd with Leonora O'Brien from PharmaPod
Gillian O'Dowd established Azon Recruitment in 2014, along with her husband Ronan Colleran, with just two employees and three clients. With offices in Dublin, Limerick, London and Manchester, they now employ 40 staff specialising in multiple industry sectors including accounting and finance, financial services, taxation, legal and construction, and service a wide range of national and international clients.
Having the right staff in their own company is critical to the growth they have experienced. Gillian cites this as a hugely important aspect to how they have successfully developed the business. Today, Azon provides a complete recruitment service covering all the resourcing needs of clients, including executive search, contingent recruitment, project sourcing and contract sourcing. For the future, they are broadening the range of services they offer, and plans are well developed to expand overseas.
"Our priority has always been on knowing and understanding the landscape our clients are working in," O'Dowd said.
Breege O'Donoghue is a highly experienced former board member of Primark and her most recent role, until September 2016, was Group Director, Business Development and New Markets. She managed, with others, a business through significant growth and expansion from 17 stores to over 320 in 11 markets. She has had an extremely successful executive career across many functions, with considerable experience in European and US markets, significant experience of leadership, diverse teams and complex cross-functional business projects.
Breege also has extensive experience as a Non-Executive Director including chair of the Design and Crafts Council of Ireland, and chair of Real World Analytics, as well as education at university level. She has claimed many awards across her career. Among the most recent are; UCD Business – Smurfit Patrons of Excellence 2017, Chevalier de l'Ordre National de la Légion d'Honneur 2016; Iconic Businesswoman of the Decade Women Economic Forum, New Delhi, India 2016; Fashion Retailing Personality of the Year, Draper UK, 2016; Irish Tatler Hall of Fame Award, 2016. Breege recently received a Doctorate of Philosophy (honoris causa), from DIT.
Barbara O'Flaherty, from Bunnanadden, Co Sligo, has over 17 years marketing experience in sectors such as retail, tourism, hospitality, entertainment, industrial, and services. This gave her a solid foundation to launch her own agency Let's Get Digital in July 2019.
For years, Barbara observed the dramatic shift in marketing towards digital marketing. She studied the trends closely and continued to gain knowledge and experience until she was ready to strike out on her own.
Let's Get Digital helps Irish and UK businesses to increase sales online through a combination of paid search, SEO, paid social media, display advertising and email marketing. On average, the company has increased client online revenue by 25%.
Barbara initially worked from home before moving to an office in Swinford, Co Mayo. At the beginning, she identified any areas she needed more knowledge on or training in and immersed herself in the different aspects of digital marketing.
She also made a point of attending business events to expand her contacts and get to know the business climate. Through this, she began to get asked to talk at events, and give workshops and mentoring for government agencies and businesses in her specialised fields, which helped to build her client base.
Let's Get Digital currently has one employee. It has a range of clients, from insurance to skincare and from government organisations to small businesses.
"ACORNS gave me the confidence to reach higher and to never give up. The interaction with other participants was a lovely sounding board for new ideas and different ways to do things."
Barbara intends to grow her team in the next year and to grow revenue by 35% by 2023. She also plans to expand her client base, particularly by acquiring more international clients.
Oonagh O'Hagan is the owner and managing director of Meaghers Pharmacy Group. A qualified pharmacist, she was in her late 20s when she bought the landmark Meagher's Pharmacy on Dublin's Baggot Street from Pierce Meagher in 2001. She has since gone on to grow the business to nine pharmacies and a thriving online store http://www.meaghers.ie/. She now employs 130 people with further growth planned this year. Meagher's has been named as a Deloitte Best Managed Irish Company for the past five years and has been awarded Gold Status these past two years.
The Meaghers Pharmacy Group has represented Ireland in the European Business Awards and collected the two top business awards at the Irish Pharmacy News awards ceremony, taking away the Business Development of the Year award and the OTC retailer in the same year. Oonagh herself has picked up many business awards and was named as Image Magazine's Entrepreneur of the Year in 2016.
Klara O'Leary started her company, Care Box Collection, at just 23, from her home in Enniskerry, Co Wicklow, during 2020.
Care Box Collection is a wellness-focused gift company which creates unique, meaningful and affordable gifts for yourself, a loved one, your company, clients or team and delivers them directly across Ireland, the UK and EU.
Klara was working in the events department of a large corporate firm when she started her company, after struggling to find an appropriate gift for a friend, who was going through a difficult time.
"Essentially, what I wanted to gift my friend either wasn't on the market or was prohibitively expensive. I also noticed that a trend towards wellness among Irish people was not reflected in the gifts that were available."
Klara launched Care Box Collection with three gift box options and a website she built herself in October 2020 and within months the company had moved to a premises in Bray and Klara resigned from her corporate role. She now has three employees, over 40 pre-curated boxes, 150 products, and a bespoke corporate gifting range.
She has been recognised in the Sunday Independent's 30 under 30 list, shortlisted in the Image PwC Businesswoman of the Year awards and recently won the Network Ireland Emerging Wicklow Businesswoman of the Year award.
"ACORNS encouraged participants to focus on the fundamentals of their businesses and it was hugely beneficial to network with other businesswomen."
Klara intends to build her team to at least five employees and to expand market share across Ireland, the UK and EU.
"I hope these achievements will encourage other young women to develop and pursue their business idea."
Lucy O'Keefe is the CEO of CroíValve. CroíValve is an early stage medical device company focused on developing a minimally invasive device for the treatment of tricuspid regurgitation. It is based in Dublin, Ireland and combines significant clinical, technical and commercial experience.
In recent months CroíValve has announced the successful First in Human implants of its DUO Tricuspid Coaptation Valve technology for the treatment of Tricuspid Regurgitation as part of its TANDEM I study in Poland.
She has extensive experience leading medical device development programs. She worked as a cross-functional lead at Medtronic, managing R&D programs from concept to launch, including an early transcatheter aortic program. Additionally, she worked in Nypro Healthcare, managing multiple complex, cross-functional, global projects developing drug delivery devices for top tier pharmaceutical clients and in a CRO, ICON PLC, where she developed an understanding of clinical trials. She holds a degree in Mechanical Engineering from University College Dublin, a PhD in Biomedical Engineering from University of Limerick and a Diploma in Project Management from University College Cork.
Former sprint hurdles athlete and Olympian Derval O'Rourke is the founder of the Derval.ie healthy lifestyle platform for practical advice about food, fitness and wellness.
As a three time Olympian and former world champion, Derval O'Rourke certainly doesn't need any introduction to an Irish audience. And her background in world of athletics uniquely positions her to have a voice of authority in the world of fitness, food and wellness.
Established in 2017, Derval.ie is a healthy lifestyle platform where she shares her learnings from her former professional career as well as life as a busy mother and business-owner.
The website is an innovative subscription-based model that offers members an affordable platform where they gain access to expert advice and community support. While other online platforms focus on either food, fitness and wellness, Derval.ie has a unique blend of advice from a range of experts on all three.
As an athlete, Derval was operating as a sole trader and always knew she wanted to be an entrepreneur. After she retired, she worked for two years as a player development manager with the Munster rugby squad.
"I had lots of ideas for a business going through my head during this time. I wrote a cookery book, which was more of a passion project than a business idea, but it was successful and that was where the seed was sown," says Derval, who was on the 9th cycle of Going for Growth with Caroline Keeling as her Lead Entrepreneur. She also participated in Going for Growth's follow-on programme, Continuing the Momentum, in 2020 with Breege O'Donoghue as her Lead.
"The key to the business is building a community of people that support each other. Our aim is to be the biggest online community in the country and to keep delivering real value at a relatively low price. Going for Growth massively helped me to grow and develop the business. It pointed out to me where the gaps in my business were and I loved that as, where there are gaps, there is room to grow."
Louise Phelan is CEO of Phelan Energy Group, an independent solar power producer that brings low-cost clean solar PV power to future generations. The team, comprising over 100 specialists, delivers affordable, rapidly deployable, and sustainable clean energy worldwide.
Previously, Louise was President for International Payments for PayPal, the world's leading online payment company, with over 300 million active accounts. Louise is a non-executive Director at Ryanair and former President of the American Chamber of Commerce in Ireland. Louise has been widely recognised for her contribution to Ireland including being named the Great Place to Work 'Most Trusted Leader' 2014 and being presented with the Sir Michael Smurfit Achievement Award by The Ireland Chamber of Commerce United States (2012).
She was also named Business Woman of Year 2013 and 2017 at the Women Mean Business Conference, and was awarded an Honorary Doctorate of Philosophy in 2016.
Originally from Roscrea in Co Tipperary, Georgia Quealy and her boyfriend/business partner, Daniel Linehan set up their company, Praliné Chocolatiers, in his home town of Athlone, Co Westmeath, in October 2020.
Both classically trained chefs with Michelin star experience, they had plans to move to Dublin to work as pastry chefs when the pandemic hit. Having always talked about setting up a business together, they began to experiment in the kitchen of Daniel's parents' café in Athlone.
"Praliné Chocolatiers produces luxury hand-painted, hand-crafted chocolates made from the finest ingredients and showcasing many Irish producers," she explained.
Georgia likes to create a journey of the senses for customers, starting out with the opening of the bespoke packaging to find the edible works of art, full of unique flavours and textures.
"The pandemic created a gap in the market for the company because gifting handmade, heartfelt gifts became a big aspect of people's lives.
"Praliné Chocolatiers began selling our product on Instagram in October 2020 after receiving support and mentorship through LEO Westmeath. We launched our own website in February 2021 and moved into their own production kitchen in November 2021."
Their main range of chocolates is available throughout the year, and they produce limited edition seasonal collections every couple of months.
"Participating in ACORNS was invaluable to the business. The most beneficial aspect was being given the skills to confidently run a business to its full potential while benefiting from the expert experience of our group's Lead Entrepreneur Eimer Hannon of Hannon Travel. I am very grateful to be part of the ACORNS community.
"The main plan for the year ahead is to continue to build the brand and expand the product range, we are also looking into B2B marketing to hotels and corporate gifting."
A lead entrepreneur on the ACORNS programme Caroline McEnery established The HR Suite in Co. Kerry in 2009.
"The idea to start my own HR business came about in 2009 while on a trip with Tralee Chamber of Commerce to Silicon Valley, California. Many entrepreneurs on this trip spoke with me about the challenges they faced around HR management. I then realised there was an opening for an outsourced model in this space. I launched the business in 2009 and it has grown steadily to a team of 20 employees.
"I have written two books and am an Adjudicator with the WRC and a former Low Pay Commissioner."
"I funded the business personally and, as the business grew, I reinvested into the business to help it expand and develop key systems and technology foundations. I received excellent support from my Local Enterprise Office (LEO) in Tralee, Co Kerry and was lucky enough to join the Enterprise Ireland funded Going for Growth programme for female entrepreneurs.
The support for both these forums was invaluable in helping me focus on growth of the business and I am delighted that 11 years later we are now a key HR business partner to a varied range of clients throughout the country. During Covid-19, our client relationships and our commitment to best practice led us to support our broad client base, Enterprise Ireland, LEOs and Failte Ireland to advise in relation to responding to this challenging pandemic and the HR implications it presented."
Anne Reilly
PaycheckPlus was founded by Anne Reilly in 2005. Headquartered in Drogheda, Co Louth, PaycheckPlus provides Irish and UK Payroll outsourced processing services to clients across a range of sectors. The emphasis of the payroll team is to help employers structure their payroll in the most cost efficient way while ensuring legislative and compliance requirements in a timely and accurate manner. PaycheckPlus is the recipient of a number of awards including The Global Payroll Provider of the Year 2017. Anne is a former lecturer in Irish payroll and a graduate of the Institute of Directors. She sits on a number of boards and enjoys speaking and sharing her experience in business with aspiring entrepreneurs.
Jennifer Rock is an award-winning skin tutor, dermal facialist and bestselling author and the CEO and founder of the multi-award winning Skingredients skincare range, The Skin Nerd educational skin platform, Skin Nerd Network and the Cleanse Off Mitt, a reusable cleansing tool.
After becoming a facialist and working in the industry, Jennifer's own desire to learn motivated her to empower others via education.
She began teaching her clients the simplicity of active skincare on seeing there was a demand for this from market research and her own social media audience. Jennifer says that this inspired her "to create the Skin Nerd Network which has 50,000 clients who are offered unbiased product recommendations during our consultations."
Skingredients is a results-driven, active skincare range developed by Jennifer with the key demographic being humans aged 30-40, who seek education and simplified skincare. This consumer is committed to skincare but not always confident about the ingredients to use to reach their skin goals. "This is where we step in!" says Jennifer.
The Skin Nerd is an educational skincare hub and was the first of its kind, designed to provide specialist skin advice and a personalised skincare routine to humans worldwide. "Our goal is to provide education on how to care for skin, with the aim of empowering humans and help them to achieve Skintentment."
The Skin Nerd Network is an online skin consultation membership programme with a skincare store, which stocks an extensive number of brands that mirror the company's skin philosophy.
Jennifer is very clear about how Starting Strong, Going for Growth and Continuing the Momentum helped her build her business. "My lead entrepreneurs were Susan Spence in Starting Strong, Monica Flood in Going for Growth and Breege O'Donoghue for Continuing Momentum. Each stage resembled the period my business was in at that stage. I'm a firm believer in constant action towards forging platforms for women in business, like Going for Growth has done. For me, this entire programme offers stability, structure and suggestions. It challenges the status quo but the joy and growth mainly come from the fact you are immersed in a room, (virtual or physical) with women that you respect, admire and trust, that are keen to give back and offer insights candidly and filter-free with a view to us learning and excelling in our relevant sectors. It is inspiring and infectious, well organised and motivating."
As to the future, The Skin Nerd will be launching a new-look website with its consumer in mind, maximising the ease of navigation and using colour psychology to ensure that the aesthetics are as appealing as possible. The product offering is also being expanded by venturing into new beauty, hair and wellness categories. Linking up with experts in these areas, this move aligns with our core philosophy of bringing education to the masses, as not only will we be bringing fantastic new products into our realm, but also real advice and education for our customers."
Skingredients has won multiple awards across its product range and Jennifer won an award at the IMAGE Business of Beauty Awards in 2018.
Sara Ross had been working as a lawyer when her daughter was diagnosed with a serious illness in 2018. After some time off – the end of which saw her daughter given a clean bill of health – Sara decided that life was too short for dispassionate pursuits.
"I'd always made jewellery as a hobby. I never thought to sell any of it but when I came to set up the business, I found there was a real appetite for my kind of aesthetics," she says.
Sara is from the North East of England but lives in her husband's home county of Kerry, in the village of Kilflynn between Listowel and Tralee. She operates her jewellery firm, FiorSó, from her studio where she makes statement jewellery inspired by the Art Deco and Art Nouveau influences in London, Paris and Shanghai – where Sara lived and worked for many years.
FiorSó now exports to markets in the United Kingdom, Australia and the United States where FiorSó jewellery is stocked in stores in Chicago and South Carolina. The company was also recently selected to be stocked in Brown Thomas on Dublin's Grafton Street over the summer months.
This year, Sara saw her profile raised even further after country music star Lainey Wilson wore a pair of FiorSó earrings at the Country Music Awards in Nashville.
"Her stylist contacted me after having seen my pieces online. It was a real thrill to see her with something I'd made," says Sara, who was this year named Contemporary Jewellery Shop of the Year at the Corporate Livewire Innovation and Excellence Awards.
Sara hails ACORNS for putting her in touch with a network of female entrepreneurs facing similar challenges. "It can be quite lonely setting up a business, especially with a family and trying to juggle responsibilities. Having other women as a sounding board was invaluable," she says.
Sadlier, who with her husband Philip Brady, manages the Coole Swan business, hails from Navan in County Meath.
Coole Swan — which is a unique blend of single malt Irish whiskey, Belgian white chocolate and fresh dairy cream —scored the highest score possible in the 2020 Wine Enthusiast Rating – one of only three spirit brands worldwide to receive this rating in the last three years.
Coole Swan's excellence lies in its ingredients: pure, natural Irish cream, single malt Irish whiskey and Belgian chocolate. Unlike other creams, it proudly parades these ingredients on the bottle.
In November 2020, 'Made only in Ireland' Coole Swan achieved a major international accolade. It was endorsed in the influential Wine Enthusiast's taste panel in New York, where it was voted the best cream liqueur in the US. It was thus described: "A milky appearance and bold white chocolate aroma mark this luxe sipper. The light, frothy palate layers vanilla buttercream, cocoa butter and white chocolate, exiting with a pleasing minty exhale and a warming alcohol kick. Made with Belgian white chocolate and single malt Irish whiskey."
"The cream has invaluable natural properties and all we do is add a single malt and high-quality chocolate," explains Sadlier. "We add no preservatives or other ingredients to bulk it out. This is the reason that it has a distinctive and pure taste."
A love of food and led to Katie Sanderson forming White Mausu which makes "condiments you can't live without."
White Mausu was formally set up in 2017 and now has three condiments on sale: Peanut Rayu, Cashew Crunch and Black Bean Rayu with plans to launch new products in early 2021.
The products are sold directly into shops as well as on company's ecommerce site, set up during the Covid pandemic.
"We also have a stall that we brought around to festivals but that is sleeping at the moment! However, when festivals start happening again, we will bring it out on the road again as it did help showcase the products," says Katie.
Staff numbers have grown from two full-time at the start of Covid to five full-time and three part-time, with two more people joining the team in 2021. During the same time, it has grown its list of stockists from 200 stockists to 450 stockists.
Appointing a new CEO and revealing growth plans, SoapBox is on a mission to transform how kids learn through interacting with technology through their voices.
Soapbox Labs has revealed plans to scale rapidly in the next two years from 30 to 80 employees. The company has just appointed Dr Martyn Farrows as CEO while previous CEO and founder Dr Patricia Scanlon will become chair of the company.
Driving the company's innovation vision and strategy, Dr Scanlon was named one of the world's top women in tech by Forbes.
In addition to the 10 new employees it has hired in the past year, the company said it aims to scale from 30 to 80 employees in the next two years.
Maeve Sheridan who developed a fondness for craft beer in Luxembourg before moving home to the family farm in Co. Clare to set up Western Herd Brewing with her brother.
"We are a microbrewery and currently have a core range of five products but we can have up to 10 products available at any given time. Siege Pale Ale is our flagship beer so named after the Siege of Ennis. Blue Jumper IPA is always a crowd pleaser as those in the know love sharing the Fr. Ted story behind the name. We do everything in house from brewing to packaging and all our own distribution.
"In 2012, while the country was still recovering from a recession, my husband and I moved back to Ireland with our one-year old daughter after working in finance in Luxembourg for nearly seven years. My husband got a job in the financial industry in Limerick. After the birth of our second child in 2013, I was looking to return to the workforce but there were very few opportunities in Clare. My brother, a qualified civil engineer, turned to bar management after the collapse of the building industry in 2008. He could see how craft beer was taking off in Ireland and we pooled our resources and set up a microbrewery.
"Ireland has a great tradition of entrepreneurs who can quickly take advantage of an opportunity. My father and grandfather both ran their own successful businesses and were very supportive when we started up. There is an issue with red tape, rules and regulations in Ireland that really slows down the process when you are trying to get a fledgling business off the ground. Everything moves at a slow pace but once you get over the initial start-up, it is up to you to dictate the pace of growth after that.
"Starting out green and naive, charging people can be awkward at first but every entrepreneur learns fast the importance of cash flow and to keep money coming in. It is vital to the survival of your business that you develop a relentless drive to keep after your customer until they pay up or you have to ruthlessly cut them off. Keeping an eye on your cash flow at all times is probably the most critical and fastest lesson you need to learn in order to survive."
For Beth-Ann Smith a love of food and a family heritage in the deli, bakery and grocery businesses were the perfect combination driving the creation of the Lismore Food Company.
Beth-Ann Smith's family ran a well-known deli in Cork, while the family of her partner Ken Madden and his brother Owen Madden (her two other business partners) ran a grocery in Lismore, Co. Waterford. Both families have a long list of grocers, bakers and wine and spirit merchants in their history.
Inspired by the impressive afternoon teas at Lismore Castle, she wanted to create her own biscuits which were simple in terms of ingredients but luxurious in their taste and packaging and, in October 2014, The Lismore Food Company was born.
"While I had a background in food, I had no background in bringing products to market, so we had a lot to learn. But I knew that we wanted to create something really special and looked to the luxurious brands in France and elsewhere for inspiration to create our sweet and savoury biscuits," says Beth-Ann.
When Covid hit in early 2020, the company had a range of biscuits and chocolate confections on the market. But when their hotel and restaurant clients started closing their doors, they had to act fast. And act fast they did, creating an online shop and bringing 15 new products to market in a two-month period.
"We developed a basic online shop and started responding to where the demand was. We were listening to our customers who were buying our biscuits but then pairing them with teas and jams to send to their friends and family during lockdown. We were very much led by the customer," says Beth-Ann.
"So at the end of September 2020, we launched the Lismore Hamper Collection selling online with a range of own-brand biscuits, jams, teas, coffees, jams, chutneys, cordials and much more – all in our lovely orange luxury hat box. It just goes to show you what you can do when you put your mind to it. While Covid has been hard on all of us in so many ways, it did allow us to work on developing our business, not just work in the business. We know that not everyone had that luxury and so many businesses are struggling, so we do feel grateful."
Originally from Holycross, Co Tipperary, Laura Stakelum spent 15 years living and working in Dublin, where she trained as a chartered accountant specialising in corporate finance, before spending six months in Tipperary working from home during the pandemic.
Laura found that working remotely allowed her to do everything that she had done in the office in Dublin. This, together with a goal to set up her own business prompted her to make the move permanent and to set up Stakelum Consultancy in July 2021.
Stakelum Consultancy provides M&A and transaction advisory services to the renewable energy and property industries in Ireland. Renewable energy is a particular focus for Laura, and she advises clients on the acquisition and disposal of onshore and offshore wind assets.
Laura secured office space in Cashel, Co Tipperary and acquired two clients within months of starting the business. She moved to a larger office this year to accommodate hiring support staff to scale the business.
Laura says getting to the stage where she had onboarded five clients was a huge milestone for Stakelum Consultancy, giving her the confidence and security to build on this progress.
She describes ACORNS as an unbiased and invaluable sounding board, made up of a strong group of female entrepreneurs who understand the challenges of running a business. The programme helped her to understand the difference between the work a business does and the business itself – ensuring that the business functions efficiently and smoothly allows more time to focus on client needs and demands.
In the next two years, Laura hopes to build a team of five to ten employees. This would allow Stakelum Consultancy to onboard more renewable energy clients as the sector ramps up to the delivery of the first offshore windfarms in 2030.
Pressed Flowers by Nell started with founder Nell Stritch making her wares at her kitchen table. But while online sales were strong in those early stages, she knew there was no substitute for high-street footfall.
Now ensconced in her own retail premises on Roches Street in Limerick City Centre, with one full-time staff member and another part-time working alongside her, she feels the firm has established itself on the city's retail scene, following its opening in October 2019.
The daughter of a florist from Clonlara, Co. Clare, Nell worked in the family business from a young age. Indeed, she first learned to press flowers from her grandmother and noticed a glaring gap in the market after fielding countless calls from customers asking to have flower arrangements pressed and framed.
She now presses flowers for any occasion – the most common request is for bridal bouquets – but has made efforts to expand her offering in recent times to include her own artworks, fine art prints, bookmarks and greeting cards. All of these products are available at her store and online via the website.
She is delighted to have reached a point in which her business serves as an employer and is hopeful that she can add a further two full-time roles in the next 12 months, while also developing plans for a Christmas pop-up shop.
"A major milestone for me was taking part in the ACORNS programme," she says.
"It was fantastic to meet a network of women similarly focused on where they wanted to go and how they were going to get there. As a creative, you can have a million ideas written down here and there, but it was great to see everything broken down and structured in such a professional and organised way."
Alison Stroh
Alison Stroh's early career saw her working in both small companies and large corporations, spending over ten years in New York and Germany. While living in Germany, she heard Dr. Johannes Coy, an award-winning German biologist, speak at a health conference and subsequently partnered with him to commercialise his research and inventions. This led to the development of a chocolate with certified health benefits that would appeal to a mainstream market and to the founding of Dr Coy's Health Foods in Wicklow. The bars come in a selection of flavours and the unique benefit is that they have lower effects on blood glucose levels compared to chocolate containing sugar, they are high in fibre and vitamin E and are gluten and lactose free. As the business and demand continued to grow, the range also expanded further. Exports have also now commenced to the UK and to further afield places like Bahrain and Malaysia. Alison says that taking part in Going for Growth was very important in motivating her to grow the business further.
"I have been truly inspired by my lead entrepreneur's energy, commitment and passion for the business, as well as her continued support for other female founders," Stroh said.
Chupi Sweetman
For Chupi Sweetman who has grown her eponymous luxury brand Chupi by 51pc and plans 200 new jobs, scaling has always been the perfect dichotomy between creativity and business.
The business recorded 51pc sales growth in 2020, with 89pc turnover growth in the UK market and an 89pc increase in sales of engagement and wedding rings. Chupi delivered a four-year plan in nine short months, achieving financial, business and brand targets that exceeded expectation, despite the challenging environment.
Virtual shopping appointments allowed the brand deliver the luxury experience of shopping with Chupi, practically in person, worldwide. The business introduced a full VIP care team with six experienced jewellery advisors. The launch of the new digital appointments saw 337 personal shopping experiences managed for customers across 13 countries.
Digital media content was enhanced across all channels, which saw 70pc of traffic come from organic social. Innovation like the launch of Instagram Reels generated 1.6m views.
2021 business development plans for the luxury jeweller included 20 new hires with 200 jobs to be created in a five-year plan.
Niamh Tallon
Niamh Tallon established Her Sport to take on the clear gender disparity in Irish sports media coverage and encourage young women to compete all the way to the top of their game.
"40.8pc of participants in sport are female, yet just 6pc of the sport media coverage in Ireland goes to women in sport," Tallon told ThinkBusiness recently. "The standard is there, with athletes achieving on the international stage, but the coverage is not. This has a knock-on effect, with a lack of sponsorship, funding and other opportunities available to female athletes, while also creating a lack of visibility of role models for young people."
Her Sport is quintessentially a digital media platform that creates women's sport, health and fitness content.
"We offer the opportunity for brands and organisations to connect with our unique and loyal audience, creating lifelong connections.
Since setting up Her Sport has rapidly built up its audience, with great efforts made in 2020 to grow the brand and establish as the go-to source for women in sports news.
"Our audience now encapsulates over 35,000 people and we continue to see steady growth. There is increased brand awareness which is important in building the profile of women's sport and allowing us to push the boundaries."
Colette Twomey is chief executive and co-founder (with her late husband) of what is now known as the Clonakilty Blackpudding Co. The business has grown from a single butcher's shop to be one of the best known brands in the Irish food business, supplying branded black and white pudding, sausages and rashers to multiples, restaurants and shops throughout Ireland. Clonakilty Blackpudding Co. is currently involved in a major push into the UK market. A finalist in the 2010 Ernst and Young Entrepreneur of the Year, Colette Twomey is the 2011 recipient of the Veuve Clicquot Business Woman of the Year Award, and also the awardee of the 2011 Women Mean Business Entrepreneur of the Year, on the basis of her entrepreneurial spirit, innovation and leadership. Colette is based in West Cork.
Mary B. Walsh
Mary B. Walsh began her career in banking with AIB in the 1980s, having studied business and accountancy in Waterford Institute of Technology and later accountancy through CIMA. Ire Wel Pallets is Ireland's leading pallet and packaging manufacturer, supplying pallets, boxes and crates to specifications for their customers. The company's customer base includes organisations in the medical devices, pharmaceutical, electronic, food and drinks industries. Mary and Shay are looking forward to celebrating 30 years in business in 2020.
Twenty years ago, the firm bought a 10-acre site and developed the first purpose-built pallet manufacturing facility in Ireland. Over the past three years, €2.5m has been invested into Ire Wel Pallets, with a further €2m investment to come over the next six months. With customers nationwide throughout the island of Ireland, she believes Ire Wel Pallets' presence in Northern Ireland is a key stepping stone into the UK market. To help achieve their goals, Ire Wel Pallets currently employ a team of 50 staff and are expanding.
"Over the next five years, we want to keep the business growing and begin exporting into mainland UK. We also aim to be the most successful pallet manufacturing company in Europe," Walsh said.
Hospitality was an obvious business choice for Hannah. She had previously set up a successful childcare services business and was highly experienced in sourcing professional, quality staff for clients. Get the Shifts was set up in 2016 to provide pre-screened, quality and experienced temporary staff to clients across the hospitality sector.
With offices in Dublin and Shannon, the business has grown rapidly, and the company now employs eight people full-time as well as providing 1,500 staff 'superstars' for clients throughout the country. In 2018, the company was named national winner of both the National Enterprise Awards and the All Star Business Award, and in 2019 was winner of the Best Emerging company in the SFA Awards. Network Ireland also named Hannah Businesswoman of the Year 2019.
Hannah says: "I found Going for Growth hugely beneficial in terms of helping me think strategically and really kept me focused on the business. It was energising and so supportive to be with a group of women who were facing the same issues."
Alison Ritchie is the managing director of Polar Ice Ltd., Ireland's leading manufacturer of dry ice products since 1996. Polar Ice is located in Portarlington, Co Laois. As a serial entrepreneur, Alison established her second business Polar IceTech Ireland Ltd. in 2005, growing the business to become the market leader in cryogenic cleaning, and successfully selling the business in early 2016.
Alison has a business degree from DCU and subsequently trained and qualified as a financial accountant (CPA) and a certified tax advisor. Alison was awarded the Ulster Bank Business Achievers Award for Women-Led Business in Leinster 2015, named the Women Mean Business Entrepreneur of the Year 2016, awarded Accountant of the Year 2017 and most recently accredited 'Thought Leader – Enterprise Development' at the All-Star Business Awards 2018.
Susan Spence is co-founder and president of SoftCo, one of Ireland's most successful software companies. With offices in Ireland, US, UK and Finland, and a million users worldwide, SoftCo is a leading global provider of finance automation solutions that increase productivity, reduce costs and ensure that organisations meet their compliance obligations. SoftCo is a Microsoft Gold Partner, an AWS Advanced Technology Partner, and its customers include Primark, Irish Life, Lloyd's Bank, Argos and Bulmers.
Susan is the Irish Tatler Entrepreneur of the Year 2018 and is a former recipient of the Veuve Clicquot Business Woman of the Year and Irish Exporter of the Year awards. On her initiative, SoftCo sponsored the Irish women's hockey team that won silver in the World Cup in the summer of 2018. SoftCo is a Starting Strong Supporter.
Before co-founding SoftCo, Susan held senior management positions with Hewlett Packard, McDonnell Douglas, and Phillips BV. She is a former non-executive director of CIE and member of the Government Enterprise Advisory Group. Susan is a member of the Institute of Directors in Ireland.
Berry Be Beauty was founded by multi-award-winning entrepreneur Lorna Venton, whose experience as a holistic therapist and reflexologist has led to the creation of this extraordinary Irish Beauty Brand that uses a holistic approach to skincare, health and wellbeing. Located in North Dublin, Berry Be Beauty makes Natural Beauty Products and Essential Oil Soy Wax Candles and Diffusers.
Stephanie Wickham
Waterford-based Stephanie Wickham's Expat Taxes specialises in tax advisory services for expats and their employers and provides expert tax advice in a friendly and simple way.
Stephanie Wickham, a KPMG trained Chartered Tax Adviser and Chartered Accountant, moved to Perth, Western Australia with her husband in 2011.
While there she focused on the area of international and expatriate tax and in 2016 added to her family with a baby boy. By 2019, Stephanie and her husband had two children and decided now was the time to return home.
After returning home, Stephanie set up her own business – Expat Taxes – specialising in tax advisory services for expats. "We want to provide expert tax advice in a friendly and simple way," explains Stephanie. "We aim to explain complex tax issues in a simple way and we enjoy working with our clients to ensure they take advantage of all available reliefs to minimise tax exposure.
"I have worked in international and expatriate taxes for the last 10 years. Given there are so many Irish diaspora around the world I could see there was an opening for a tax advisory practice that catered specifically to expats and their employers. I understand how stressful it can be managing tax issues when living overseas so I wanted to create a friendly Irish tax practice that would make expat taxes easier.
"There are very few practices in the Irish market who cater solely for expats so we have found our clients are delighted to speak to someone who understands their tax issue and also who appreciates that living and moving abroad is a stressful event."
It wasn't until Fiona Young started investigating the process of candle making that she realised just how much toxic material is in a standard scented candle.
From paraffin wax to synthetic fragrance oils, Fiona knew from her 20-year career as an oncology nurse the dangers these products posed to people's health and moved to create a limited range of candles that were vegan, sustainably sourced and carbon free. The success of that experiment inspired her to set up her own company, Milis, in March 2020.
The launch of Milis may have coincided with retail closures in response to the outbreak of the Covid-19 pandemic in Ireland, but Fiona believes the increased time that house-bound consumers spent on social media and shopping online actually boosted sales in the early days.
Having started the business from her kitchen, Fiona recently completed work on her own candle-making workshop at her home in Dunmore East, Co. Waterford. It is the biggest investment she has made in the business to date and stands as something of a monument to its progress over the past two years.
Milis products bear the Guaranteed Irish mark and are now on sale in counties across Munster, Connacht and Leinster, while Fiona directly services orders received through the company website.
"ACORNS taught me how to take an objective view of the business's strengths and weaknesses, as well as helping me to connect with female entrepreneurs from a range of industries and backgrounds."
Recently she has been working to create a themed candle as part of a Waterford Local Radio competition in which listeners suggest scents that are synonymous with Waterford.
"The result is Farraige, a sea-scented candle that also contains notes of gorse flower. The candle will be available to buy online in the coming weeks," she says.