Three Enterprise Ireland-supported companies based in Galway – Palliare, Ronspot and Venari Medical – are in the process of creating 30 new high-quality jobs.
Galway started 2021 on the right foot with news that 30 new jobs are to be created by three local companies.
"This is very positive news for Galway," said Tánaiste and Minister for Enterprise, Trade and Employment, Leo Varadkar, TD.
"It proves that local innovation is having a global impact and these companies are competing and winning in international markets"
"These three Galway-based companies are working in high growth areas and their success shows the power of indigenous enterprise. Congratulations to the teams at Palliare, Ronspot and Venari Medical on these milestones, I look forward to seeing your continued growth."
Palliare, a medical device company, has hired 10 new employees in recent months
Flexwork company, Ronspot, intends to have a total of 10 new employees on board by Spring 2021, and has hired five people since September. Ronspot is a technology company which enables the flexible workplace between office and home.
Venari Medical filled three new positions in October and have plans to recruit up to 10 new employees in the coming months.
"This has been a challenging year for businesses, but many Irish exporting companies are continuing to grow and recruit talented, innovative employees," explained Enterprise Ireland regional director Michael Brougham.
"Palliare, Ronspot and Venari Medical are in the process of filling 30 new positions. Some have already been recruited and others will be filled in the coming months. This is really positive news for Galway and the western region. It proves that local innovation is having a global impact and these companies are competing and winning in international markets."
Enterprising vibes from the 'City of the Tribes'
Palliare
Palliare Ltd was founded in 2018 as a spinout from Irish gastro-diagnostic company Crospon, which was acquired by Medtronic (in 2017. Based in Galway, Ireland, Palliare is dedicated to advancing the state of the art in smoke evacuation and insufflation technologies for laparoscopic, endoluminal, endoscopic and robotic surgery.
"Further to recent US FDA clearance of our EVA15 insufflator product, we are now ramping up our manufacturing operation in preparation for a US launch early in 2021," said Caroline O'Dea, managing director of Palliare.
"We have also continued to grow our R&D capacity further to the company securing EU Horizon 2020 funding to complete development and release of the EndoTrap and LeakTrap surgical safety products. We are grateful for the support from Enterprise Ireland and Western development Commission as we progress into the market."
Ronspot
Ronspot Ltd was founded in 2018 to help companies address chronic employee car parking issues. Its goal was to gain the maximum efficiency from office car parks while keeping parking fair and equitable. Since early 2020 it has identified new opportunities in the management of flexwork office models. Ronspot believes the future of the workplace will see a permanent blended environment where employees will split time between their home and office. Ronspot has customers in Ireland, UK, France, Austria and Czech Republic. The company is based in the GMIT Innovation Hub in Galway.
"The support Ronspot has received from Enterprise Ireland has been crucial to our growth and for allowing us to make long term plans for servicing our market and international customers," said Michael Furey of Ronspot.
"As a native Galwegian I am passionate about developing the region and creating jobs and value. There is some amazingly talent to draw on and having the right supports in place helps it all fall into place."
Venari Medical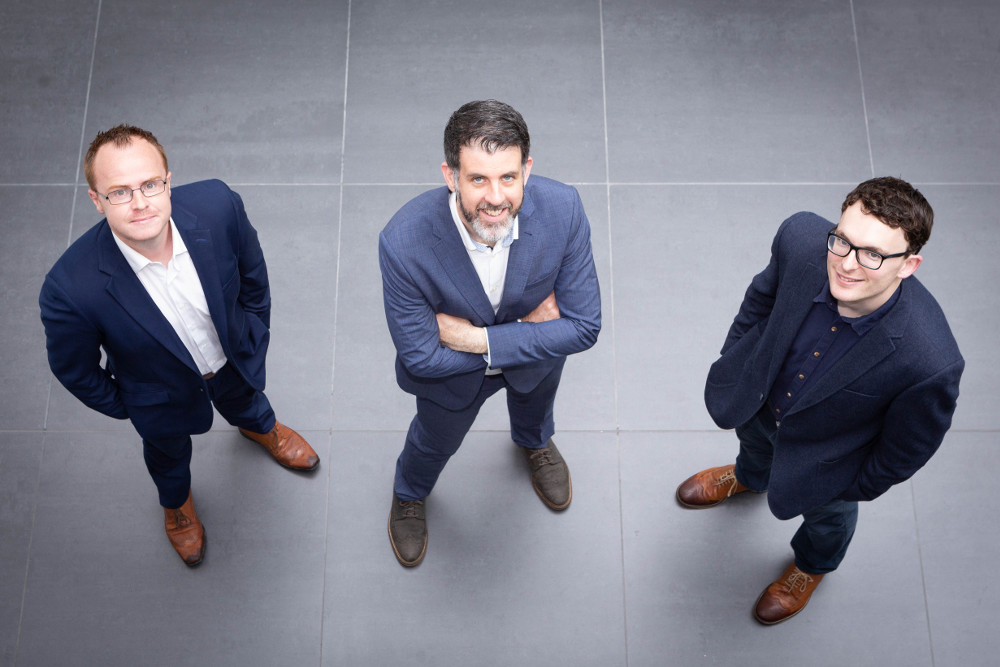 Sean Commins, Stephen Cox and Nigel Phelan from Venari Medical. Image: Martina Regan
Venari Medical was founded by in 2018 Stephen Cox (CEO), Sean Cummins (CTO) and Dr. Nigel Phelan (Chief Medical Officer). Venari Medical's mission focus is on innovation of unparalleled safe, effective, patient-centred medical devices that improve quality of life for those with debilitating vascular disease. Venari Medical is a spin-out from the BioInnovate Ireland fellowship programme for medical device innovation at the National University of Ireland, Galway (NUIG) which is sponsored by Enterprise Ireland.
"We gained seed investment of €4.5 million this year to focus on preparation for First In Human clinical trials of our BioVena medical device next year," explained Stephen Cox from Venari Medical.
"BioVena is a novel Class II catheter which uses the body's natural response for the office-based treatment of chronic venous disease and venous leg ulcers, which affects 1 in four adults across the globe. We've recently added three talented R&D and Quality Engineers to our Galway team based at the new Innovation Hub at the Galway-Mayo Institute of Technology (GMIT). We are looking to expand again in 2021 with hires across R&D, Quality and Regulatory Affairs to bring BioVena through international regulatory approvals and commercialisation, and to further internal innovation in the development of new novel product lines for the treatment of unmet endovascular needs."
By John Kennedy (john.kennedy3@boi.com)
Published: 4 January 2021