As part of our series on how to 'buy Irish' online for Christmas 2022, here are 30 Irish food businesses to check out for festive gift ideas.
In this series we will be looking at Irish food, drinks, fashion, beauty, sports, toys and health that can be bought online as well as offline for Christmas 2022.
With an estimated 70pc of online shopping purchases made overseas, it is vital we support Irish SMEs.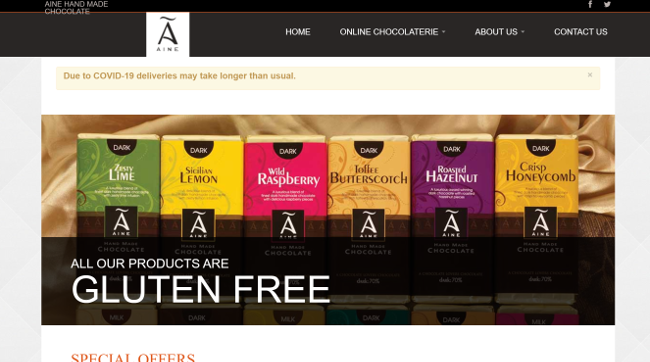 Cavan-based Aine's Chocolates does an amazing range of bars, truffles, sauces and gift hampers as well as chocolates for pretty much every occasion. Last year it won a Silver and a Bronze at the Blas na hEireann Awards for its Valencia orange dark chocolate and its 70pc dark chocolate bars respectively.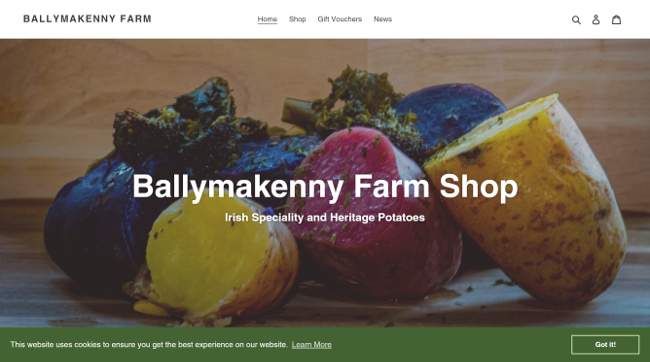 Louth-based Ballymakenny Farm's wonderful Violetta potatoes have been on the best menus of the best chefs in Ireland and the business has a variety of heirloom/specialty spuds for purchase on its online store including bundles of spuds and broccoli as well as gift cards.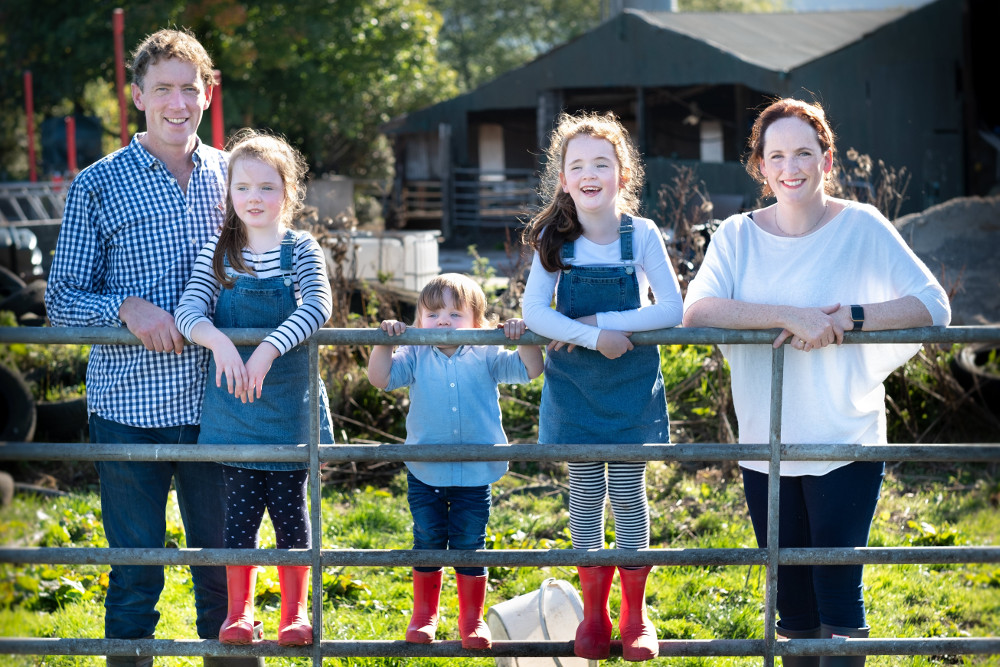 Bó Rua Farm in County Cork produces a range of award-winning cheese on the family farm using milk from its herd of Montbeliarde and Friesian cows. Named in honour of the rust-coloured Montbeliardes (Bó Rua is Irish for 'Red Cow'), the cheese is made from March to October when the cows are out on pasture. Its online shop sells a nice range of cheeses, crackers and chutneys. It won a Bronze in 2020 at the Blas for its smoked farmhouse cheddar cheese.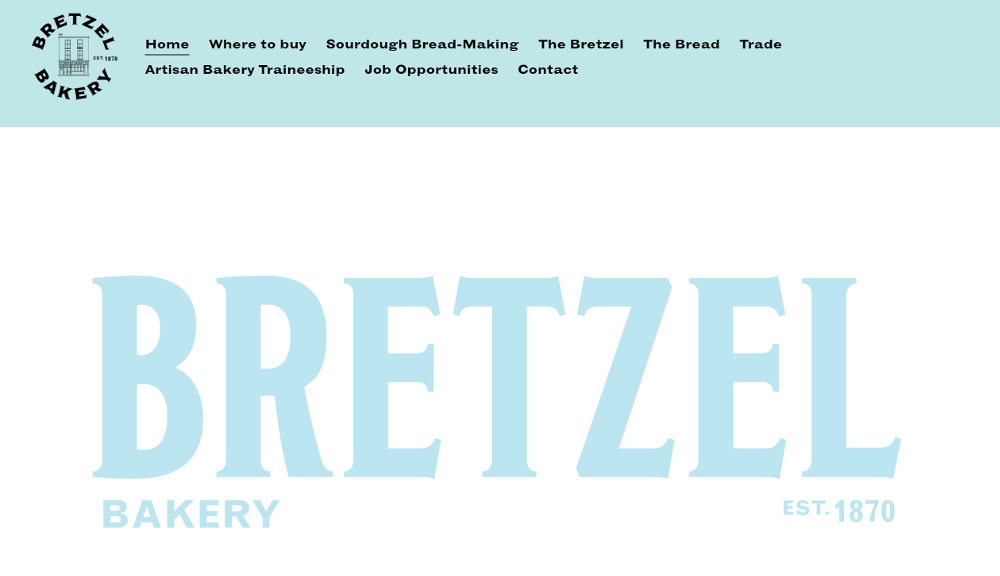 Famous for its sourdough breads, especially its Pain de Maison Boule which won awards at the Blas in 2020, Bretzel Bakery offers a handy click and collect service for its wide range of breads and pastries.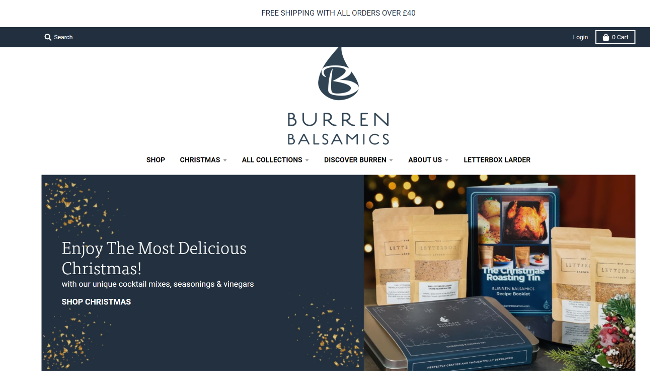 Winner of two Blas awards last year – a Gold for its Blackberry & Thyme Pearls vinegar and a Silver for its Irish Peat-smoked white condiment of Modena – and a Gold this year for its butter shortbread, Burren Balsamics stemmed from a desire to create an array of flavours which could be used as part of any recipe, to produce not just a luxury dressing.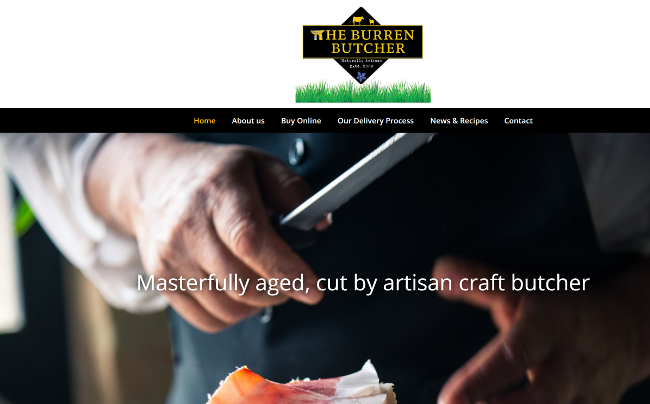 Based in Lisdoonvarna, Co Clare, the Burren Butcher achieved a Gold for its artisan 6oz steak burger. The company sells its beef, lamb and burger products online.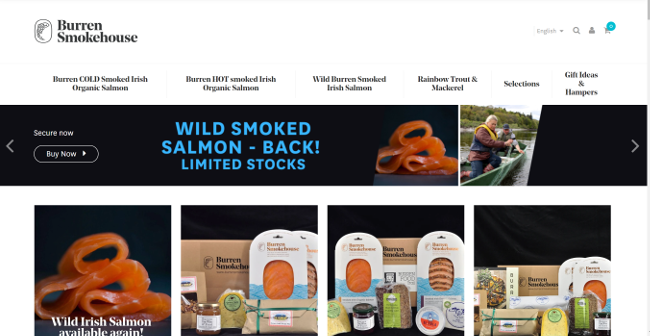 Not only can you create your own Christmas gift hamper, the Burren Smokehouse's website has so many delicious choices based on wild salmon to choose from. The Clare-based business, just 15 minutes from the Cliffs of Moher, is definitely worth checking out this season.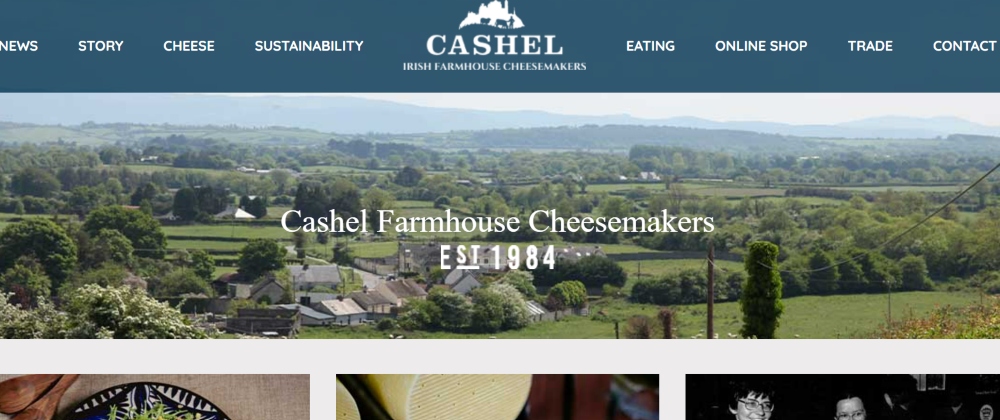 When Louis and Jane Grubb set out to make Cashel Blue in the early 1980's, their ambition was to create a farmhouse cheese that "truly represents the outstanding quality of Tipperary grass-fed milk." Today, 40 years later and in the hands of the 2nd generation, Cashel Blue is still made by hand on the same 200 acre farm; Beechmount, in Co. Tipperary, Ireland. The business brought home a Gold in this year's awards for its blue cheese.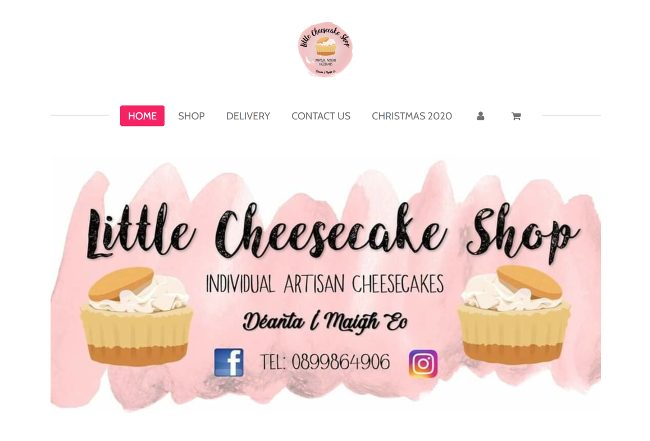 The Little Cheesecake Shop based in Kiltimagh, Mayo, is a producer of individual artisan cheesecakes in a variety of sizes and flavours. It has a variety of Christmas specials including its Cheesecake Christmas Pudding Bombes and limited edition seasonal flavours of mini and large cheesecakes and brownies.

Graham Herterich, aka The Cupcake Bloke, is well known for creating tasty Bakes with conventional and some very unsual flavour combinations, using traditional Irish recipes as inspiration. Having learned to bake with his granny at a very young age he went on to become a classically trained chef who re-established his passion for baking as his career progressed, which ultimately lead him to set up The Cupcake Bloke in 2012 and open his first retail store "The Bakery" in Rialto in 2018. Graham picked up a Gold at the Blas this year for his Autumnal brack.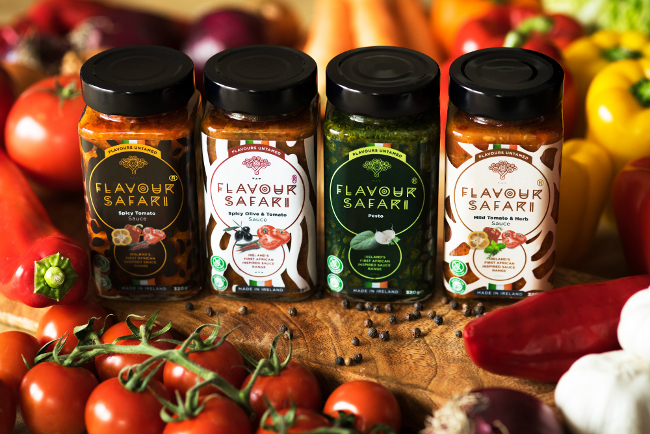 Michael Onalimi set up The Jungle Food Company in Mountmellick, Co Laois, in 2015 to create his range of Flavour Safari Sauces that can be served hot as a sauce for pasta or cold as a salsa dip. They are also gluten free and suitable for vegetarians. The products include spicy tomato sauce, mild tomato and herb sauce, spicy olive and tomato sauce and pesto sauce. A key break for Onalimi was to join the Super Valu Food Academy which has helped grow visibility of his brand across Irish stores. As well as growing locally in Ireland, Onalimi has his eyes on the UK market next and has taken part in the BBC Good Food Show in Belfast, Birmingham and London.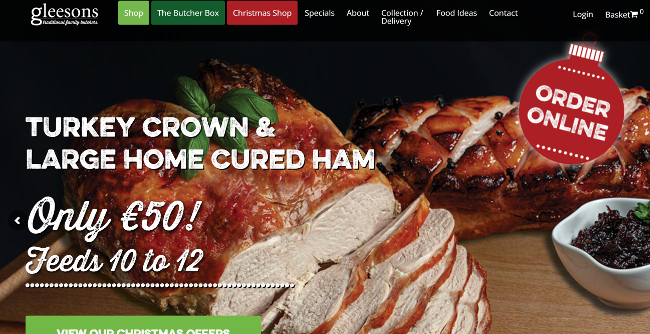 With 70 years butchery experience, Gleeson Butchers are masters at their craft and their Butcher Boxes are prime examples of their quality, choice and value. Gleeson Butchers' Butcher Boxes combine the expertise of visiting your trusted local butcher with simple cooking instructions and mouth-watering food. With prices starting at €35, The Butcher Box takes all of the hassle out of hosting this festive season. Gleeson Butchers have expanded and now have five stores across Dublin and Meath, in Artane, Balbriggan, Blanchardstown, Navan and Roselawn in Castleknock. Click & Collect is available from each store and deliveries are only made on Fridays in an effort to reduce food miles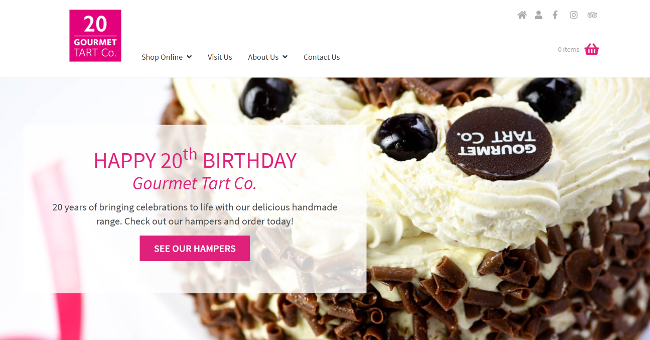 Gourmet Tart Co. has been offering warm gestures in the form of delicious treats for 20 years. The family business offers nationwide delivery for just €5, meaning that families across the entire country can enjoy their offering. All contents of the hampers are locally sourced with the food offerings freshly made by Gourmet Tart Co. Founded in 2001, Gourmet Tart Co. has grown from a humble market stall into an established local producer with six shops throughout Galway City. When someone buys a Gourmet Tart Company hamper, they directly support 70 local Irish jobs and it is more important than ever to shop local and support Irish businesses.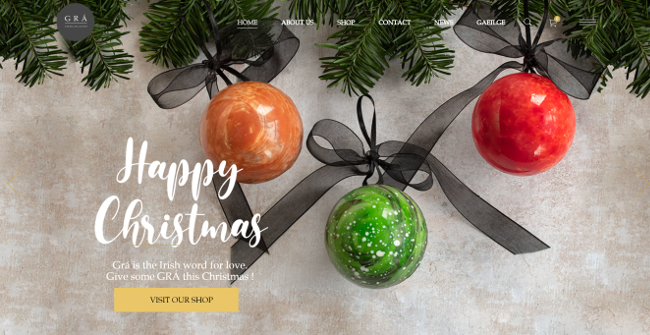 Working painstakingly in small batches by hand, Galway-based Grá Chocolates makes mouth-wateringly delicious chocolates sticking to its principals of sourcing locally and sustainably. For a seasonal treat check out its Grá chocolate baubles which are available online to pre-order. Last year the business won Gold at the Blas for its Grá Chocolate Box.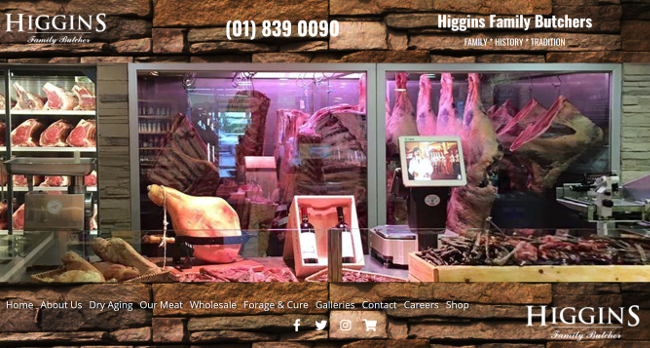 We have it on good authority to check out Higgins Butchers' smoked beef burger which in 2o20 won Gold at the Blas in the burger style category and especially its porterhouse steak steeped in whiskey. The Sutton, Dublin, company delivers nationwide, including Northern Ireland.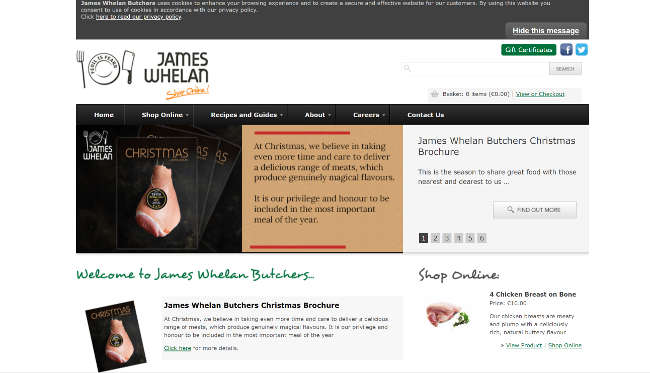 James Whelan Butchers in Clonmel, Co Tipperary, continued an established tradition by winning three Golds and a Bronze at this year's Blas na h'Eireann Awards. The business is renowned for the quality of its meats, notably its focus on Hereford and Aberdeen angus beef, employing dry-age methods. The company, now into its fifth generation of farming, butchering and retailing, has been an outlier for online shopping for many years and as well as online sales and delivery offers gift certificates.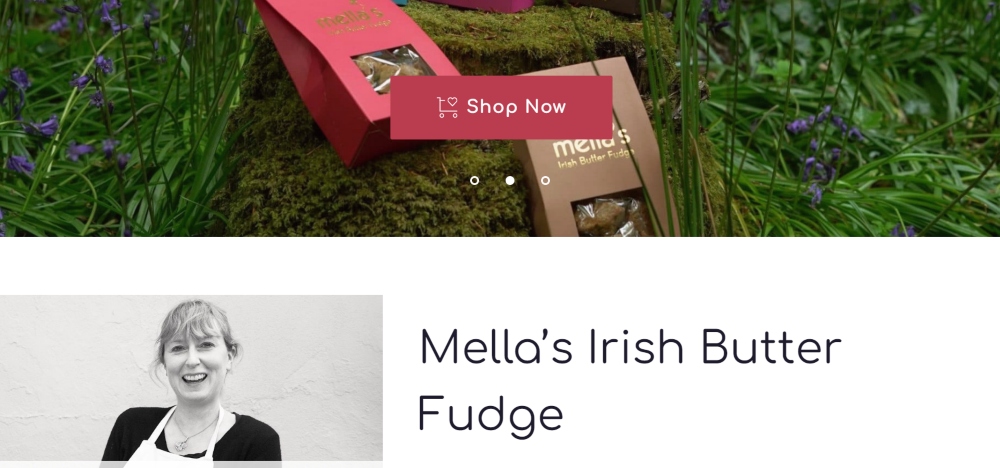 From a small kitchen just outside Clonakilty, Mella's Fudge handmake every batch of fudge to order. Using the cream of West Cork butter, the business carefully makes fudge the old fashioned way. It won a Silver at this year's Blas for its salted caramel Irish butter fudge.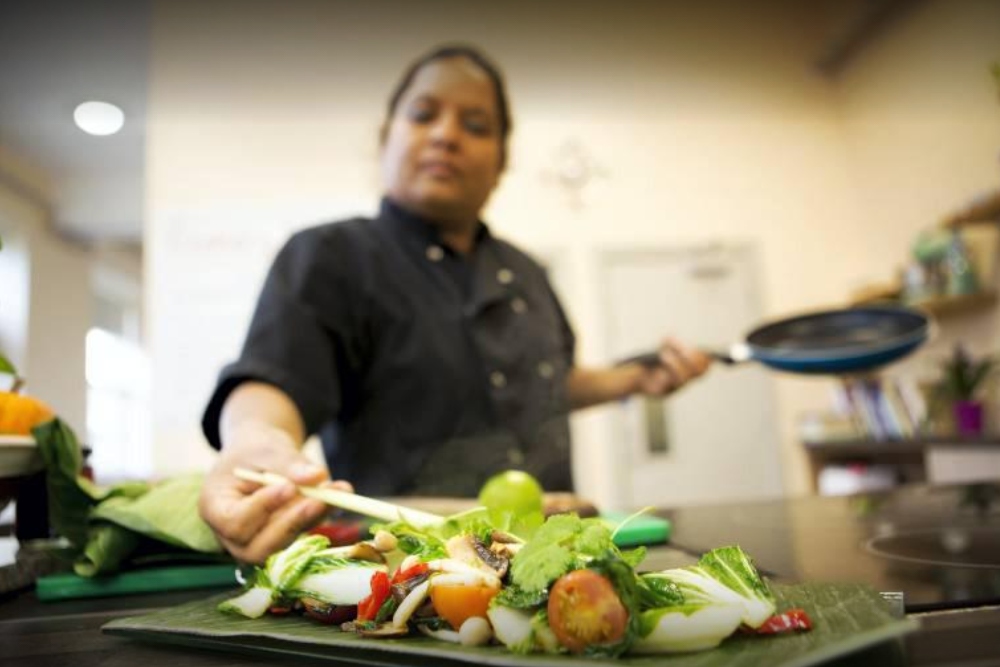 Perfect for that foodie in your life! As well as offering gift cards for a range of cookery classes as well as classes on how to set up a food business, Multyfarnham also sells its own Sri Lankan curry powders online. Founded by Kamalika Ranasingha, Mullingar-based Multyfarnham Cookery School caters for culinary tourists, team-building activities and one-to-one classes.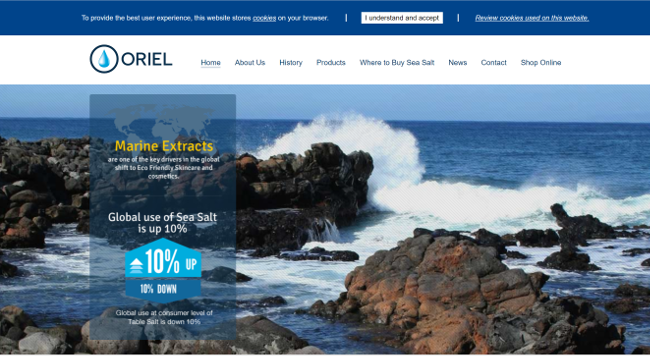 Oriel Sea Salt picked up a Silver at the Blas in 2020 for its Guinness Smoked Sea Salt and a Bronze for its Roe & Co Whiskey Smoked Sea Salt. As well as salt for cooking, it also sells various health products based on magnesium and other marine extracts.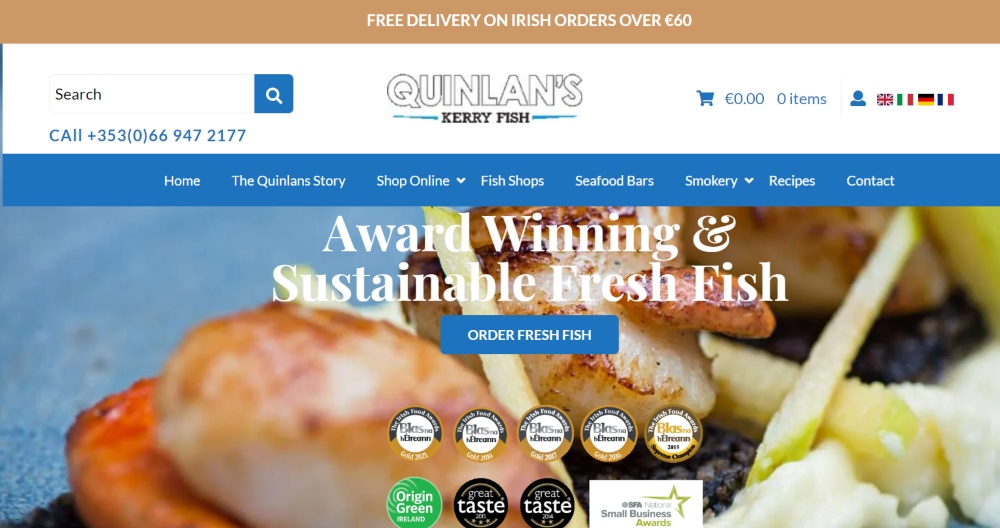 Quinlan's Kerry Fish have become famous for providing the very best Wild, Organic and Superior Smoked Salmon and fresh seafood to our customers in Kerry and across the world. Our family Seafood business is based in Caherciveen, Co Kerry, on the South West coast of Ireland. Kerryfish was started in 1963 by our father Michael Quinlan and has now been passed down to us, the second generation of Quinlan's, Liam, Ronan and Fintan. The business picked up a Gold and two Silvers at the 2022 Blas for its smoked salmon infused with dill pollen, its mild smoked salmon and its fresh Kerry crab meet respectively.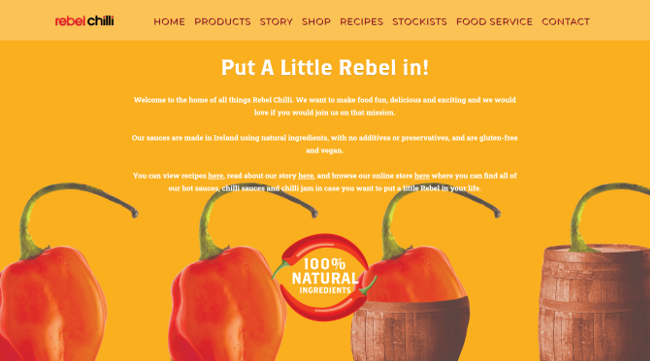 Cork's Rebel Chilli picked up a Gold at the Blas this year and last year for its Korean BBQ Marinade. As well as selling a range of delicious sauces and relishes online, the site is also a haven for some really tasty recipes.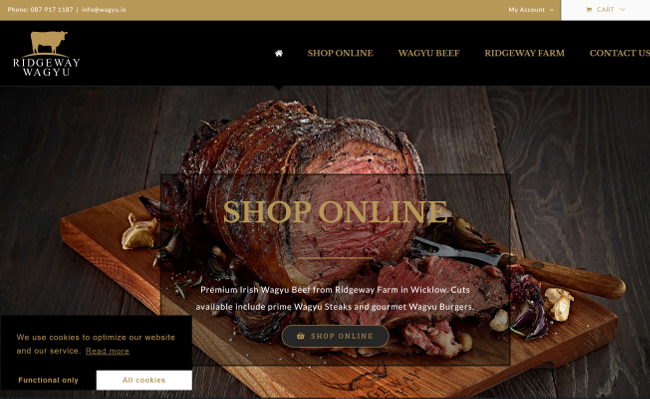 Famed for its melt-in-your-mouth delicious Wagyu beef, Ridgeway Farm in Wicklow picked up a Gold at the Blas in 2020 for its Wagyu fillet. It says it is the only farm in Ireland producing olive-fed Wagyu renowned for an intense marbled appearance which results in a tender and juicy meat with a distinctive, delicious flavour. It offers a free delivery service in Dublin, Wicklow and Kildare.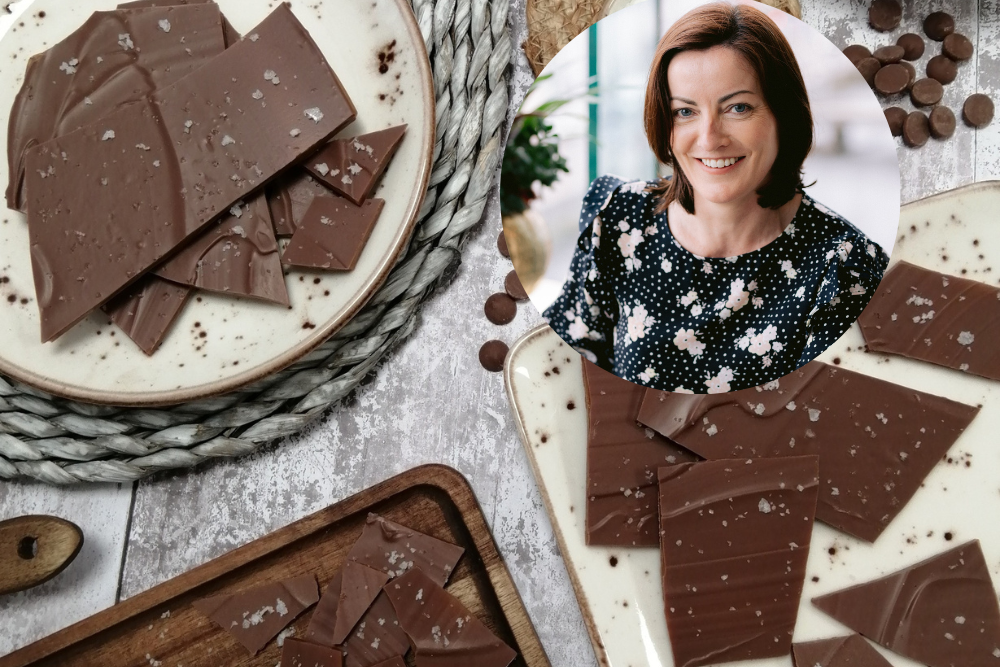 Claire Keane, founder of Second Street Bakeshop in Carrigaline in Cork, first started cooking and selling her homemade caramel squares to fellow students in secondary school, as a means of raising funds for summer trips to visit the United States.
With a Master's degree in Environmental Science, Claire emigrated to the US in 1999, with the intention of pursuing a career in the environmental area. After growing disillusioned, however, by the poor response with which wider society was meeting the climate emergency, she found herself craving the creativity that comes from being in the kitchen.
Following a couple of years of fine-tuning her culinary skills, Claire set up an artisanal shortbread, caramel and chocolate company called Clairesquares in San Francisco in 2006. The success of the firm surprised even Claire, with Haagen-Dazs choosing to turn one of her cookies into a flavour of its world-famous ice cream in 2015.
Although Claire left San Francisco for her native Cork, her cookies still delight discerning Californians. This year at Blas Second Street Bakery won a Gold for its dairy-free mint chocolate brittle.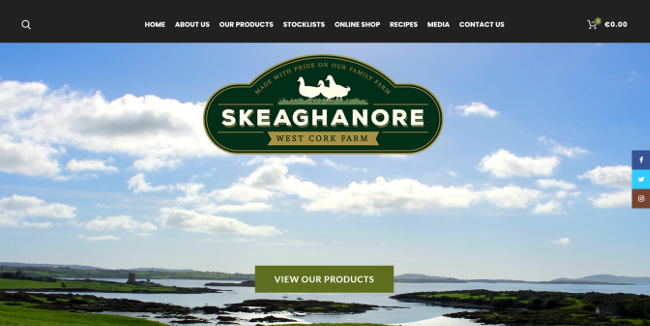 Skeaghanore West Cork Farm has a tradition of selling quality duck since they started in 1994 with 30 ducks. Living closes to Roaring Water Bay, they claim the salt air effect adds a lovely flavour to its Peking duck breed. It won two Silvers at this years Blas for its smoked chicken crowns.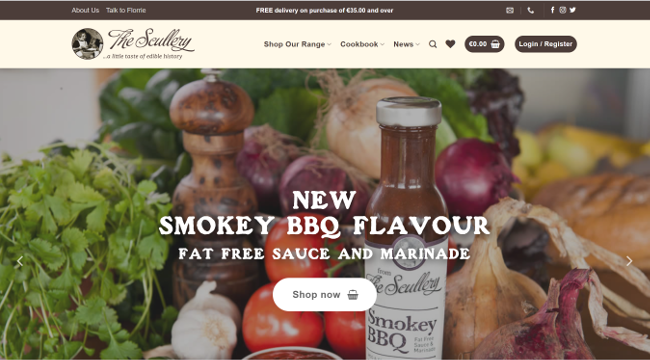 Based in Nenagh, Co Tipperary, The Scullery picked up Gold in the 2020 Blas nah Eireann Irish Food Awards for its Guinness Sticky Onion Marmalade. The business makes a range of sauces and relishes that are healthy and are free from additives and preservatives. Check out its Christmas range as well as its gift vouchers and store credit.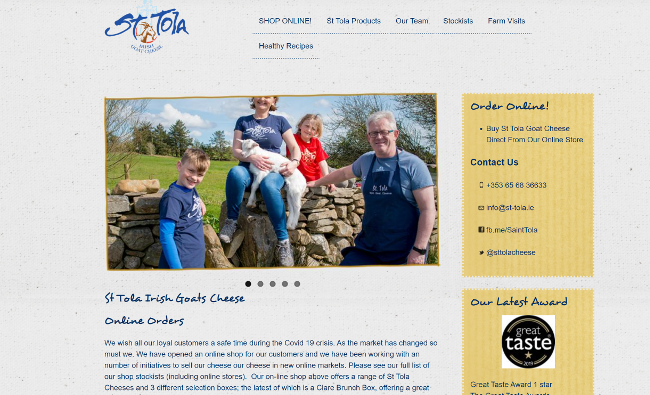 St Tola, makers of a variety of artisanal goats cheeses, was among many businesses that embraced online once the Covid-19 crisis struck, offering a range of St Tola Cheeses and three different selection boxes; the latest of which is a Clare Brunch Box, offering a great selection of goods from around the Banner County. Its cheeseboards and cranberry logs are also now available. The business picked up a Silver in the goats cheese category at the 2021 Blas na hEireann Awards and a Bronze this year.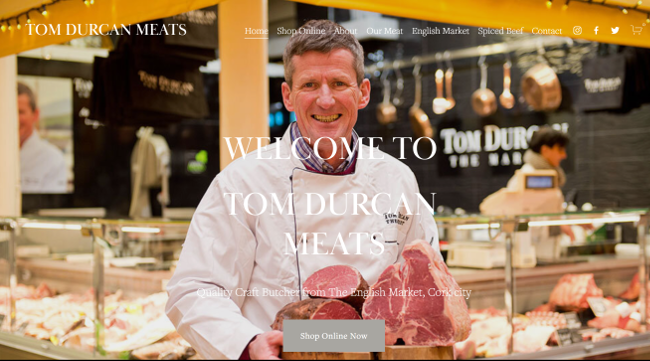 Operating out of the English Market in Cork since 1990, Tom Durcan Meats also operates an online shop to buy meat boxes, steaks, joints, you name it. The company picked up Gold at the Blas in 2020 for its sliced cooked spiced beef and last year (2021) achieved a Bronze for its dressings, a Gold for its traditional spiced beef and a Bronze for its chimichurri dressing. In 2022 it was awarded the Irish Butchers Guild Award at the Blas.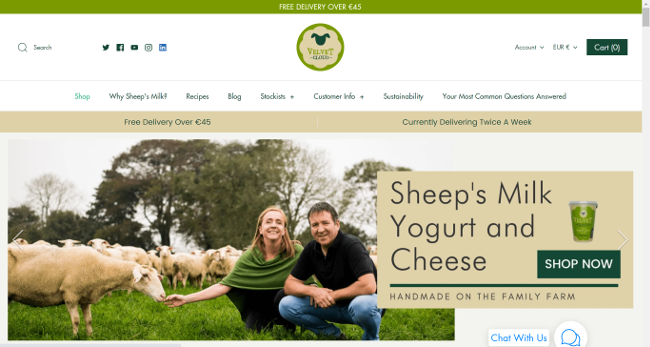 Michael and Aisling Flanagan have been producing a range of creamy, digestion-friendly sheep's milk products on their farm in Co Mayo where the family have been farming for generations. Milk from their flock of dairy ewes, grazing on grass and clover pastures, is used to make the handmade yoghurts and cheese products.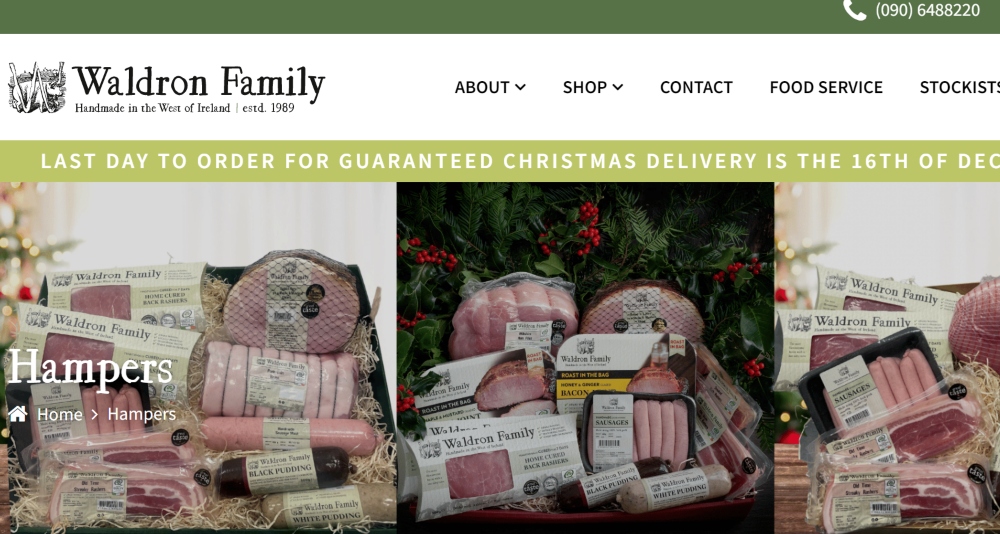 Winners of the Gold category in the 2022 Blas nah Eireann Irish Food Awards for its buffalo style bacon chops, Waldron Meats is a family run business based in the heart of the countryside in Brideswell, Co. Roscommon. The business cures, produces and distributes a wide range of tasty products, including pork, bacon, sausages, puddings and cooked meats across Ireland. Having won several Blas awards, the business has a brilliant online store, including taking orders for perfect Christmas hampers.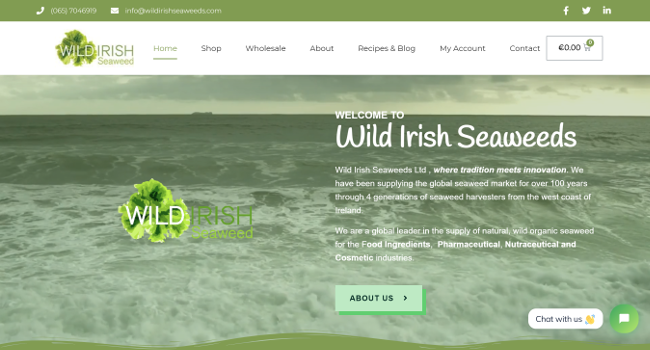 Wild Irish Seaweeds Ltd based in Ennis has been harvesting wild organic seaweed from the west of Ireland for more than 100 years through four generations of seaweed harvesters. The business sells a range of food products including seasoning, as well as skincare products and gift packs, including wellness and skincare gift boxes.
Main image at top: Photo by Todd Trapani on Unsplash