In the fifth and final diary entry, our student entrepreneurs talk about their experiences taking part in Trinity's Launchbox – the highs, the lows and the valuable life lessons.
Cian Fogarty, Greener Globe
The past three months LaunchBox have been a rollercoaster with many challenges and successes. Our main problem when coming into the programme was to get the product our on to shelves in stores. It's tough to make that transition from having the product manufactured and ready to sell to actually having it in a store. However we're delighted to say we have overcome that challenge, and you will all be able to buy an Aquacica shower head in shops very soon. This has been a significant success for Greener Globe.
When we came into LaunchBox, we had our minds set on the retailer market, whereas we now have plans in motion to access many other avenues which have significantly expanded our business.
From everything we do at Greener Globe we try to learn from it, whether it be a success or failure. At the beginning of the summer, we were spending lots of time 'cold messaging' people. We would scrape through LinkedIn, find everyone of interest and drop them a friendly message. We soon learned that no matter how nice your message is, the reply rate won't be high. It was in LaunchBox that we learned the power of a 'warm introduction'.
"Startup life will stand to you."
Over the coming three months we have big plans. We have recently secured a new deal to roll out Aquacica, and we are also participating in the Climate KIC Accelerator programme. The next three months will probably be the biggest for Greener Globe. But then that tends to be right every three months.
I would advise everyone to think about getting involved with or founding a startup. The information you learn in the day-to-day life of a startup is invaluable. You won't even realise how much experience and knowledge you are gaining until you can sit in an interview or an investment meeting and speak for hours about all the things you've done. Trust me, startup life will stand to you.
Lizzy Hayashida, Change Donations
We used this summer on LaunchBox to do three main things: to interview as many donors and charities as possible; to build our platform and to create a narrative that will resonate with any audience.
We spent a lot of time speaking with potential charity partners and donors to really understand their needs, which was invaluable to the creation of what is now Change Donations. My advice to anyone starting a business is to take the time to understand what the real problem is that needs to be solved. Everyone that we interviewed brought a new angle to the product, and their input pushed us to develop a product that would be useful to them, rather than us building something that was merely based on assumptions.
"Talk about the business that you're trying to build with as many people as possible."
The most challenging thing that we faced over the last three months was developing a narrative that people really understood. Being fully immersed in the business 24 hours a day makes you forget about the little things that really make the business resonate with people. After working on this every day for the last three months, we have finally been able to create a story that works for any audience, breaking our service down into language that anyone can easily understand.
My most significant piece of advice would be to talk about the business that you're trying to build with as many people as possible. We spoke about Change Donations with anyone who would listen, and it was beneficial to not only get new opinions about our platform but also to hear the same questions repeated. This really helped us to understand where we needed to provide more information and what pieces people understood quickly.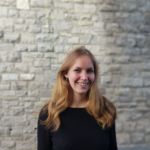 Anika Riley, Work Smarter
At the start of LaunchBox, some legal and regulatory aspects of our business plan had us intimidated. While Google is a great tool, it's no substitute for decades of experience. That's why we talked with over 40 experts from industry during LaunchBox, not including the great LaunchBox speakers who made up the programme. We're now able to see much more apparent, as their input has helped us tackle those menacing grey areas that once dotted our ideas. We've removed a lot of guesswork from our plan and replaced many unknowns with possible strategy. We've also built our MVP, a functioning prototype of our product, that we're looking forward to revealing at Demo Day.
"On my worst days, my co-founder is there to assure me the world will keep turning."
During the coming three months, we'll be working on integrations with our existing partners. We'll be piloting our software and ironing out those early bugs. We're very excited to have a place in the Huckletree Alpha accelerator program during that time, where we'll enjoy the support and a continued connection to Dublin's incredible tech ecosystem. And we'll get to work in their gorgeous office space, which we are certainly looking forward to.
If I could give advice for anyone thinking about founding a business, I'd say don't go it alone. I've found it vital to have someone else to stress with you, work late nights with you and occasionally talk you off a ledge. On my worst days, my co-founder is there to assure me the world will keep turning. On the best days, I have someone to celebrate victories with that may seem small to anyone else.
NB: The students will pitch their startups to a panel of judges at the 'LaunchBox Demo Day'. Get your tickets here.