"A lifeline for the SME sector," is how one leader has described the €7.4bn July Stimulus plan by the Irish Government.
Reactions by industry leaders to the €7.4bn July Stimulus plan by the Irish Government have been mostly favourable while some have pointed to missed opportunities.
The plan includes more than €5bn in cash and €2bn in loan guarantees devised to keep businesses afloat and keep people at work.
"Time is key for businesses and the less red tape to navigate, the more time they can spend on salvaging their livelihoods"
It consists of five key elements: €2.6bn in income support, including the wage subsidy and PUP (Pandemic Unemployment Payment) scheme; a €2bn credit guarantee scheme; some €1.3bn worth of tax measures; €1bn worth of business supports including training and education; and €500m worth of accelerated public investment.
This is what various industry leaders have to say:
Dr Brian Keegan, Director of Public Policy, Chartered Accountants Ireland, described the measures as 'a lifeline for the SME sector'
The extension of the Wage Subsidy Scheme and the Pandemic Unemployment Payment along with funding for businesses reopening are essential to restarting the economy. It is evident that this new government has been listening to business when putting the package together. The pandemic recession was created by a sensible response across all sectors of society towards containing coronavirus. Now this response is being matched with proportionate stimulus to revive businesses and get people back to work.
Government has renewed the most effective business relief in the Employment Wage Support Scheme. This approach since March has been the most effective because it leveraged existing structures within the tax system and involved less red tape. Time is key for businesses and the less red tape to navigate, the more time they can spend on salvaging their livelihoods. The approach on commercial rate deferral also reflects this thinking.
While it is good to have additional sources of funding for business, grant aid needs to play a strong role. We note in particular the increases to the Restart Grants both in terms of amount and scope. We cannot afford to replace a liquidity crisis with a debt crisis.
Finally, we have to learn from international experience as we reopen and rebuild. The Institute has warned against any disregard for public health advice, and a survey of almost 20,000 chartered accountants in Ireland identified worries over staff and customer safety as the top issue on re-opening. Finding this balance will be critical in the weeks and months ahead.
Julie Sinnamon, Enterprise Ireland
The Government today announced a set of timely and important new additional initiatives that will be welcomed by businesses and entrepreneurs. Last week, when Enterprise Ireland launched our Annual Business Results, we were clear about the challenges that Irish exporters will face in the short to medium term.
This series of additional initiatives will provide important targeted assistance to Irish companies as they stabilise, reset and recover from the impact of the Covid-19 pandemic and get ready for Brexit. It will also assist companies reduce their carbon footprint and move to a more sustainable future.
Danny McCoy, CEO, Ibec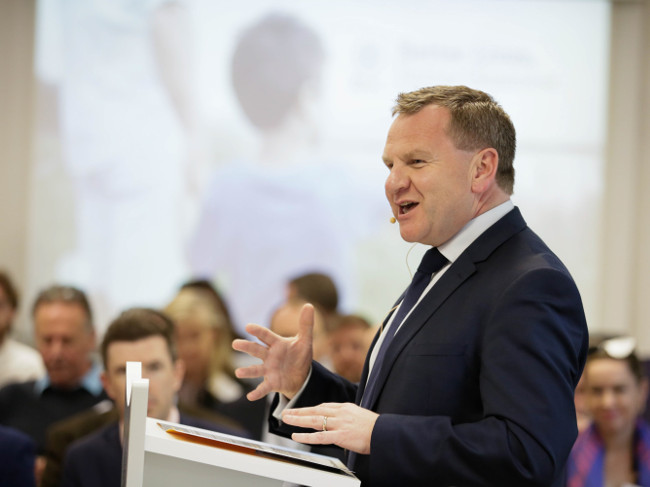 It is both ambitious and comprehensive, addressing our lobbying effort and is an important step in rebooting the economy.
I attach a deck which includes an analysis on the various elements of the package including liquidity, upskilling, getting people back to work and infrastructure.
The practical implementation of the package must now be swift and obtainable for business.
We now turn our attention to safely bringing people and vibrancy back into commercial districts, offices, towns and cities to ensure the economic activity needed to reduce long term scarring in our society.
Ian Talbot, CEO Chambers Ireland
Today's announcements are a strong recognition of the gravity of the situation facing local economies and these measures will provide some breathing space for business until Budget 2021.
Ongoing commitments to a Wage Support Scheme, expanded grant aid and liquidity supports are welcome and have formed part of our own priority recommendation to Government in the past several weeks. The tax rebate for tourism will be also provide a welcome stimulus to the sector as it approaches the winter season.
The priority now must be to ensure that the schemes and funds announced are immediately available to business. There needs to be rapid implementation, clear communications, and equity in how these supports are administered around the country.
However, we are conscious that some of the announcements today, particularly the Rates waiver, may fall short of what is needed. Our own data has shown us how deeply impacted businesses in local economies have been because of Covid-19. Many will struggle to pay Commercial rates and other bills this year, which will leave Local Authorities in a very vulnerable position at a time when we need them to be supporting and investing in local economies more than ever.
Oisin Geoghegan, chair of the network of Local Enterprise Offices
Since the effects of the Covid-19 lockdown began to impact on small businesses, the Local Enterprise Offices have been working around the clock to get supports to companies to help stabilise them and prepare them for the new normal. Supports like the Trading Online Voucher and the Business Continuity Scheme have been invaluable in this process and have enabled small businesses across the country adapt and keep their doors open, if only virtually.
The Trading Online Voucher Scheme in particular has helped almost 5,000 small businesses both get online and improve their online presence since March. This has been crucial in recent months and for many has been the difference between staying open and shutting the doors for good. The opportunity to help even more businesses with this new announcement will no doubt have a similar impact.
Since March we have completed training for almost 30,000 individuals involved in small businesses along with one to one mentoring of over 6,000 business owners directly affected by Covid-19. We have been working with small businesses to show them how to move forward, to stabilise their businesses and plan for the future and with today's announcement it significantly strengthens our position to do so.
Chair of SME Recovery Ireland, John Moran
There are many elements of the stimulus package which will help the recovery and we welcome those. We acknowledge that the stimulus incorporates some calls that SME Recovery Ireland has been putting forward in recent weeks. It has recognised the key role SME's will play in the recovery and the need to protect them in as far as it includes a more robust grant scheme, an extended wage subsidy scheme and additional powers for the SBCI.
However, against the scale of the losses indicated for micro and small businesses in our latest 'Covid-19 loss assessment survey', the measures announced today simply do not go far enough to prevent firms from folding. A legacy of unpaid bills, liquidation sales and boarded up shop fronts in towns and villages across the country remains a real reality, while people dependent on unemployment payments face little hope of finding a new job.
While in Brussels last weekend, Taoiseach Michael Martin was clear that pouring debt on debt was not the way out of this when speaking about Ireland's position on aid to countries in need of help. We say that our SMEs are just like the EU countries in the frontline of the pandemic. Just like them they need targeted grant aid without lots of measured conditions allowing them to pay their accumulated bills and recover quickly from their losses.
The weeks ahead are likely to show further closures that could have been avoided today. Being too frugal at this critical stage is a mistake – we must not be penny wise and pound foolish. If this plan does not permit the SME sector is to get back on its feet and drive the reboot of Ireland's economy, the stimulus must then act as the platform to ensure that the National Economic Recovery Plan due to be published in a couple of months with Budget 2021, does more to provide compensation to small businesses for the losses incurred while forced to close. It must also provide a further boost in consumer demand to ensure a customer base exists for the small businesses that make it through this challenging period. The longer we wait to fix the problem, the bigger the bill to fix it will be.
Adrian Cummins, CEO of the Restaurants Association of Ireland
By not decreasing the Tourism and Hospitality VAT rate today in line with our EU counterparts and closest neighbour today's July Stimulus has put a nail in the coffin for border restaurant and hospitality businesses competing with 5pc rate in Northern Ireland
We are questioning the decision not to include a grants package for Tourism and Hospitality in today's July Stimulus. We appeal to Government to support businesses to reopen, to retain employees and keep the economy going!
To ignore immediate legislative issues such as; insurance reform and commercial leases until October's Budget would result in the demise of a significant number of businesses and immediate job losses.
I am appealing to the Government to rethink this decision and to support independent tourism and hospitality businesses around the country with a targeted grants package!
Written by John Kennedy (john.kennedy3@boi.com)
Published: 24 July, 2020